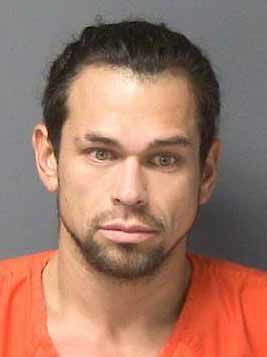 A man received probation following a high-speed chase through two counties last fall.
Joseph Uptagraw, 33, was charged in September on felony charges of eluding officers and drug possession. He pleaded no contest to both charges Friday, and Judge Troy Cross found him guilty and withheld sentencing, placing Uptagraw on probation for four years on both counts.
He received 90 days in jail with Huber and transfer privileges for the first count. He has 147 days of jail credit after being held on $10,000 cash bond. He must also pay $786 in costs, complete a substance abuse assessment and follow through with treatment recommendations, and not possess controlled substances without a prescription.
Cases related to the incident remain open in Sauk County.
Columbia County Sheriff's Department last year said Lake Delton Police Department asked for assistance in intercepting a vehicle believed to be involved in a string of burglaries and driven by Uptagraw. The black vehicle had no license plates and eluded Lake Delton police.
According to the criminal complaint, a Columbia County sheriff's deputy spotted the vehicle driving east on Levee Road around 2:56 a.m. Sept. 25 and observed the vehicle start to rapidly accelerate. The deputy began pursuing the vehicle and asked Portage police to set up a tire deflation device on Levee Road after driving between 60 and 80 mph. The vehicle hit the tire deflation device near the interstate as the deputy continued pursuing it.
The complaints states one of the tires on the Mercedes began to smoke while approaching Highway 33. One of the tires came off and rolled across lanes of traffic on Highway 33 as the Mercedes continued driving at 40 mph. The vehicle then sped up to 100 mph and began driving west on the highway before slowing down and turning onto Tritz Road. The vehicle slowed further.
A man exited the vehicle while it was still moving and fled into a field. The man was apprehended after being tracked by a deputy, a K-9 and a Portage officer and identified as Uptagraw.
The deputy reported interviewing Uptagraw. The complaint says he told the deputy he had escaped from the Huber program in Sauk County three weeks earlier and fled from law enforcement because he didn't want to go to jail. The Huber program allows those under jail custody to leave for employment purposes. Uptagraw has been charged in Sauk County Circuit Court with escape.
The sheriff's office was assisted by Portage police, Wisconsin State Patrol, and Blystone's Towing.