American Legion Post 26 member Steve Rundio said veterans generally feel more appreciated in recent years as opposed to a generation or two ago.
"That attitude's changed," Rundio said. "I think we learned from Vietnam, the way we treated those veterans. A lot of people — a lot of heroes — gave their lives, and that's what we're remembering."
Baraboo-area community members came together Monday to observe Memorial Day and honor fallen U.S. soldiers. The commemorative programs were a melting pot of lived experiences and snapshots of appreciation.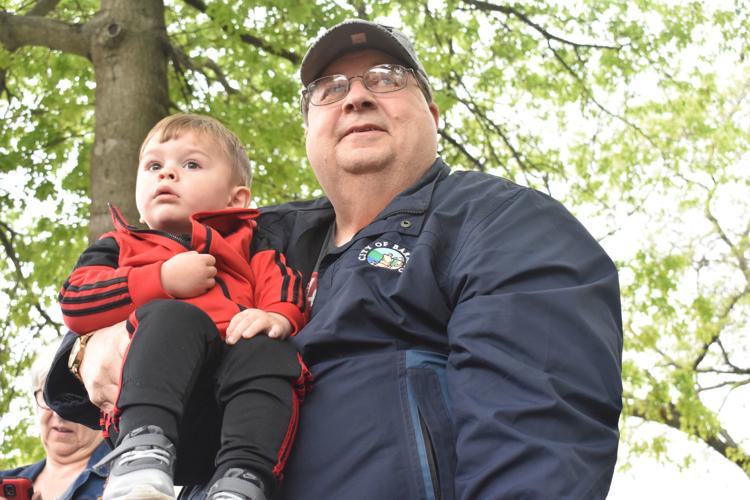 Erin Hinds of North Freedom visited Baraboo with a family friend and each of their own children to see the parade. Their daughters wore American flag style dresses and donned red, white and blue hats.
In a warm greeting outside the Sauk County Courthouse, Glen Amundsen shook Richard Devine's hand and patted him on the back. Devine, a U.S. Army veteran, said it was the first time he was attending a Memorial Day parade since 1989.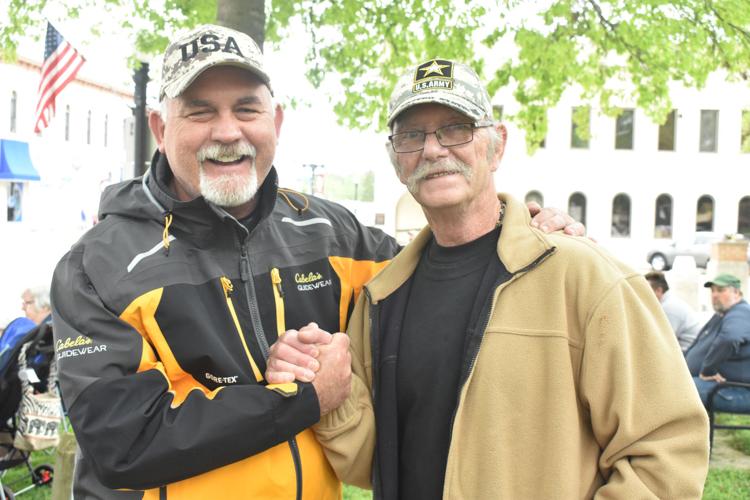 Baraboo Mayor Mike Palm, a Vietnam War U.S. Air Force veteran, and his wife joined the audience of fellow community members to watch the parade. Palm said his wife was baby-sitting 2-year-old Trevor Spencer, and they decided to take him on an outing to see the procession.
Maggie Parchem, 9, and Colin Bebber, 8, both from Baraboo, scaled a decorative artillery model that was dedicated in memory of World War I veterans on Nov. 11, 1932.
Rosa Martin, a visitor from Spain, is living and working in Illinois for a year to teach English and Spanish classes. She heard about Monday's events and wanted to see what Memorial Day observations entailed while visiting Baraboo.
"It was really moving, a beautiful ceremony," Martin said, adding she noticed a mix of solemn appreciation and patriotism all around. "You value what they did for you. You're a big family. Everybody is supporting everybody."
You have free articles remaining.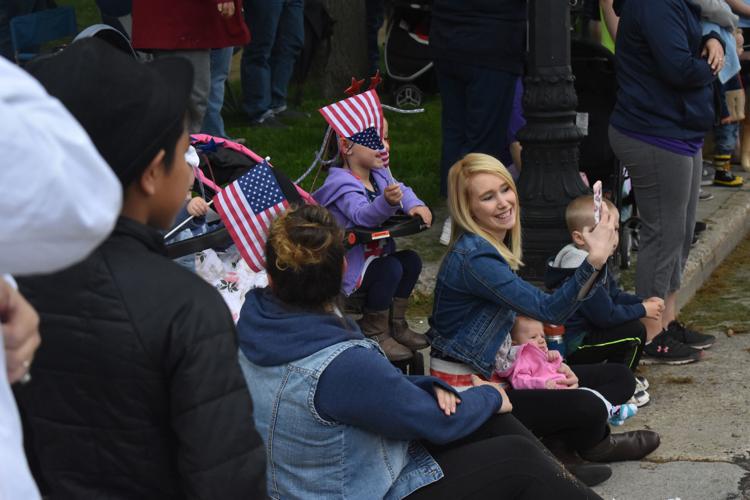 The Baraboo High School symphony band performed many patriotic songs as Legionnaires gave a rifle salute on Walnut Street. Families tossed flowers into the Baraboo River, while veterans marched in the parade and inside the American Legion Post 26 headquarters.
The tossing of flowers into the river is a decades-old tradition in memory of soldiers who died at sea and never received a proper burial.
Rundio said that tradition can give some families closure, but mostly it serves as a way for the community to collectively remember those sacrifices.
"I think it's great that we continue this," American Legion Post 26 Commander Don Topham said of the tradition of tossing flowers into the river. The post itself is 100 years old, and Topham recalled that specific tradition dating back to 1971.
Despite a visit to Walnut Hill Cemetery being rained out, Topham said the Memorial Day morning went well, and he felt grateful to everyone who came out to support local veterans. He commended Legionnaire Bill Crowley for taking a lead role in organizing the day's events.
Topham served in the U.S. Army Wisconsin National Guard when the Berlin Wall was erected during the Cold War. He said he's one of the lucky soldiers who returned home.
Rundio also said he feels lucky that he, his father and many uncles all returned home safely after their military service in various decades or wars.
During a closing ceremony Monday morning, community member Rosie Cummings read the names of at least 45 local veterans who are known to have died over the past year.
Retired U.S. Army Colonel Jim Konicki spoke at the event about the importance of remembering the sacrifices to preserve our freedom made by all U.S. soldiers.
"Each year, we have the opportunity to recognize the deceased men and women of our armed forces. Thank you for doing it well," he told the audience.