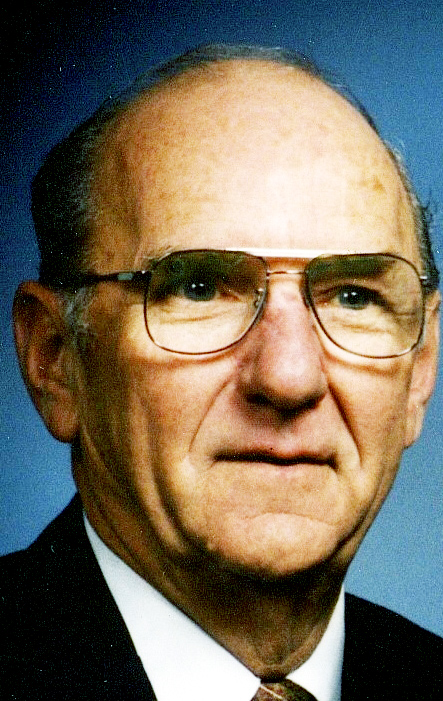 George Paul Schneider, 87, a lifelong resident of Horicon, passed away on May 4, 2013, following a long illness. In his own words, he had a long and happy life.
He was born on April 4, 1926, to Ernst and Leona (nee Mueller) Schneider and attended Horicon public schools until he graduated from Horicon High School in 1944. Immediately following graduation, he was inducted into the US Navy and served on the USNS Mission Purisima in the Pacific. After his service in World War II, he returned to Horicon and eventually joined the family business, Schneider's Shoe Store, which had opened in 1909. He worked there with his father until Ernst retired and continued to run the business until it closed in 1986. He later worked as a groundskeeper at Rock River Hills Golf Club for several years.
In 1949 he married Margaret Seidensticker of Ashippun, and they remained happily together until her death in 2012. They had three daughters, Peggy, Jenny, and Patricia, and also became "foster parents" to a foreign exchange student, Mikiko "Miki" Matsumoto.
Starting in his school years, he played many different sports. His daughters remember going to watch him play softball for many years with the team sponsored by the Bob Young Flooring Co. Once his playing days were over, he umpired for many seasons. For many years he had Packer season tickets and had always been a diehard Green Bay fan, but he also loved both the Milwaukee Braves and the Brewers. He and Margaret were original stockholders in Rock River Hills Golf Club and he played innumerable rounds of golf on the course. George was a long-time member of a men's bridge league in Horicon and enjoyed teaming up with his bridge partner in an annual attempt to win the league championship, but he was equally happy to beat everybody at any game of cards.
He loved Horicon, and along with being a member of the Chamber of Commerce, he also served as chairman of the Park Board. An active member of Post 157 of The American Legion, he took part in many veterans' funerals as a member of the honor guard. He was also very involved with St. Stephen's Lutheran Church, and served on the school board, as treasurer, and as president of the congregation. With the exception of his years of Navy service, he always lived within a few blocks of the house on North Hubbard Street where he was born. Until his death, he continuously lived in the house he and Margaret had built in 1956.
George was preceded in death by his parents; his wife, Margaret; his sisters Marie, Irene, and Ruth; his brother William; a son-in-law, Daniel Steele; and several sisters- and brothers-in-law.  Survivors include his daughters Peggy of Milwaukee; Jenny (Randall Waller) of Arlington, TX; Patricia (Robert F. Bettler Jr.) of Louisville, KY; and Mikiko Matsumoto of Tokyo, Japan; grandsons Daniel and Eric Steele of Arlington; and granddaughter Tess Bettler of Louisville. He will also be remembered fondly by many nieces and nephews, friends, neighbors, and fellow citizens of Horicon.
Visitation will be on Wednesday, May 8, from 10 a.m. to noon at St. Stephen's Lutheran Church, 505 N. Palmatory St., Horicon. A funeral service will follow at noon with interment next to Margaret at Oak Hill Cemetery immediately following. Memorials can be made to St. Stephen's Church or to The Parkinson's Disease Foundation.
His daughters take this opportunity to thank all those who have helped their father during his battle with Parkinson's Disease, especially since Margaret's death. Although the list is very long, they especially want to mention his principal caregivers Janice and Karen along with the staff of Hillside Home Care and Hospice of Beaver Dam.
Murray Funeral Home, 716 Clinton St., Horicon, is caring for the family. To leave condolences, for directions, or for other information, visit www.MurrayFH.com.