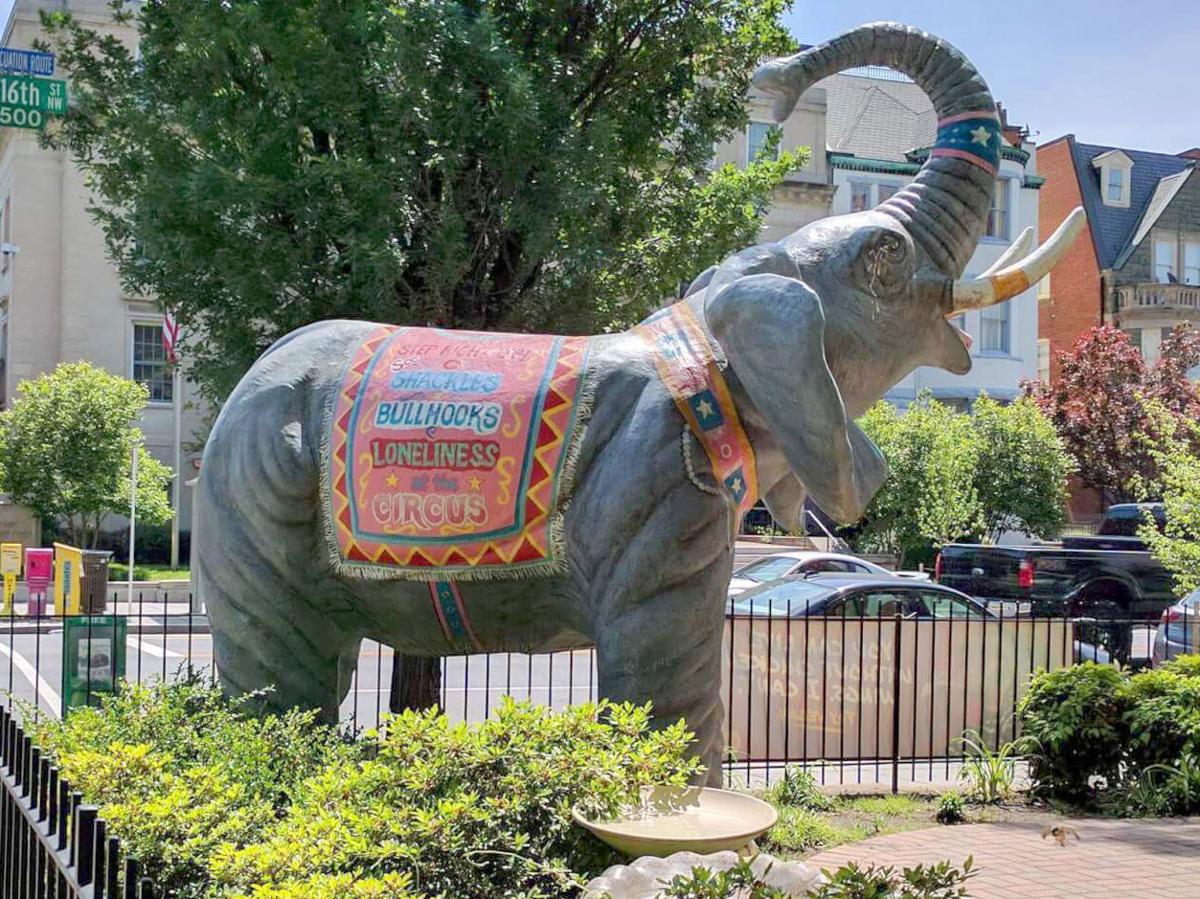 A national animal rights organization is offering to bolster Baraboo's elephant sculpture project at Myron Park with a statue that decries the use of performing animals in circuses.
Following a public request from the the Baraboo Public Art Association for support to install a second elephant at Myron Park, People for the Ethical Treatment of Animals responded by sending a letter offering to relocate its life-size elephant statute to Baraboo.
The activist group's "Elly Wanna B. Free" sculpture was designed by New Yorker cartoonist Henry Bliss and currently resides outside the organization's Washington, D.C., office. The piece depicts a crying, shackled elephant to "remind visitors about the cruelty of circuses that use elephants."
"Ella sends the message that everyone can make a difference for animals simply by making kind choices," PETA Foundation Associate Director Rachel Mathews said in a news release. "The Baraboo Public Arts Association now has a unique opportunity to show the hidden side of circuses with PETA's thought-provoking elephant statue."
Baraboo Mayor Mike Palm said the city is not interested in PETA's offer.
Baraboo Public Art Association member Marcy Huffaker, to whom a copy of the offer letter is addressed in the news release, said she has yet to receive the offer from PETA. She said the Art Association has not discussed the matter.
PETA has offered to send similar sculptures across the country. The group placed one at a downtown St. Louis intersection in 2009 to protest a performance of the then touring Ringling Bros. and Barnum & Bailey Circus. The elephants also made controversial stops in Washington, D.C., in 2002, New York City in 2007, Kansas City, Missouri, in 2009 and several other locations across the country.
John Di Leonardo, PETA assistant manager of animals in entertainment campaign, said its offer to send a statue to Baraboo is serious.
"We really hope that we can place this statue in Baraboo with the help of the Art Association, or we're happy to move forward without them and try to place it ourselves," he said.
The announcement isn't the first time the national activist group has called the attention of its followers to a Baraboo organization.
In 2015, Circus World Muesum leaders rejected an offer from PETA for funds to restore historic circus wagons in exchange for an agreement to end the use of performing elephants at the site.
The Baraboo Public Art Association unveiled the first Myron Park elephant sculpture in December. Created by Madison artists William Grant Turnbull and Laura Richards, the steel and quartzite sculpture pays homage to Baraboo's circus and geologic history. The project cost $4,000 and took about a year to complete.
Myron Park is a city green space across from Quindt's Towne Lounge along South Boulevard. The park was chosen to display the new public art because it lies along a key gateway into the city and offers room for more sculptures.
The Baraboo Public Art Association voted last month to pursue a $1,000 grant from the Greater Sauk County Community Foundation in hopes of placing a second elephant at Myron Park. The arts group already has received more than $500 in private donations toward another one without asking for public donations.
Follow Jake Prinsen on Twitter @prinsenjake