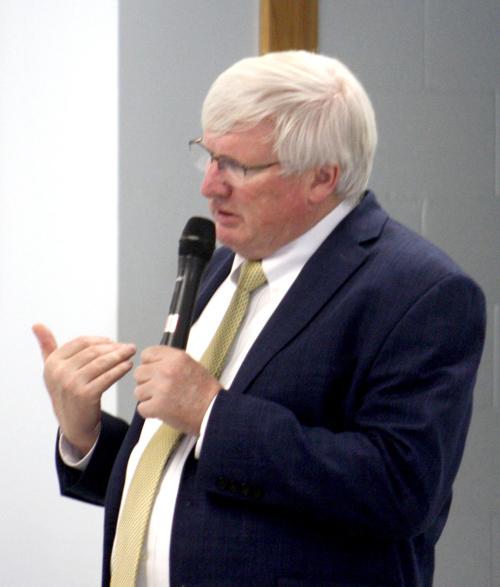 BURNETT — Impeachment wasn't the only thing on the minds of people at a congressional town hall Monday in Dodge County.
In fact, it was barely mentioned.
Instead, Wisconsin Sixth District U.S. Rep. Glenn Grothman, R-Glenbeulah, discussed a wide range of other topics at the Burnett Town Hall with more than 50 people on hand.
He named a bill cracking down on robocalls that calls for fines and regulations as one of the more recent highlights. President Donald Trump signed the bill Dec. 31.
"I'm usually not in favor of big government, but I thought we needed a little bigger government with regard to robocalls," Grothman said.
He said he'll receive calls with a 920 or 262 area code and think it's a constituent, only to be hearing something about his non-existent student-loan debt.
Grothman also said there have been hearings on facial recognition technology and he would like to see action with a bill in the future to prevent abuse and privacy invasions with such technology.
On education, Grothman said loan aid for students should be geared to making sure they get jobs to pay back loans afterwards. He said universities should be sanctioned if students cannot pay back loans. He also said more people should pursue manufacturing and the medical field in this district, which has the most manufacturing jobs in the nation.
Grothman said he is disappointed the 2020 Census will not include a question on whether somebody is a legal resident.
Grothman said he plans to return to the U.S.-Mexico border, where he said conditions for migrants are good. He said he supports ongoing actions to limit the number of asylum seekers coming to the U.S.
Grothman said he is working on a bill to put more restrictions on payday loan companies, which charge exorbitant interest rates and can leave people in serious debt.
"I don't know why we wouldn't restrict these high-interest rates for everybody under the sun," he said.
You have free articles remaining.
Grothman said he supports pulling back the carried-interest loophole, where private equity investments are taxed as capital gains instead of income.
"I think because of some influence of some very wealthy people we weren't able to get it done," he said. He said he hopes to speak with President Trump to try and push it through.
On drug costs, he said that he wants action on insulin costs and that drug companies are overcharging for it in a shocking way. Reports are finding people who need insulin to live are struggling to afford it and some are dying when they cannot pay for it.
Attendee Christopher Ross asked Grothman how he reconciles his beliefs about limiting immigration and welfare with what the Bible says about caring for the poor and welcoming strangers. Grothman said he supports adding work requirements for food stamps.
Another person challenged Grothman's notion that welfare becomes a lifestyle for people, who may not have access to necessities like transportation, and in her own family she has people who work full time but can't afford insurance and still don't make the cutoff for food stamps.
Grothman said his job is to make sure the U.S. stays strong and that he believes the statements in the Bible are meant for how someone behaves on an individual basis. He said the number of people on food stamps has exploded despite the good business economy.
Tom Stone said that he was tired of endless wars that have no mission. Grothman said he believes that the world has remained relatively stable largely because of a strong U.S. military. He said he was rare among Republicans in that he believes defense spending doesn't need to keep going up.
One man said he doesn't think that young people are receiving a good education in civics and history, and Grothman said he thinks that there should be more emphasis on showing the U.S. in a positive light, but curriculum is a state matter, not a federal one.
Deb Jones said that she thinks Donald Trump has made the U.S. a laughing stock among other nations and made things more divisive. She asked what Grothman is doing to be less partisan. Grothman said he has met with foreign officials from places like Hungary and Japan who have praised the current U.S. leadership.
Brittany Vulich said that, on Martin Luther King Jr. Day, it's important to keep looking at systematic injustices against people of color and trans people, including in the education and prison system, high rates of maternal deaths among black mothers and the rate of disappearances among native women and black trans women.
Vulich asked Grothman about an amicus brief to the Supreme Court he signed against abortion with more than 200 other lawmakers — 95 percent of them men.
Jim Dittman asked Grothman what he had in mind for the next generation when it came to manufacturing. Grothman said it's hard to predict what will come next and that Trump is doing what he can to protect manufacturing.
Other topics that came up included the national debt and the border wall.
One question about impeachment was asked at the very end of the town hall and Grothman said it would be interesting to see what happens in the next election.