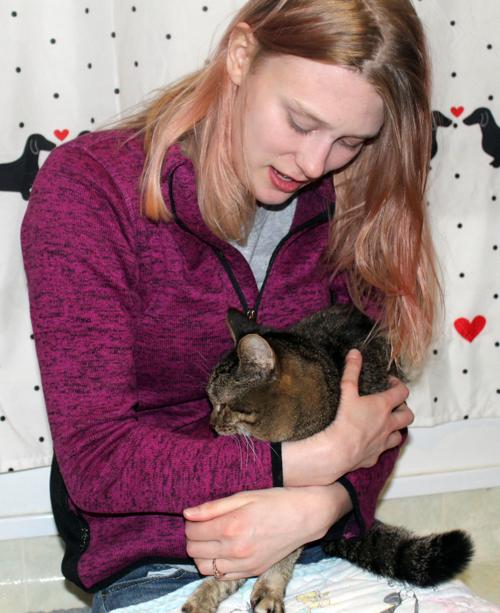 JUNEAU — Dodge County Humane Society had no problems finding homes for animals lately, and that includes a 12-year-old cat with a broken heart after his owner passed away.
Dulci may have been the most popular animal adopted from the humane society in 2020 with over 1 million people viewing a post about him on the Dodge County Humane Society Facebook Page last month. The cat also helped other cats find their homes.
"When Dulci was adopted, it caused a stir and all the cats were adopted," said Dodge County Humane Society Executive Director Kenzie Drinkwine.
"I saw he looked so helpless on a Facebook page I was scrolling for at work, and I thought I need that cat because he needs to be cared for and he looked really depressed," said new owner, Ashley West, a veterinary technician Animal Wellness Center in Fond du Lac. "He looked sick for that matter."
West said she took him to the clinic and nursed him back to health.
"He hadn't been eating or drinking much," West said. "The blood work looked fine for his age."
Dulci is now at home in Waupun and still a bit of a loner, but feeling better every day.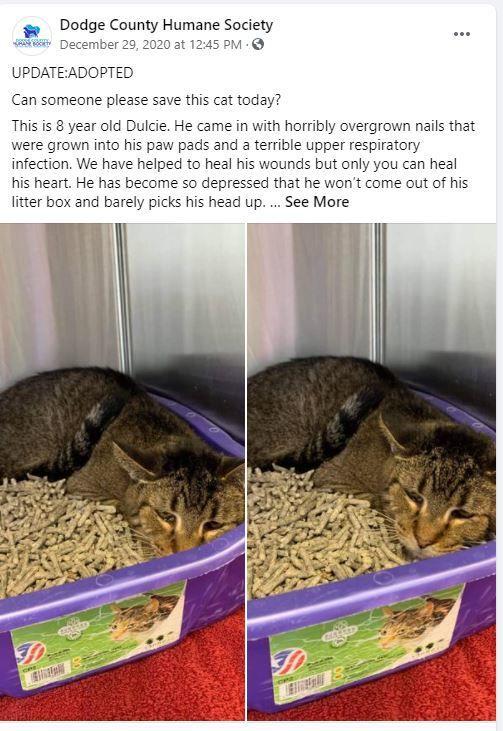 Drinkwine said available animals are posted every day. Dulci's post was made on Dec. 29 and read: "he came in with horribly overgrown nails that were grown into his paw pads and a terrible upper respiratory infection. We have helped to heal his wounds but only you can heal his heart. He has become so depressed that he won't come out of his litter box and barely picks his head up."
Drinkwine said the response was overwhelming. The shelter was flooded with phone calls, Facebook messages, emails and people just coming into the facility. There were 1,700 comments on the post and it was shared 9,400 times.
"We had offers from people from across the country that offered to board a flight to get him," Drinkwine said.
There were thousands of messages.
"So many people were interested in saving Dulci that there were so much traffic in the shelter that it led to the other 10 cats in the shelter being adopted," Drinkwine said "Once people are committed to recuing an animal, then they find a way to do it if it is not that cat in particular."
West's quick response and the environment that the cat would be in seemed a perfect match. Drinkwine said there were several other people who would have been a good fit for the cat.
Drinkwine said 2020 has been an incredible year for the humane society with 980 animals finding homes, 85 animals returned to their owners and 10 animals transferred to other rescues.
"With COVID, animals have been in high demand," Drinkwine said. "They are averaging less than a week at the shelter."
The shelter currently has three cats and 19 dogs.
Terri's Memorable Stories from 2020
Throughout the year changes were made in the area to make Dodge and Columbia counties better places to live.