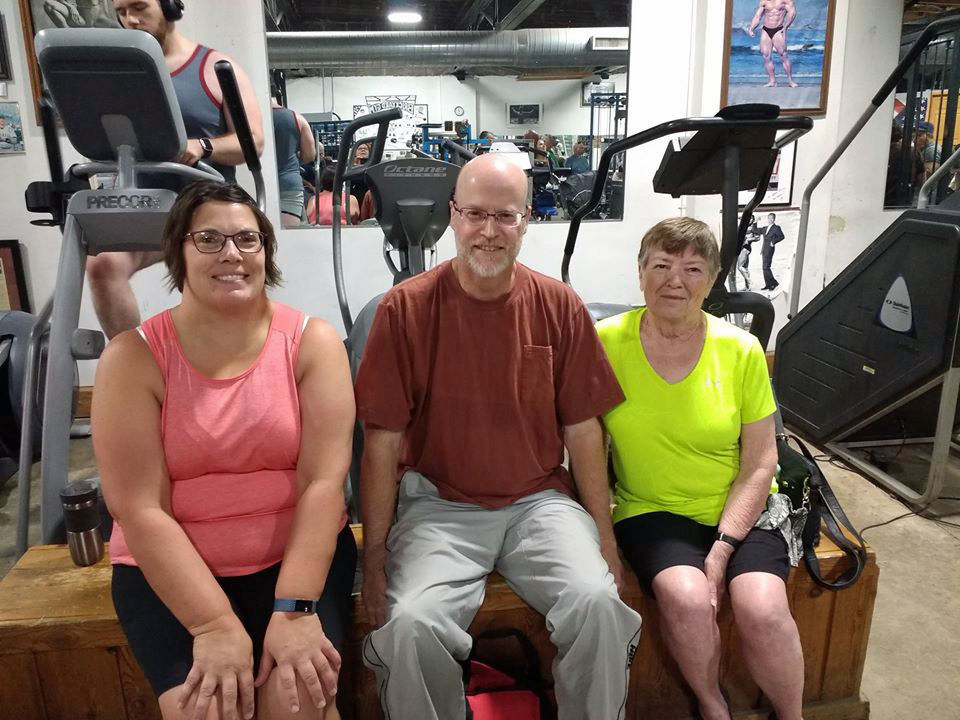 Octogenarian Marilyn Helms took home the top prize in the deadlift competition at the 2019 Wisconsin Senior Olympics. But the rewards for her venture into the world of weightlifting stretch far beyond just that gold medal.
Roughly two years ago, Helms, a Reedsburg resident, suffered from several physical and mobility issues that made it difficult for her to get around. This included extreme, chronic back pain as well as pain in her knees. Right around her 80th birthday, she suffered a fall in her home that she could barely get up from on her own.
Shortly after, her children approached her about meeting with Tim Fox, a personal trainer out of Reedsburg whose specialties include working with elderly individuals on strength and balance training.
"I originally got an email from her kids seeing if I'd be interested in meeting with her and talking about some training, so we did," Fox said. "We did an evaluation of where she was at and what kind of physical capabilities she had. She found me agreeable enough to give it a try."
That first meeting occurred in December 2017. Their first training session came a week later. Thus began what Helms considers to be one of the most important journeys of her entire life.
To start, Fox put her through simple stretches and exercises to help improve her mobility issues. At the time, Helms had to hang on to furniture as she moved through her house and used a walker to get around outside her home.
"I had so much pain I couldn't stand at the sink and do much of anything," Helms said. "I could not stand, the pain was so bad."
At first, Fox's main concern was helping her in a way that would allow here to go through her day-to-day life without agonizing through chronic pain.
"A lot of what we did was originally addressed at just returning function to her and lessening the pain," Fox said. "There was a gradual progression where it improved. And after a time, most of that was gone."
As they built on those and the exercises became too easy for Helms, he ramped things up and they eventually moved into weight training. This process certainly wasn't always a breeze for Helms and the tasks could sometimes seem daunting, but the benefits were clearly paying off.
"The first time Tim said for me to walk down the driveway by myself without any aid or anything, I was scared because I was afraid I was going to fall," Helms said. "But now we go for walks. I walk about a mile without any brace and sometimes carrying a dumbbell."
After seeing how well Helms was doing with the weight training and lifting, he pitched her the idea of looking into entering competitions. As Fox noted, having set goals is important and can help break up the occasional tedium of the training process. Competitive lifting was one way to do that.
You have free articles remaining.
After Helms agreed to it, Fox looked into some potential competition options and they eventually settled on her entering the Wisconsin Senior Olympics this past summer in Milwaukee.
Helms took part in the deadlift competition in the 80-84 age bracket. She went 3 for 3 in her lifts, posting lifts of 100, 110 and 115 pounds on her way to clinching the gold medal.
"It was thrilling," Helms said. "I'd never done any competition like that before. But I thought, what the heck? I'm never getting any younger."
To see Helms go from barely being able to stand to thriving in a powerlifting competition was a testament to all the difficult work that went into her improvement. It was not only rewarding for Helms herself, but Fox as well.
"That's one of the wonderful things about what I do. When I started personal training, I never really imagined working with older people. That's the majority of what I do now," Fox said. "There's tremendous satisfaction in being able to help people be able to function well, to lessen or sometimes eliminate chronic pain that they're dealing with — it's just absolutely wonderful.
"But I can't emphasize enough how it was her commitment to do the work that she needed to do to make that kind of progress. She does exercises on her own in addition to meeting with me several times a week."
One of her daughters, Becky, can provide a firsthand account to just how much progress her mom has made in two years working with Fox. Where it used to be almost impossible to bring her anywhere, Helms is now capable and more than willing to be out and about.
"I would've said she had one foot in the grave. She just sat in the chair and she didn't get out and it was hard to take her anywhere," Becky said. "Where she is now, it's amazing. Now you can take her shopping and you don't have to baby her. She can keep up and get around. I really think she's extended her life quite a lot by going through this."
Helms isn't resting on her laurels after all the progress she's made. She'll keep working to build on all she's done so far and she's even open to entering the Wisconsin Senior Olympics again to try and defend her gold medal.
"If I'm still around next year, I'll probably try it again," she joked.
Of course, the powerlifting competition is all secondary to the incredible day-to-day benefits that her partnership with Fox has brought her.
"I told Tim about six months or so into working with him that he was the best investment I ever made in myself," Helms said. "Not too long after we started, I told him that I wanted to be one of his success stories."
"She is. Definitely," Fox responded.
Follow Zach Rastall on Twitter @zrastall17 or contact him at 608-697-7943.