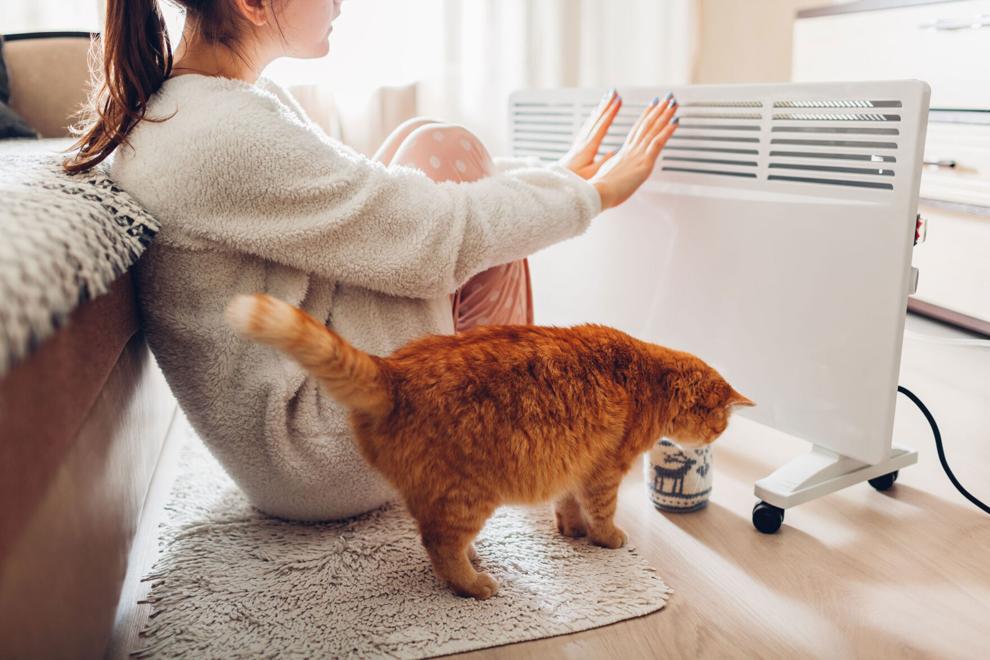 11. Work with the weather. Open your curtains or blinds to let the sun in during the day, or when outside is warmer than the inside of your home.
12. Seal your windows and doors. Even if your windows and doors are totally shut and locked, drafts can seep in through small crevices. You can use caulk or shrink film to seal those cracks. Placing inexpensive, transparent shower curtains over windows can keep the sun in but the cold draft out. For the bottoms of doors, cloth draft stoppers are "very effective," Benjamin said.
13. Close off unoccupied rooms. By shutting the doors of rooms no one is using, you can create additional barriers between yourself and the cold outdoors. This can also aid preventing heat loss from the room you're in.
14. Reverse your ceiling fan. If possible, send your ceiling fan in a clockwise direction so that it sends the warm air down.
15. Sit near indoor heaters. You can safely use portable heaters if they are space heaters that have automatic shutoffs and can be plugged into a wall outlet instead of an extension cord. Since space heaters are a common cause of fires, they should be at least 3 feet away from any drapes, bedding or furniture. To prevent high levels of carbon monoxide — which can cause potentially fatal poisoning — ensure you have a carbon monoxide monitor installed and that you don't "use any type of outdoor gas heater or anything that is not electric," Benjamin said.
16. Move anything that's blocking heat vents or radiators. The heat will better circulate throughout your home that way.
17. Spend time and sleep in the upper levels of the house. Heat rises, so moving your working, sleeping and living spaces upward may be more comfortable.
18. After showering, don't run the bathroom fan or close the door. Unless your bathroom is prone to growing humidity-induced mold, the warm steam from the shower can make the nearby air less dry and cool for a short period of time.
19. Buy magnetic vent covers from home improvement stores. Used to cover vents, they can be inexpensive and help to force heat to exit vents in the occupied rooms only.
20. Put down rugs or carpets. These can be warmer to the touch than bare floors.
21. Insulate your attic. If you can afford to, padding your attic with insulation from hardware stores can help to retain some of the heat you usually lose through the attic since heat rises.
22. Research what your residential area offers. Some locations may be running warming centers set up for safety during the pandemic.