Another peaceful protest Sunday over the death of black man in police custody in Minneapolis last week ended in violence in Madison, with property damage, looting, attacks on police and 15 people arrested, police said.
Police also say an intoxicated man who had been with protesters accidentally shot himself in the leg.
For the second night, protesters engaged with police and police responded with tear gas Downtown. Protesters were calling attention to the death of George Floyd, who died after Minneapolis officer Derek Chauvin held him down on the ground with his knee on Floyd's neck as Floyd cried "I can't breathe." Bystander video of the incident has gone viral and Chauvin has since been charged with third-degree intentional homicide.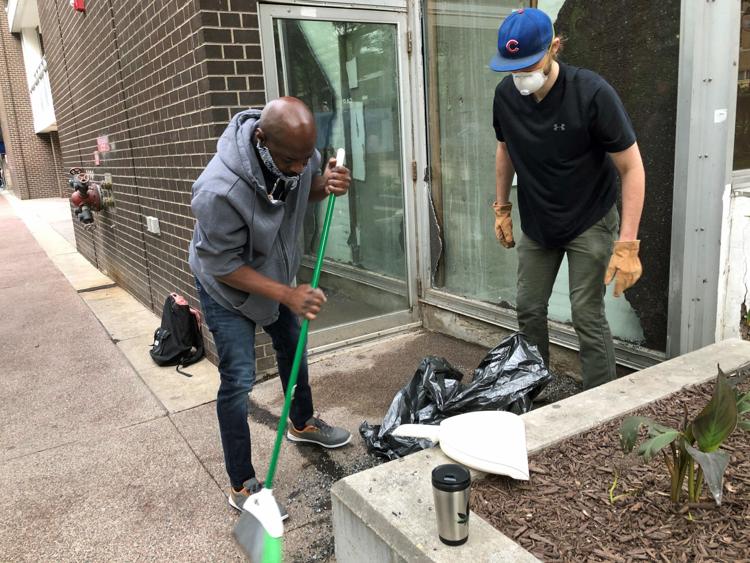 Police said protesters marched for several hours on the Capitol Square and State Street beginning around 6 p.m. Sunday, growing in size to several hundred and with some protesters throwing rocks at officers. 
The action continued after the city's 9:30 p.m. curfew, which officers on the ground initially decided not to enforce, according to Lt. Kipp Hartman. After protesters surrounded a group of officers in standard uniform at about 11 p.m., items were reportedly thrown at the officers and one person struck an officer in the face. Shortly after that, additional officers responded to the area and chemical agents were dispersed.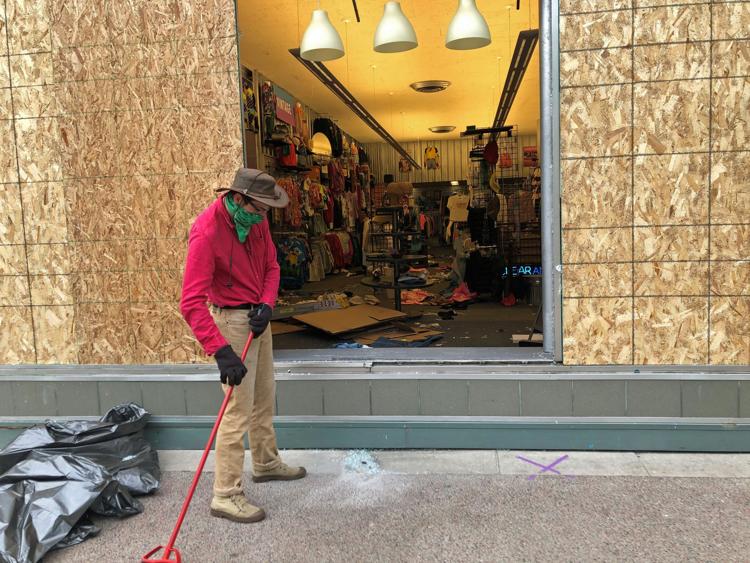 Police reported multiple instances of looting, property damage and graffiti and said several fires were set and several officers injured.
Police ultimately arrested 15 people, including one who was allegedly looting with a handgun. Police said several others attempted to steal a police squad car.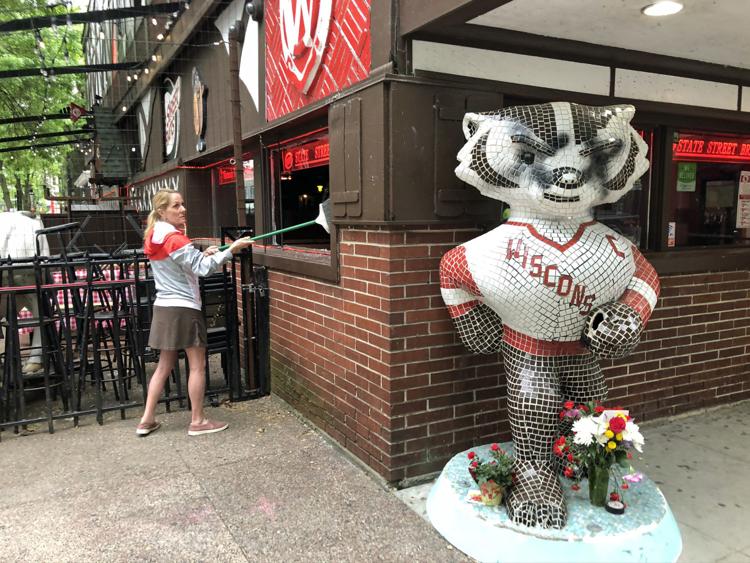 At about 2:15 a.m. Monday, Madison police and Dane County Sheriff's deputies responded to a call about shots fired near the parking ramp at South Fairchild and West Doty streets and found a man who had unintentionally shot himself in the leg.
Deputies applied a tourniquet to the man's leg and the Madison Fire Department took the man to a local hospital, Madison police said.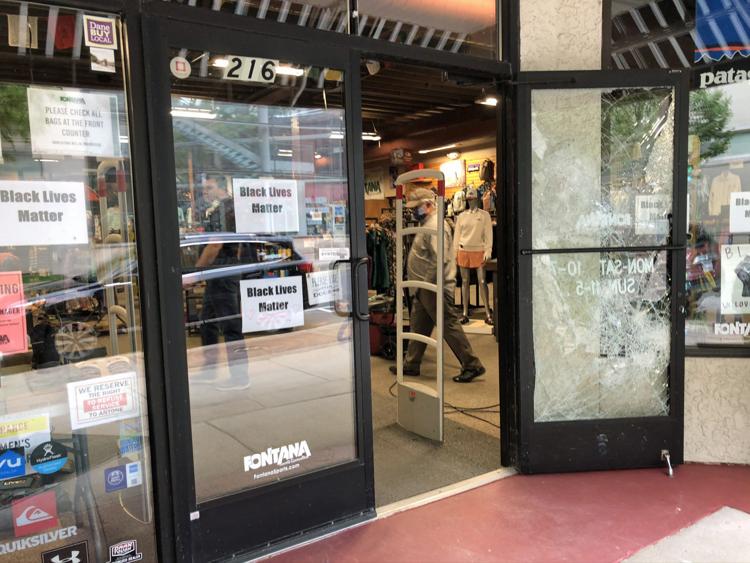 The man, whose name was not provided, was arrested for being a felon in possession of a firearm and intoxicated use of a firearm. Police say the man and three friends who were with him were part of the group of protesters and looters in the Downtown area.
Police also responded to other incidents of break-ins, looting or both across the city overnight Sunday, specifically at Rocky's Liquor Store, Park Street Storage, Stop N Shop, Fontana Sports Specialties, JoAnn Fabrics and Lee Dorn Jewelers.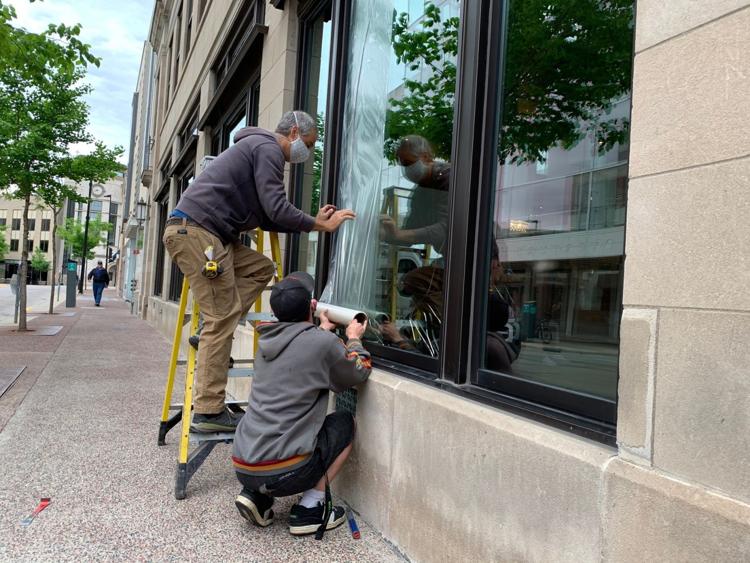 More protests could occur Downtown Monday after three local activist groups promised to "immediately take action" after a press conference at noon on the "local uprising" and plans for a "week of action."
Freedom Inc., Urban Triage Inc. and the Party for Socialism Liberation are seeking to "bring attention to the rampant police murders of Black people and to challenge systems of power that produce anti-Black police terrorism," according to a statement from the groups.
Mayor Satya Rhodes-Conway "defund" the Madison Police Department and instead invest in "life-affirming infrastructure for Black people (and) instead invest in pro-Black and anti-oppression community led projects and services."
The release of all people from the Dane County Jail.
Halting plans to expand the county jail.
Dropping "all charges against people, including protesters and freedom fighters."
A suspension of probation holds by the state Department of Corrections.
The groups are also calling on authorities to "immediately seize and abolish police force powers and acknowledge safety structures that are pro-Black, pro-woman and girls, pro youth, pro-LGBTQI, pro-disabled, pro-immigrant and refugee community."
Shopkeepers, construction workers and a handful of volunteers were out Monday morning on State Street, where rioters hit some businesses that were left untouched Saturday, while returning to others for a second time.
"I don't mind the protests," said Shawn Murphy, manager of Insignia, which had windows broken and merchandise damaged for the second night in a row since the Badgers' apparel store reopened on Saturday after being closed for more than two months because of the COVID-19 pandemic.
"This vandalism, all this other stuff is ridiculous," Murphy said. "It makes no sense to me."
"Black Lives Matter" signs in the window didn't protect Fontana Sports Specialties on Henry Street, where vandals smashed the front door and took what co-owner John Hutchinson estimated was thousands of dollars' worth of merchandise.
Hutchinson said he supports the cause of racial justice, but "this is beyond the protest."
"This doesn't solve anything," said his wife, Judith Hutchinson.
State Street resident and protester Alan Robinson was helping clean broken glass outside The Towers on State.
"I'm a black man," he said. "This window was basically broken in support of my right to live, although it was done under the wrong pretenses."
Robinson, who attempted to stop people from smashing the windows of Goodman's Jewelers after Saturday's protest, attributed the vandalism to years of systemic racism.
"What can you say to a people whose city government actively disenfranchises them and doesn't listen?" he said. "There is unrest throughout our entire country. Each and every one of our cities has a story very similar to the one we have here, where the calls and cries of black people have been ignored, and if each and every one of our city leaders does not step up to answer those calls then each and every one of our cities will probably continue to burn."
In a statement Monday morning, Madison City Council President Sheri Carter and seven other members of the 20-person council denounced Floyd's death and police actions surrounding it.
"Once again, we heard the words 'I can't breathe, I can't breathe," Carter and Alds. Patrick Heck, Lindsay Lemmer, Shiva Bidar, Marsha Rummel, Donna Moreland, Arvina Martin and Keith Furman said. "Again, those words are met with silence by the officers present at the scene."
"We know that not all police officers are evil," the statement said, "but Officer Derek Chauvin's actions were deplorable, horrific and infuriating. We also deplore the actions of the officers who stood by, did nothing and expect them to be held accountable as well with charges."
The council members said they "ask and expect of all police departments is to hold yourselves accountable."
State Journal reporter Chris Hubbuch contributed to this report.
Be the first to know
Get local news delivered to your inbox!