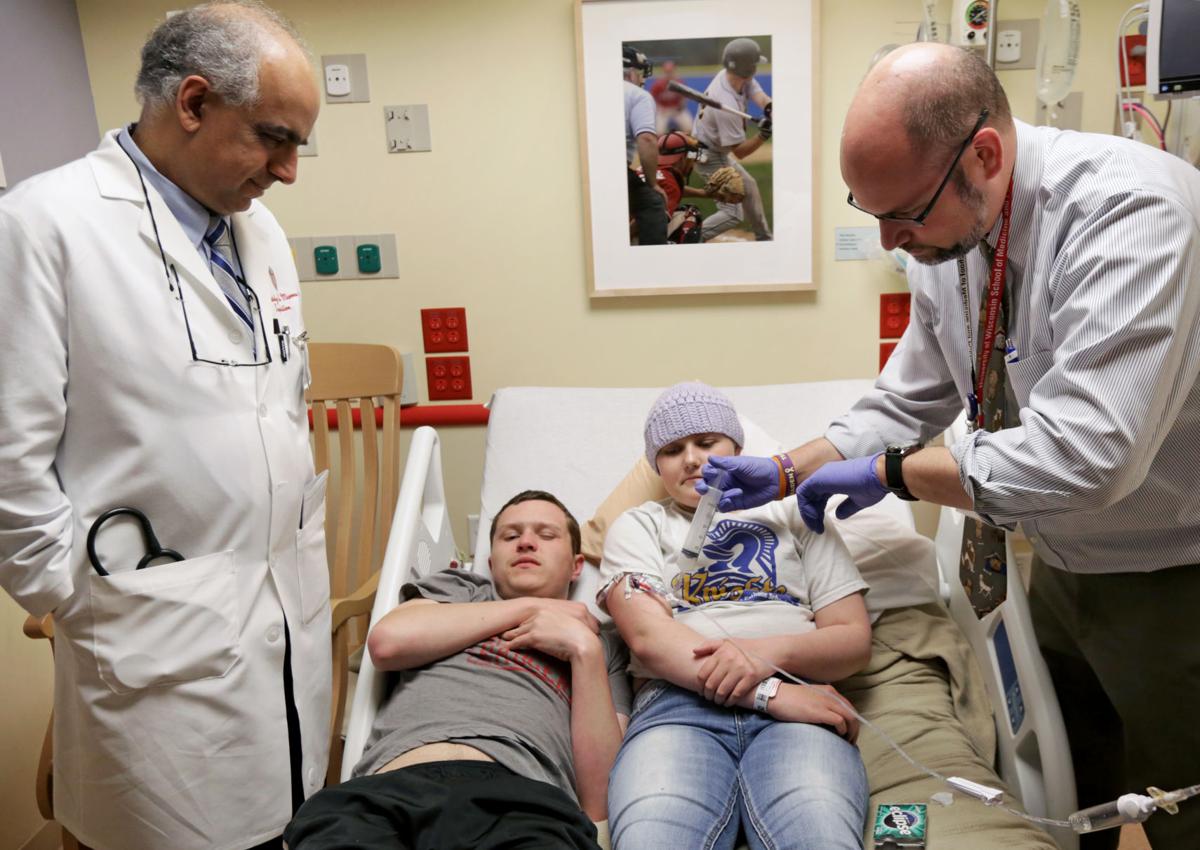 As a doctor injected cloudy fluid into Makena Eighmy's intravenous line, it looked like the 13-year-old animal lover from near Watertown was getting a standard procedure for her cancer.
But the infusion this month at UW Health's American Family Children's Hospital was far from routine.
It was a $475,000 treatment, the first gene therapy approved in the United States, a "living drug" made by shipping Makena's T cells to a lab in New Jersey. There, the immune cells were genetically modified to better recognize her acute lymphoblastic leukemia, or ALL, a blood cancer that had relapsed twice after chemotherapy.
In receiving two teaspoons of her souped-up cells on May 11, Makena was getting CAR T-cell therapy, one of the most promising new immunotherapies for cancer. She was just the second patient to get the customized treatment in Wisconsin since it was approved last year. UW Health is the only place providing it in the state.
For more than 80 percent of children with ALL, the most common childhood cancer, chemo provides a cure. But for those like Makena, whose leukemia persists despite chemo and other treatments, the odds of survival are slim.
So for the seventh-grader and her family, the syringe containing her engineered cells, which had been frozen in liquid nitrogen, thawed in water and delivered swiftly in a cooler to her room, offered a potential lifeline.
"It went from, 'There's nothing we can do,' to, 'Oh my god, there's so much hope now,' " said Tricia Eighmy, Makena's mother.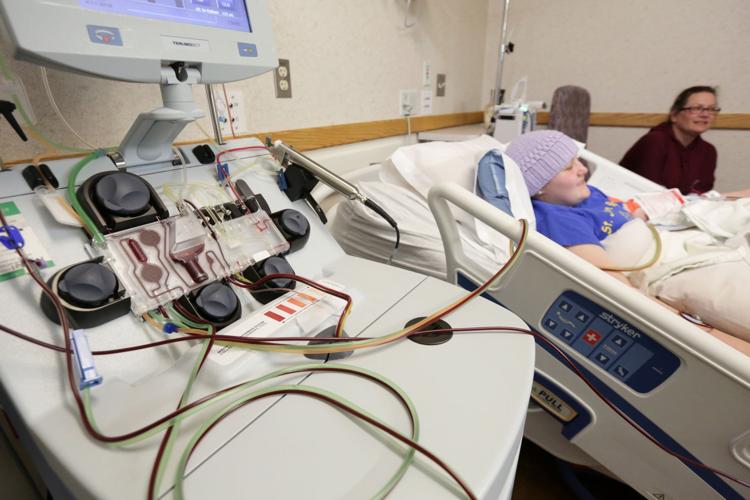 The treatment, called Kymriah, is "a paradigm-shifting game changer," said Dr. Christian Capitini, a pediatric oncologist at UW Health.
In the study leading to approval, 83 percent of patients were in remission after three months and 76 percent were still alive after a year. But like many encouraging medical developments, this one is not a sure thing.
Sebastian Gusman, 15, of Beaver Dam, was the first patient to get Kymriah at UW Health after approval, in late January. Three months later, as he and his family were about to celebrate his recovery by traveling to Orlando, Florida, his leukemia returned.
They canceled the trip, and he is getting more chemo. His leukemia mutated in response to the CAR T-cell therapy, and no longer carries the marker targeted by the treatment, Capitini said.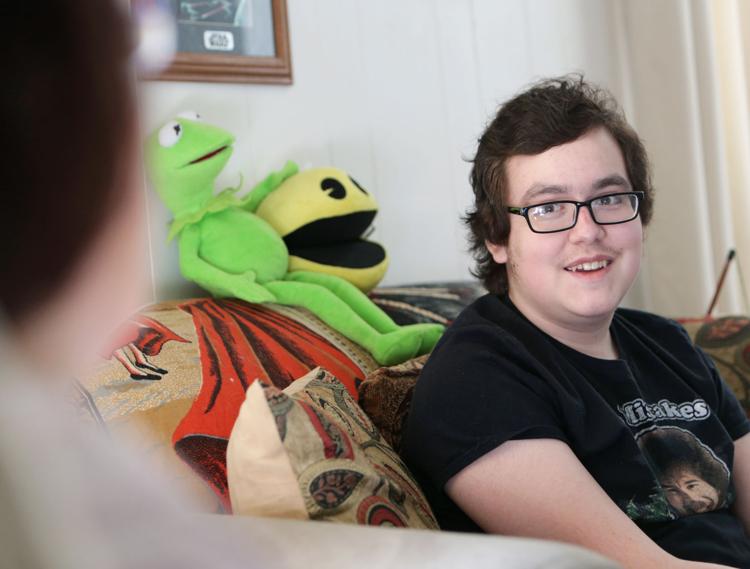 "When it works, it's really exciting and remarkable," Capitini said. "When it doesn't work, it shows that cancer cells are smart. Targeting just one molecule might not be sufficient."
Using immunotherapy
Cancer can elude the immune system, which attacks foreign invaders, because it is an abnormal growth of the body's own cells.
But in recent years, scientists have developed immunotherapies that stimulate parts of the immune system to home in on cancer or block cancer cell signals that suppress immune cells.
Several drugs have been approved, helping people with lymphoma, lung cancer, skin cancer and other tumors who didn't respond well to surgery, chemo or radiation.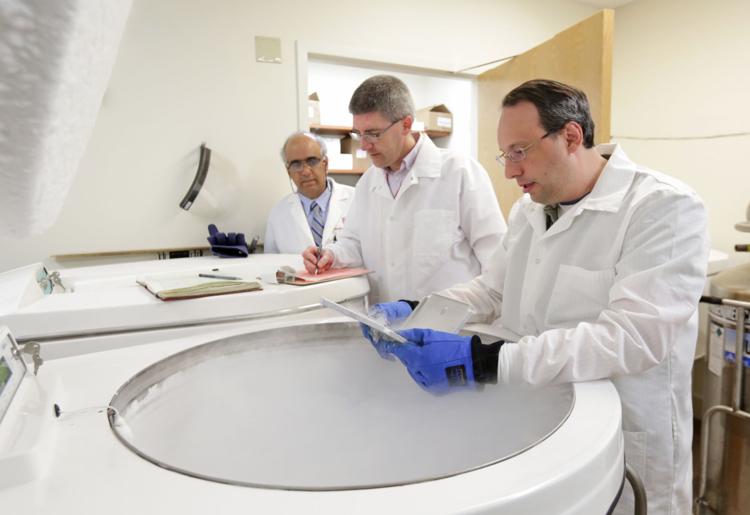 One of the most celebrated immunotherapies is the type used on Makena and Sebastian: chimeric antigen receptor, or CAR, T-cell therapy. Using a disarmed, HIV-like virus, lab workers insert a gene into the patient's T cells, the work horses of the immune system. That allows the cells to recognize a specific protein on leukemia cells — with Kymriah, a protein called CD19.
The treatment was approved by the Food and Drug Administration in August for children and young adults with B-cell ALL. A similar treatment was approved in October for adults with lymphoma, another blood cancer. The first patient to receive the lymphoma treatment at UW Health got it the same week Makena had her infusion.
One CAR T-cell therapy success story is Austin Schuetz, 9, of Fall River, who received an experimental form of the treatment in Philadelphia in 2013. His leukemia had relapsed after chemo and other treatments, giving him a life expectancy of three to six months.
Today, the third-grader's cancer remains in remission. He's swimming, playing basketball, jumping on the trampoline and preparing to go to Jamaica with his family in October to celebrate five years free of cancer.
"He's gearing up for summer and playing with his friends," said Kim Schuetz, Austin's mother.
In February 2017, a 17-year-old from Wisconsin got experimental CAR T-cell therapy at UW Health through a clinical trial. Now 18, she is in remission, Capitini said. She and her family declined to be identified.
Dangerous side effects
Even when CAR T-cell therapy works, it can cause side effects, some of them potentially fatal.
The modified T cells release chemical messengers called cytokines into the blood, often leading to high fevers and low blood pressure, which can cause organ failure. The brain can swell or otherwise become altered, resulting in seizures or confusion.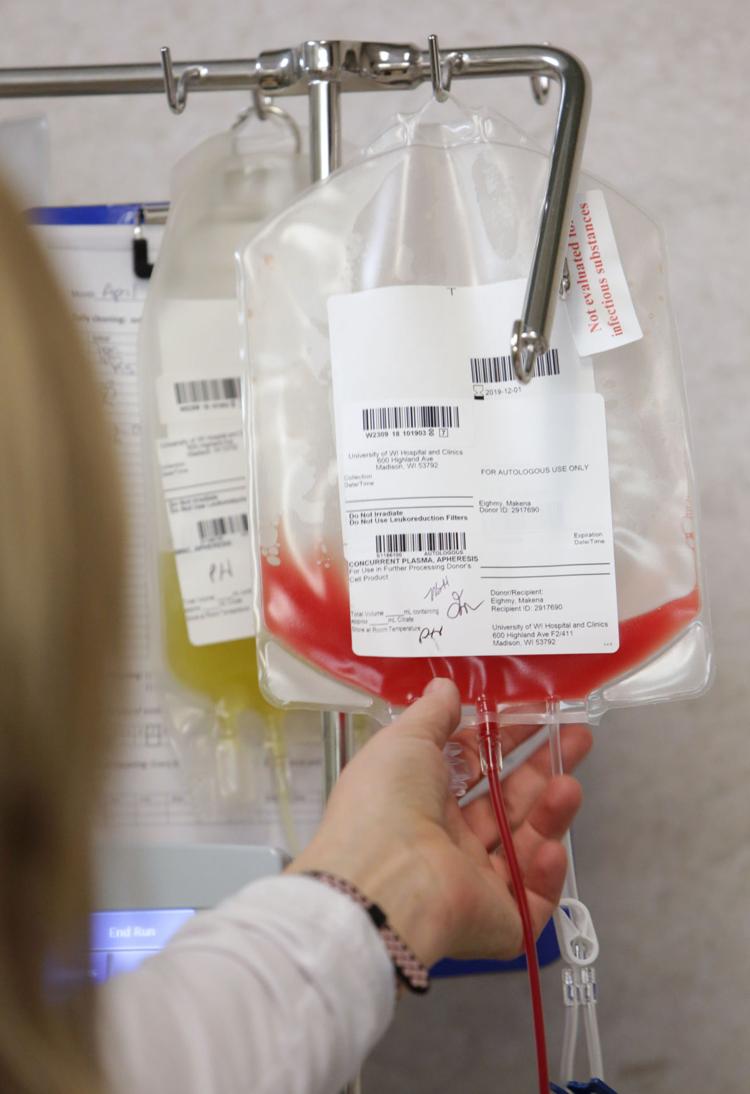 If the CAR T cells wipe out leukemia cells marked by CD19, as is hoped, they will typically kill off other immune cells that carry the same marker, reducing the body's ability to fight infection. Patients who lose those cells, known as B cells, require monthly antibody therapy for life, Capitini said.
Kymriah's $475,000 cost, stemming from its tailormade process, can be a hurdle if insurance doesn't cover it. To address concerns about the cost, drug-maker Novartis said it will charge only if patients respond within a month.
"Many questions must be addressed before we can herald immunotherapeutic approaches to cancer an unqualified success," Dr. Francis Collins, director of the National Institutes of Health, wrote when Kymriah was approved.
"There are still too many severe reactions, too many non-responses or relapses, and, potentially, a very high price tag for their widespread use, which will be truly challenging to scale up," Collins said. "But we're off to a promising start."
Disappointing outcome
Sebastian Gusman, a 10th-grader who is a fan of computer games and Star Wars, started feeling pain in his knees and hips just before Christmas 2016.
Two months later, he was diagnosed with ALL.
After two rounds of chemotherapy, involving long stays at UW Health's children's hospital and many day trips from his home in Beaver Dam, tests showed more leukemia than before. His back hurt so much, the only way he could sleep was to recline on his gaming chair and prop up his legs on a table.
"I was crying in pain," he said.
Kymriah had been approved, and UW Health was one of 20 sites allowed to offer it initially. The list has now grown to more than 40 sites, with Children's Hospital of Wisconsin near Milwaukee expected to be approved soon.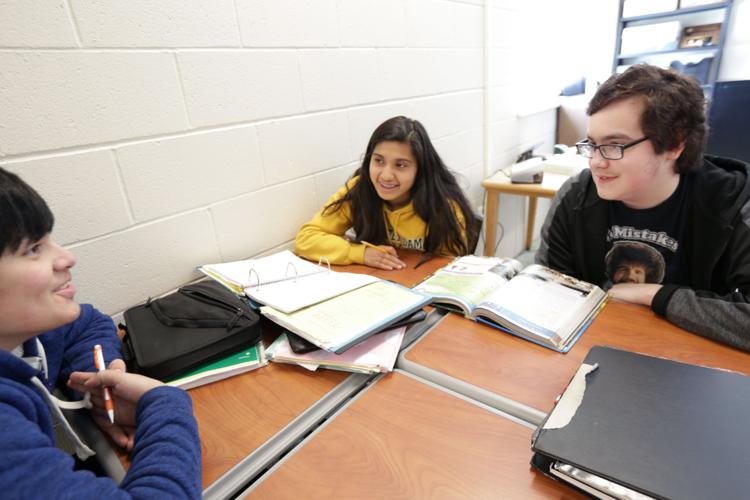 On Jan. 26, Sebastian became the first patient to get Kymriah, post-approval, in the state.
A few days later, he had a severe reaction. He developed dangerously low blood pressure, a fever of 106 degrees, fluid around his heart and kidney failure, requiring him to be hooked up to oxygen in intensive care.
He also had hallucinations — seeing "fish people," a "pickle juice river" and a wall clock ordering him to do things, he said — and for several days didn't recognize family members or medical staff.
With rescue drugs, he recovered. His back pain went away, and tests suggested the CAR T-cell therapy was working. Doctors believed his prognosis was particularly good because side effects from Kymriah are thought to be a sign the treatment is doing its job.
Sebastian, his brother and parents planned to go to Walt Disney World and Universal Studios in early May through the Make-A-Wish Foundation.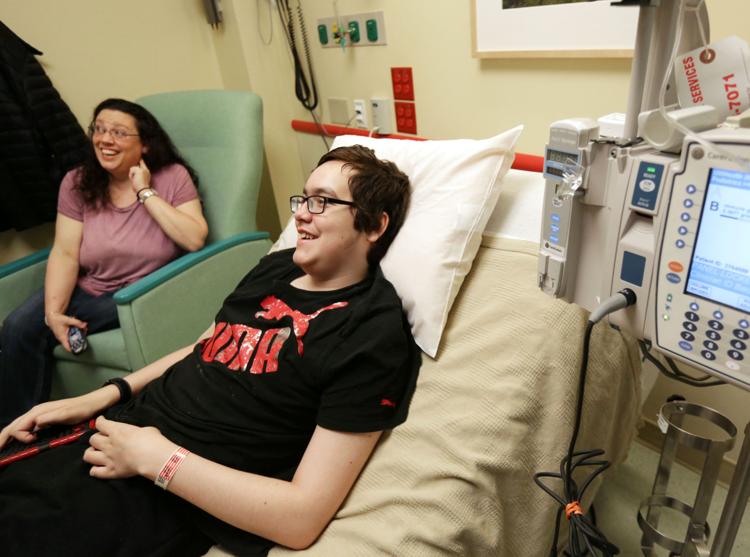 But on April 25, while getting his monthly antibody infusion, he learned the cancer had relapsed. A few days later, his back pain returned.
"It was a complete shock," said his mother, Beckie Gusman. "But we've accepted it, and we'll just keep fighting."
If the chemo Sebastian is now taking works, he might get a stem cell transplant, Capitini said. Another possibility is enrolling in a study of another CAR T-cell therapy, targeting a different marker, CD22.
Praying for a cure
Makena Eighmy, who wants to be a veterinarian or a horse trainer, helps take care of her family's three cats, two horses, two dogs, two rabbits and two fish.
She was an energetic child until three years ago, when her arms and legs began to hurt and she started sleeping up to 16 hours. When she refused to go shopping one day, saying she was too tired, her parents knew something was wrong.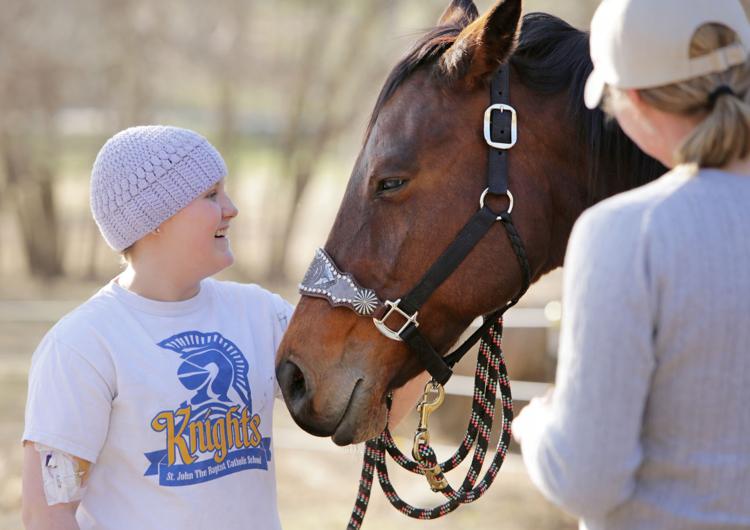 In June 2015 came the diagnosis: ALL. Makena was 10, between fourth and fifth grade.
After her first round of chemo, her cancer returned in March 2017, in her spinal fluid. She had chemo again last year, along with radiation to her brain.
In early April of this year, a test showed the cancer was back, in her bone marrow. The outlook looked grim until the family heard about Kymriah.
Days later, Makena lay on an infusion bed at UW Hospital, tubes snaking out of both arms. Blood from her left arm flowed into a centrifuge, which collected her T cells and other white blood cells before returning platelets, red cells and plasma to her right arm.
"It just stings a little bit," she said during the procedure, through which adult patients often complain, nurses said.
More than a half-cup of her blood, containing her T cells, was shipped to a Novartis lab in Morris Plains, New Jersey. The gene was inserted to enable the cells to recognize the protein, and the volume of modified cells was expanded.
But when the mixture returned to Madison a month later, it measured only two teaspoons, as most other types of cells had been removed.
As she waited for her CAR T-cell infusion, Makena received more chemo to get rid of her remaining T cells and make room for the new ones.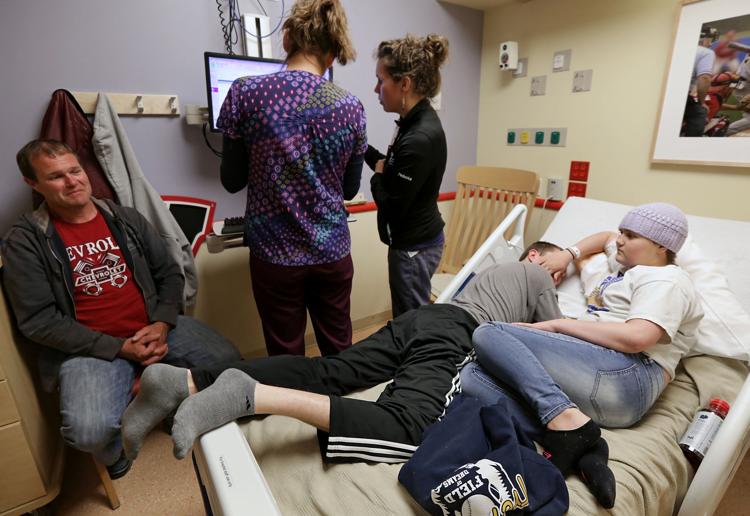 For her parents, the days dragged on.
"We're praying this is a cure," said her father, Jason Eighmy, from their home between Watertown and Johnson Creek. "I just want to see the day when she doesn't have to worry."
Makena focused on Lacey, a quarter horse she got in December through Make-A-Wish. Lacey was due to deliver a foal at the same time Makena was scheduled for her treatment.
Makena's infusion came first. With her 15-year-old brother, Hayden, who has autism, beside her, she sat on a bed at the children's hospital as nurses prepared her IV line. Capitini guided the plunger down the syringe and delivered 50 million of her CAR T cells, armed to kill her leukemia.
To counteract the sulfur taste of the cells, Makena chewed gum. A lavender knit hat covering her pixie hairdo, she seemed puzzled by the many doctors, nurses and visitors assembled in her room. She didn't understand what all the fuss was about, she said.
"It was so set up, like, everyone was so excited," Makena said. "Now, I'm just kind of feeling like, OK."
Three days later, she developed a fever of 101 degrees and slightly low blood pressure, and was admitted to the hospital. Late last week, she was in the ICU, her fever having approached 104 degrees. It appeared the CAR T-cell therapy was working.
Be the first to know
Get local news delivered to your inbox!