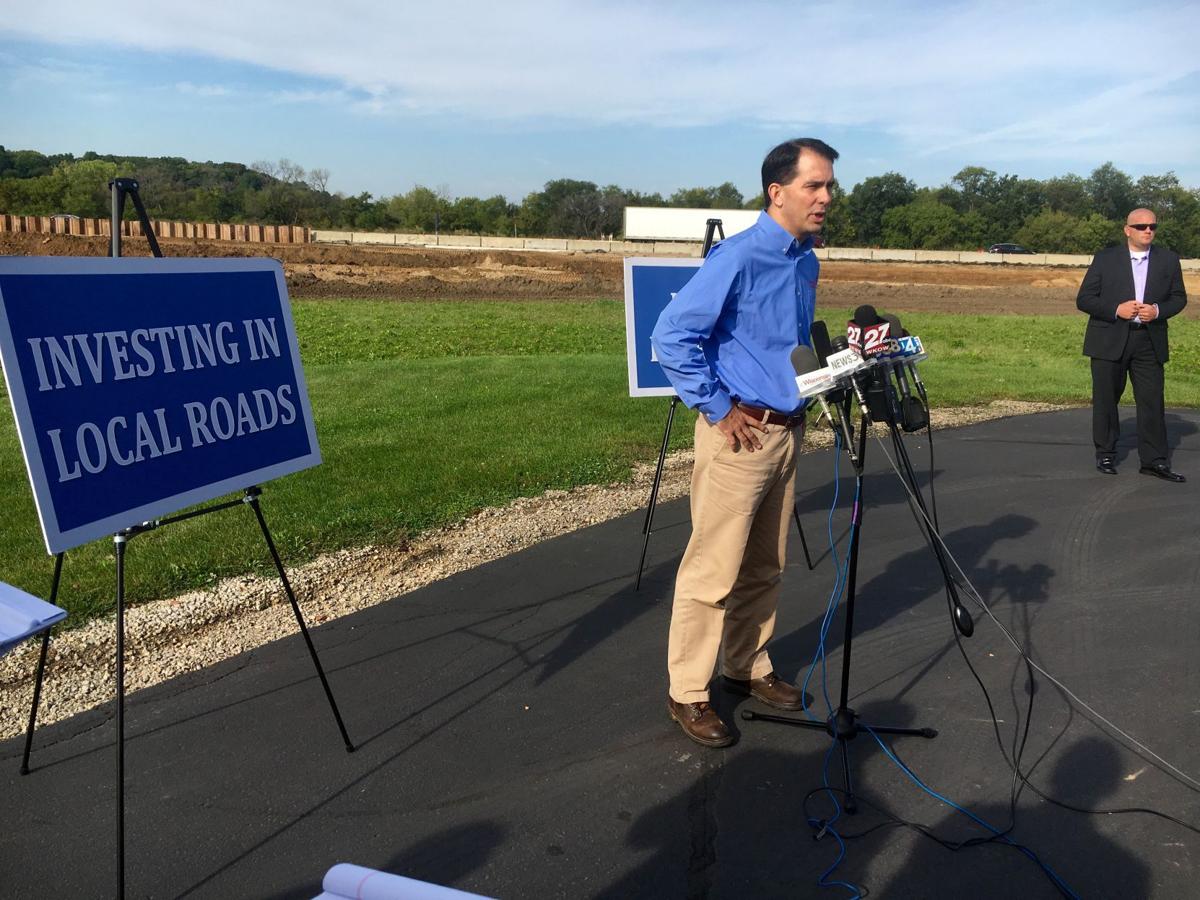 Repealing Wisconsin's minimum markup law on gasoline sales would not pave the way for increasing the state's gas tax or vehicle registration fees, Gov. Scott Walker said Monday.
Walker reiterated to reporters that he will veto any budget that includes a tax or fee increase without a corresponding tax decrease. He said repealing the state's Unfair Sales Act is "an interesting idea" but would not count as a tax cut.
"People may agree with me, people may disagree with me, but the one thing I hope people, not only in public office, but the media and others can appreciate is, I tell people my positions. You don't have to agree with it, but I think my position's pretty clear," Walker told reporters after delivering a report on his recent trip to visit U.S. troops overseas.
Republican lawmakers continue to clash over how to close a projected $1 billion shortfall in the state's transportation fund, with Assembly GOP leaders arguing "all options" should be on the table, including potential tax or fee hikes. 
Walker said Monday those in favor of tax or fee increases should have campaigned in November on the exact size of the increase they would support. 
"I also find it pretty interesting, you have some, for example, the Senate minority leader, who seems to have a selective memory, someone who supported my predecessor, who took more than a billion dollars out of the transportation fund, now talking about the problems being those of the current majority's out there," Walker said. "Well, part of the reason we face the challenges we face is because Jim Doyle and his allies raided more than a billion dollars out of the transportation fund. We've been spending years trying to fix that, and we're going to fix that regardless of who's in charge, but it is kind of interesting, you've got some people who have selective memories along the way."
Shilling fired back in an emailed statement: "This is absurd. Gov. Walker has had six years, three state budgets and two Republican-controlled houses to fix Wisconsin's transportation funding crisis but he continues to shift blame and shrink from his responsibilities. Gov. Doyle did a remarkable job leading our state and championing economic recovery efforts. It's time for Gov. Walker to step up into the role he was elected to serve and use his power to tackle tough issues like our state's $1 billion transportation deficit."
Share your opinion on this topic by sending a letter to the editor to tctvoice@madison.com. Include your full name, hometown and phone number. Your name and town will be published. The phone number is for verification purposes only. Please keep your letter to 250 words or less.