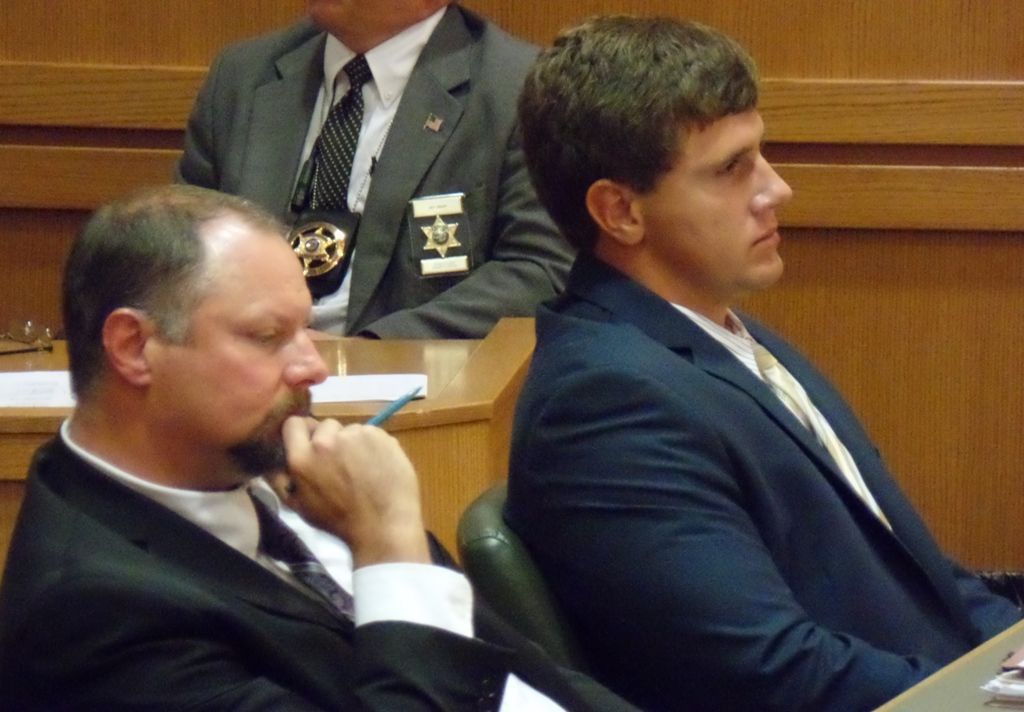 Had everything gone according to plan, Dominic Cizauskas would have been gearing up this week for his first football game as a Wisconsin Badger, coming up Saturday against LSU.
Instead, Cizauskas was led Monday from a Dane County courtroom by sheriff's deputies, toward the start of a yearlong jail sentence for third-degree sexual assault.
Cizauskas, 18, of Mukwonago, who was once a prized linebacker recruit for the Badgers, was convicted in June of raping a woman in a UW dorm room in December while he was in Madison on his official recruiting visit.
Reserve Judge Daniel LaRocque said the conviction was just, reached by a diverse jury that listened carefully to his testimony and to that of the victim.
"Here's a young woman who trusted you, she thought you were her friend and she let you in and without her consent and over her significant and continuous objections, you trampled on her rights, and the sentence has to reflect that," LaRocque said.
LaRocque placed Cizauskas on probation for three years, the first year to be served in jail. When he gets out, he'll have to register as a sex offender.
"I think it would be appropriate to impose a significant period of lockup, but I don't know that it has to be in prison," LaRocque said.
The woman testified during the trial that she and Cizauskas had had sex in the past during high school and that Cizauskas had contacted her about visiting her while he was in Madison. She said that she was studying in her dorm room when he arrived drunk, wanting sex. She said she tried to give him strong hints to leave, but he wouldn't.
You have free articles remaining.
Cizauskas testified that the woman had told him, "Let's do this," but Assistant District Attorney Rachel Sattler said that Cizauskas had never told any one that before it came out in his testimony.
In a statement to the court, the woman said that after the assault her grades plunged as she found it difficult to concentrate, and that she still feels anxiety being around other people.
"I trusted Dominic. We were friends," she said. "Now I don't trust anyone. It's hard for me to be in relationships with other people because I trusted someone too much, and look where it got me."
She said she has also been pilloried on social media, where Cizauskas' supporters created a support group for him and his family.
"Where was my support group?" she asked. "I'm the victim, and everyone acts as though he is."
The woman's mother said her entire family has been ostracized in Mukwonago by Cizauskas supporters.
"People were more worried about his football career than my daughter being raped," she said. " 'Poor Dom. What is he gonna do now? What about his football career?' What about my daughter? She was raped. She is the victim, not him. The community didn't seem to care; moreover, Dominic didn't seem to care. He has never shown any sign of remorse, regret. No apology, like it was no big deal."
Cizauskas did not make a statement in court.
"Dominic, you have to use this opportunity to dig yourself out of the hole you find yourself in today," LaRocque said after sentencing him. Failing to follow the rules of probation, he said, could land Cizauskas in prison.
LaRocque agreed to allow Cizauskas to serve his jail sentence in Waukesha County if both Dane and Waukesha counties approve the transfer.