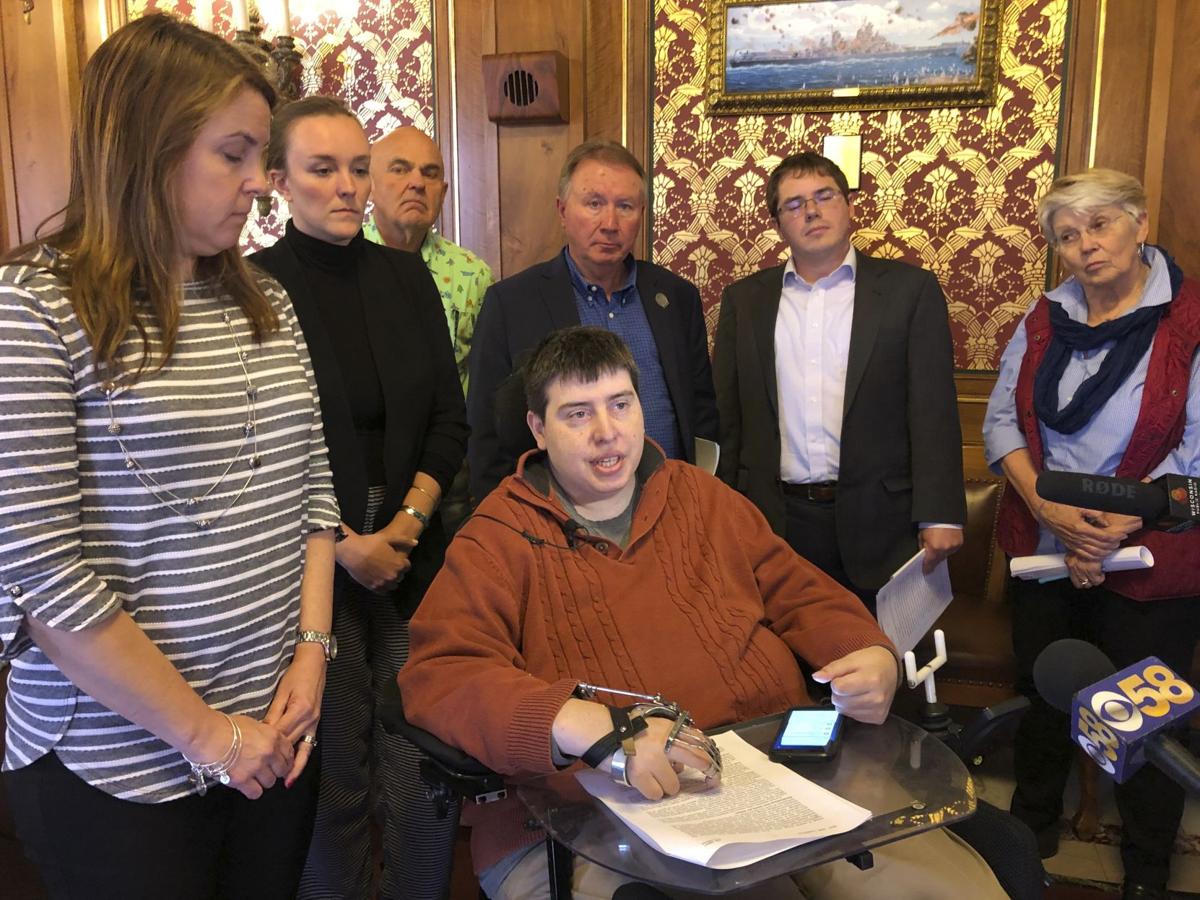 Following objections by Democrats, the Republican-controlled state Assembly agreed Thursday to consider an accommodation for a paralyzed lawmaker separate from other rule changes that Democrats said amounted to a "power grab" by the majority party.
The rule change, which Republicans passed on a 61-35 party-line vote, includes accommodations allowing Rep. Jimmy Anderson, D-Fitchburg, who is paralyzed from the waist down, to call in to committee meetings, something the state Senate already allows.
However, those accommodations, which Anderson requested at the beginning of the year, this week became caught up in a partisan fight after they were paired with additional rule changes, including the ability to take multiple votes on overrides of vetoes made by Democratic Gov. Tony Evers, which drew fierce opposition from Democratic lawmakers.
Before the accommodations and rules were separated, Anderson provided an emotional statement about the challenges he's faced since a 2010 car crash that killed his parents and brother and left him paralyzed.
Anderson argued that pairing the two would force him to vote against some of the very changes he's been seeking, a move he called "spiteful, cruel and petty."
"It would take a very small man to not be willing to provide me with that simple kindness and decency," Anderson said. "If you have any respect for me as a fellow colleague, if you respect me as a human being and think that I deserve the simple decency of being able to vote for my own disability accommodation resolution, turn this down."
Following two hours of discussion, Republicans moved some proposals into a separate resolution, which Anderson said marked progress. He ultimately voted against the accommodation resolution, which included a provision that will make it more difficult for Democratic lawmakers to force debate on their bills.
Following the votes, Anderson said he felt accommodations offered by Assembly Republicans didn't fully address his requests, including a guarantee that sessions would not run for extensive periods of time and would come with reasonable notice.
"I couldn't accept that deal," he said. "It was frustrating from beginning to end."
Anderson said he still is considering a lawsuit regarding the accommodations request and conversations with lawyers are ongoing.
The second resolution, with items unrelated to the disability accommodations, passed 60-36, with Republican state Rep. Scott Allen also voting against the measure. Three Assembly members did not vote.
Assembly Majority Leader Jim Steineke, R-Kaukauna, said the accommodations reflect what Anderson had originally requested but also noted they would assist anyone with a disability.
But for Democratic lawmakers, it was the changes to Assembly rules originally paired with the accommodations that were most problematic, specifically the ability to hold multiple veto override votes.
Minority Leader Gordon Hintz, D-Oshkosh, drew comparisons between Thursday's rule changes and last year's lame-duck session as an effort by Republicans — specifically Majority Speaker Robin Vos, who Hintz described as being "drunk with power" — to chip away at the governor's authority.
"There are so many things that are included in this rule that have nothing to do with accommodating Rep. Anderson," Hintz said. "It's disgusting, it's a disgrace. We've never had a speaker who's done more damage to this institution, who's done more damage to democracy and has been more insulting to public service and how this body is supposed to operate. This is just another black eye on Wisconsin."
A governor's veto can be reversed with a two-thirds vote of Assembly members present. Democratic lawmakers said their objection to multiple votes is it allows Republicans to call for an override at a time that Democratic representatives are absent or unable to attend.
Democratic lawmakers said the rule change could result in a scenario similar to one that took place last month in North Carolina, when majority Republicans called an unexpected vote to override the governor's veto of the state budget bill when most Democrats weren't present.
Steineke called the charge "nonsense" and said multiple veto override votes would allow lawmakers to take up a vote again should a legislator change his or her position or receive constituent feedback.
"The horrors that we'd actually be able to bring it up again if people change their minds," he said.
Britt Cudabeck, deputy communications director for Evers, referred to Thursday's vote as "Lame Duck 2.0."
"The people of our state want elected officials who will do the right thing for the right reasons — that's why they elected the governor last November," Cudabeck said. "It's a shame that Republicans in Wisconsin continue to lower the bar for decency and respect in our state."
Accommodations included in the rule change allow anyone certified by the Legislature's human resources department as having a permanent disability, and approved by the Republican and Democratic leaders, to participate in Assembly committee meetings and executive session votes by phone. They would have to give at least two hours' notice.
Anderson requested accommodations earlier this year to allow him to call into meetings, if necessary. He also asked that meetings not be held late at night or overnight.
Vos initially refused Anderson's request, and later accused him of "political grandstanding," and Anderson began consulting with an attorney regarding a possible Americans with Disabilities Act violation.
Be the first to know
Get local news delivered to your inbox!