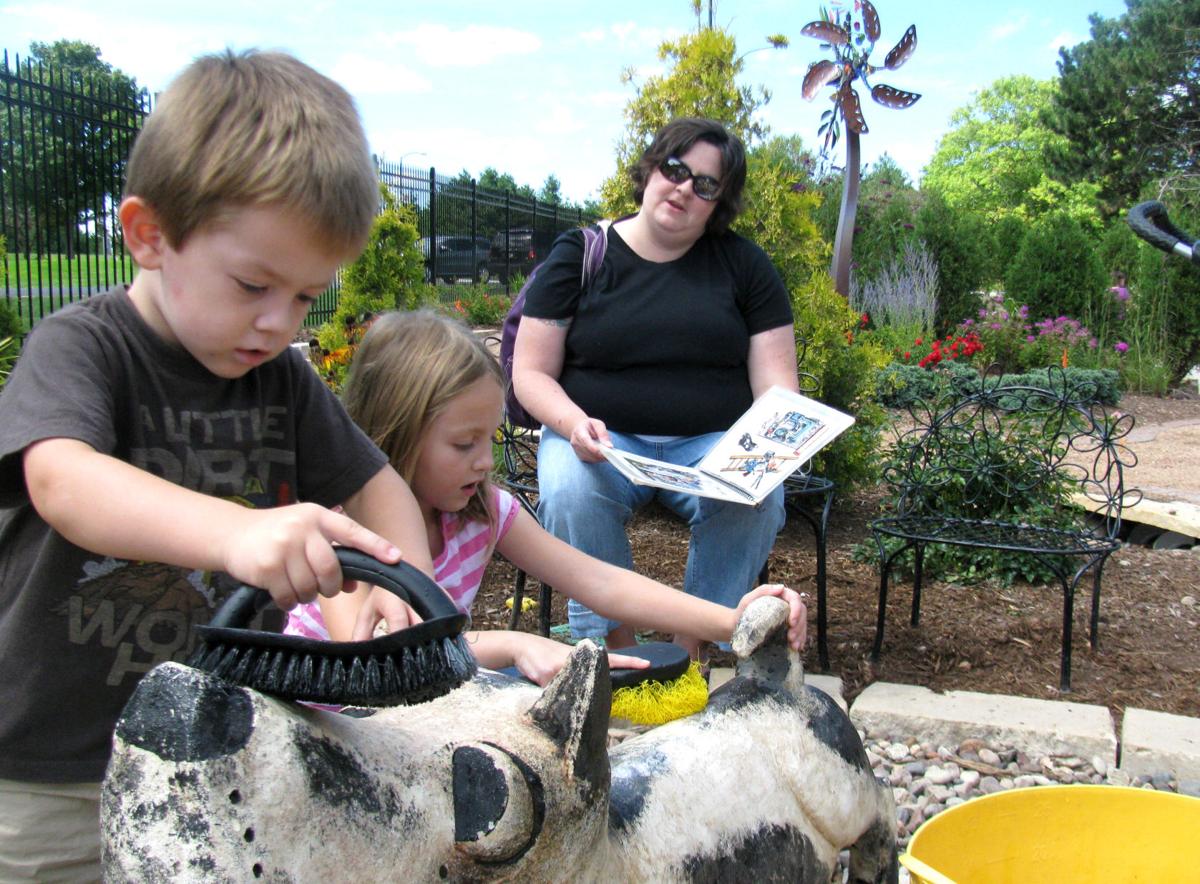 SHEBOYGAN -- A 3-year-old's temper tantrum can get old pretty fast.
But I'll give a preschooler a little slack for a "I don't wanna leave!" meltdowns now that I've seen what all the fuss is about.
After all, who wouldn't want to stay a little longer at a place where you can build fairy houses, scrub Harry the Dirty Dog, sit on one of Horton's polka-dotted eggs and stretch out on a couch made of sod?
Bookworm Gardens is a magical place. And as word continues to spread about the $2.8 million project, those who run the combination of a botanical garden and children's library can expect a lot more visitors and probably a few more tantrums.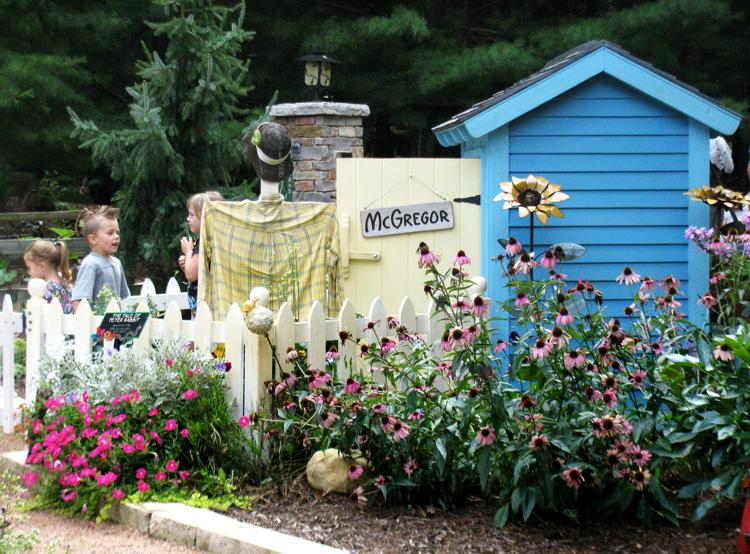 Located just off Interstate 43 and across the street from UW-Green Bay, Sheboygan Campus, Bookworm Gardens is organized around trees, flower and vegetable gardens designed to correlate with more than 70 children's books. Copies of the books that inspired the exhibits are available for kids or grown-ups to read.
Classics like the "The Three Bears," "Three Little Pigs" and "Winnie the Pooh" are here. The $450,000 visitor center, donated by the J.M. Kohler Foundation, is called the Hansel and Gretel Learning Cottage.
But unlike Storybook Gardens, which was a mainstay in Wisconsin Dells from 1956 through 2010 and was based around fairy tales, Bookworm Gardens is a mix of contemporary, classic and historical titles, all of them accompanied by either an interactive feature or a planting of some sort "to enrich the mind, body and spirit."
Books include "A Sock is a Pocket for Your Toes," "Diary of a Worm" and "George Washington Carver." There's also "Click, Clack, Moo," about a herd of cows who like to type, and a full-sized "Magic School Bus" and "Magic Tree House."
Impressively, Bookworm Gardens was built entirely through donations.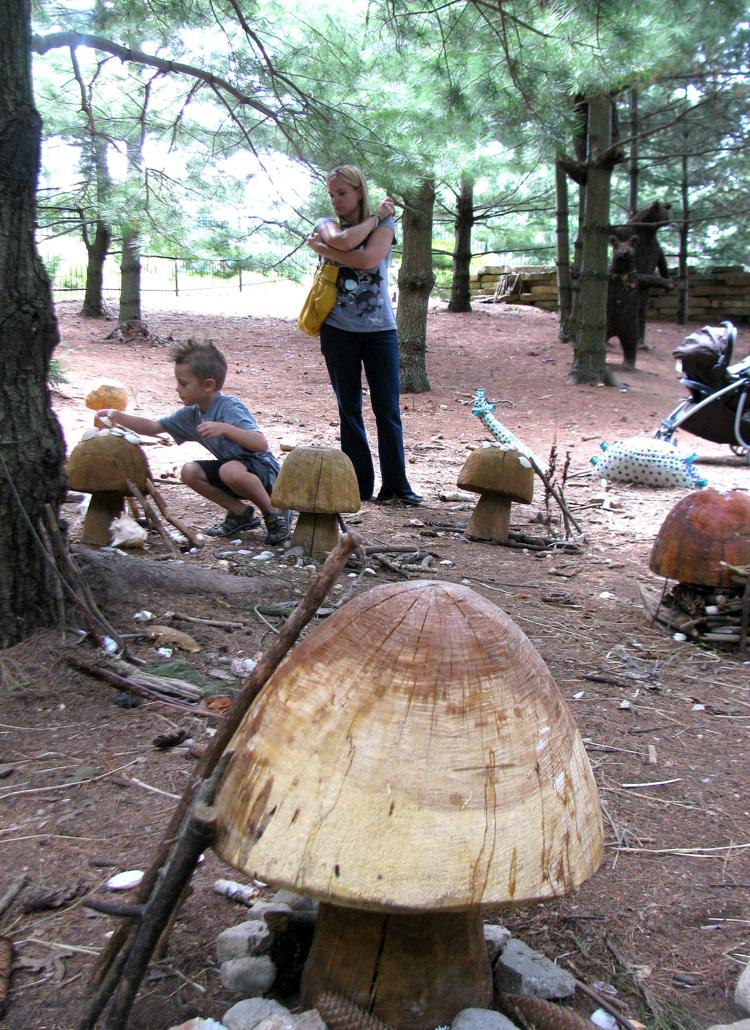 "There has been just a great amount of ownership in this project," said Sandy Livermore, Bookworm Gardens founder. "We never dreamed it would be this successful this quickly."
You have free articles remaining.
Visitors are coming not just from Sheboygan but from all over, including Fond du Lac, Green Bay, Milwaukee and even Chicago.
Bookworm Gardens opened in October 2010 after years of fundraisers. It has become a staple for school field trips. Newcomers arrive by word of mouth or after seeing the occasional news story.
Repeat business to Bookworm Gardens is strong.
"We come at least once a month," said Jill Sohn of Sheboygan. "Every time they find a new thing to sit and play with."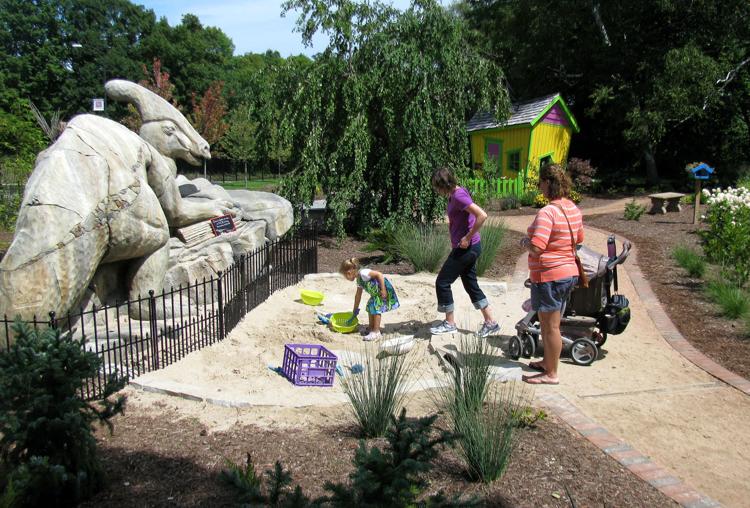 I had interrupted Sohn as she read "Harry the Dirty Dog" to her daughter, Alaina, then 6, and son, Keaton, then 3. But the children were not still. Instead they were busy using water and brushes to scrub the concrete Harry clean.
"My kids love this," Sohn said. "I think it's one of the coolest places Sheboygan has."
Children visiting have miles of beach at which to swim, a water park in the Blue Harbor Resort and a fabulous children's museum in the city's downtown. Bookworm Gardens, especially for the 10 and under set, may top them all, and it has a Wisconsin flair.
Books from our state include "Chrysanthemum" by Madison author Kevin Henkes; Aldo Leopold's "A Sand County Almanac" and "Frankie, the Walk 'N Roll Dog" by Barbara Techel of Elkhart Lake. Frankie was Techel's dachshund who suffered a spinal cord injury and lost the use of his hind legs. Frankie "the little dog with tires," was fitted with a custom wheelchair more than six years ago and died in 2012, just shy of her 13th birthday. Frankie has her own statue here.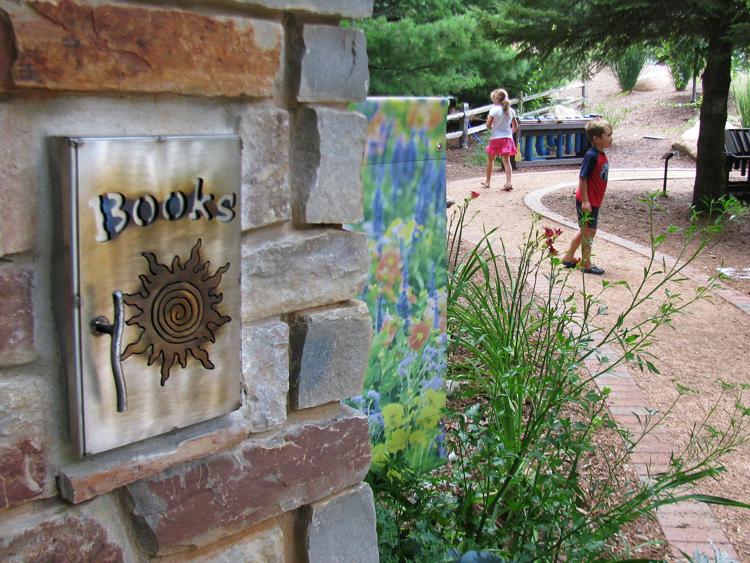 The gardens also allow children to sit on a couch made of grass and read "He Came with the Couch," explore "The Little House in the Big Woods," and visit Dr. Seuss' "McElligot's Pool" filled with koi.
This is a place with a "pizza garden" and another for vegetable soup. Mr. McGregor's Garden, from the "Tale of Peter Rabbit," also has real vegetables, but the hamburgers and hot dogs that hang from the trees in "Cloudy with a Chance of Meatballs" are fake.
Livermore, a UW-Madison graduate, had a landscaping business for 10 years and got the idea for Bookworm Gardens in 1999 after she visited the 4-H Children's Garden in East Lansing, Mich. At about the same time, she helped her daughter's elementary school start a gardening club. One of the projects was a pizza garden filled with herbs, tomatoes and other toppings.
"The kids were so engaged," Livermore said. "It just made sense that it would work on a much bigger basis."