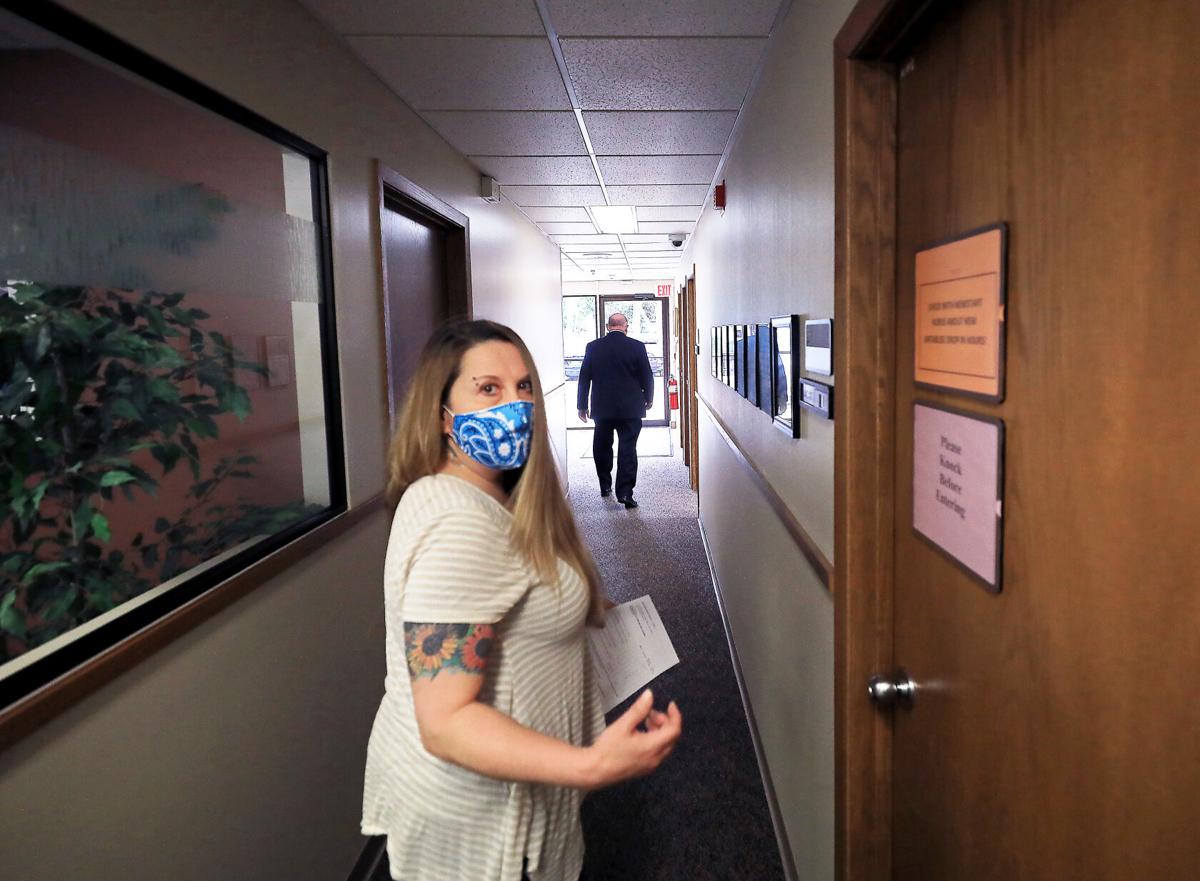 After Kandie Matelski told her psychiatrist about a family situation giving her "massive anxiety," the doctor said he would reorder her medications.
"Any trouble staying sober?" asked Dr. William Bucknam, at UnityPoint Health-Meriter's NewStart addiction treatment program.
"Nope, not as long as my bipolar (disorder) stays in control," said Matelski, 48, of Portage, who said she hasn't used cocaine or abused opioids since July 2019 after years of addiction.
But fear of getting COVID-19, and the isolation the pandemic has brought, has made staying in recovery from addiction more difficult, she said.
It's a struggle many are facing, with opioid overdoses up 48% this year statewide, opioid overdose deaths up 35% in Madison and reports of alcohol abuse relapses on the rise. The coronavirus has left many people out of work, cut off from regular supports and uncertain about the future, making addiction a greater challenge, doctors say.
"Even people who were very stable in their recovery are starting to struggle," said Dr. Ritu Bhatnagar, medical director of NewStart, which has seen an increase in addiction patients requiring hospitalization. "I'm seeing much more severe illness. It feels like people are starting to give up hope."
Phone and video visits replaced most in-person addiction treatment in the spring and early summer, making it harder for people to connect with providers and peers. Some in-person encounters have resumed, but clinics like Connections Counseling in Madison continue to operate primarily by telehealth.
"It's certainly not our preference," said Shelly Dutch, co-director of Connections Counseling, which has two dozen therapists who see about 600 people a month. "Recovery is (supposed to be) about developing relationships and increasing your network of support."
Opioid alerts
Wisconsin had 2,606 suspected opioid overdoses this January through August, up from 1,757 during the same period last year, according to the state Department of Health Services.
Madison had 27 opioid overdose deaths through August, up from 20 during the same period last year, the Madison Police Department said. Opioid overdose calls are up 14%.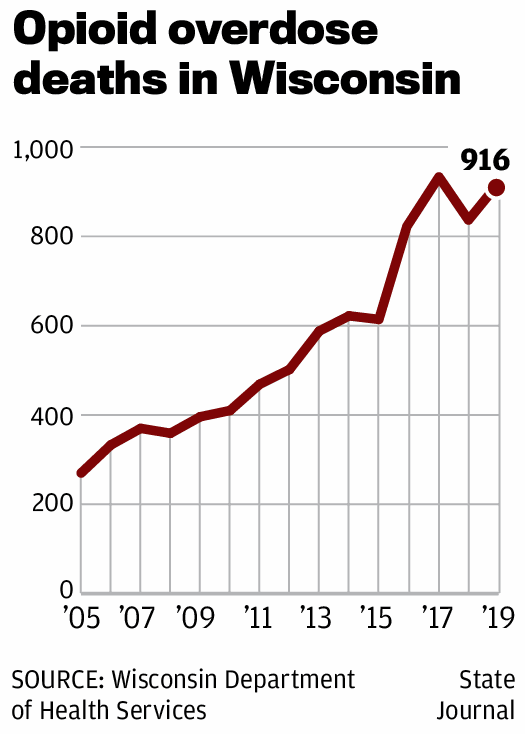 Dane County has had five opioid activity alerts this year, compared to six for all of last year. The alerts, started by the state health department in January 2019, are issued when overdoses are higher than expected.
Statewide, the department issued 17 alerts in June, five in July and 11 in August. Dane, Iowa, Racine, Sawyer and Shawano counties each had two alerts during the three months. Kenosha and Sheboygan counties each had three, and Manitowoc County had four.
Harkin said his clinic's patient load has doubled this year, to 340, a sign that more people need help. Statewide, nearly 8,000 patients were being treated at the methadone clinics as of Aug. 1, up from fewer than 7,700 at the beginning of the year.
In addition to coronavirus-related hardships, street drugs are becoming more dangerous, Harkin said. Nearly all urine tests that have been positive for heroin at his clinic in recent months have also been positive for the opioid fentanyl, a higher proportion than before.
"In south-central Wisconsin, every bit of heroin being sold has fentanyl in it," a potent mixture more likely to cause overdoses, he said.
Telehealth
At Psychological Addiction Services in Madison, another methadone clinic, two-thirds of visits were conducted by phone in the spring but now almost all are in person, with precautions, said owner Don Zukowski.
Many patients who feared getting COVID-19 appreciated the phone visits initially, but for long-term treatment it doesn't work as well, Zukowski said.
"We know that person-to-person counseling is better," he said.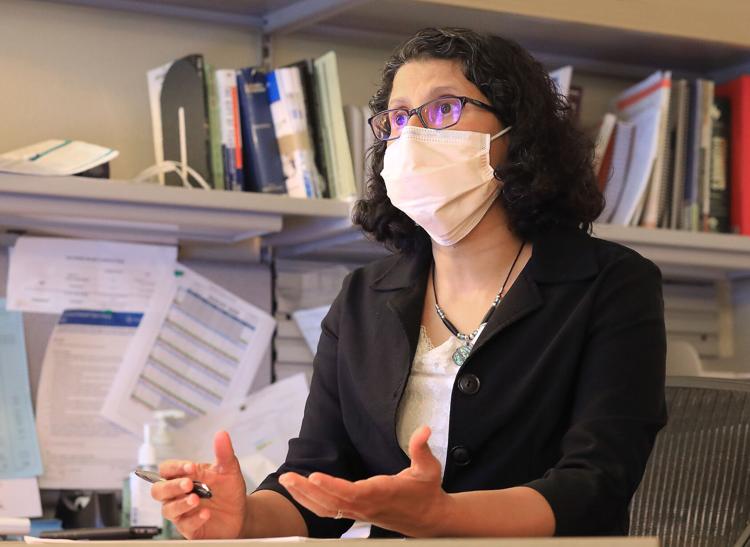 However, Dr. Michael Miller, an addiction treatment specialist at UW Health, said phone visits can remove barriers, such as transportation and child care, that make it difficult for some patients to come to appointments.
"No-show rates are way down" because of telehealth, Miller said. "A lot of patients seem to prefer the distance that comes from electronics."
Connections Counseling plans to add more in-person visits soon, Dutch said. The clinic has seen more people abusing sleeping pills and has had a three-fold increase in requests for interventions, many related to alcohol relapses, she said.
Making connections
Christopher Sanders, a patient at Connections Counseling, said he relapsed on cocaine in April. He has been sober since and attends several group recovery meetings each week — some online via Zoom and some in person, with physical distancing. Neither arrangement is as good as before.
"You look forward to seeing people and hearing them share — having coffee and staying a little bit after the meeting to socialize," said Sanders, 50, of Middleton. "When that's taken away due to the virus, it's hard."
Elicia Casey, a recovery coach at Safe Communities of Madison-Dane County, normally visits county jail inmates and treatment center residents who request her help. With COVID-19, the visits must be by phone, and the inmates and residents generally can't see family or friends in person.
"The lack of human connection is the biggest barrier," said Casey, 31, who has been in recovery for four years after an addiction to heroin.
But she has found creative ways of helping others continue in their recovery. With some not in institutions, she meets them for outdoor walks. With others, she connects digitally.
"We text each other gratitude lists, so they can start their day with what they're grateful for," she said.
COVID-19 in photos: How Wisconsinites are coping
Concerned about COVID-19?
Sign up now to get the most recent coronavirus headlines and other important local and national news sent to your email inbox daily.