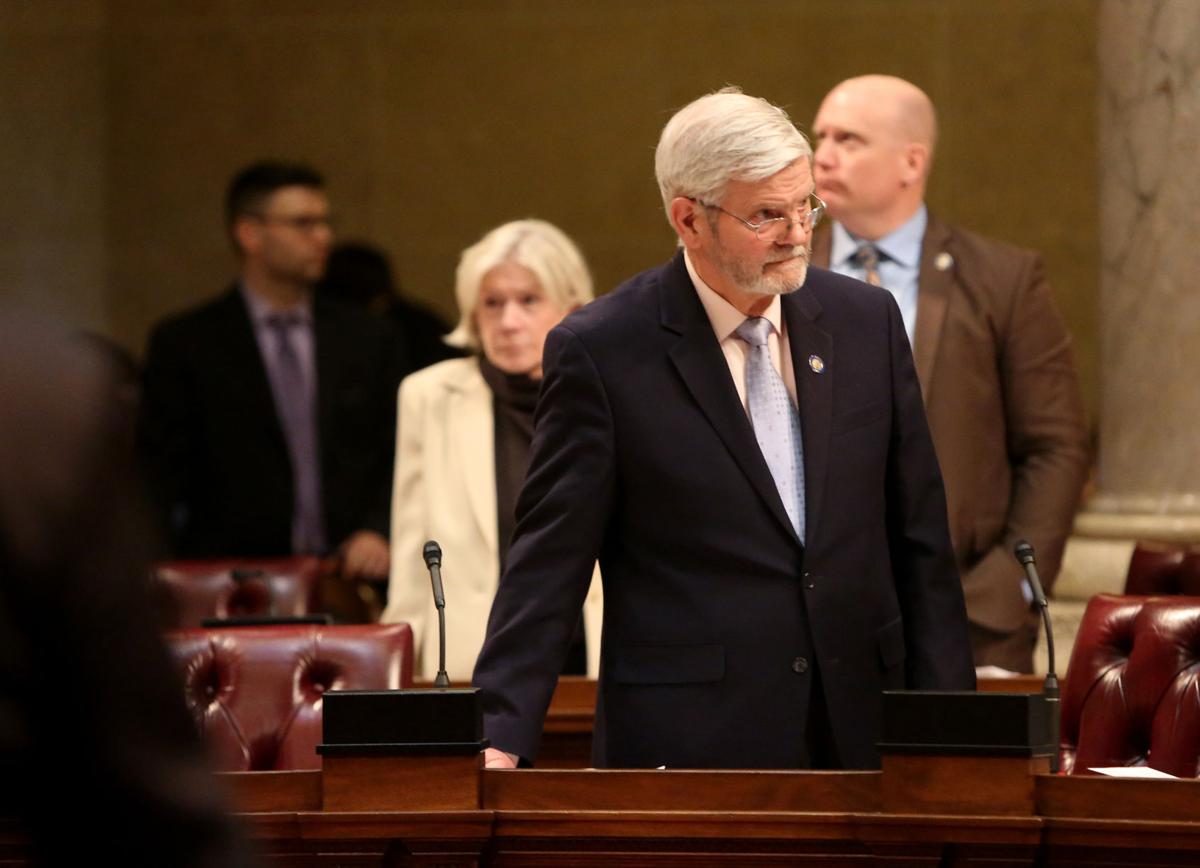 A longtime Dane County lawmaker announced Tuesday he will not seek another term this fall, setting up a rare competitive Senate race in a Democratic stronghold.
Sen. Mark Miller, D-Monona, who led Senate Democrats as minority leader in 2011 when they attempted to block a vote on Gov. Scott Walker's union-busting legislation by fleeing to Illinois, announced his plans to retire during Tuesday's session.
Miller, who was elected to the Assembly in 1998 and the Senate in 2004, told the Wisconsin State Journal he felt the time was right to step down.
"I felt like it's time to let younger people come up and get an opportunity to represent folks, because they're going to have to live through the decisions they're going to make," Miller, 76, said.
Rep. Melissa Sargent, D-Madison, whose Assembly district is one of three in Miller's Senate district, announced her candidacy for the seat after Miller's announcement. Reps. Gary Hebl, D-Sun Prairie, and Jimmy Anderson, D-Fitchburg, whose districts also overlap Miller's, haven't ruled out a bid.
Also considering a bid is former state representative and 2018 Democratic gubernatorial candidate Kelda Roys, who said she would move into the district.
Miller said he doesn't intend to endorse anyone running to fill his eat, but he noted that all three representatives, as well as potential local elected officials who might run, would be capable replacements.
"I've always had the strong belief that when you have competent people running, the voter should make that decision without me necessarily putting my thumb on the scale," Miller said.
Miller's district, which covers portions of Dane and Columbia counties, including parts of Madison and most of Fitchburg, Sun Prairie, McFarland, Monona, Maple Bluff and Cottage Grove, is largely Democratic-leaning, meaning it's unlikely that any potential GOP candidates would win the seat.
Miller said he has been discouraged by growing partisanship in the Legislature, especially how lawmakers treat their colleagues across the aisle. He said he is hopeful efforts are made to bring a level of decorum and transparency back to the Capitol.
"It's one thing to talk about rules, but it's another thing to be proactive about how you respect your colleagues in the Legislature, whether they be part of the minority or the majority," Miller said. "I think right now we continue to erode public trust and confidence in our ability to govern ourselves through our democratic institutions."
You have free articles remaining.
Miller has served in leadership positions including minority and majority leader, Joint Finance Committee co-chairman and chairman of the Democratic caucus. He has supported voting rights, renewable energy, clean water and conservation issues.
"I will miss this place," Miller said during Tuesday's session. "I will miss fighting for clean water, for better education for both children and adults, for expanded health care for all, and for responsible governance, but I am comfortable with my decision to retire."
In addition to spending nearly 30 years as a military pilot with the Wisconsin Air National Guard, Miller also served on the Dane County Board.
'True servant leader'
Senate Minority Leader Jennifer Shilling, D-La Crosse, described Miller as a "friend and mentor."
"You have been steady. You have shown us what a true servant leader looks like," Shilling said.
Earlier this month, fellow Democratic Sen. Dave Hansen, D-Green Bay, who has served in the state Senate for two decades, also announced he will not seek another term this fall.
Unlike Miller's district, Hansen's departure opens up a seat in a district that has traditionally leaned Republican as the Democratic party tries to win the majority of the Senate, which currently has a 19-14 GOP edge.
Sargent announces
Sargent, D-Madison, is the only candidate to announce an official bid for Miller's seat so far.
"Wisconsin needs progressive and pragmatic leaders who are accountable to their bosses — the people of our state," Sargent said. "I am committed to continuing to work to come together to find innovative long-term solutions that better our state."
Sargent said health care, renewable energy needs, infrastructure, public education and good government will be central issues to her campaign.
Sargent was born in Madison and was elected to the Assembly in 2012. Before that, she owned a small business and worked in the private sector.