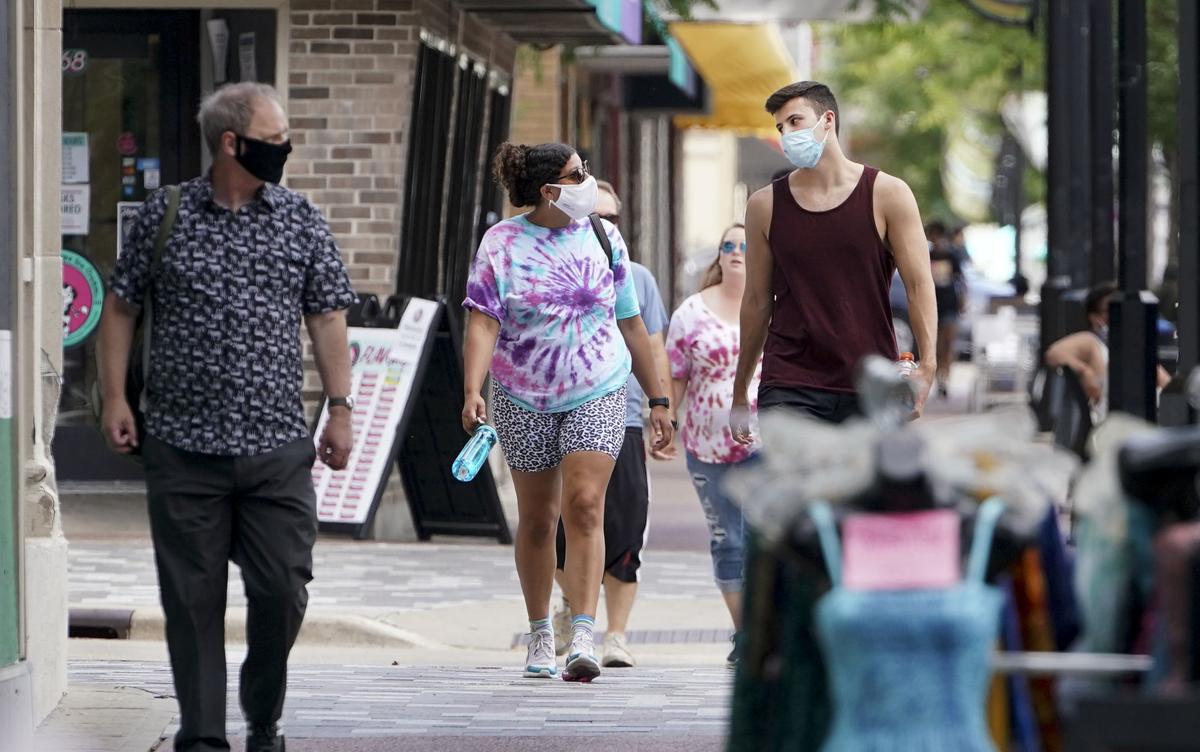 In an abrupt about-face, Gov. Tony Evers on Thursday issued a statewide order requiring Wisconsinites to wear a face mask when inside most public buildings.
The order, which goes into effect Saturday, follows weeks of public statements by Evers that such a mandate was unlikely in Wisconsin. It also sets up another likely battle between the Democratic governor and state GOP leaders, who successfully sued to strike down Evers' stay-at-home order in May.
In a pair of executive orders Thursday, Evers again declared a public health emergency — his second this year aimed at combating the COVID-19 pandemic, which has infected more than 52,000 Wisconsinites and killed more than 900 people — and issued a separate emergency order requiring masks. Evers' original public health emergency expired in May.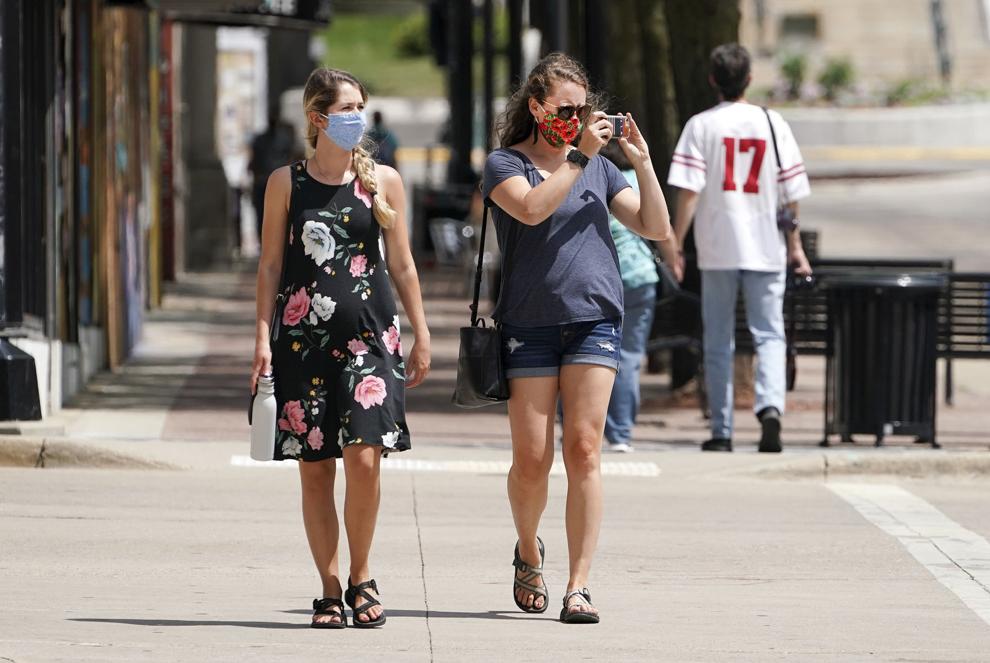 "I know there have been those who have demanded a piecemeal rather than a statewide approach. … Well we've tried their way and, folks, it's not working," Evers said. "Our statewide efforts to combat this virus have worked before, and so that's what we've announced here today."
Under the new order, which expires Sept. 28, everyone age 5 and older must wear a face covering when indoors or in any enclosed space open to the public including outdoor bars and restaurants, public transit and outdoor park structures. The order does not apply to people in their private residences. Face coverings are strongly recommended in all other settings where people may come in contact with others, including outdoors when maintaining physical distance is not possible. A violation of the order would not bring any criminal penalties but could result in a $200 fine.
The order provides some exceptions to the face mask mandate, allowing them to be removed when eating or drinking or when communicating with an individual who is deaf or hard of hearing. People who have trouble breathing or have medical conditions that prevent them from wearing masks are also exempt. In a preamble, the order calls on Wisconsinites not to harass or threaten people who wear a mask while "showing patience and compassion for those who are unable to wear a face covering safely."
The state order supersedes any less-restrictive local mask order but allows local entities to enforce more restrictive rules.
The Evers' administration's earlier stay-at-home order, issued by Department of Health Services Secretary Andrea Palm, was struck down on procedural grounds, with the state Supreme Court saying the Legislature needed to have a say in any long-term COVID-19 regulations.
Thursday's mask requirement was issued by Evers himself, and rests on a separate authority. The Legislature has the ability to immediately rescind the order through a joint resolution passed by the Senate and Assembly, so it's unclear whether the state's courts will be asked to intervene.
GOP pushback
Some Republican lawmakers, including Sen. Steve Nass, R-Whitewater, called on the Legislature to rescind the mask requirement, but GOP leaders signaled they don't intend to do that right away, leaving it to citizens groups to challenge the order.
"It's disappointing that yet again Governor Evers has chosen to not communicate or work with the Legislature," Assembly Speaker Robin Vos, R-Rochester, said in a statement. "There are certainly constitutional questions here; I would expect legal challenges from citizen groups."
GOP leaders have expressed support for local mask rules like those adopted in Dane and Milwaukee counties, Green Bay and Racine. The Republican-controlled Legislature also could pass its own rules for wearing masks or otherwise controlling the spread of the coronavirus.
"The Republicans could have come into session at any time. This has been a long pandemic, folks," Evers said. "Suddenly, Steve Nass gets excited about this and wants to bring people in to do away with this order. I think that's a sad commentary for all of us."
However, Senate Majority Leader Scott Fitzgerald, R-Juneau, in a statement hinted at the possibility of such a session. Fitzgerald has opposed a state mask rule.
"I certainly think the way that the governor has written this order may have opened him up to legal challenges," Fitzgerald said. "I'm also gauging the interest of my caucus when it comes to voting down the order — the Legislature should be reconvening to look at this."
Questions over legality
While Evers said last week the growing number of positive cases of COVID-19 in Wisconsin had "accelerated" his consideration of a mask mandate, the governor has said multiple times that his authority to impose a statewide order is likely limited by the state Supreme Court's May decision to toss out his stay-at-home order.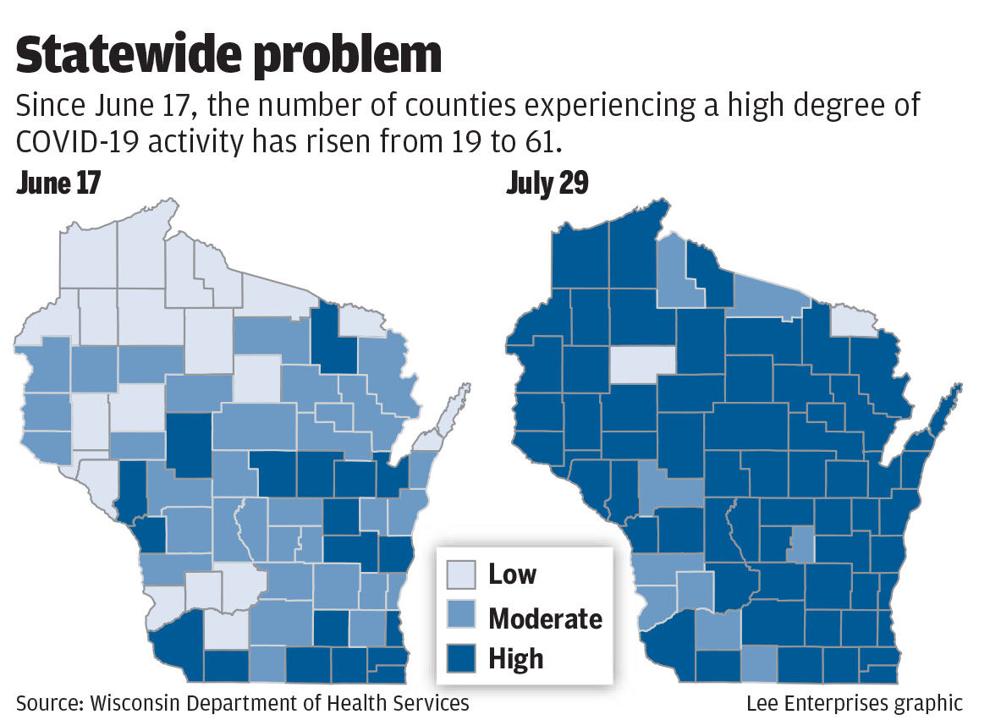 That ruling focused on Palm's extension of her original order, which closed nonessential businesses and limited services at others. The court ruled Palm exceeded the authority granted to her in state law by not involving the Legislature.
State law gives the Legislature the power to revoke a governor's emergency order at any time, which liberal Madison attorney Lester Pines said makes challenging it in court more difficult.
"The basis of the Supreme Court's ruling (when it struck down the previous order) was that the Legislature should have the opportunity to intervene, so to speak, when a rule is issued," Pines said. "The governor's powers (with the mask order) are limited by the Legislature's ability to act. If the Legislature doesn't like what they did, they can come tell people, 'We're going to rescind this order.'"
But conservative attorney Rick Esenberg, president of the Wisconsin Institute for Law and Liberty, said Evers' order declaring a public health emergency and his face mask order are not legally valid because they attempt to extend his executive order from the spring that already declared a public health emergency.
State law requires the Legislature to approve an extension of a public health emergency after 60 days.
"There's a time limit on this public health emergency, and the public health emergency that he declared has expired," Esenberg said. "You cannot read the law to say that the time limit can be avoided by simply declaring a … new one."
Ryan Nilsestuen, Evers' chief legal counsel, said the new public health emergency is in response to an entirely different situation than what the state faced in March, due in large part to rising positive cases of COVID-19 statewide.
"We're in a very different situation than we were before," Nilsestuen said.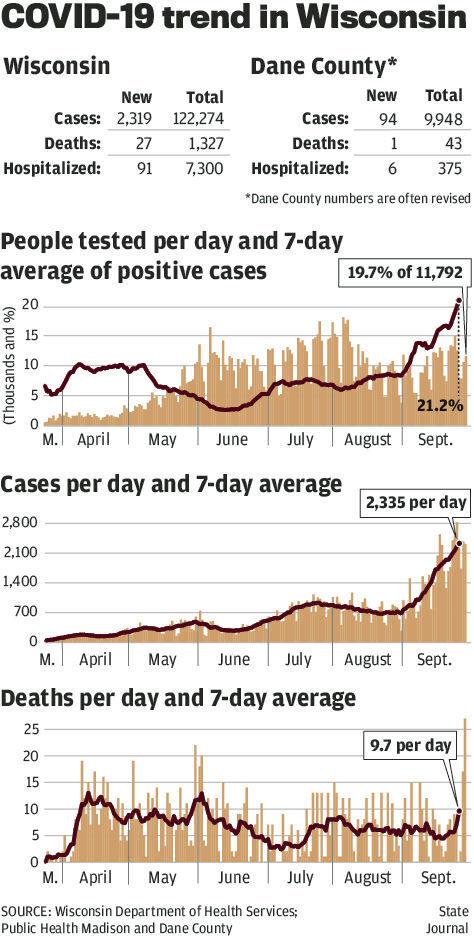 'Out of control'
Madison Mayor Satya Rhodes-Conway endorsed the mask mandate, saying the pandemic is "out of control" in much of Wisconsin. She said Republican leaders in the Legislature have "abdicated their responsibility to protect the public from illness and death."
"I hope that the courts will support this inexpensive, common-sense measure which has been proven to reduce the transmission rate," Rhodes-Conway said in a statement.
Over a 14-day period from July 13, when Dane County's mask order took effect, to Monday, the county had an average of 63 cases a day — an improvement from a month ago when the county's 14-day average was 98 cases per day. But Director of Public Health Madison and Dane County Janel Heinrich said the case numbers are still too high.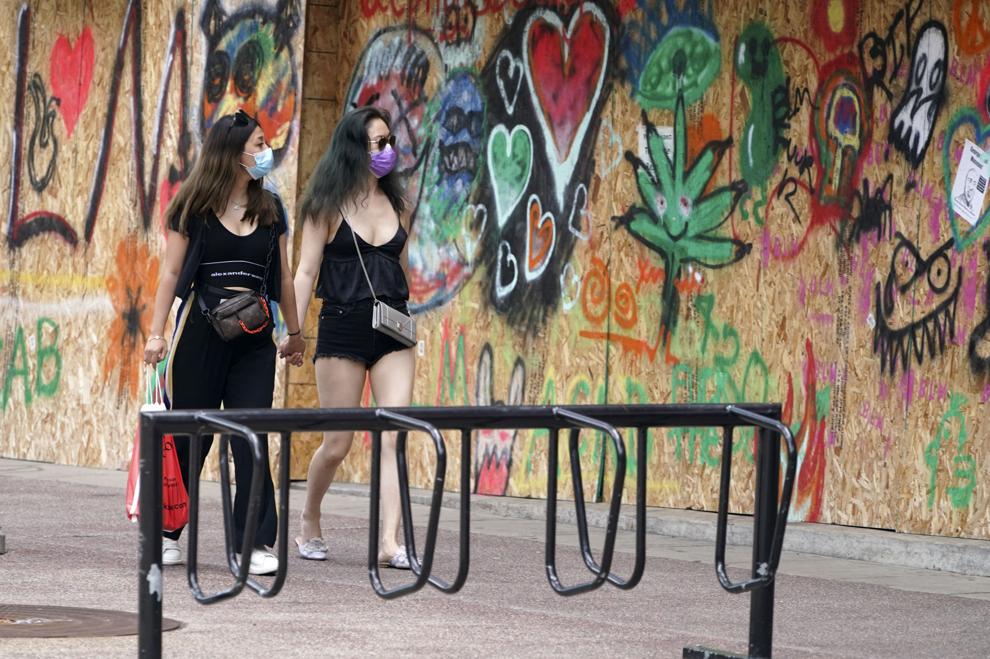 "We continue to find that many individuals with positive diagnoses continue to report that they have attended a gathering or party with people outside of their household," Heinrich said.
Wisconsin Bankers Association president Rose Oswald said in a statement that a statewide mask order "offers certainty" to banks and businesses.
"For those financial institutions that had been operating in multiple jurisdictions under differing rules, this provides a uniform set of parameters for everyone to operate under," Oswald said.






The Wisconsin Elections Commission on Thursday voted unanimously to recommend voters in upcoming elections wear face masks, but underscored that voters cannot be denied the ability to vote if they aren't wearing one. Polling sites, however, can make alternative arrangements for non-mask-wearing voters, such as having them vote outside. Polling sites may also ask a voter to briefly remove his or her face covering if necessary to ensure his or her identity.
Face masks
More than 30 states — including Illinois, Michigan and Minnesota — have implemented statewide mask orders in efforts to slow the spread of COVID-19.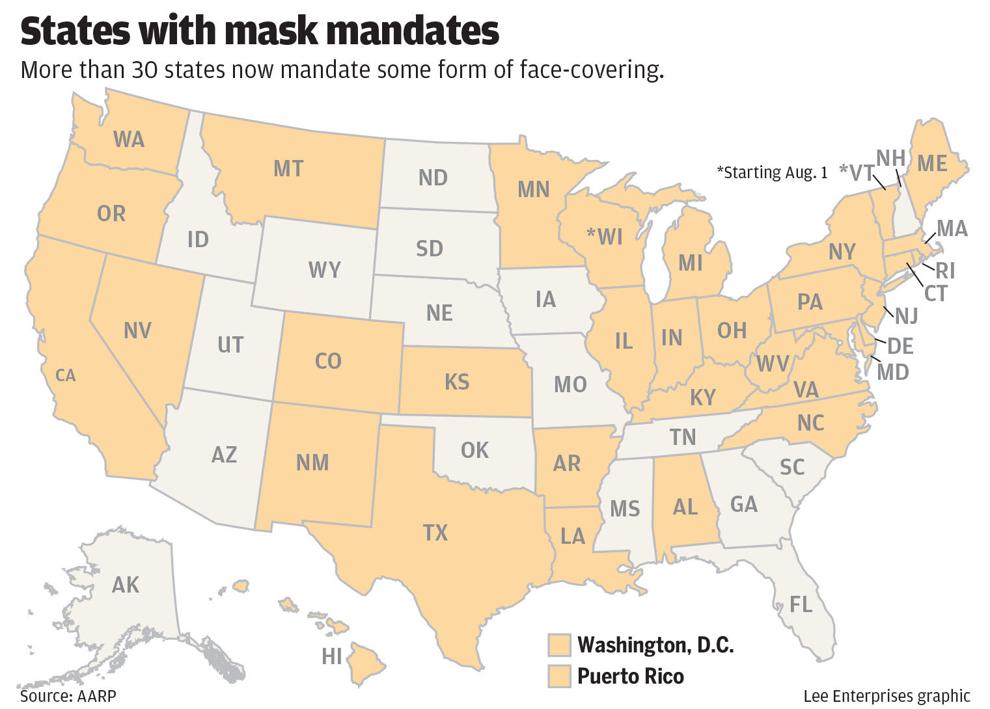 Guidance on mask-wearing from public health experts has at times been confusing.
The Centers for Disease Control and Prevention recommends wearing a cloth face mask in public settings in areas with significant community-based transmission where social distancing is hard to maintain, such as grocery stores, pharmacies or a busy street. The CDC also recommended public mask-wearing after studies showed that COVID-19 can be spread by people showing no symptoms.
Various studies have shown that mask mandates have led to slowdowns of new COVID-19 infections and that masks have the ability to block respiratory droplets that could potentially spread the virus.
Research on the effectiveness of wearing face masks is limited, but the idea is that wearing a mask helps reduce the transmission of the virus from the wearer to people in proximity through talking, coughing or sneezing. Dr. James Conway, a pediatric infectious disease specialist at the UW-Madison School of Medicine and Public Health, said cloth masks can achieve that quite well.
The CDC reports that wearing cloth masks is primarily to protect those around the wearer, but they may also provide for wearers some protection from people with the virus if they're well-designed and properly used.
Opponents of a face mask requirement, including dozens of people who gathered at the state Capitol last week, have said wearing a mask should be a personal choice and mask mandates are an encroachment upon civil liberties.
State Journal reporter Emily Hamer contributed to this report.
COVID-19 in photos: How Wisconsin is managing the pandemic