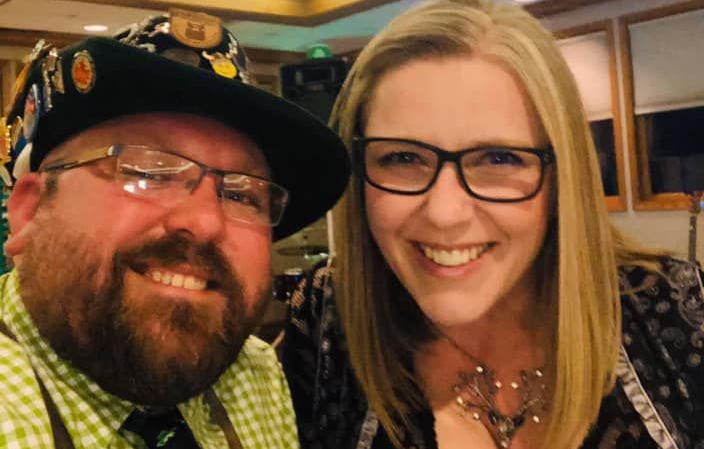 Katie Drury was blown away this week when she got the news: She was positive for COVID-19, making her confirmed case No. 7 in La Crosse County.
"How can I be positive? Why am I positive? I followed the guidelines. I played by the rules. I washed my hands. I taught others about how to stay safe," Drury wrote on her Facebook page Thursday evening.
While Drury was not able to be interviewed due to her health — she gets too winded to talk very much — she gave the Tribune permission to quote from her post, writing that it was important to share her story.
The La Crosse County Health Department has been taking pains to avoid any identifying information about COVID-19 patients to protect their privacy.
"We don't want there to be stigma," said Jenni Loging of the health department.
She reiterated the health department's mantra when it comes to the virus, saying, "Viruses don't discriminate and neither should we."
Drury began by addressing the coronavirus strain directly: "I tried to prepare. You vicious monster. I tried to keep my family safe. I tried to be proactive, to educate, to get ahead of you. I failed."
As the director of nursing services at Onalaska School District, she knew to take it seriously. As cases started to creep up, she had several discussions with her husband, Justin, about the coronavirus and what it would mean for them.
"We have learned about the mutations of this virus and the fact that this virus is different in SO many ways," she wrote. "Think of this virus like a SUPER bug. It is stronger than many viruses that we have grown accustomed to."
On the last day of classes at the Onalaska School District, she coughed a few times — she estimates a total of eight coughs all day — which she attributed at the time to not being diligent about drinking water and not putting enough water in her CPAP machine.
Three days later, the body aches set in.
"I didn't realize that they were body aches and felt they were more likely stress related and causing my rheumatoid arthritis-like disease to flare. I assumed that the stress of everything was getting to me, as it typically does, through my body," she said.
On March 22, Drury began to suffer sinus congestion, including an awful sinus headache that she described as "astounding." Over-the-counter medications didn't help, so on Sunday she checked in with her doctor.
A few hours later, her doctor's nurse was telling her to report to urgent care "at a minimum" and get tested, especially after she had a possible exposure to one of the first cases in La Crosse County. Drury was stunned but argued against going in, saying she didn't want to risk exposure. They compromised, and Drury signed up for the drive-thru testing.
Without ever getting fully out of her car, Drury was greeted by a man in a hazmat suit and then seen by two nurses.
"They looked exhausted, but I still noticed a caring smile in their eyes," Drury said.
Drury got a cotton swab stuck up her nose for a test for influenza A and B, and a deeper swab for COVID-19.
"She explains that this one isn't as nice, and promises that she is not trying to biopsy my brain (we had already established that I was a nurse and this type of humor is ABSOLUTELY appropriate!). WOW was she right. It felt like she was going straight for my frontal lobe," Drury said.
The next day at 8:04 a.m., she found out she was positive.
She called her friend and her boss and answered questions asked by a La Crosse County nurse, all while trying to get some rest.
Onalaska Superintendent Todd Antony sent out a notice to all parents and guardians Wednesday, notifying them that an person who tested positive had been to Eagle Bluff Elementary, Irving Pertzsch Elementary, Onalaska Middle and Onalaska High schools, as well as the District Office.
Drury will remain at home, isolated from her husband and her children who are in other rooms, until she is without symptoms for three days.
"This is by far the most painful part of all of this. I have remained positive and found the bright side so many times through all of this, but the thought of not holding my children and comforting them is difficult," Drury said.
Loging and the county health department encouraged people to show compassion for those most clearly impacted.
"There's so much misinformation, especially on social media," Loging said.
Concerned about COVID-19?
Sign up now to get the most recent coronavirus headlines and other important local and national news sent to your email inbox daily.