In campaign stops across the state and in media interviews, conservative Wisconsin Supreme Court candidate Dan Kelly has consistently emphasized his devotion to the state Constitution.
After qualifying for the April 4 election in last month's primary, Kelly praised voters who "reaffirmed the centrality of the Constitution to the work of the Wisconsin Supreme Court." In a 10-minute speech before the Wisconsin Counties Association Legislative Conference on Wednesday, he used the word "Constitution" or "constitutional" 14 times.
Referencing liberal opponent Janet Protasiewicz's repeated references to "personal values," Kelly said later that he had "no doubt that (voters are) going to come out in droves to protect the Constitution, because they know that's what protects the liberties that they treasure so much."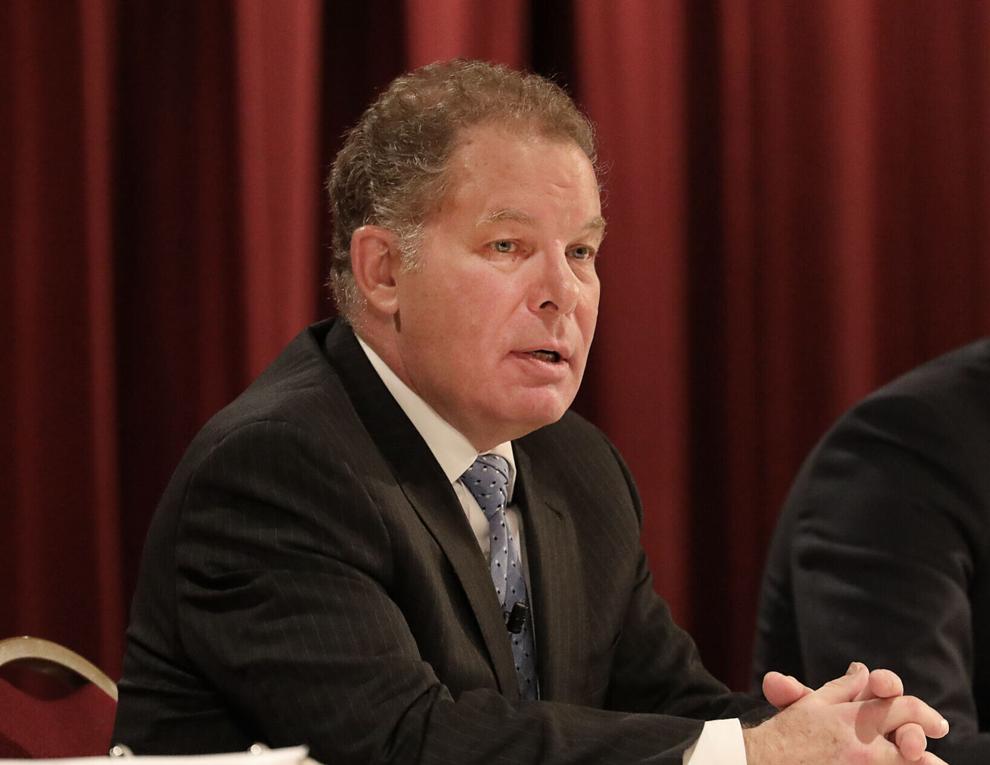 But some conservatives worry Kelly's broad appeals to the Constitution may not be a winning strategy.
"It's very difficult to imagine voters keying in so strongly on the notion of protecting the Constitution because it's relatively esoteric," longtime Republican strategist Brandon Scholz said. "Voters respond to issues, whether they're for or against. But something like defending the Constitution is almost nebulous."
It's even more abstract for voters considering most probably don't know much about the state Constitution, Scholz said. "They might know the U.S. Constitution, the Bill of Rights, but who knows the Wisconsin Constitution?"
Kelly's focus on defending the Constitution compared with Protasiewicz's concentration on specific issues "makes Kelly's challenge even tougher, and it makes Protasiewicz's challenge even easier," Scholz said.
There's no public polling to show whether Kelly's messaging prioritizing the Constitution is working, said Bill McCoshen, a Republican operative who had supported and given conservative candidate Jennifer Dorow advice during the primary.
"But I don't think it's a broad enough message," he said. "The people who are hardcore supporters of the Constitution are already with Kelly. So he's not broadening his base."
Outcomes in Wisconsin Supreme Court race, challenge to abortion law seen as inextricably linked
Kelly's strategy would be more effective if he talked more about Protasiewicz's embrace of issues such as abortion and redistricting and less about the state Constitution, McCoshen said.
"Given what I know from our own research about the different sorts of democratic attitudes Wisconsinites hold, talking about the Constitution and one's fidelity to it probably feels good to most people," said UW-Madison journalism professor Mike Wagner, who studies political communication. "But it's probably not at the top of their list when they're making a decision about who they want to be a Supreme Court judge."
Campaign spokesperson Jim Dick dismissed such concerns, adding there was an obvious reason for Kelly to focus on the state's charter: "The Constitution is the center of our judicial system, not something to be cast aside in favor of one's personal political ambitions."
He also criticized what he said was Protasiewicz's "political ploy" of hinting at how she would rule on cases, even if she won't say so outright.
In response, Protasiewicz spokesperson Sam Roecker said while she was a prosecutor and judge for decades following the Constitution, "Dan Kelly has been a partisan extremist, picking and choosing what parts of the Constitution he'd like to follow."
Roecker did not clarify what parts of the Constitution he alleged Kelly didn't follow.
Kelly's strategy has two likely purposes, UW-Madison political science professor Barry Burden said.
"It's a kind of general way to convey that you're serious about following the Constitution and enforcing the law and not overstepping the boundaries of your institution," Burden said. "But it's also kind of a nod to conservative activists — that my philosophy is like yours."
Kelly has been far less willing than Protasiewicz to discuss specific issues such as abortion and redistricting. He says that's because the race shouldn't be about political issues. But the resulting difference in the candidates' messages is largely in line with how liberals and conservatives typically run campaigns.
Republicans do best in races when they make appeals to broad values, such as defending liberty, while Democrats do better when they discuss the specific changes they want to see in government, according to Michigan State University political science professor Matt Grossman and Boston College associate political science professor David Hopkins, who together wrote the book "Asymmetric Politics: Ideological Republicans and Group Interest Democrats."
Abortion, crime
Which kind of messaging engages voters most depends on how the public perceives the race. As it stands, abortion is and will remain a top concern for Wisconsinites on both sides of the debate, Burden said.
After the U.S. Supreme Court struck down Roe v. Wade last year, Wisconsin's moribund 1849 near-total ban on abortion has come back into play. Opponents are challenging the law in a case that will likely be decided by the state high court.
Janet Protasiewicz has massive early spending advantage in Wisconsin Supreme Court race
Eighty-four percent of registered voters in Wisconsin favor abortion exceptions for rape and incest, which aren't included in the current ban, according to a Marquette Law School Poll from November. And only 37% of Wisconsinites favored overturning Roe v. Wade.
Crime has also become issue in the race, with conservatives going after Protasiewicz over instances where they say she was lenient on defendants. But Protasiewicz has also emphasized public safety in her ads, accusing Kelly of being soft on crime and saying he defended child sex predators in court.
Protasiewicz's crime message, Burden said, "does put Kelly on the defense on an issue where he should probably have the greatest strength. So if he's having to explain or backpedal a little in that area, he's going to have real, real difficulty confronting her on the issues where she might be advantaged."
With Protasiewicz largely defining the stakes of the race and liberals making up the majority of primary voters, Kelly and conservatives have the incentive to release more hard-hitting ads and take a more aggressive position toward Protasiewicz, Burden said.
But conservatives didn't run any TV ads promoting Kelly in the first week after the primary. A conservative group since put down $1 million to boost Kelly, but that's a small fraction compared with the $7 million liberals have reserved, as of last week, in ads between the primary and general election.
"This is really kind of a key point in time in the general election where conservatives have to step forward if they want to keep the seat," Scholz said.