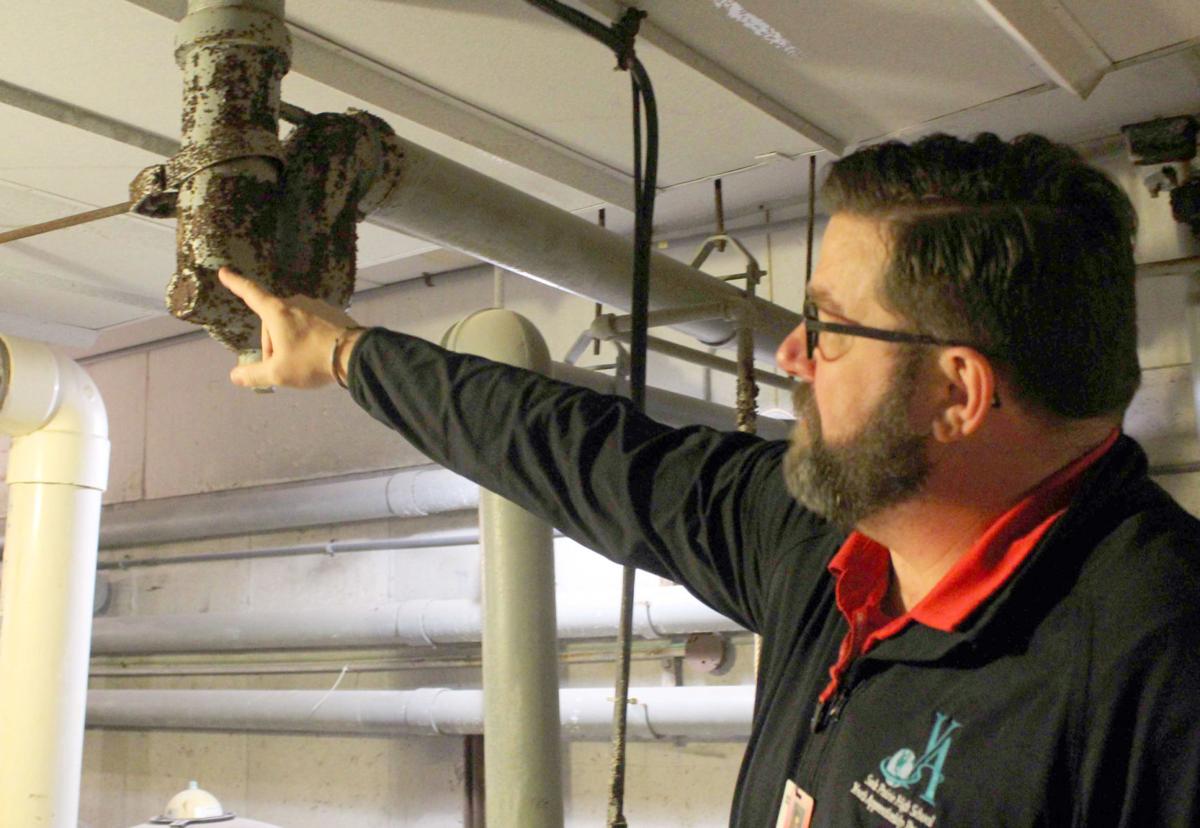 As the COVID-19 coronavirus pandemic has upended daily lives, bringing with it economic uncertainty, voters in 48 Wisconsin school districts — including in two of the state's largest school systems — will decide next month on referendums totaling more than $1.6 billion.
Unlike recent spring elections, when Dane County voters signed off on large school building projects in Sun Prairie, Verona and DeForest, few Dane County residents will see referendums on the ballot in the April 7 election. Madison is contemplating building and operating referendums totaling $350 million in November.
But voters in the state's largest district, Milwaukee, and fifth-largest, Racine, have big asks before them — permanently raising operating funds by up to $87 million and spending up to $1 billion on school projects over the next three decades, respectively.
The referendums in districts throughout the state come as thousands of people are out of work and businesses shuttered to prevent the spread of COVID-19. Whether the economic impact of the public health crisis will hamper the success of school referendums is uncertain.
The passage rates of referendums have historically tended to track with the strength of the economy, said Anne Chapman, a senior researcher for Wisconsin Policy Forum.
At the height of the Great Recession in 2009, voters approved 45% of school referendum questions, down from 60% in 2006, Chapman said.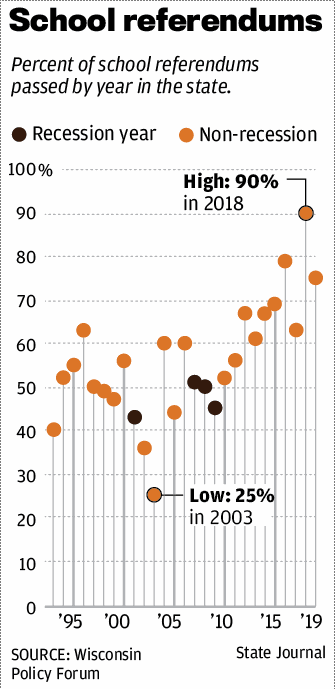 Coming out of the dot-com bubble of the early 2000s, the passage rate of referendums sank from 56% in 2000 to 25% in 2003.
While that recession only technically occurred in 2001, the effects of a recession in general can last longer, Chapman said.
She said her organization couldn't speculate on the psychology of voters in the April 7 election, which is already being disrupted by the pandemic, because the success of referendums is affected by a variety of factors, such as the need to repair or upgrade schools or shore up revenue lost to enrollment decline.
"As with so many aspects of the COVID crisis, it's hard to know what the effects would be," Chapman said. "But to the extent that the pandemic clearly is and will have economic impacts, the past patterns following economic cycles may give us some idea of what is to come."
In recent years, referendums have had high levels of success. About three-quarters were approved last year, and 90% got the OK from voters in 2018.
Holding off
Responding to the economic uncertainty, the Cambridge School District is delaying the potential construction of a new performing arts center if voters approve a $9.9 million capital referendum to build it.
Tracy Travis, president of the Cambridge School Board, said the district hoped a nearly 500-person theater could open by fall 2021. But if voters give the go-ahead, the center wouldn't open until after 2021 — pushing back the costs for taxpayers — as the district would have up to five years to begin construction.
Travis said 87% of students participate in performing arts, and the theater would mean choir or band performances no longer would need to be held in gyms.
A second question on the ballot would allow Cambridge to raise up to $150,000 in ongoing costs to maintain the center.
A test for schools
Dan Rossmiller, director of government relations for the Wisconsin Association of School Boards, said he also couldn't speculate on whether the pandemic-caused economic downturn could lessen the chance of a referendum passing.
However, he said, the pandemic could influence some factors that contribute to how a referendum fares; for instance, it could change the typical electorate that turns out for spring elections.
In some ways, Rossmiller said, how schools respond to the pandemic, such as continuing to provide meals to students and the distance learning opportunities they provide, could also influence how people view their districts.
"I think that schools have an opportunity during this pandemic situation — this public health emergency — to show their value as anchor institutions in the community in terms of their ability to function and continue to serve their students," Rossmiller said. "There's lots of things that could change perceptions of schools. I just don't know how that plays out."
Role of messaging
Explaining the long-term benefit of a referendum in normal times is already challenging, said Jon Bales, executive director of the Wisconsin Association of School District Administrators.
But he expects it could be especially difficult explaining the difference between what a referendum would address versus any short-term, financial help schools could get from a federal stimulus package, which Bales said might cause confusion among voters.
Bales said if districts are able to make clear the referendums are for long-term needs, he expects they'll have continued success in passing. But he acknowledges there may be concern a recession could affect results, because a district often matches its asks of taxpayers with a community's ability to pay it.
"If in the meantime you've come up with the questions and that real ability to pay is shifting, then that's always a concern it will show up in the vote," Bales said. "It's not going to change the fact that they're going to need to come back and try again because the needs are real and those aren't going to go away."
Across the state
In total, 48 school districts are putting 57 referendum questions on the spring ballot.
Eight school districts are asking residents to permanently raise revenue limits collectively by $97.4 million — the majority of which is an operating referendum from Milwaukee Public Schools to permanently boost operating revenue by up to $87 million.
The Racine School District has proposed a plan to exceed its revenue limit for the next 30 years, potentially bringing in more than $1 billion over the next three decades for repairing and updating school buildings and closing other facilities. The increased spending levels would expire in 2051.
In addition to Racine, 21 other districts are asking taxpayers to temporarily increase revenue limits for a set number of years, which could mean up to $93.4 million in additional tax collections.
To pay for building projects, 27 school districts are also looking to issue $504.5 million in debt.
Dane County
In addition to Cambridge, there are two other school districts partially in Dane County — Columbus and Sauk Prairie — with questions on the spring ballot.
The Sauk Prairie School District has a $65 million capital ask to modernize the high school, upgrade sports facilities and expand a charter school building.
Superintendent Jeff Wright said most of the money would go to an expansion and "gut rehab" of the 60-year-old high school building, which still has original electrical and heating systems. Overall, feedback on the plan has been positive, he said.
The district sent out mailers to residents last week to try to answer last-minute questions that might have been asked at now-canceled listening sessions, Wright said.
"We certainly know there are people in our community that are directly affected by the financial realities of this COVID-19 journey," he said. "We have a lot of people that are in hospitality-related and tourism-related industries in Sauk County."
Wright said that interest rates near zero could mean less of a financial impact on taxpayers than originally anticipated if the referendum is approved, calling it an "opportunity to borrow significant money to address essential facility needs at an interest rate we will probably never see again."
Voters in the Columbus School District will decide on a $30 million facilities question to add onto the space-constrained elementary, renovate parts of the high school, make repairs across the district, including increased accessibility, and purchase land.
Superintendent Annette Deuman said every school building would receive some level of repair. While the district hasn't determined what the land purchase in the referendum would be used for, it could potentially be the site of a new middle school when the district is ready to retire its current middle school, which Deuman calls the school system's "matriarch," as parts of the building are 100 years old."
The high school would also get upgrades for its specialized classrooms such as science labs and shop spaces.
"Our classrooms and labs are not really geared for teaching our students today for the careers of the future," she said.
EDITOR'S NOTE: This story has been updated to reflect that the use for land that would be purchased as part of the Columbus School District's referendum is yet to be determined.
Concerned about COVID-19?
Sign up now to get the most recent coronavirus headlines and other important local and national news sent to your email inbox daily.