As the number of farm closures grew to nearly three per day last year amid a volatile market and the uncertainty of international trade wars, Wisconsin farmers received more than $432 million in federal farm aid.
Farmers across the country were offered an infusion of cash from the federal government, meant as a life raft to help them stay afloat during turbulent times, in the form of the Market Facilitation Program (MFP). But a number of Wisconsin farmers said the payments they received did little to fix the damage caused by tariffs placed on dairy and agricultural products.
"If you look at the true value of what farmers lost, it didn't even make up that difference at all, so it was certainly something that allowed farmers to pay off some bills, but it didn't clear their debts," said Darin Von Ruden, president of the Wisconsin Farmers Union.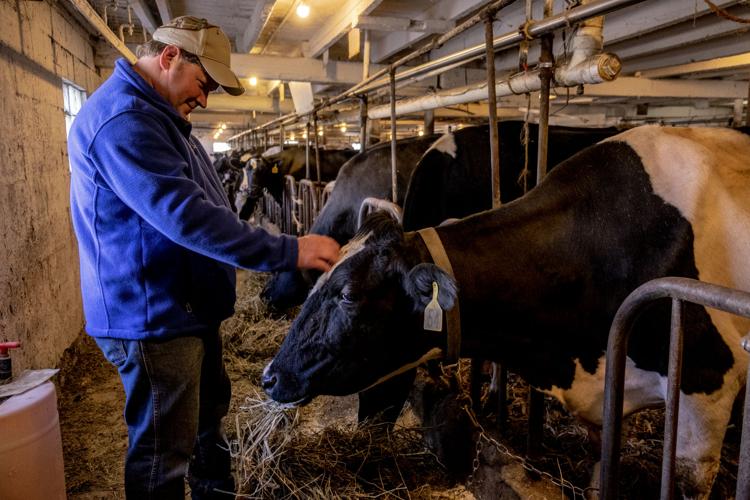 Von Ruden, a third-generation farmer, owns a small organic dairy farm in southwestern Wisconsin. His herd is small, about 50 head, compared to the average size of a dairy farm in Wisconsin, which is 170 head.
According to Von Ruden, the MFP payments weren't enough to keep struggling farms afloat.
"In some cases, it definitely was the loss of the farm because they weren't able to recoup enough of the debt that they built up," he said.
In certain cases, the cost of production alone exceeded the income farmers received from the market as well as the MFP, and some farmers were forced to sell equipment or their business to pay off bank or USDA operating loans.
Applicants to the MFP through Wisconsin Farm Service Agency offices received more than $432 million in aid between September 2018 and November 2019, according to data provided by the U.S. Department of Agriculture.
Those payments to farmers ranged from more than $850,000 to as little as $2, with 700 out of 23,307 recipients receiving more than $100,000 from the program.
More than 2,600 Wisconsin payment recipients received less than $1,000 in an industry where the producers often rely on operating loans, sometimes exceeding hundreds of thousands of dollars, that they're required to pay off in less than a year.
And often, the MFP payments didn't come close to covering the damage inflicted by the recent trade wars.
Corn farmers saw the market price for their product drop nearly 50 cents per bushel between July and November because of the actions of President Donald Trump's administration, Von Ruden said, after China halted its purchase of U.S. agricultural commodities in August. In 2019, the MFP offered less than one penny per bushel to help corn producers in Wisconsin recoup their losses.
"A penny, when you lost 45-50 cents, really doesn't add up," he said.
And there appears to be a regional disparity in who receives aid and how much.
South benefits more
The report also outlined an inconsistency in per-acre payments between regions. Roughly 95% of counties that received payments of $100 per acre or higher through the MFP are located in the South, while 77% of the counties that were slated to receive the minimum payment, $15 per acre, are located in the Midwest and other regions that suffered more under tariffs.
You have free articles remaining.
"We lead the nation in farm bankruptcies, we've endured the consequences of unproductive tariffs and trade wars," Gov. Tony Evers said during his State of the State address in January.
Evers laid out a number of bills focused on improving state-funded farm aid in the days following his address, but a number of farmers have become disillusioned in the state and federal government's ability to help.
'A lot of disgust'
"There's a lot of disgust with the way politics is done in the United States and right here in Wisconsin," said Thomas Schaub, a dairy farmer in southwestern Wisconsin and president of the Westby Co-op Creamery board of directors.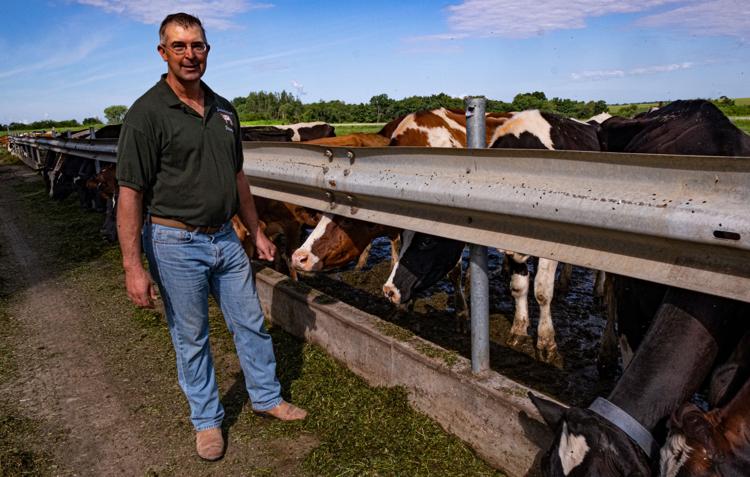 "Most of the farmers I talk to, they'd prefer the government would stay out of farming altogether due to delay in process regarding legislation or regulation — they never see the results that they're hoping," he said.
In 2019, the number of family dairy farm closures exceeded two per day in Wisconsin and, according to Schaub, closures could continue, despite the recent ratification of the U.S.-Mexico-Canada Agreement or the MFP payments.
In October at the World Dairy Expo in Madison, U.S. Agriculture Secretary Sonny Perdue rankled farmers when he painted a bleak picture for small family farms, saying, "In America, the big get bigger and the small go out."
"We'd rather have better markets," said Keith Ripp, a third-generation farmer, former Republican Assembly member and DATCP assistant deputy secretary during the last year of the Walker administration. Ripp said the MFP payments helped, but farmers were hesitant to accept the assistance.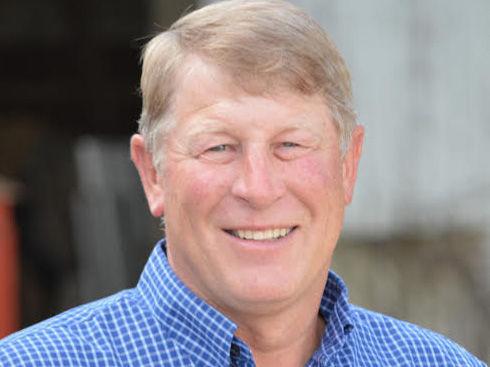 "Some farmers tend not to want to deal with the government," he said. But "once they look at their margins, they're going to look at the program and take it."
Ripp has hope that the U.S.-Mexico-Canada Agreement will help to turn the market around for Wisconsin farmers, but others are skeptical.
No quick rebound?
Les Danielson, a third-generation farmer who started his own business in the 1990s, said he also hoped the U.S.-Mexico-Canada Agreement would increase the market price for milk, but he didn't see anything in the pact that outlined a plan to turn the market around for dairy products or quickly rebuild international trade relationships that were damaged by the recent tariffs.
"You don't just suddenly get those markets back," he said. "Operating loans are coming due and we can't pay them back."
Danielson said he believes Wisconsin farmers will "vote with their pocketbook" in November.
"If you haven't done well in the past three or four years, that affects who you vote for in any election, and we haven't done well in the past three or four years," he said.
Von Ruden also said the trade wars will influence how Wisconsin farmers vote in November. "Farmers don't forget things too easily," he said.