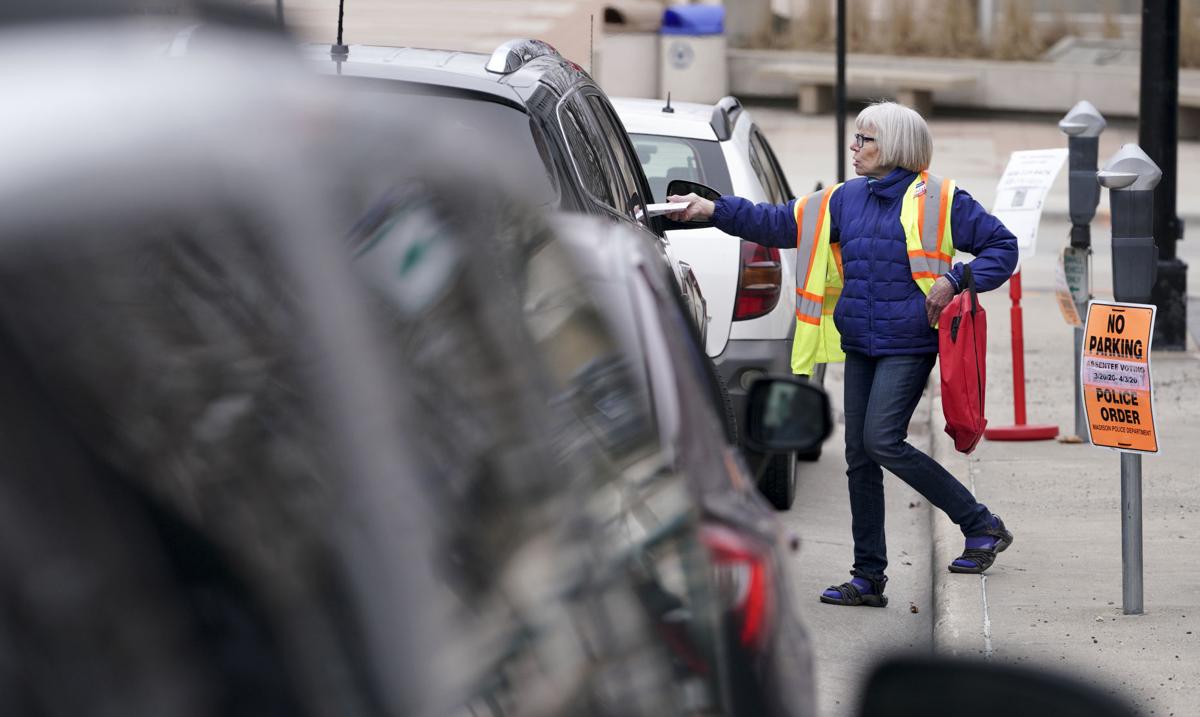 Nearly 60% of Wisconsin municipalities say they won't have enough poll workers to staff the April 7 election, raising concern among some clerks and state elections officials that thousands of voters may not be able to vote if the election isn't postponed.
Madison went even further, suggesting it would be virtually impossible for clerks to conduct a "full and fair" election if the state continues to insist on conducting the vote in person amid a national public health crisis rather than through mail-in ballots.
"With this type of dislocation, and more threatened as the date of the Spring Election nears, the City faces the very real possibility that half or more of the eligible voters who would normally go to the polls on Election Day will be unable to do so," Madison City Attorney Michael May said in a court filing this week seeking to delay the election and require all ballots be submitted by mail.
The backlog of absentee ballot requests alone already means some voters won't be able to receive their ballots in time, May and others said.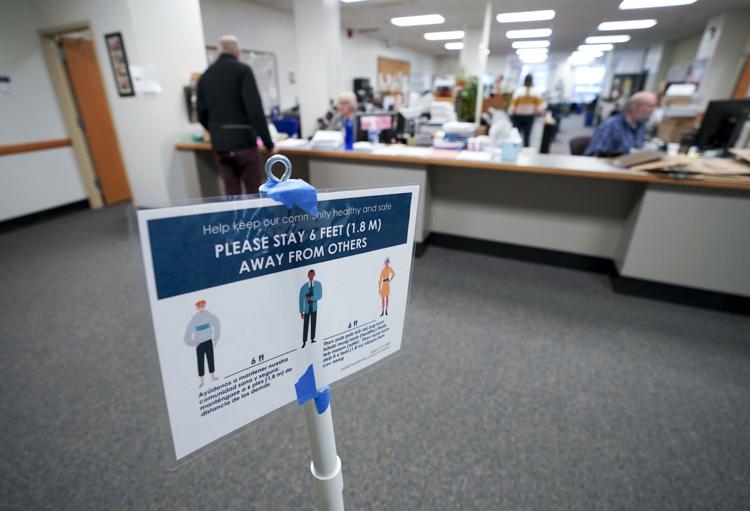 "There's an avalanche coming at the clerks," Wisconsin Elections Commission member Mark Thomsen said regarding the nearly 1 million absentee ballot requests so far. "To sit here as a commission and say everything is going to be fine on April 7 is sticking our head in the sand."
Pending lawsuits have already cast a cloud of uncertainty over the pending vote. But Gov. Tony Evers and the Elections Commission have so far kept the election on track and are attempting to secure enough poll workers to manage in-person voting and minimize the chance of spreading the respiratory disease COVID-19 next Tuesday. Republican legislative leaders also support keeping the April 7 election date.
Local clerks had issued more than 972,000 absentee ballots as of Monday morning, a spring election record, according to the commission. Only about one-third of those, or more than 337,000 absentee ballots, have been returned so far. There were close to 820,000 absentee ballots cast in the 2016 presidential election, the most of any election.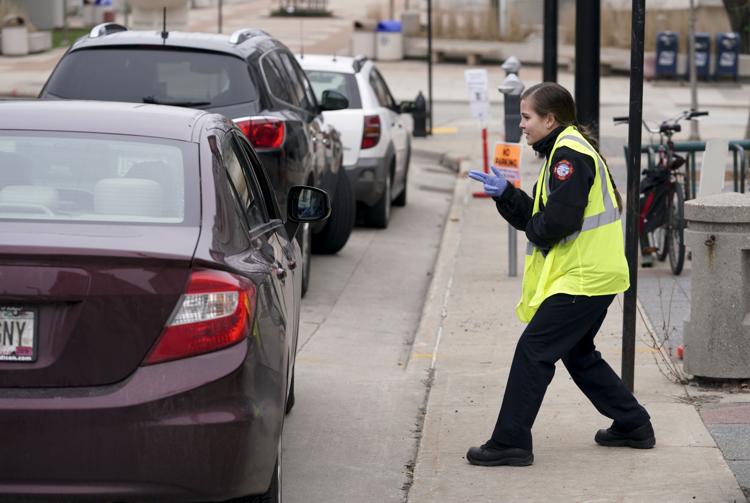 Of the 1,320 municipalities to report poll worker shortages as of Monday, 111 have reported they do not have enough poll workers to staff even one polling place, according to a new memo from the WEC. The memo also predicts many unexpected absences due to illness or fear of contracting the coronavirus on Election Day.
"While an unexpected absence is always possible, many clerks worry they do not have adequate depth to accommodate missing staff," according to the memo. "To mitigate this risk, many jurisdictions, including several large cities, are consolidating their polling places to preserve manpower."
Madison City Clerk Maribeth Witzel-Behl said Tuesday that more than half of the poll workers needed on Tuesday are not coming. Each of the two shifts that poll workers cover on Election Day requires 1,500 people, but the city is down to about 700 to cover each shift. To accommodate the lower number of workers, the city is condensing the number of polling places from 92 to 65. Voters can get updated information on polling places at myvote.wi.gov.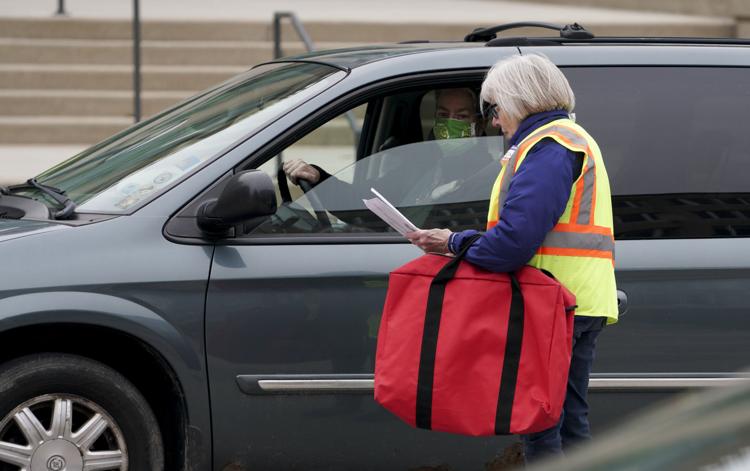 The city has sought to recruit poll workers from among the decimated restaurant and bar industry, reaching out to the Wisconsin Restaurant Association and sending requests to licensed bartenders, Witzel-Behl said.
The efforts have met with some success, but "we're still seeing more cancellations than new people signing up," she said.
WEC administrator Meagan Wolfe said state employees also are being asked to consider working at the polls. Poll workers must reside within the county where they would be working.
'Around the clock'
The flood of absentee ballots, paired with a shortage of poll workers, also has created concerns among some commissioners that not every mail-in ballot will get mailed, returned and counted in time.
The last day to request an absentee ballot for the election is Thursday. Completed ballots must be returned to the appropriate polling location by the end of Election Day.
Wolfe said it could take between two days and a week for the post office to deliver a ballot to a voter, and the same amount of time to return one.
As for absentee ballots in Madison, they've now spilled from the city clerk's office into other rooms in the City-County Building and the Madison Municipal Building so they can be processed.
"We are working around the clock to process absentee requests," Witzel-Behl said. Phones in the clerk's office also have been ringing off the hook with questions about absentee ballots and angry voters who are confined to their homes and unable to get their identification to the office so they can vote.
"The volume of absentees has been greater than anything we can keep up with," Witzel-Behl said. At one point, she said, the office was 16,000 requests behind in filling requests for absentee ballots. It's now down to a backlog of about 4,000.
"We work at night until we collapse," she said. "We just can't keep up with the demand."
Extra steps
Because the office can't safely accommodate in-person absentee voting, it has been offering curbside voting outside the City-County Building weekdays from 8 a.m. to 6 p.m. and on Saturday from 9 a.m. to 1 p.m. for voters who are already registered.
To accommodate the flood of absentee ballots, some communities have begun offering secure drop-off sites rather than risk a delay in the mail.
In Madison, those include the book drop-off slots at the Central Library, 201 W. Mifflin St.; Pinney Library, 516 Cottage Grove Road; and Sequoya Library, 4340 Tokay Blvd. Absentee ballots can be deposited at those sites between 9 a.m. Wednesday and noon on Election Day. Officials ask that people not drop off books during that time to avoid damaging ballots.
Procedural changes
The WEC last week approved Election Day procedures to mitigate the risks, including curbside, drive-through and outdoor voting at polling places. Procedures to limit contact between voters and poll workers also were approved.
The commission also last week recommended that anyone over the age of 65 and those with underlying health problems not serve as poll workers, a move that would drastically cut the already limited supply of poll workers in the state.
The election features the presidential primary, a seat on the Wisconsin Supreme Court and hundreds of local races and referendums.
"We're going to have challenges administering the election, there is no doubt about that ... but we are going to have challenges with all our elections in 2020, that much is abundantly clear to everyone right now," WEC chairman Dean Knudson said. "I think that what has happened here has made us all aware that life won't go back completely to normal, that from this point forward we will probably be more aware of how to maintain safer polling places."
Lawsuits pending
A federal judge could rule later this week on three lawsuits seeking to expand absentee voting, delay the election and allow voters to submit an absentee ballot without a witness. The state Legislature has sought to intervene in the lawsuits.
On Tuesday, the Wisconsin Supreme Court ruled Dane County Clerk Scott McDonell's recommendation to absentee voters — that they declare themselves indefinitely confined and thus avoid the legal requirement to provide a copy of their photo ID — is inconsistent with state law. The court ordered McDonell to rescind such advice and only offer advice issued by the WEC, which he has agreed to do.
McDonell said in response to the ruling that he believed his previous statements were consistent with the WEC's advice and encouraged everyone to request an absentee ballot.
"You the voter get to determine if you are indefinitely confined based on your individual circumstances," he wrote in a new social media post.
Evers has called on Republican leaders in the Legislature to take up sweeping legislation aimed at addressing the outbreak. The package includes waiving the state's voter identification requirement for next week's election, extending the online registration deadline and waiving the requirement that witnesses sign absentee ballot envelopes.
Senate Majority Leader Scott Fitzgerald, R-Juneau, and Assembly Speaker Robin Vos, R-Rochester, have argued such legislation would be too costly, but have expressed interest in taking up some form of legislative action in the near future.
Concerned about COVID-19?
Sign up now to get the most recent coronavirus headlines and other important local and national news sent to your email inbox daily.