A Republican lawmaker who heads the Legislature's budget committee is criticizing the state Department of Natural Resources for not requesting more money to address the growing problem of PFAS contamination.
Rep. John Nygren, of Marinette, represents a district with the worst known contamination from the hazardous synthetic compounds, which have been linked to cancer and other illnesses.
"Over the last year I have heard on multiple occasions, from both stakeholders and the DNR, that a lack of resources is hampering the DNR's response to PFAS contamination," Nygren said Friday. "Considering this, I was surprised that the DNR's budget request did not contain any requests to help the agency address PFAS contamination."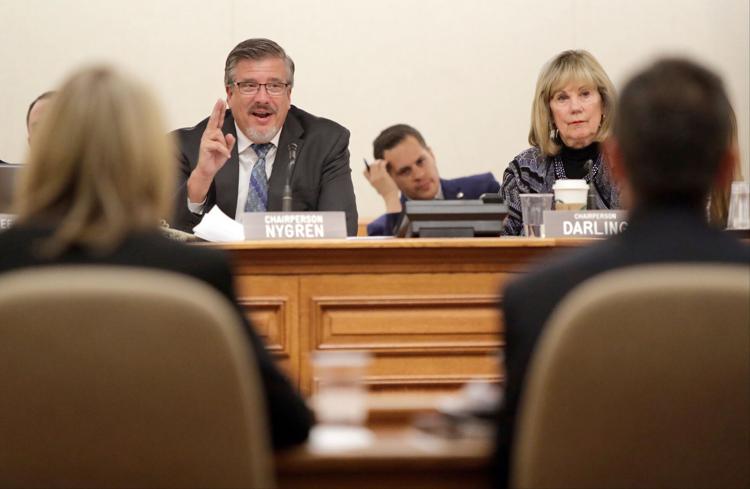 The agency filed a $1.2 billion biennial budget request on Tuesday that contains just one reference to PFAS — as one of several contaminants that would be addressed as part of a $25 million Great Lakes sediment cleanup project.
Nygren said the nonpartisan Legislative Fiscal Bureau confirmed that the agency request did not include requests for PFAS cleanup but did not provide a copy of the report.
In a statement, DNR spokeswoman Megan Sheridan said the agency is leading the development of a Wisconsin PFAS action plan as directed by Gov. Tony Evers.
"Those recommendations are due later this fall and we will continue to engage in discussions with Gov. Evers about necessary budgetary and policy proposals to address PFAS contamination throughout Wisconsin," Sheridan said.
Among other things, Evers' Executive Order 40 created a PFAS Coordinating Council, chaired by DNR Secretary Preston Cole, and directed the agency to "explore avenues of funding for the state, local governments and private parties to aid their efforts to address PFAS."
Anticipating the COVID-19 pandemic will squeeze state revenues, Evers directed agencies to freeze hiring and not to request additional general fund expenditures in the next two-year budget cycle.
But Nygren said the DNR's environmental management account has a balance of about $18.8 million, which could be used for PFAS cleanup, reducing the need for general fund revenues.
PFAS are a group of largely unregulated synthetic compounds found in firefighting foam as well as food packaging, nonstick cookware, water-resistant clothing, carpeting and other products. They have been found in drinking water, groundwater, surface water, soil, sediments, air, fish and wildlife as well as human blood samples.
The DNR is monitoring more than 40 PFAS contamination sites around the state, most of which the agency says can be traced to firefighting foam.
Nygren has called Marinette and Peshtigo "the epicenter of PFAS contamination in Wisconsin." Last week, state officials warned hunters not to eat the livers of deer from that area after samples showed high levels of PFAS.
Evers' last budget proposal included $70 million for clean drinking water programs, including $150,000 to create a strategy for discovering PFAS contamination, and would have restored five scientist positions in the DNR's research bureau, including two devoted to PFAS. The Republican-controlled budget committee, co-chaired by Nygren, cut more than half of that funding and allowed only two of the five research positions.
In a statement Friday, Nygren said he would continue working to ensure access to clean water.
Sheridan said the DNR is "appreciative of Rep. Nygren's efforts in this area and look forward to working with him, the Legislature and the larger administration on this multi-agency effort to tackle the issue of PFAS in Wisconsin."
Be the first to know
Get local news delivered to your inbox!