MINERAL POINT — The surroundings are humble for one of the world's most talked-about batches of cheese.
The 40-pound blocks are sealed in plastic, stored in cardboard boxes and stacked on racks, indistinguishable from the 520,000 pounds of other cheese that fill the cold storage room in this former livery stable turned cheese factory.
But unlike the brick, smoked cheddar, Muenster, pepper jack and Triple Play — a cheese made from a blend of cow, sheep and goat's milk — the 25 blocks of aged white cheddar here in the Hook's Cheese cooler have occupied this 40-foot-wide, 50-foot-long and 20-foot-high, 38-degree space since 2003.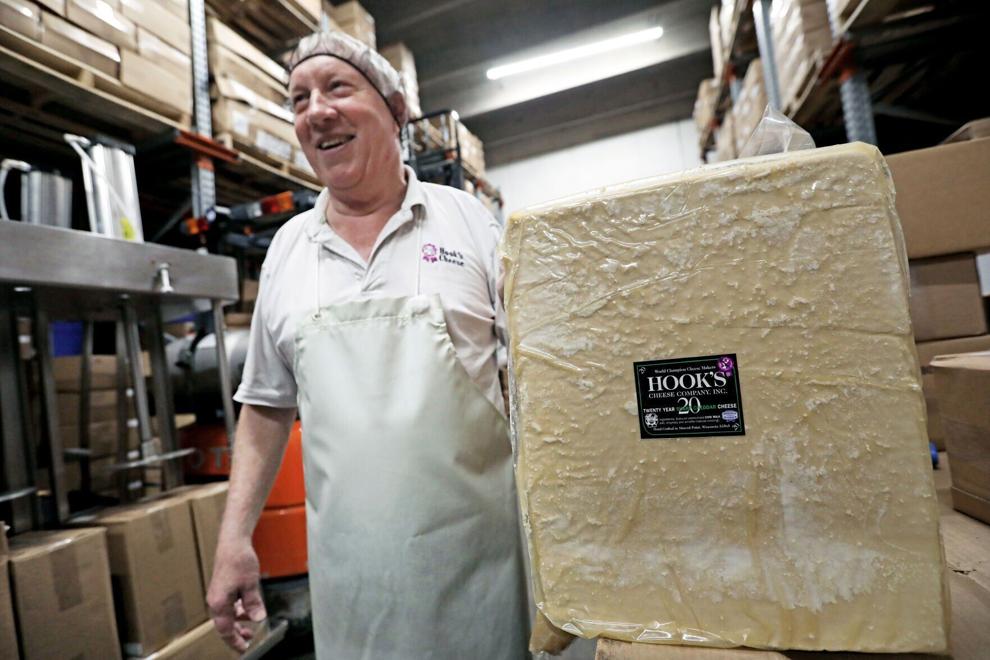 And in a few months, this 1,000-pound lot of 20-year-old cheddar that is being sold for $209 per pound will be released from its packaging and divvied up into more manageable and affordable chunks to soothe the cravings and curiosities of the artisan cheese crowd.
"I certainly wouldn't melt it on your mac and cheese," said Tony Hook, who has been making cheese since this country's bi-centennial in 1976. "Try and find a nice wine to pair it with."
We've been down this road before with Hook. In 2015, he released 450 pounds of 20-year-old cheddar, and another 500 pounds in 2020. He won't say how much he has set aside or when another 20-year release may take place. This latest batch was made on May 9, 2003, and is already creating a major buzz in the cheese community. Unlike the previous two releases, this one was made without annatto, the natural food coloring from the seeds of the achiote tree, which grows in South America and gives cheese its light orange coloring without affecting the taste.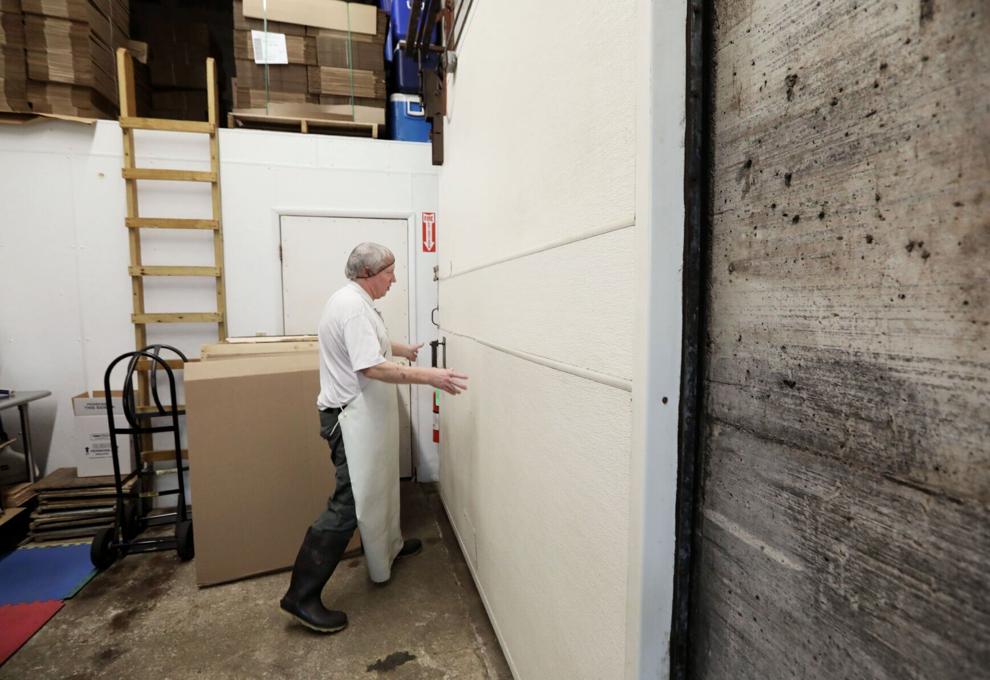 Hook and his wife, Julie, who is also a cheesemaker, are well known for their aged cheddars. Some of their best sellers are between 2 and 5 years old and are regulars on the menus of restaurants and found in cheese cases around the country. Hook's also has aged cheddar of 8, 10 and 12 years and is one of the few places in the country with a regular stock of 15-year cheddar. Others include Carr Valley Cheese in La Valle and Widmer's Cheese Cellars in Theresa.
But Hook's is the only place believed to have a cheddar of 20 years. The cheese, which will be released on May 15, can be ordered through the Hook's website, and also at Fromagination in Downtown Madison and at Larry's Market in the Milwaukee suburb of Brown Deer. The cheese also will be distributed to other stores and shops by Rock Cheese, while the Cheese Store of Beverly Hills, located a block off Rodeo Drive, which regularly buys 40-pound blocks of 15-year-old cheddar, is expected to buy 5 pounds of the 20-year cheddar for its star-studded customers.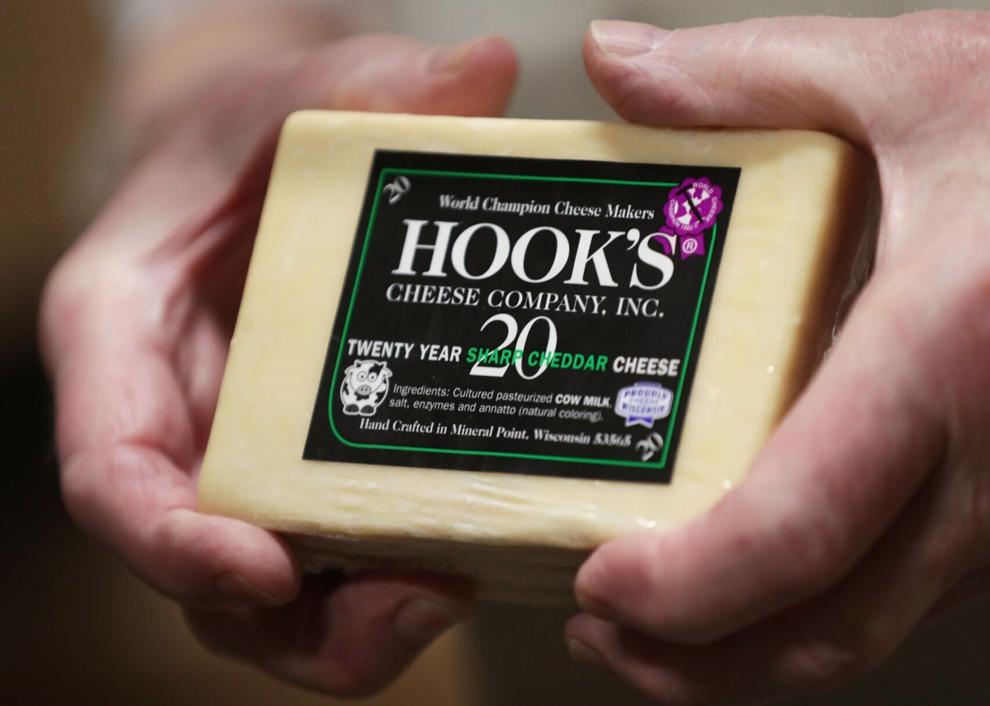 "I guess I don't think of myself as a rock star," said Hook, who on Wednesday was in the midst of making Gorgonzola and wearing rubber boots, a white apron and hairnet. "Its just sometimes we like to do some things differently."
And different can come with a price.
Hook's 15-year cheddar is sold for $50 per pound at the factory and up to $95 per pound at specialty cheese shops. The $209 per pound price for the 20-year is not out of bounds, said Ian Kozaczek, a cheesemonger at Fromagination, a cheese shop founded in 2007 and where about 95 percent of the cheese in the Capitol Square shop hails from Wisconsin. The offerings include Pleasant Ridge Reserve from Upland's Cheese north of Dodgeville, the cave-aged Red Rock cheddar from Roelli Cheese Haus near Shullsburg, sheep's milk cheeses from Landmark Creamery in Paoli, Goudas from Marieka Penterman in Thorp and St. Isidore's Bandaged Cheddar produced in Osseo.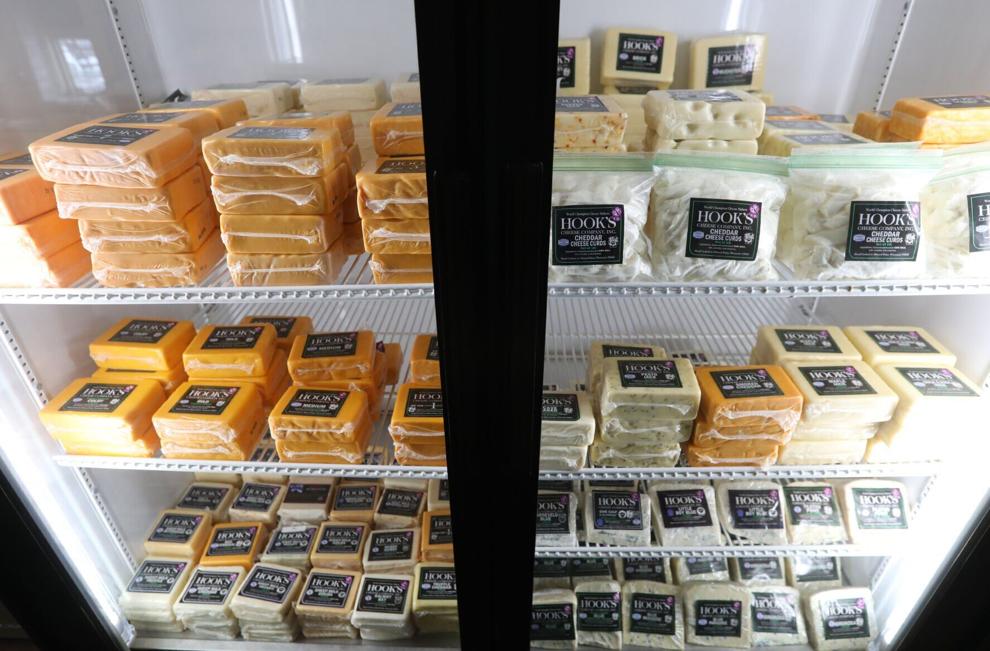 The arrival this spring of Hook's 20-year cheddar creates a new level of excitement. To celebrate, Fromagination plans to offer a flight of Hook's Cheese that will include cheddars that are 5, 8, 10, 12, 15 and 20 years old.
"It is just one of those uniquely Wisconsin things where these people have dedicated their whole lives to creating these beautiful delicious cheeses. The fact that he wants to wait 20 years to release a cheese is exciting," Kozaczek said. "It's a big deal. If a producer of anything is confident not to sell something for 20 years, I don't think that's a gimmick at all. I think it's a dedication to craftsmanship."
There may not be a more appropriate community in Wisconsin in which to age the oldest cheese in America. The entire city of Mineral Point is on the National Register of Historic Places and is brimming with historic structures. They include the cottages at Pendarvis constructed by Cornish miners in the 1830s and 1840s; the Walker House, a hotel, built in 1836; the nearby train depot, built in 1856; and the Mineral Point Opera House, one of the newer buildings, constructed in 1915.
Henry Dodge was inaugurated here as the first governor of the newly formed Wisconsin Territory in 1836, and just down the hill sits Hook's Cheese, located in a former livery building constructed in 1875 for the guests of the now-removed Washington Hotel. The livery, built into the side of a hill, later became a veterinary clinic and then a warehouse before it was converted to a cheese factory in 1929. The building is located along Jail Alley, which pays homage to the city's historic jail just up the hill.
The cheese made by the Hooks may also be worthy of historic designation, considering the process over the past 20 years. 
"We test once and sometimes twice a year to make sure it's developing like we want and so it turns out with a good flavor," Hook said. "If we plug a batch and there's a hint of something off, it's time to sell it at that age. It's not going to get any better."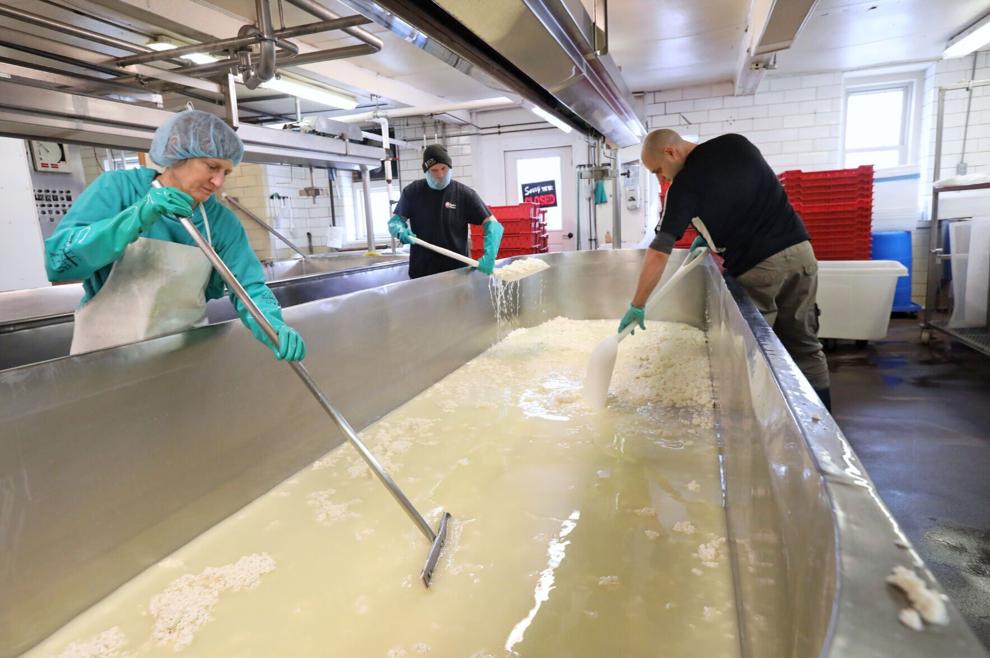 Tony and Julie Hook made cheese and from 1976 to 1987 managed the Buck Grove Cheese Factory, where in 1982 Julie's Colby won its class at the World Championship Cheese Contest. Five years later, they ventured out on their own to buy their existing facility, where they made cheese for other labels and food processors. But in 2001, they jumped aboard the artisan cheese train and began making and marketing their own line of cheese under the Hook's name.
They now produce about 400,000 pounds of cheese a year, a third of what they produced annually prior to 2001. However, their new approach requires more employees, all of whom are family members, and has resulted in increased revenues and a cult following.
They also started selling their cheese at the Dane County Farmers' Market in 1991, which has allowed for greater interaction with their customers.
"We do a lot more marketing," Tony Hook said. "Before that we were just making it and putting it on pallets, and big distributors were buying it in bulk."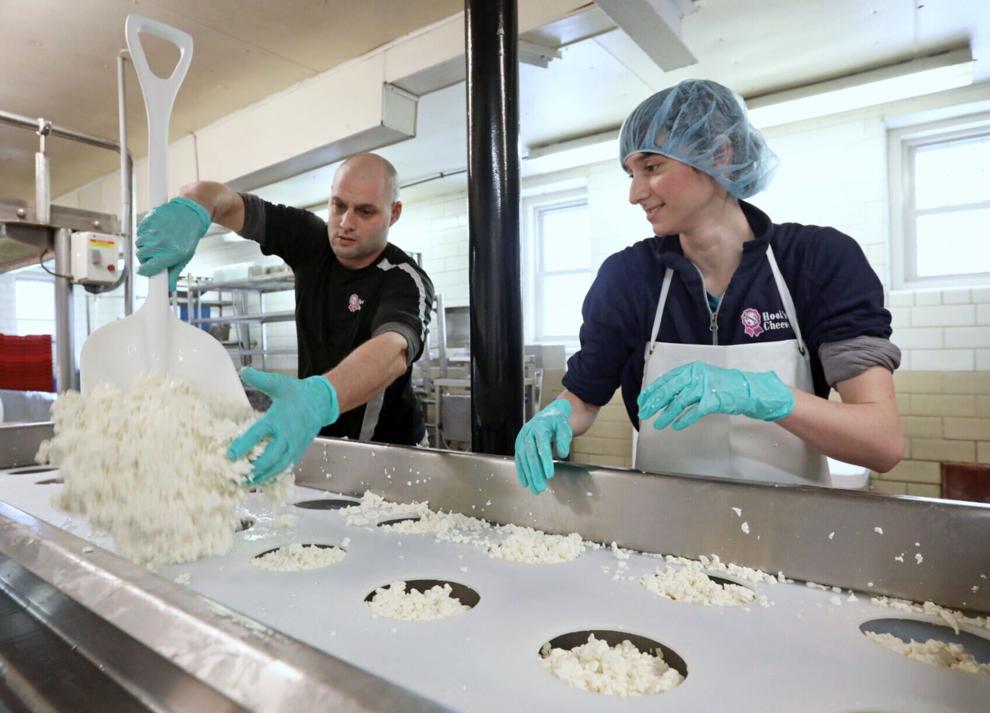 The Hooks got rid of a vat that can hold 40,000 pounds of milk and now have two vats, one that holds 17,000 pounds of milk and another that holds 10,000 pounds and was used to make the batch of cheddar in 2003 that will be released this spring. Their factory has four cheese caves, the large storage cooler and a small public space that has a cooler for walk-in sales and where the walls are covered with awards for their cheese. A large glass window provides views of the production room, and a three-ring binder on a table holds a series of photos that show the process of making cheddar.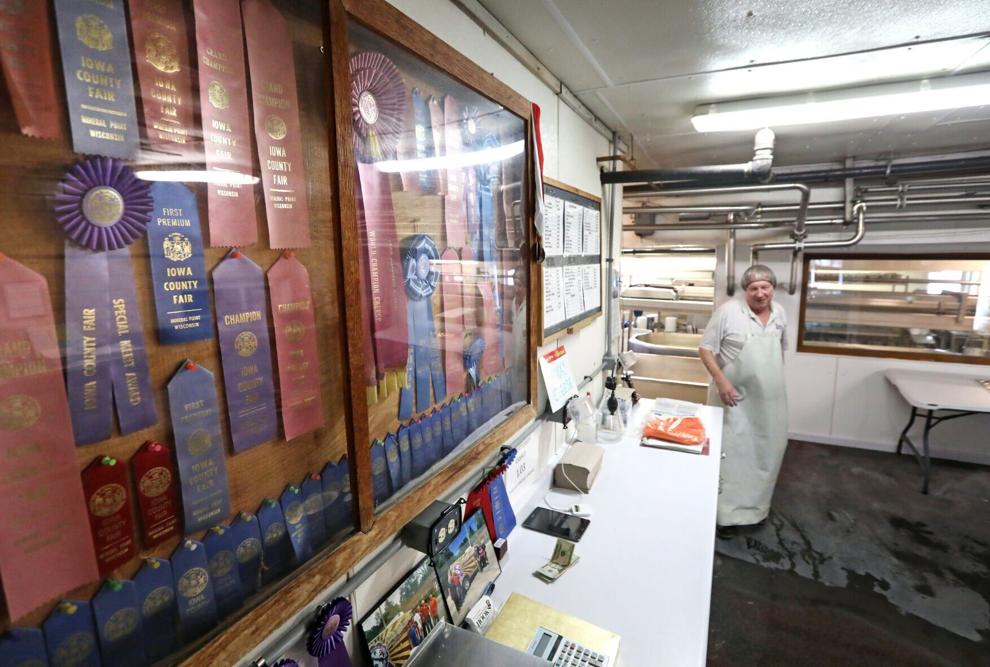 The Hooks live on Madison's Southwest Side and own a condo in Hawaii, where they visit for three weeks in November and three weeks in March. For now, there are no plans to increase the frequency of their visits.
"Why quit doing something you like," Hook said when asked about retirement. "A lot of people retire to do things that they've always dreamt about. This is what I've always liked to do, so you keep on doing what you like."
Barry Adams covers regional news for the Wisconsin State Journal. Send him ideas for On Wisconsin at 608-252-6148 or by email at badams@madison.com.
"I certainly wouldn't melt it on your mac and cheese."

Tony Hook