Again, peaceful protest. Again, property damage and looting. Again, the clean-up.
"It was definitely a group of 10 to 15 hell bent on destruction and then at least 50 to 70 going along with it," said Marcel Colbert, co-owner of Art Gecko, one of scores of businesses that have been repeatedly damaged since Saturday. "There was zero political message going on," he said.
People began looting, breaking into stores and spray-painting graffiti just before 1 a.m. after protests at the top of State Street were allowed to continue in violation of the city's 9:30 p.m. curfew. The earlier demonstrations were largely peaceful, although there was some graffiti reported, including paint poured over the "Forward" statue near the intersection of Mifflin, Carroll and State streets. Barricades, construction fences and other items were also moved into the roadway, police said.
The question for many Tuesday was who is engaging in the lawlessness and why, especially as local elected officials almost uniformly express solidarity with protesters and most protesters decry the violence.
In a statement, Dane County executive Joe Parisi said, "As a white American, it's on me to recognize that white people are responsible for racism," and he asserted that the violence Downtown and in scattered areas throughout Madison was "being committed by predominately white groups."
Madison police had largely not had time to write up arrest reports for the more than 30 people arrested as of Tuesday morning, according to spokesman Joel DeSpain, so there was no clear picture yet about who is suspected in the violence Downtown since Saturday. A spokeswoman for Parisi said his assertion about the race of rioters stemmed from his "personal observations" of news accounts, reports from county staff and other sources.
Some activists have also sought to frame the violence as political and the result of systemic racism.
"They think cement is worth more than your life. They think glass is worth more than your life," said M. Adams, co-executive director of Freedom Inc., at a rally Monday. "Stop murdering black people and your glass will be safe."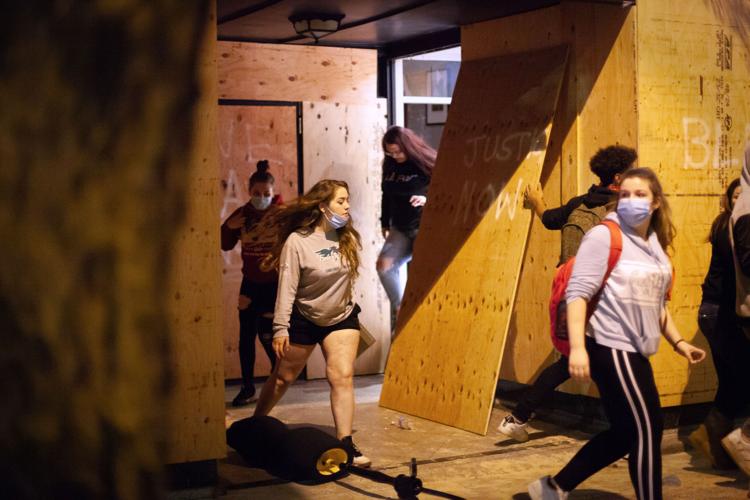 Many of the windows boarded up Monday after Sunday's looting got tagged and spray-painted with profanity overnight, and some of the businesses that didn't put up wooden boards had their windows broken. Almost no storefront was left unscathed. Hawk's Bar & Grill — which displayed "black lives matter" signs and whose owner, Hawk Sullivan, publicly identified with protesters early in the demonstrations — had two large windows broken.
John Lyons, 23, who lives a block and a half off State Street, said he and his partner, Gabriella Gouin, also 23, left town Saturday night because they didn't feel safe, and came back Monday, thinking things would be better with a curfew in effect for two days.
"None of this was like this last night," Gouin said of new damage to the 500 block of State Street. "None of these windows were broken. It's so sad. This is not how you honor somebody's death. It's not how you protest someone's death by destroying things."
'The world has heard'
Timothy D. McDowell, 50, was part of a crew of nine scrubbing graffiti from the Wisconsin Veterans Museum on the Capitol Square.
McDowell, who is black and moved to Madison from Kentucky seven months ago, said that while the protesting is "very necessary," protesters are "not necessarily making a point at this time. Not on the walls, they're not."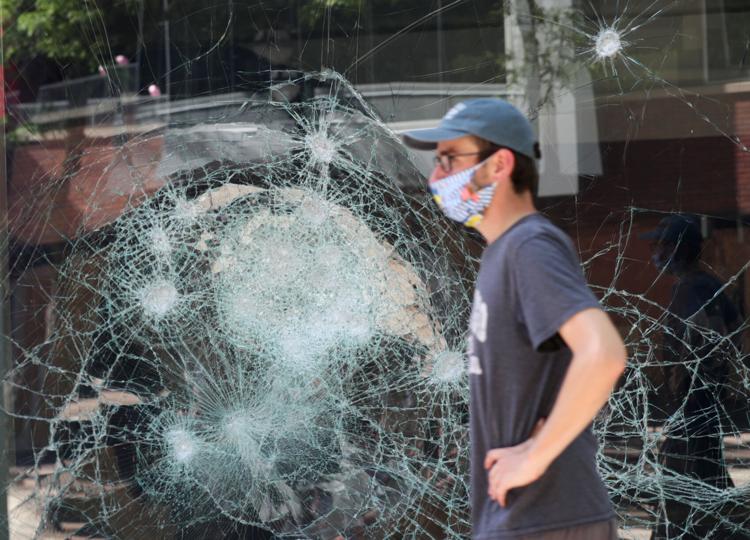 He said vandals tried to get into the building nearby at 14 W. Mifflin St. where he works for Pathways of Wisconsin, a nonprofit that provides services to adults with developmental disabilities.
"The world has heard," he said. "They've got the point. They don't need the extra aggression to add on."
Amy Moore, owner of Little Luxuries, a gift shop at 230 State, said that in the first night of rioting she had a rock thrown into an upper window and shards of glass in the front half of the store. But that's nothing compared to the devastation her neighbors have experienced and the "devastation people of color see every day," she said.
"As an active community member it's hard to see this," she said. "But I want to make sure the message isn't focused on my business and how it's impacted, but the work on racism we have to do in our community."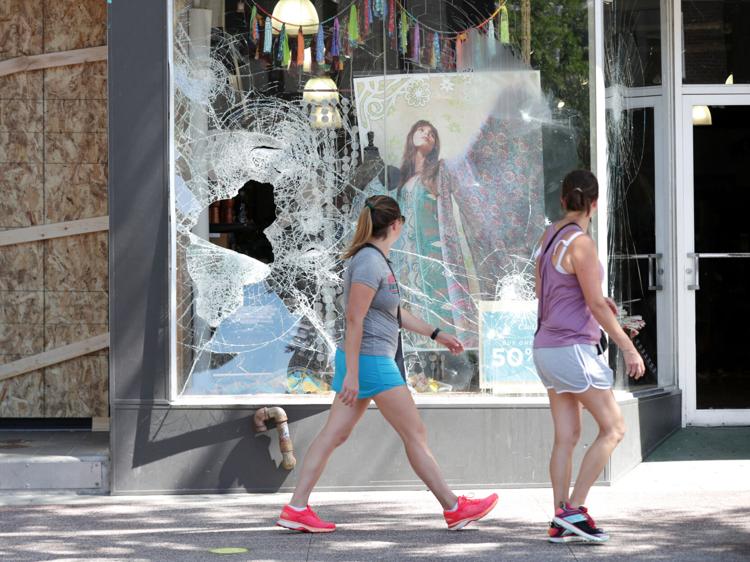 Fontana Sports was broken into and looted for a second straight night. A person who lives on State Street was punched by a looter after yelling at him. One protester told a looter, "You're ruining the message," and others tried to stem the growing lawlessness.
Teddywedgers co-owner Anthony Rineer and employee Veronica Shaw said they were Downtown Monday night and Shaw said many of the protesters early Tuesday morning tried to stop the looters.
Rineer said the restaurant, at 101 State, was tagged with graffiti overnight but otherwise has been luckier than some other businesses.
Two more windows on the State Street side of the Overture Center also were broken out, as were glass doors on the building and windows on the adjoining Madison Museum of Contemporary Art.
Police spread thin
DeSpain said officers "are doing all they can to identify and arrest looters, even if it's after the fact."
He said police have recovered two stolen AR-15 rifles that were taken from a police car before it was torched Saturday, "and we are going to identify and arrest these people."
But DeSpain said police are also "spread very thin" and need to be careful after being repeatedly pelted with rocks and bottles. At least one vehicle was hit with a bullet, he said.
"They can't run down there without their hard gear on because it would be dangerous for the officers," DeSpain said. "We've seen around the country, that officers are being shot. We're concerned that this could happen here and that they could be ambushed."
DeSpain said that many of those involved in looting are separate from the peaceful protesters who are exercising their first amendment rights, which he said the department supports.
"People who are looting are criminals, and some of them are operating in a very sophisticated way," he said.
Just before 2 a.m. near the intersection of Gorham and Henry streets, looters attacked two male protesters with two-by-fours and possibly a crowbar after they tried to confront a female looter, police said. One of the men required 12 stitches to his face and had his phone stolen, while the other suffered multiple broken bones.
Police said the cameraman had panned away from a reporter to show Michael E. Campbell, 40, going through items that had been looted from 7-Eleven, 676 State St. Campbell then allegedly threw bottles at the journalist and grabbed him from behind, vigorously shaking him and his camera.
Campbell fled the scene on a bicycle but was captured on South Park Street and tentatively charged with battery, disorderly conduct and resisting and obstructing police. He also was taken into custody on a probation hold.
Police reported 15 arrests were made during the night, and that they responded to several looting incidents elsewhere in the city, including at Tech Heroes, a US Cellular Store, a Capitol Petro store, Movin' Shoes, Mobile Generation/Verizon, Pizza Hut and a BP convenience store.
Photos: Madison anti-police protests enter Day 3 with promises of more to come
Be the first to know
Get local news delivered to your inbox!