Gov. Tony Evers during his annual State of the State address Tuesday called for a special legislative session to overhaul the state's unemployment system and a transparent process for drawing the state's political maps.
Many of Evers' proposals, including $200 million for broadband infrastructure, will be included in his upcoming state budget request. But they will test an already rocky relationship with the Republican-controlled Legislature as lawmakers seek to address the ongoing COVID-19 pandemic.
"Unfortunately, many of the challenges of 2020 will no doubt carry into this new year," Evers said. "But as we reflect on these challenges — the magnitude of what this past year presented us, and the work we did together to prepare, adapt, and respond — let us also remember to grant ourselves grace, to permit ourselves perspective, to recognize our own resilience."
During his two years in office the Democratic governor has called the Legislature into a variety of special sessions on his policy goals, but Republicans have brushed them aside. Evers provided few details on the latest special session, which seeks to address an issue that has dogged his administration since COVID-19 caused unemployment to skyrocket.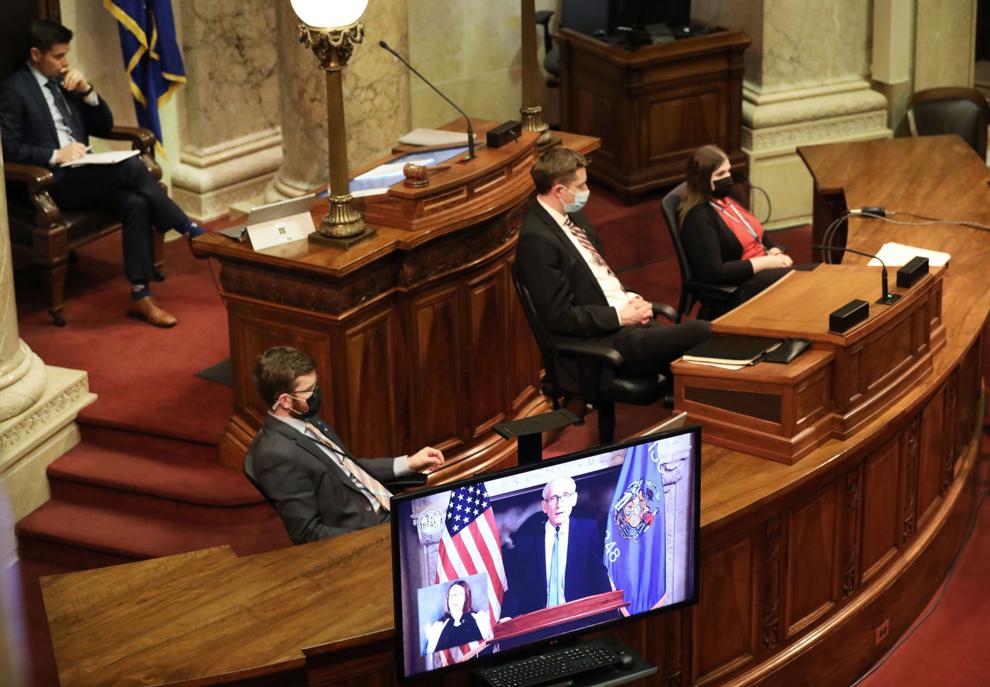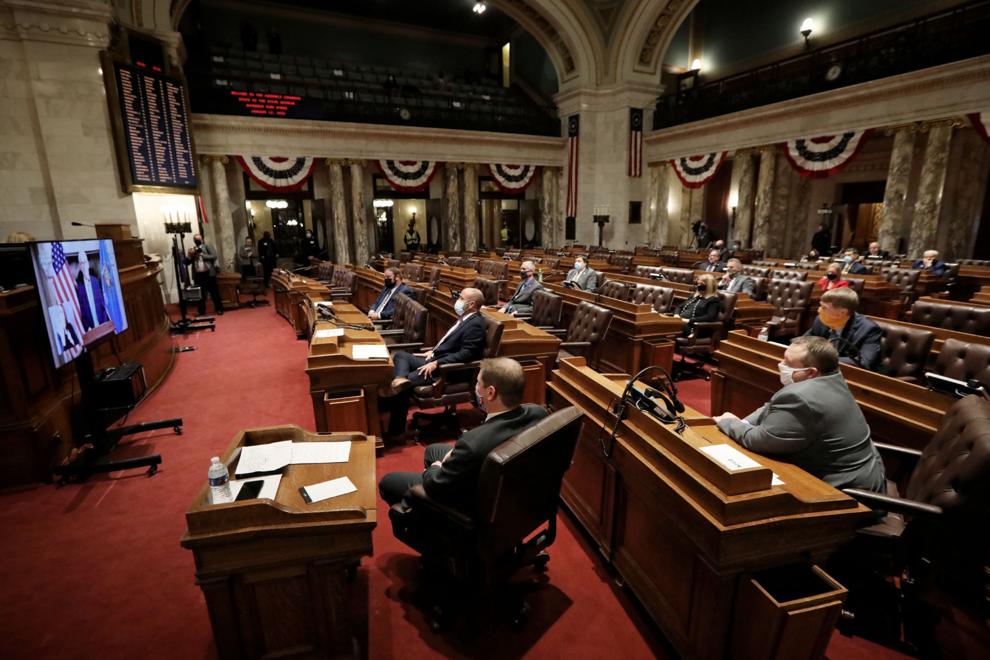 In another sign of the pandemic's continued effect, Evers became the first governor in 74 years to not be physically present in the Capitol to deliver his address, which he gave by video.
And in another major break from tradition, Assembly Speaker Robin Vos, R-Rochester, delivered the GOP response immediately after Evers' address from the Assembly dais where the governor traditionally gives the speech — with GOP members in attendance applauding as they would if a Republican governor were delivering the annual address.
Then, with Democratic members not in attendance, Assembly Republicans passed a resolution honoring Vos as the longest-serving Assembly speaker in state history.
Senate Republicans watched Evers' address from the Senate chambers, but Majority Leader Devin LeMahieu, R-Oostburg, did not speak after the address.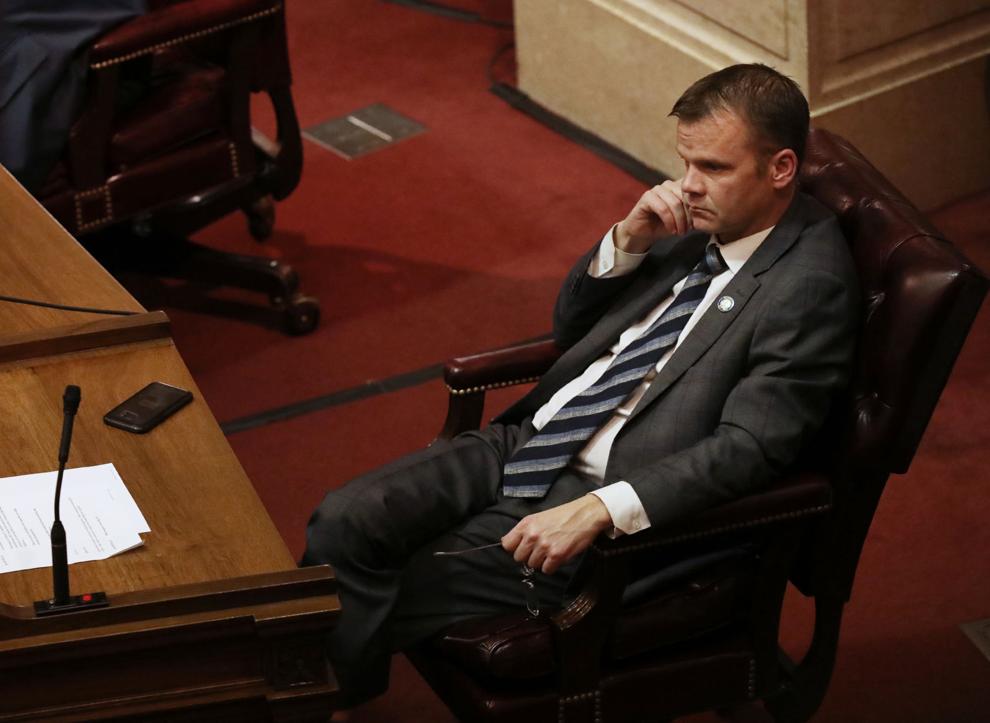 Evers' policy goals
Evers previewed what are likely to be some of his signature policy goals this legislative session, although he won't announce more until his budget address next month.
Dedicating his speech to the 5,000 lives lost in Wisconsin due to COVID-19, Evers remarked upon the difficulty of the previous year, including civil unrest sparked by the police shooting of a Black man in Kenosha. But he also highlighted Wisconsinites' perseverance.
"This past year asked a lot of us, and we've asked a lot of one another," Evers said. "But when we did, we found that the strength of our state is in what we are willing to face together — what we are willing to do for each other, especially when our neighbors need us the most."
Evers' call for an overhaul to the unemployment system comes as his administration has been ridiculed for its alarmingly slow response to addressing the state's skyrocketing unemployment claims during the pandemic.
Last week, the state Department of Workforce Development reported that almost 97% of the more than 8.87 million weekly unemployment claims received between March 15 and Dec. 19 of last year had been processed. At the time, more than 22,000 claimants had been waiting more than three weeks for their requests to be resolved.
In his speech, Evers blamed that response on the state's antiquated unemployment claim system, which he said was not equipped to meet the demands the pandemic presented.
"This system isn't new, and these problems aren't, either," Evers said. "And Republicans and Democrats alike are to blame. The fact of the matter is that previous administrations and more than a decades' worth of legislators have known this system was outdated and couldn't handle an economic crisis like the one this pandemic presented, and they never took the time to fix it."
In his rebuttal, Vos blamed the governor for a lack of leadership and inaction on the issue. He pointed to audits conducted last year by the the nonpartisan Legislative Audit Bureau, which found DWD was largely responsible the department's delays in resolving initial unemployment claims and that only 0.5% of the 41.1 million calls received by DWD call centers between March 15 and June 30 ultimately were answered.
"These failures weren't brought on by ancient systems. They were brought on by a lack of leadership," Vos said. "The Evers administration owes these families answers and in many cases an apology."
Since March, DWD received 1.6 million more claims than the previous four years combined. To address those claims, the administration increased staffing in the unemployment claims division from 500 to more than 1,800, but even that wasn't enough to fully address the problem.
"If the Legislature continues to ignore this problem — if they gavel in and gavel out like they've done before, if they leave this problem for another administration, another generation — the people of this state will hold them accountable at the ballot box," Evers said.
Evers also wants to pass a measure in his state budget that would increase transparency in the decennial redrawing of the state's political maps by requiring public meetings during the process, preventing the Legislature from destroying related records, and requiring the Legislature to pass maps drawn by the governor's nonpartisan redistricting commission, which he formed last year.
Republicans control both the Senate and Assembly, so it's unlikely Evers would have the political leverage to pass the measure, which he also attempted in his 2019-21 budget proposal.
"I believe — and I know many of you at home do — that the people should get to choose their elected officials, not the other way around," Evers said. "Wisconsinites don't want maps that favor any political candidate or party — we just want maps where either candidate can win."
During the last redistricting process 10 years ago, Republicans who controlled the Legislature and governor's office drew the maps in secret and sought to maximize their partisan advantage in the Legislature.
Evers also said he wants to spend $200 million more to expand broadband access in Wisconsin in the next budget, which is on top of the $54 million included in the previous budget.
According to figures provided by the administration, about 430,000 people — 25% of the state's rural population — lack access to high-speed internet.
Vos criticizes COVID-19 bill
The toll of the COVID-19 pandemic was a major focus of Evers' speech as well as Vos' response, in which he called the state's vaccine rollout "an embarrassment compared to other states" and urged residents to email the state to protest a plan that would vaccinate prisoners before many seniors.
Vos even indirectly criticized Senate Republicans, who earlier in the day passed a scaled-down COVID-19 relief package that Evers has pledged to sign.
"It seems some would think the only way to find common ground is to cave in to the governor's demands," Vos said.
The state Department of Health Services reported Monday that Wisconsin has administered more than 151,500 doses of COVID-19 vaccine, including more than 11,500 booster shots, mostly to health care workers and nursing home residents. All told, the state aims to administer doses to about 550,000 people in what is considered phase 1a of Wisconsin's vaccination plan.
In December, the state reported it had ended the most recent fiscal year with a positive balance in the general fund using a standard accounting method for the first time in at least three decades.
However, the nonpartisan Wisconsin Policy Forum reported in December the state could face the most challenging budget session in a decade this year as spending is projected to exceed revenues by about $373.1 million — without taking into account Medicaid costs and new spending requests from state agencies.
In his response, Vos said Republicans will "fight for another conservative budget, keep spending in check, continue our successful school choice programs, protect the unborn, reduce taxes even further and ensure that free speech still exists in the Badger State moving forward."