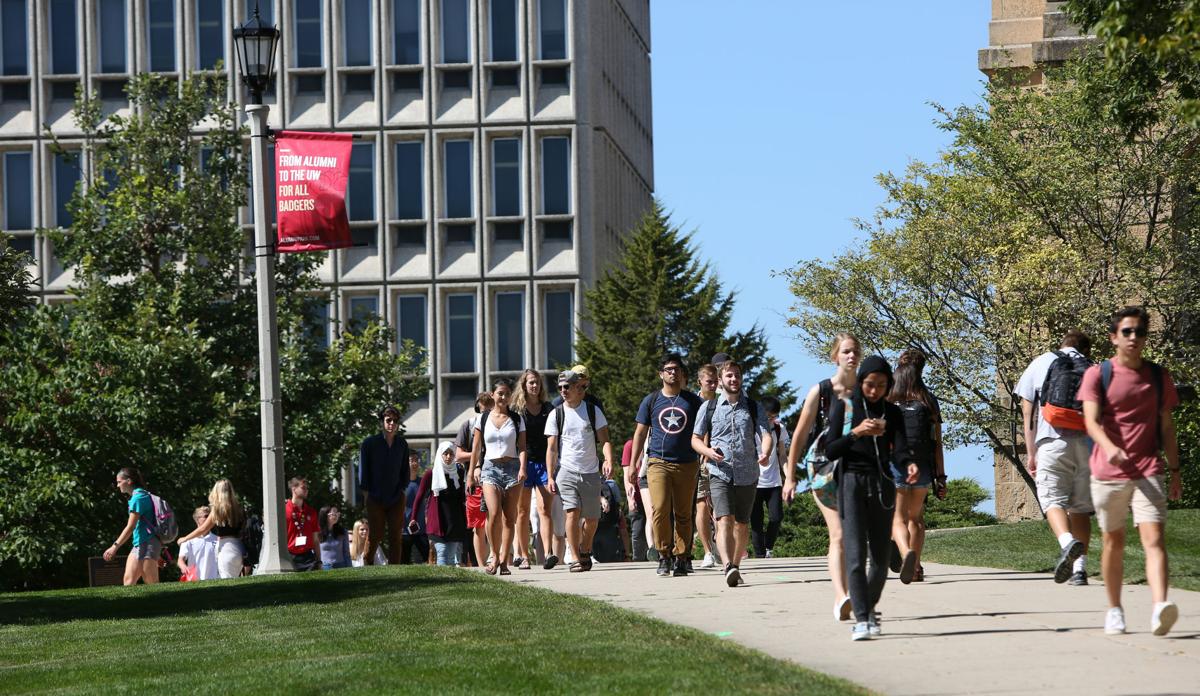 The median salary for University of Wisconsin employees kept pace with inflation over the last seven years, but a review of annual salary data found disparities among UW System campuses.
At UW Colleges — the two-year institutions merging into four-year schools as part of a systemwide restructuring — the median employee salary grew only 1 percent from the 2011-12 school year through June 30, 2018, a period that covers most of former Gov. Scott Walker's time in office and five years of an in-state tuition freeze he imposed in recent budgets and which remains in place.
Among UW-Madison's roughly 18,000 employees, the median salary grew 11 percent from $53,591 to $59,617 over that same period.
By comparison, the consumer price index rose about 9.8 percent from June 2012 to June 2018.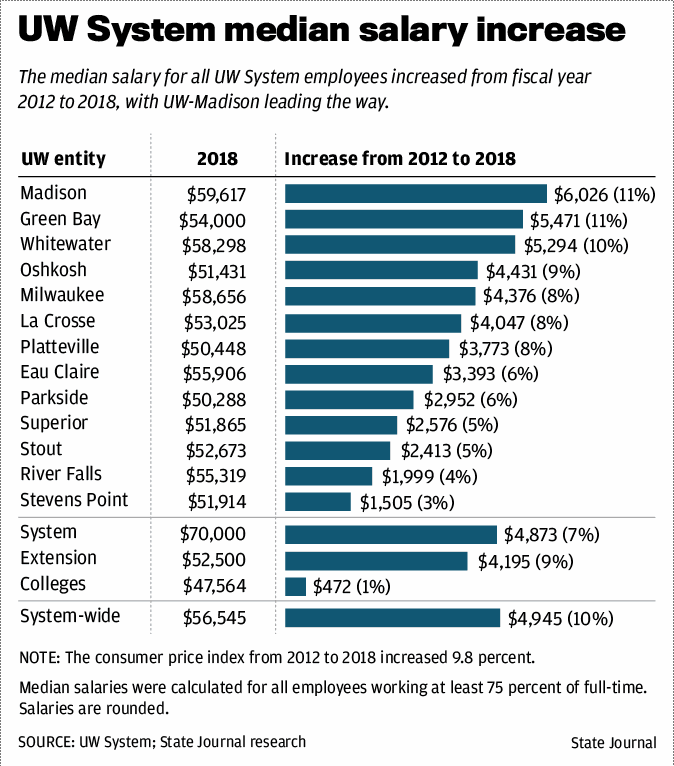 "Some of the campuses are really struggling," UW-Madison economist Steven Deller said of the Wisconsin State Journal's findings. "They're really kind of stuck."
Campuses with a more robust research mission, including UW-Madison, have more flexibility in making counter-offers when a faculty member is recruited to another institution, he said.
The overall picture reflects the budget cuts endured in recent years, Deller said.
UW-Madison spokeswoman Meredith McGlone said it's important to consider not just the rate of inflation, but also both the public and private markets the university competes in to hire and retain staff.
The State Journal compared median salaries of more than 35,000 UW System employees working at least 75 percent of full time using data provided by the UW System under the state's public records law.
Officials at many campuses have lamented over the years that not enough state money has been provided to offset the tuition freeze, which is in its sixth year. They've also pointed out how their faculty pay falls behind what peer institutions offer.
The last pay raise for UW System employees came in the 2017-19 biennium when the UW Board of Regents and the Legislature approved a 2 percent increase for each of the two years. In five of the last eight fiscal years, however, UW System employees received no pay increases, with increases averaging less than 1 percent a year between June 2011 and July 2019, according to the System.
UW-Madison's top athletic leaders once again surpassed all other employees in pay. Badgers football coach Paul Chryst received $3.8 million, Badgers basketball coach Greg Gard netted $2.4 million, and Badgers athletic director Barry Alvarez received $1.2 million. Much of the money for top coaches' salaries doesn't come from tax or tuition dollars, but from outside sources such as the UW Foundation.
UW-Madison Chancellor Rebecca Blank was the No. 10 earner at the university, receiving $499,950 in total pay. Aside from Chryst, Gard and Alvarez, two coaches, two assistant coaches and two professors earned more than Blank last year.
Chancellors at all but two of the other UW institutions were the top earners at each of their respective campuses. At UW-Milwaukee, men's basketball coach Patrick Baldwin received $361,150 while UWM Chancellor Mark Mone received $340,000. UW-Green Bay men's basketball coach Linc Darner received the same amount, $231,500, as the university's chancellor, Gary Miller.
UW-Superior spent the most money on allowances, which are payments made in addition to an employee's salary for costs such as a car, housing, safety shoes or uniforms. The majority of UW-Superior's allowance budget went to housing negotiated as part of employment agreements, according to spokeswoman Jordan Milan.
'Overload' pay
More UW-Whitewater employees were paid "overload" than at any other four-year campus.
Overload pay is described as additional pay an employee receives for taking on extra responsibilities, such as teaching an extra course or facilitating a workshop.
Nearly 500 employees received overload pay at UW-Whitewater, records show.
UW-Whitewater spokesman Jeff Angileri said overload pay gives the university flexibility to carry out initiatives such as the First Year Experience, which is programming to help incoming freshmen adjust to college life. More than 70 employees receiving overload pay were paid for their work with that program, which he said contributed to the university's record-high retention and graduation rates.
" Using overload pay provides support to hard-working and talented faculty and staff for going above and beyond their regular job duties without permanently affecting the campus' budget," he said.
At UW-Madison, which has roughly 13 times more employees on its campus, 341 employees received overload pay. Nine of the top 12 highest overload payments went to employees in the School of Business, according to records.
Overload payments are calculated based on an employee's base salary, so faculty with higher salaries receive higher overload payments, according to School of Business spokesman David Giroux.
"Because we compete with other leading business schools in the nation, our market-based salaries are typically higher," he said.
Be the first to know
Get local news delivered to your inbox!