Gov. Tony Evers toured La Crosse's community vaccination clinic on opening day Tuesday, visiting the site at UW-La Crosse's Cleary Alumni Center that is the second DHS state clinic established thus far.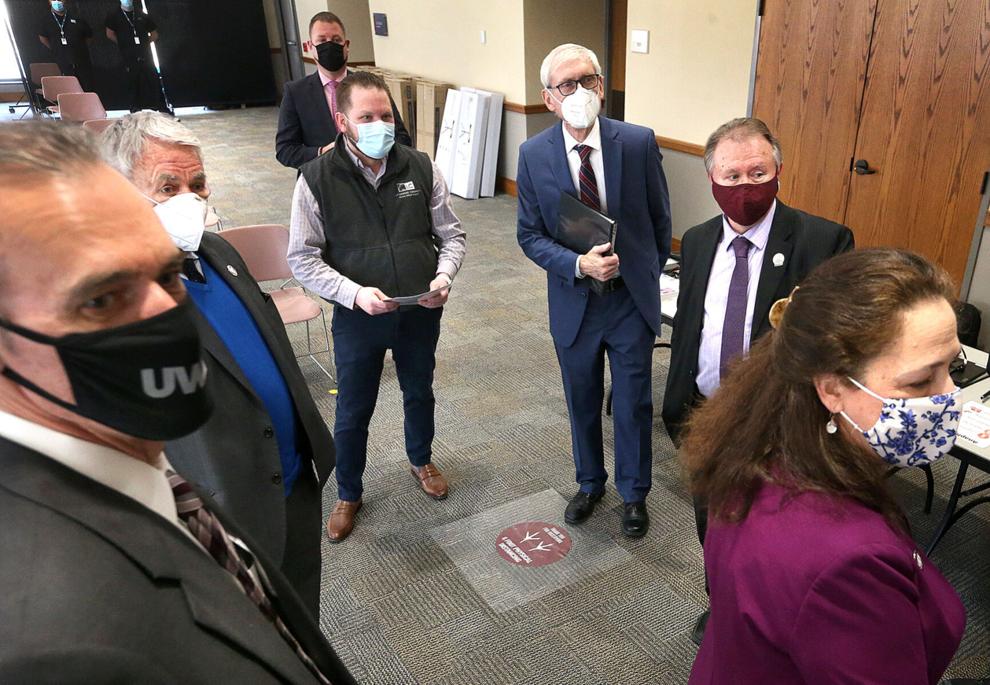 The clinic, being operated by staff from AMI Expeditionary Healthcare, is a collaboration between the Wisconsin Department of Health Services, the University of Wisconsin System, the La Crosse County Health Department and other local partners.
A clinic in Rock County opened previously, and sites in Racine County, Marathon County, and Douglas/Barron County are projected to open by April.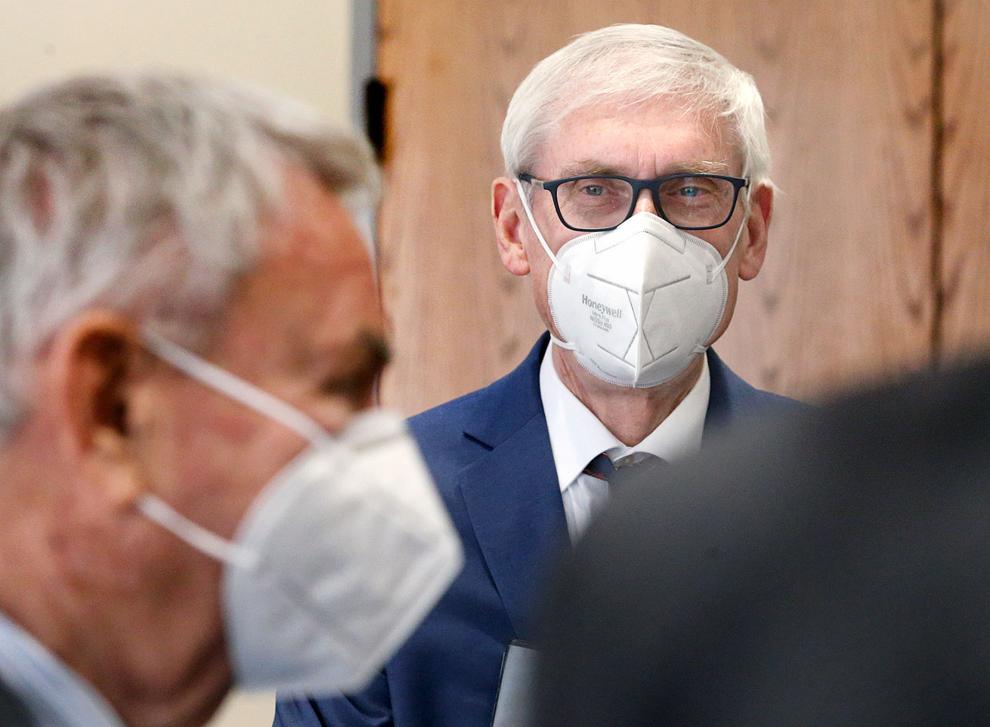 The vaccine clinic endeavor follows the partnership between the UW System and the U.S. Department of Health and Human Services to offer coronavirus surge testing, which is ongoing at UW-L's Cartwright Center and other state campuses.
"The University is always there when Wisconsin needs help," UW System President Tommy Thompson stated Tuesday. "...This university encompasses so much in the health arena. Last fall we set up testing here...when the healthcare system needed more individuals to help out, our nurses, and our nursing students came on to help. And then we decided that we wanted to get involved in vaccination. And everyone at this campus, everyone of the universities, said count me in. They all wanted to be helpful to the state of Wisconsin. Today is just a wonderful day."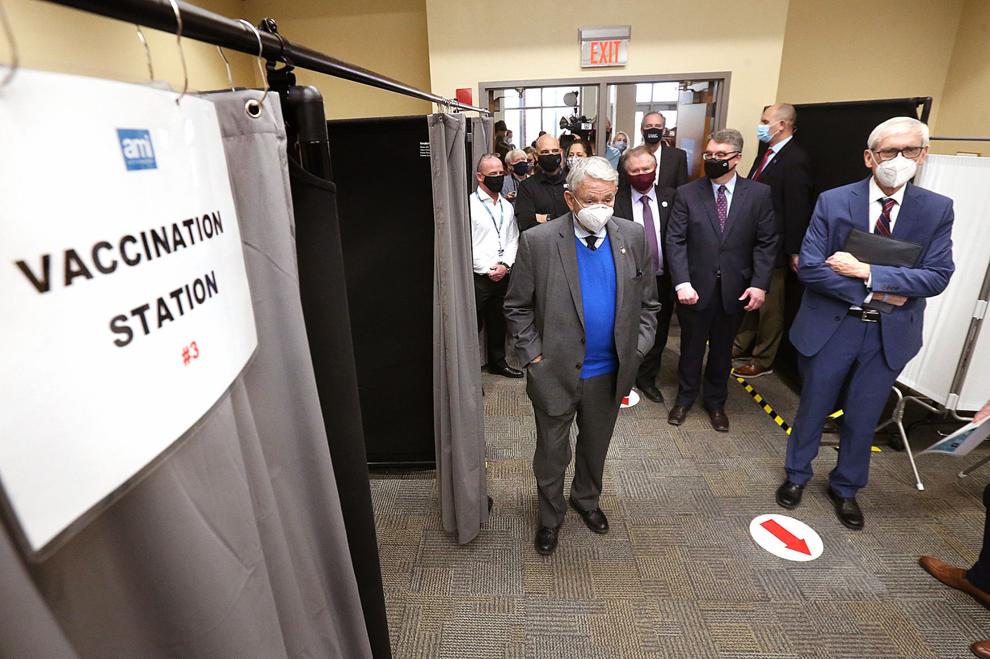 The La Crosse location will be open from 11 a.m. to 7 p.m. Tuesdays through Saturdays. For the first weeks, individuals in the first sector of Phase 1B — those 65 and older — will be prioritized for appointments. Appointments for other eligible individuals will begin after this grouping has been fully scheduled.
Next week, 500 UWL employees and professors will be vaccinated at the site. School and childcare employees became eligible for vaccination March 1, and are currently receiving doses either onsite at some schools or other locations. Local vaccination sites include Gundersen Health System, Mayo Clinic Health System, the La Crosse County Health Department, select Walgreens locations and Weber Health Logistics. 
"If we can vaccinate our teachers, our professors and our employees, we're really on the cutting edge, and Wisconsin is on the cutting edge," Thompson said.
Joe Gow, chancellor for UWL, noted during the Tuesday tour that "We wouldn't be where we are right now" without the leadership of Thompson and Evers, citing their commitments to education and health, and giving praise to all the partners involved in the clinic. 
"This is a fantastic partnership that underscores what (Thompson) is always saying: the Wisconsin idea is what it's all about, and if there is a challenge in the state the university will step forward and meet that challenge," Gow said. "So we are very, very proud to have this vaccination clinic here. It's a historic day."
The clinic plans to administer 200 doses per day, with capacity to increase to 1,000 doses per day, which it hopes to reach starting next week. The number of doses administered will be dependent on the amount of vaccine the state receives from the federal government. There is not a projected close date for the site.
As of Tuesday, around 19.8% of Wisconsinites had received at least one shot, and 11% had completed the vaccine course. In La Crosse County, the percentages are 21.8% and 13.6, respectively, with a total of 41,748 doses. 
Wisconsin currently ranks number one administrating the highest percentage of COVID-19 vaccines received, at 93.77%, and La Crosse County Board chair Monica Kruse says, "With Gov. Evers and Joe Biden providing the leadership, COVID-19 will soon be in the rearview mirror and life as we know it and love it will resume."
Noted La Crosse County Administrator Steve O'Malley, "We are right at the crux of vaccines that are going to change our lives."
Evers expressed deep appreciation for the state and local health departments, calling what they do "really complex work and important work," made even harder in the face of politics, with some individuals reticent to follow recommended precautions or distrustful of the safety or science of the vaccine.
"As long as we continue to send a message (that masking and distancing) saves lives, we can morph it into the conversation of getting a shot in your arm may save your life and likely will save someone else's life. We're all in this together...and we care about each other," Evers says. 
Adds Evers, "The good news is that light is at the end of the tunnel -- we can see it."
Wisconsin residents who are eligible for vaccination can register for an appointment through the state COVID-19 Vaccine Registry at https://vaccinate.wi.gov/ or call 844-684-1064. Eligible individuals who have completed the Vaccine Screening and Interest Form from the La Crosse County Health Department will be notified by phone if they filled out the form offline, and those did so online and included an email address will receive an email from "No Reply VRAS." This email will include a link to set up appointments.