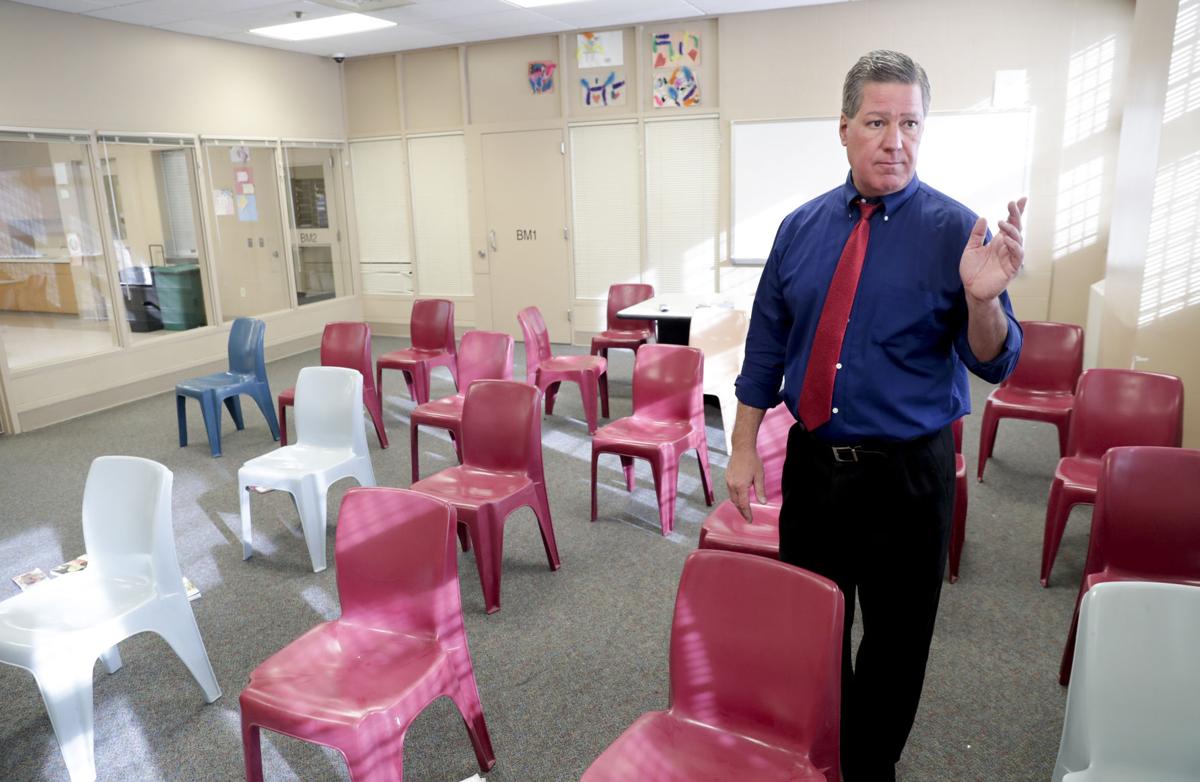 Although it's twice what lawmakers initially proposed, the $80 million set aside in the state's two-year budget for counties to build new juvenile treatment centers may still not be enough to complete the juvenile justice overhaul state lawmakers had envisioned.
A handful of counties that want to build replacements for the embattled Lincoln Hills and Copper Lake youth prisons in northern Wisconsin — slated for closure in 2021 — have requested north of $130 million to construct the facilities.
But with only $80 million in borrowing provided by the state, the estimated $50 million funding gap has lawmakers suggesting they'll need to put some projects on the back burner.
"It's not an easy facility to replace," said Rep. Joe Sanfelippo, R-New Berlin, who sits on the grants committee tasked with doling out funding to counties. "The price tag has definitely been coming in much higher than anticipated, so I think that we have to kind of rethink some of the proposals that have come through."
Democratic Gov. Tony Evers earlier this month signed a budget that directs $80 million to counties, $47 million to the state and $59 million to the Mendota Juvenile Treatment Center to overhaul the state's juvenile justice system and shut down Lincoln Hills and Copper Lake, which have been the subject of numerous lawsuits and state and federal investigations for abuses against inmates and staff.
New facilities are required to be built to replace Lincoln Hills under a bipartisan law passed by lawmakers in 2018 and signed by former Republican Gov. Scott Walker.
The funding set aside for the counties comes as Evers continues to question whether state and county facilities can be built to replace Lincoln Hills/Copper Lake on time. Evers had proposed giving the state and counties an indefinite amount of time to complete the Lincoln Hills replacements, but eventually signed a bill extending the timeline by six months, to July 2021.
"There's a reality of how fast you can build a darn building," Evers told reporters at the state budget signing. "I continue to be concerned about that side of it. Our goal is to make sure we get the kids out of Lincoln Hills as soon as possible no matter whether we had the money or not."
In the 2018 law, the Legislature approved $40 million for county-run youth detention centers.
Evers had proposed giving counties $100 million, but wasn't able to persuade Republican lawmakers to approve the full amount. Those lawmakers are now openly questioning if the $80 million will be enough, and even considering providing more funding in the 2021-23 biennial budget to make up the difference.
County leaders argue they'll be ready to meet the state's July 2021 deadline if the state provides them flexibility in building standards and licensing. Evers has expressed skepticism, but lawmakers say they're still confident the deadline can be met.
Rep. Evan Goyke, D-Milwaukee, who worked to pass the 2018 law shutting down Lincoln Hills, said the process for approving county grants will help officials to "right size" the juvenile justice system to prevent over or under building.
Sarah Diedrick-Kasdorf, a lobbyist for the Wisconsin Counties Association who has worked closely with counties interested in building youth lockups, said a cloud of uncertainty hangs over the process for replacing Lincoln Hills and what the committee tasked with overseeing grant applications will decide.
"Does it mean they will only ask for $80 million worth of projects to the (Joint Finance Committee), or does it mean that the grant committee will say we have four worthy projects, we recommend that all four be funded?"
A grant committee will work with counties in the coming months to improve the county proposals before submitting a plan to the Joint Finance Committee by Oct. 1.
Funding trade-offs
Lawmakers on the committee aren't sure what the committee will do, although early indications suggest only three counties may immediately get the green light to build facilities: Milwaukee, Dane and Racine. The state is simultaneously tasked with building two to three state-run facilities for more serious offenders.
Rep. Michael Schraa, R-Oshkosh, said the state may need to wait until the next budget cycle for counties to build another two to three regional youth detention centers.
Milwaukee County put forward a $42 million proposal to construct a 54-bed facility by remodeling existing buildings. Racine County made a $40 million ask to construct a new 48-bed regional youth lockup. And Dane County has asked for up to $4 million to expand its current juvenile detention facility to make room for up to 23 new beds for boys and six beds for girls.
"When you looked at that initial proposal by Milwaukee County, it looked like a resort rather than a detention center," Sanfelippo said.
Other lawmakers on the committee are taking a cooler approach, arguing that it's better to give fewer counties the resources they need rather than asking counties to pare back their requests in order to allocate funding for all. Brown County applied for $43 million, but it may not make the cut if lawmakers opt to immediately approve only Dane, Racine and Milwaukee County's requests.
"We need to do it right the first time," said Sen. Van Wanggaard, R-Racine, who played a role in crafting the bill calling for the closure of Lincoln Hills/Copper Lake. He said lawmakers will almost certainly need to give counties more to fund lawmakers' vision for a juvenile justice overhaul.
Facilities vs. programs
Dane County is requesting the smallest amount of funds, in part because it would renovate the current Juvenile Detention Center at the City-County Building in Downtown Madison. But the county's juvenile court administrator, John Bauman, said the county would still rely on the 95% reimbursement rate set in legislation. The County Board and county executive Joe Parisi would also need to sign off on any plan after state approval.
Racine County executive Jonathan Delagrave suggested that any scaling back of the county's $40 million proposal would mean reducing the number of youth offenders that county could accommodate. The county is planning to house youth offenders from several counties, including Kenosha, Waukesha, Manitowoc, Winnebago and Washington.
For Milwaukee County, doing it right the first time means asking for up to $42 million to renovate existing facilities that are just one component in a broader overhaul of how the county handles juvenile offenders. The requested funding level is preliminary, and subject to change.
Mary Jo Meyers, director of Health and Human Services for Milwaukee County, said that county's proposal emphasizes new programming to better assess risk and provide judges with recommendations, as well as vocational, educational and other treatment needs youth may have. The county has indicated it may cost as much as $15 million annually to operate the proposed detention centers, although that funding will come from a different pot of money than the $80 million for construction of county-run facilities.
For Meyers, Milwaukee's approach goes above and beyond what the state asked and fulfills the goal of some lawmakers that counties should prioritize their approach to programming over major changes to brick-and-mortar facilities.
"To me, the programming is 100 times more important than what the facility looks like," Sanfelippo said.
State Journal reporter Shelley K. Mesch contributed to this report.