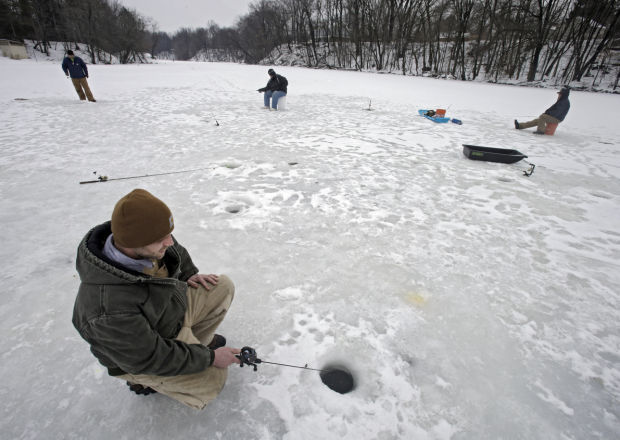 The frenetic holiday season has now passed. The dull grayness of January and seemingly ceaseless cold has set in. Days are getting longer, but only by a few minutes as each day passes. It's easy to find yourself wallowing in the doldrums as winter drags on. Some may experience a sort of "cabin fever," as they feel like they've been cooped up indoors for too long. The warm breadth of spring is far in the distance. So what is one to do?
The answer lies in taking advantage of the wonderful activities and opportunities abounding in winter. Many see the season for its unique brand of fun, and don't care about what's said by any thermometer.
Fishermen take to the ice for their version of winter pleasure. They huddle themselves from the elements in rigs ranging from makeshift shanties, to high-tech, lightweight shelters with an array of amenities. It takes a different sort of patience to fish through holes driven through the ice. A combination of loud or laborious effort is needed to access the water. If you're fortunate enough to be in a shelter, the waterscape changes when outside light is shut out, and the ice and water below shine with illumination, giving you a brightened view of the lake below.
Stalwart men and women are bundled in Carhartt and Sorels in this darkness, often ruminating about achy joints, cold snaps, and telling old tales. In a flash, a small orange flag outside signals some sort of activity. In a burst of remembered youth, they spring into action, channeling their inner Mikhail Baryshnikov and Usain Bolt to skitter across the ice and snow. Secretly, they wonder if this will be "The One," that behemoth of the deep that will spawn legends. They intently wait for the reel to spin, deftly lifting the tip-up to investigate.
You have free articles remaining.
This weekend marks the Wisconsin DNR's annual "Free Fishing Weekend" meaning anglers don't need to possess the required license to fish. It's a fun way for those who have never experienced ice fishing to get a look and feel for the sport without investing in a bunch of gear. For the past decade or so, our church's Men's Group has had such an event, and it's a great way for kids to come out and have an entirely new experience with nature.
The DNR and various sportsmen's groups sponsor a number of events across area lakes. If you've never done it before, take some time to see the action. Please make sure to learn the ice conditions before venturing out. You may find yourself designing a shanty in your head.
Cross-country skiing is another wonderful way to experience Wisconsin in winter. This year has been impacted by little usable snow, but it remains a quiet, serene way to experience the softness and stillness of the winter woods. You can often glide along, with a brisk, fresh breeze in your face. It combines a wonderful vigorous workout, skill in staying upright, and scenery all rolled into one. North America's largest cross-county skiing event, the Birkebeiner, brings more than 10,000 participants to Hayward each year. One nice feature of cross-country skiing is that you can often choose the level of difficulty you want to pursue. An abundance of trails await for skiers of all abilities.
Others may choose to hit the slopes, and enjoy downhill skiing, snowboarding, and all the related sports. You can experience the biting chill as you create your own wind heading down. Chairlifts bring unique views. A number of ski hills grace our area. While we may have a few steep drops, I'm sorry. I can't call any hill in Wisconsin a "mountain." I got spoiled by 16 years in Alaska with alpine meadows and majestic craggy peaks piercing the timberline, often graced by year-round snow.
Thoughts of Alaska in winter bring back fond memories of playing snowshoe softball. Yes, quite literally, you play softball in the snow, everybody wearing snowshoes. It's a hoot. You spray paint the ball orange. Purists scoff at using their $300 DeMarini bats not "designed" for cold. Hah. Anchorage always has a tournament accompanying the annual Fur Rondy event in February. Not for the faint of heart and always a great time. They play snowshoe baseball in Tomahawk, but it's in the summer. Totally misses the point. Amateurs.
There's a myriad of both indoor and outdoor activities I haven't talked about and experience in the winter to escape any doldrums, or experience any "cabin fever." Though the skies may often be gray, and the north wind brisk, there are still winter activities to enjoy. Take it from a guy named Frostman.
Scott Frostman lives in Baraboo and has roots throughout Wisconsin. He believes anyone can make a difference and can be reached at scfrostman@gmail.com.