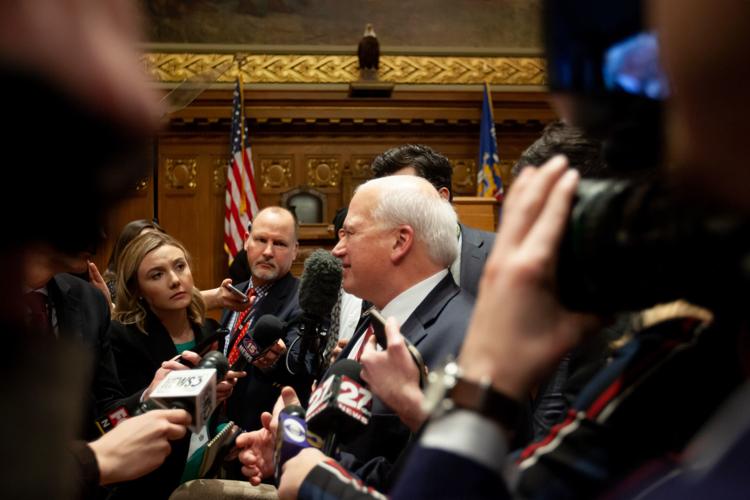 The Republican-run state Senate needs to do its job and either confirm or reject Gov. Tony Evers' Cabinet appointees.
Leaving the Democratic governor's picks in limbo — in some cases for more than a year — only hampers the important work these leaders and their state agencies must do on behalf of the public.
Petty politics appears to be driving Senate Majority Leader Scott Fitzgerald, R-Juneau, and some of his GOP colleagues in refusing to act on Evers' designees.
The governor, for example, picked Craig Thompson to run the Department of Transportation back in December 2018. A Senate committee last summer voted 4-0 for his confirmation.
Yet Fitzgerald continues to block a vote in the full Senate, needlessly causing uncertainty over the department's leadership and direction.
It's time to vote. Senators have had plenty of time to assess Thompson's qualifications and record.
The same goes for Sara Meaney, whom Evers chose to run the Department of Tourism 14 months ago. She's still waiting for confirmation. So is Andrea Palm at Health Services, who gained a committee endorsement last summer, and Melissa Hughes, who was picked to lead the Wisconsin Economic Development Corp. four months ago. (Republicans changed state law before Evers took office to delay his ability to fill the WEDC post). So is Dawn Crim at Professional Services.
When Fitzgerald finally allowed Senate votes two weeks ago on Caleb Frostman to lead Workforce Development and Joaquin Altoro to head the Wisconsin Housing and Economic Development Authority, the Senate gave them unanimous endorsements. That shows how unnecessary these Senate delays are.
Evers' Cabinet members can serve indefinitely if the full Senate fails to act on nominations. Yet the Senate showed it could be vindictive in November when it rejected the governor's choice for agriculture secretary, Brad Pfaff. Republican senators had supported Pfaff's confirmation in committee. But Fitzgerald was miffed when Pfaff criticized lawmakers for failing to release funds for mental health assistance to farmers. The Senate subsequently rejected Pfaff — the first time the Senate has fired a Cabinet secretary in modern state history.
Fitzgerald said in an email this week: "We're continuing to have discussions as a caucus as to who to put on the floor this spring" for confirmation votes.
Those are some very long discussions. The Senate should be able to make timely decisions for the good of the entire state, rather than endlessly playing politics.
The state Constitution doesn't impose a deadline for Senate action. But holding up confirmation decisions more than a year is far too long. It encourages state agencies to be timid and do less, because their leaders must worry about offending sensitive senators.
The slow Senate should stop stalling and vote on Evers' choices.
Catch the latest in Opinion
Get opinion pieces, letters and editorials sent directly to your inbox weekly!