PRAIRIE DU SAC — Poor starts in the first half have worked against the Portage football team all season.
In Friday night's Badger North Conference opener, it was a poor close to the first quarter and start to the second half that did in the Warriors in a 50-36 loss to Sauk Prairie at Sauk Prairie High School.
"We sometimes get in a self destructive sequence; we play good football, but we a lot of good football but we make mistakes," Portage coach Bob Hepp said.
There were more positives than negatives in the early going however, as Portage built a 28-14 lead early in the second quarter. The advantage didn't last however, as Sauk Prairie scored a pair of touchdowns with the second coming just 29 seconds before halftime, to send the game into the intermission tied at 28.
That poor close was the start of things to come for the Warriors as Portage stumbled out of the break. After a holding penalty on the opening kickoff of the second half, the Warriors went three-and-out and fumbled the snap on the ensuing punt and had to give the ball over to the Eagles inside their own 20.
It didn't take long for Sauk Prairie to score as junior Garrett Hertzfeldt took the following handoff in from 15 yards out to give the Eagles a 35-28 lead with 10 minutes, 27 seconds left in the third quarter. After the next Portage drive stalled, the Warriors defense turned the Eagles over on downs to take over at their own 35.
Junior Brett Walker took the ensuing quarterback keeper 65 yards to the house before junior Dale Sheppard, Jr. plowed in the following two-point conversion for a 36-35 lead with 3:06 left in the quarter. Sauk Prairie responded with a score on its next drive, punching in on a Hertzfeldt 27 yard score, to take 43-36 lead with 11:56 left in the fourth quarter.
Looking to retake the lead, Portage gave the ball right back to the Eagles as Walker fumbled on the second play of the ensuing drive at the Warriors' 27. Sauk Prairie senior quarterback Adam Juran turned the fumble into seven points as he weaved his way through the defense on the very next play to make it 50-36 with 11:09 to go.
"It was big; it was kind of the difference in the ball game at that particular juncture," Hepp said. "Games always come down to three or four big plays and that was one of them."
Portage had a pair of chances in the final minutes as it recovered a Sauk Prairie fumble with just under 10 minutes remaining inside Eagles territory, but the Warriors were turned away. Portage got within the Sauk Prairie 10-yard line and faced a fourth-and-goal from the Eagles 2, but was unable to score.
After forcing a Sauk Prairie punt, Portage again got into Eagles territory but turned the ball over on downs as a pass by Walker towards the endzone in the final minute fell incomplete.
"We did a nice job offensively, but had some turnovers and holding penalties that hurt ourselves, but I thought we did some things we hadn't been able to do the first two games," Hepp said. "But it comes back to a couple missed opportunities, so we have some things we can do better offensively."
Portage turned out its best offensive game of the year, putting up 303 total yards, including 179 yards on the ground. Walker tallied 86 yards and a score on 11 carries, while Sheppard, Jr. added 63 yards on 20 carries, but Portage struggled to slow down Hertzfeldt.
The 6-foot-2, 220-pounder rushed for 276 yards and six scores on 24 carries, and Hepp knows that starts with him on defense.
"We keep fighting but defensively we can't give up points at the rate we're giving them up and big plays. That's on me to find out what's wrong and get it fixed," he said. ". We took poor angles and were up high tackling, and that's what we're part of trying ot get across, but we weren't able to do that tonight."
SAUK PRAIRIE 50, PORTAGE 36
Sauk Prairie 14 14 7 15 — 50
POR — Dale Sheppard, Jr. 2 run (kick failed)
SP — Garrett Hertzfeldt 30 run (kick blocked)
POR — Austen Stensrud 68 pass from Brett Walker (Ryan Schultz pass from Brett Walker)
SP — Garrett Hertzfeldt 68 run (Bryant Schaaf run)
POR — Dale Sheppard, Jr. 45 fumble return (Colton Brandsma pass from Brett Walker)
POR — Dale Sheppard, Jr. 9 run (run failed)
SP — Garrett Hertzfeldt 33 run (Smet kick)
SP — Garrett Hertzfeldt 1 run (Smet kick)
SP — Garrett Hertzfeldt 15 run (Smet kick)
POR — Brett Walker 65 run (Dale Sheppard Jr. run)
SP — Garrett Hertzfeldt 27 run (Bryant Schaaf run)
SP — Adam Juran 27 run (Smet kick)
First downs — POR 22, SP 21. Rushing (Att.-Yds.) — POR 45-179, SP 49-389. Passing yards — POR 124, SP 65. Passes (Comp.-Att.-Int.) — POR 4-12-0, SP 4-13-0. Fumbles-lost — POR 2-2, SP 3-2. Penalties-yards — POR 5-33, SP 12-162.
Rushing: POR, Walker 11-86. SP, Hertzfeldt 17-262.
Passing: POR, Walker 4-12-0-123. SP, Juran 4-12-0-65.
Receiving: POR, Stensrud 1-68. SP, Goette 2-44.
Isiah Miller, Mason Pate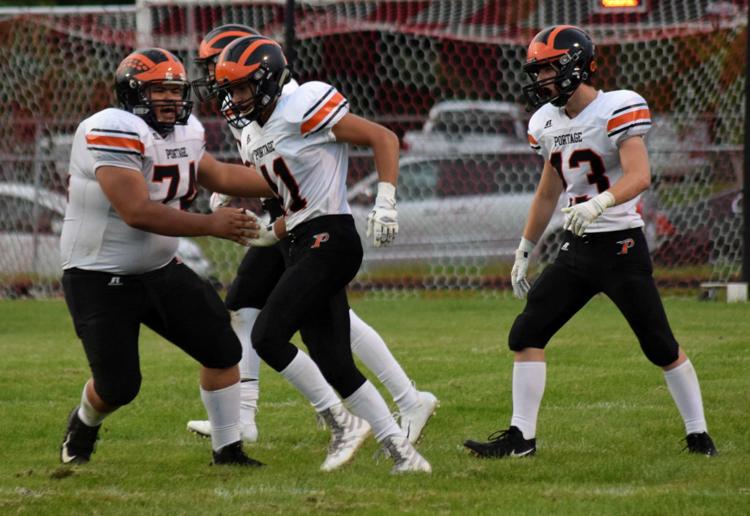 Sauk Prairie breakout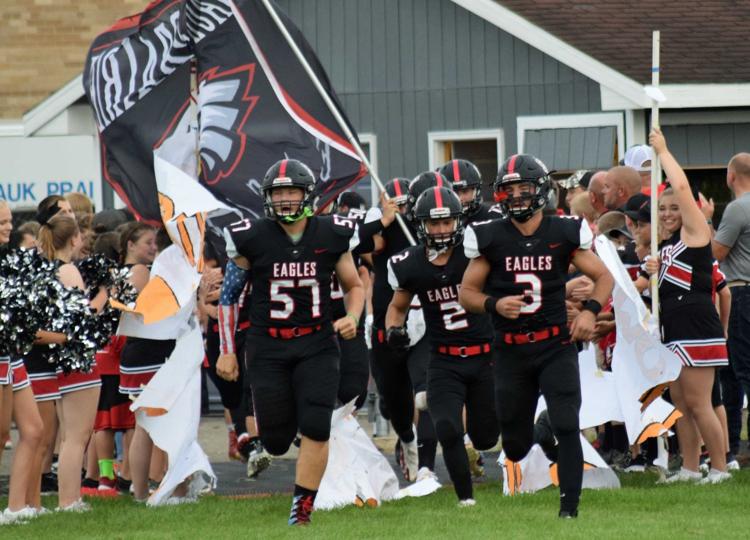 Brett Walker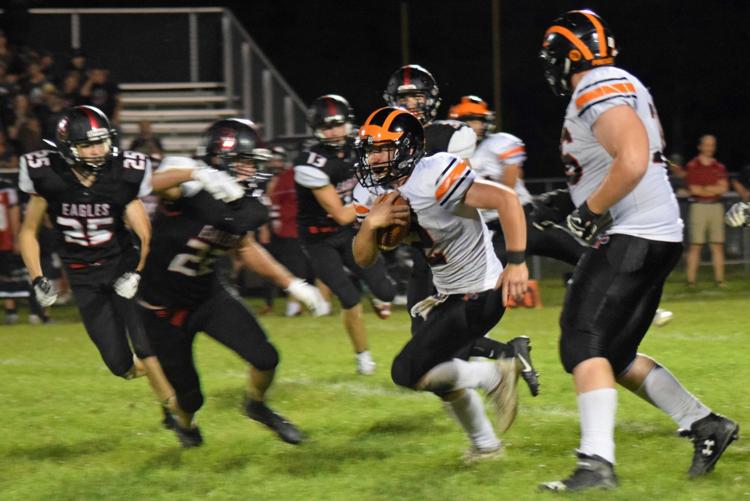 Brooks Leister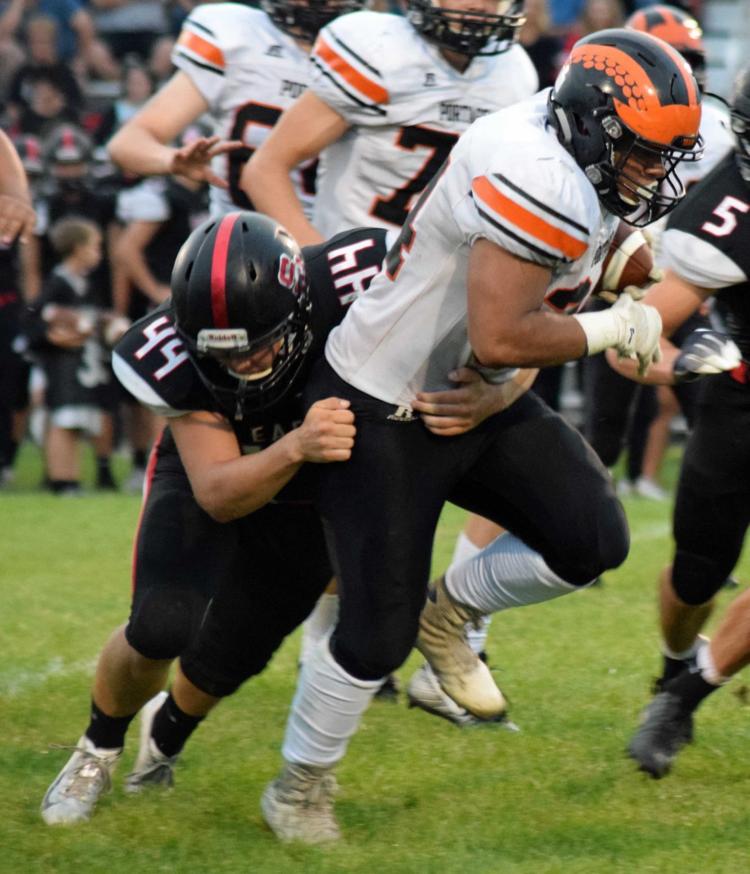 Isiah Miller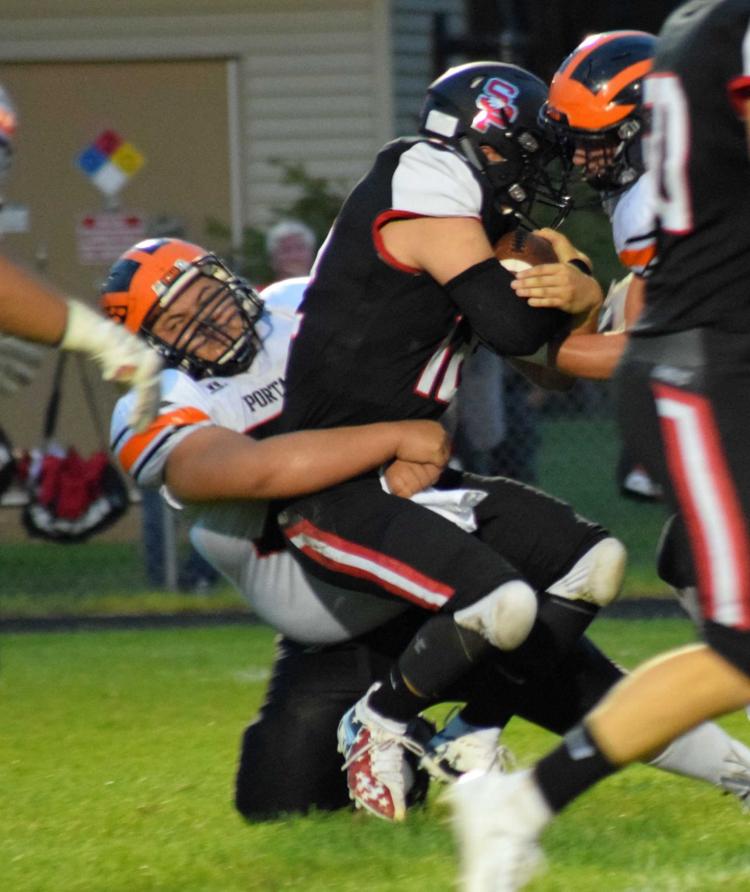 Dayton Goette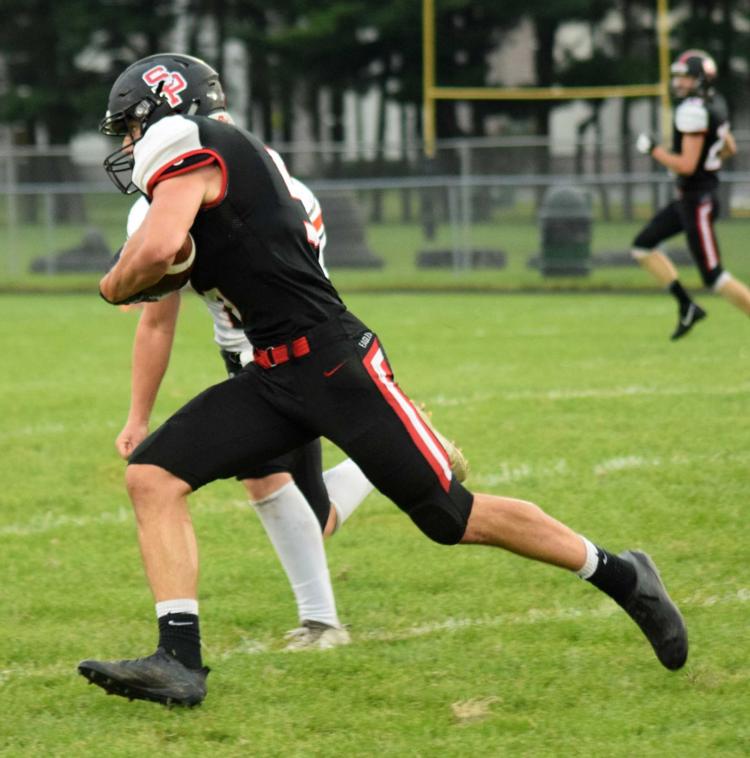 Brandon Hall, Sam Bleich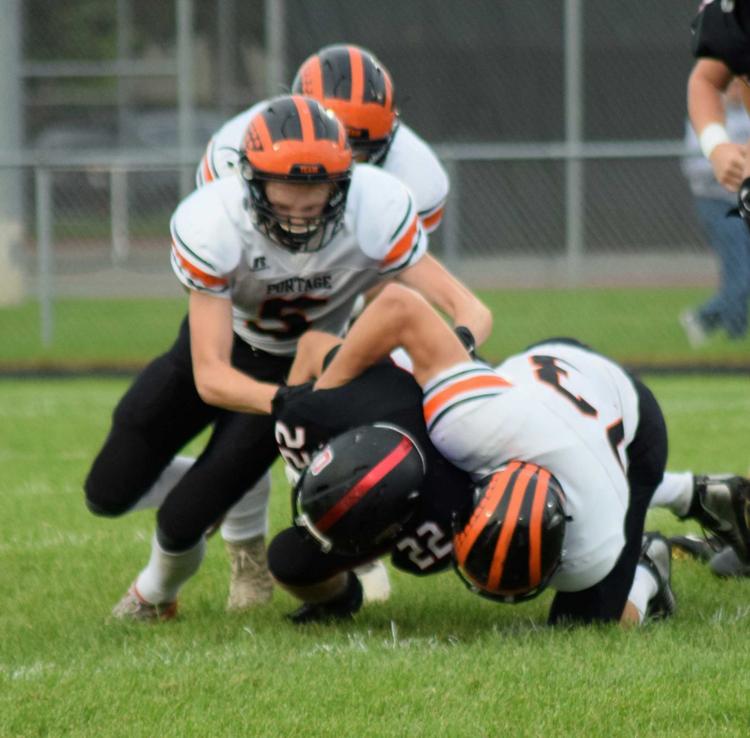 Colby Elsing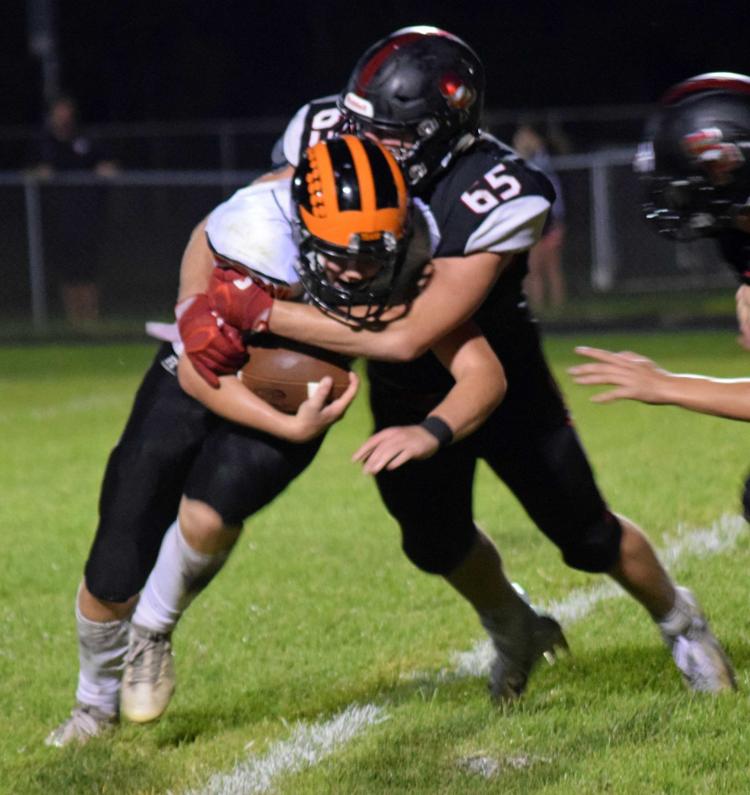 Colton Brandsma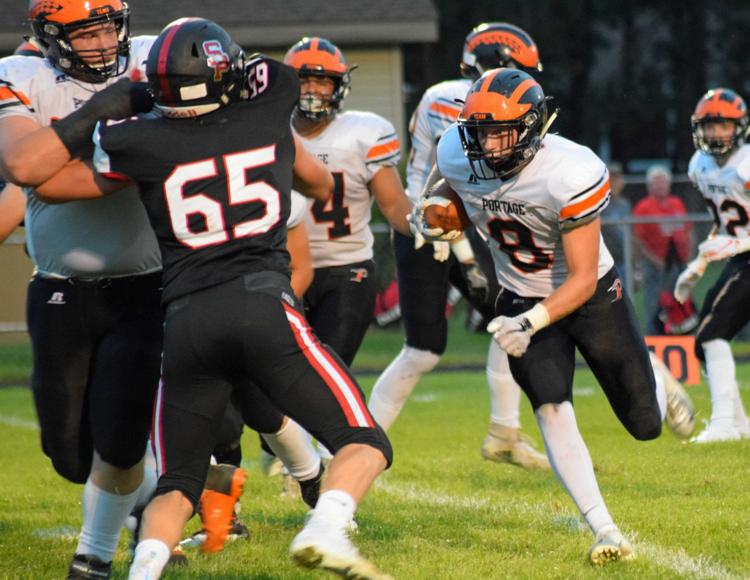 Parker Breunig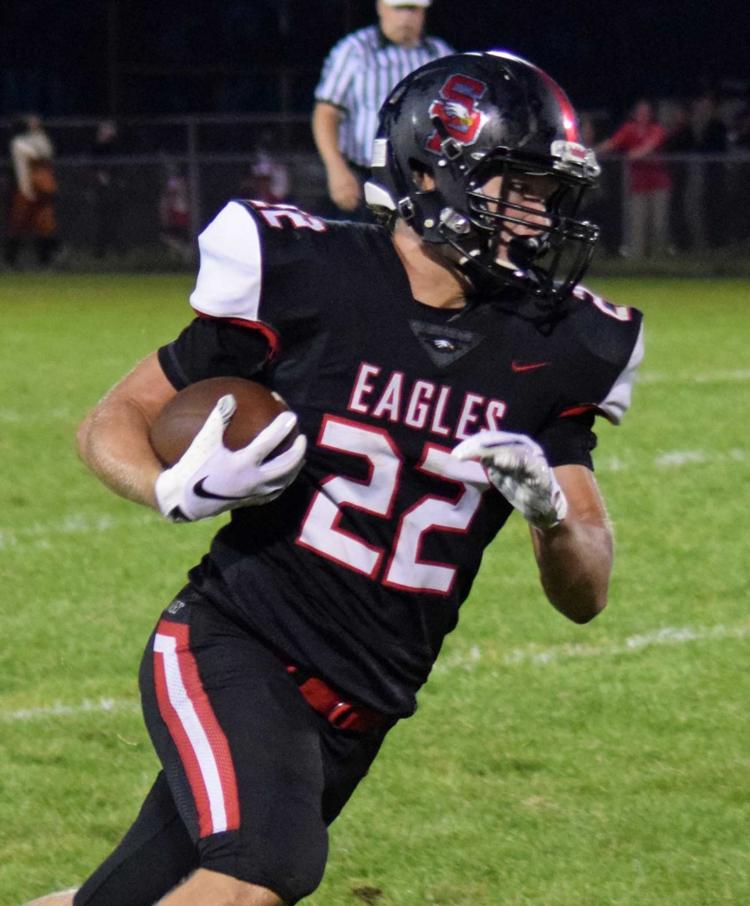 Brandon Hall, Dale Sheppard, Jr.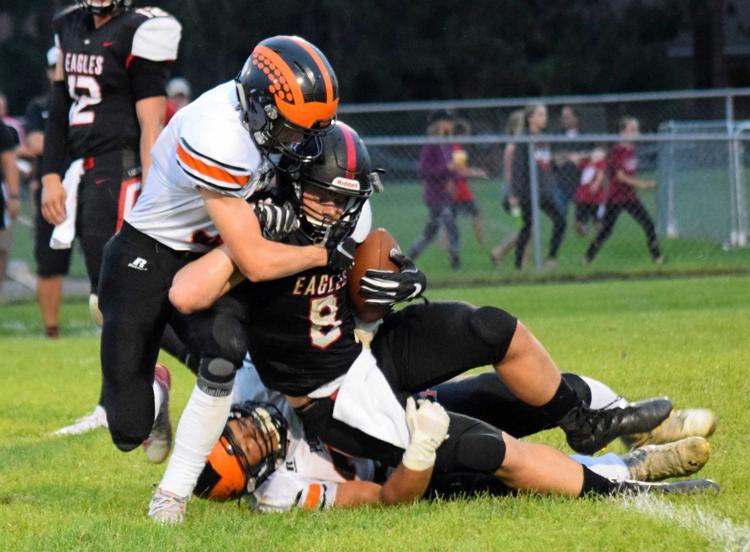 Adam Juran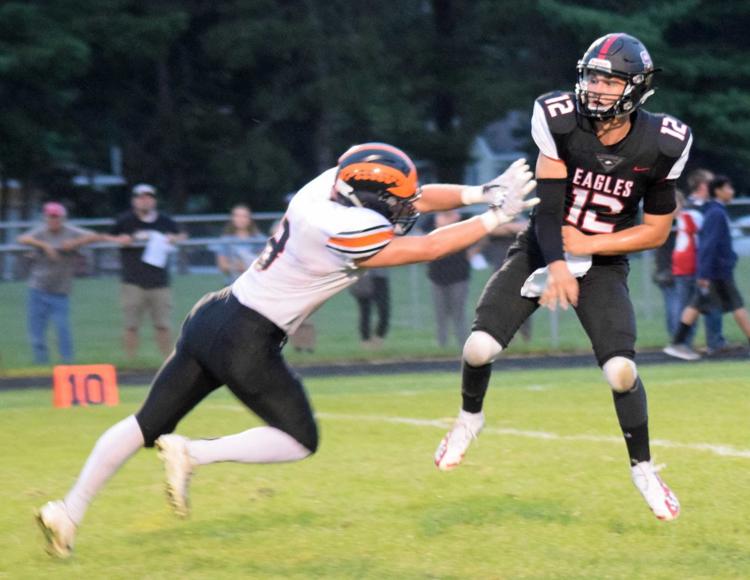 Brett Walker, Matthew Miles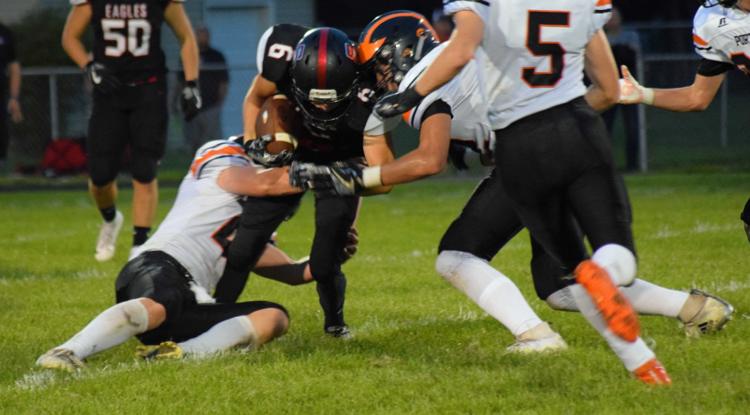 Sauk Prairie tackle
Dale Sheppard, Jr.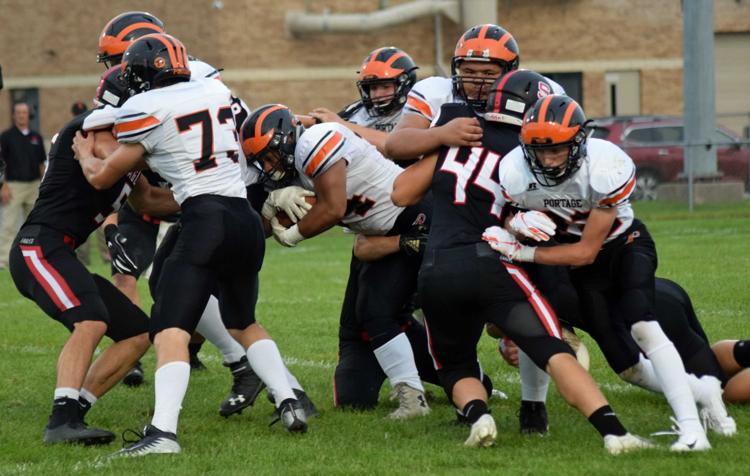 Colton Oas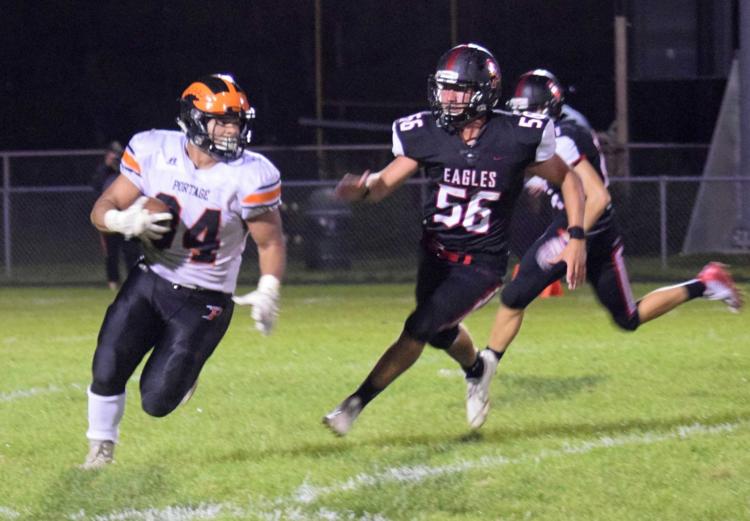 Portage students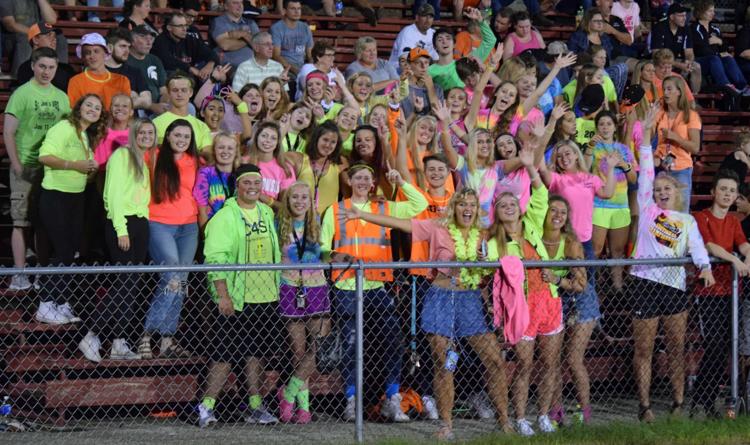 Sauk Prairie students