More than ever before, adversity followed Brooklyn Miller this season.
Shoulder soreness. Lagging times. The Portage senior had plenty of barriers placed in front of her pursuit of a third consecutive trip to the WIAA Division 2 state swimming and diving meet.
As the end of the season came to a head, Miller began to break through those obstacles and will again close out her season at the UW Natatorium on Friday night. The Warriors' first-ever, three-time state qualifier will compete in the 200- and 500-yard freestyle races for the second straight season.
"It's really special. I think once you go for the first time, it's kind of like that goal of 'I want to get back there, not just for me, but for my team and myself for how hard I work every day,'" Miller said.
"She works hard, she's a strong supporter of the other girls and she puts team first," Portage coach Tammy Tollefson said. "To see someone who has given it her all, has listened to everything she needed to do to improve technique and speed; to achieve this again is phenomenal and we're so happy for her and the team."
Miller produced the Warriors' best-ever finish at state last season as she took 11th in both the 200 and 500 freestyle to score a program-high 12 points. Coming into this season however, Miller was dealing with shoulder pain.
The discomfort persisted through most of the regular season, something that Miller said 'took a toll on me mentally," however, she said it didn't fully break her down.
"It was also important for me to remember why I swim, and why I swim is because when you're swimming, you realize you can do hard things and things that you never thought were possible," she said.
"Swimming is a really good tribute to that, and I just had that in mind, that you can do hard things, push though pain; that's not impossible and I've proven it to myself before," Miller said. "Keeping that in mind, it was just sort of that push that I've got goals, and I'm not going to let things that aren't uncontrollable get in the way of that."
Helping to keep her mind at ease, Miller meditated at night to clear her mind and keep negative thoughts at bay. In the pool, Miller focused more on kicking to keep the stress on her shoulder to a minimum.
Those practice limitations made things more difficult on Tollefson, who said she had to get Miller "back to the place where she could pick up that drive again."
"We had a much shorter period of time for her to work on that and feel it again, but she did the work and got it done," Tollefson said.
Tollefson said she first felt Miller was back to where she needed to be just before for the Badger North Conference meet, and it showed. Miller won the 200 freestyle at the conference meet in 1 minute, 58.79 seconds, beating her seed time by nearly four seconds. She later took second in the 500 freestyle (5:26.79).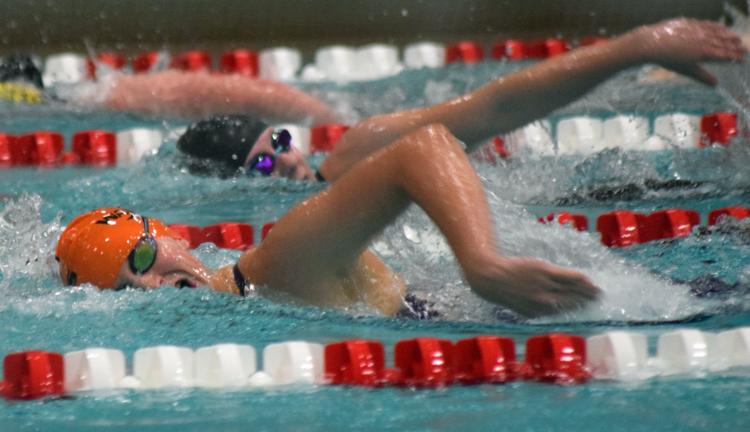 "There were certain things she wanted to have happen at conference and certain things she was not going to let happen at conference," Tollefson said.
Miller said that the pair of top-two finishes "reinstated my mental strength." She carried those positive vibes over into sectionals where she finished third in both the 200 freestyle (1:57.81) and 500 freestyle (5:25.18), setting a new school record in both events.
Tollefson admitted it was a relief to see Miller make the most out of her taper.
'Swimming is family'
The senior also had some added motivationl, watching her teammates follow suit by cutting time for themselves in their final meet of the season.
That family atmosphere has also been close to Miller, who said she, unlike most people, doesn't view swimming as an individual sport.
"Every time you dive in the water, you dive in for your whole team; you've got a whole team on your back," she said. "Every time someone has a good swim, you're proud of them and it's really exciting to get to see them do that."
You have free articles remaining.
Keep reading for FREE!
Enjoy more articles by signing up or logging in. No credit card required.
When Tollefson took over the Warriors program in 2015, she said building a tight-knit kinship was one of her main objectives. While cultivating that and getting the swimmers to buy in to her team-first approach took some time, Tollefson said the group has been at that level for the last 2 ½ years.
One of the best examples of that has been Miller.
"For someone to exceed at the individual level given their commitment to that coming first, just says a lot about us being a swim family," Tollefson said.
Once her high school swimming career comes to a close Friday, Miller said the thing she'll remember most is that "swimming is family."
"Every day you get to practice is tough, but having multiple people around you every day makes it fun. I'm excited to move on from this one and get to another one, but it also sucks," she said."
Leaving her mark
Miller won't fully be leaving however, as her name continues to be plastered across the Warriors' record boards. In her four seasons, Miller has set six school records in meter pools, including the 200 freestyle, 50 freestyle and 400 freestyle this season, to go along with five records in yard pools.
Miller, who is undecided on where she wants to go to college, but plans to continue swimming, is also a member of last season's record-setting 400 freestyle relay team, a favorite memory of her career. While she hoped to set a new record or two when she first started, Miller said she has eventually had to set the bar a bit higher.
Having the chance to alter those aspirations has been rewarding for Miller, who said "getting to prove to myself I'm capable of much more than I think I am, it's a lot."
Tollefson contributes Miller's competitive spirit to her success and her return to state, but noted that it wasn't there at first.
"I think Brooklyn always had that drive and just had to learn some technique and strategy for making it work," Tollefson said. "She does it not only with her competitors, but with herself, and that's an incentive to her teammates as well. You need to have it, you need to go after it and I think as she got healthier, she was digging into that again and realizing she wanted to be there."
When she dives into the water on Friday night, Miller has the opportunity to become Portage's first-ever medalist. Miller will have some work to do in the 500 freestyle, as she's seeded 12th, but could be in the mix for a top finish in the 200 freestyle, where she is seeded eighth.
Miller said being in the fast heat is exciting because "good competition is always fun," and while being in an outside lane can be viewed as a negative, she finds it to be an advantage.
"I'm someone who is pushed by seeing someone in front of me," she said. "I'm a chaser and I'm excited to see what I can do when I'm put in a position where I'm with a lot of really, really fast girls."
Whether or not a podium finish pans out for Miller, Tollefson knows it's just special for the senior to see her final season come to a close in Madison.
"I think it's great for her, because for her to have that last year competing as a senior is going to be special," Tollefson said. "I know she's capable of it, but it just has to happen on that day, and if she's ready to go, she is ready to do that."
Presny set for state debut
Miller won't be the only area swimmer to hit the water at the Natatorium as Lodi/Wisconsin Heights' Brooke Presny will make her state debut.
The Blue Devils' senior became the program's first state qualifier since Sierra Sachtjen qualified for the 100 freestyle and 100 backstroke in 2011.
Presny will look to upend Miller in the 200 freestyle as she is seeded 12th after taking fifth at last weekend's Division 2 Baraboo sectional with a time of 2:00.33. She will also have to move up the ranks in the 100 butterfly where she's seeded 14th with a 1:00.40.