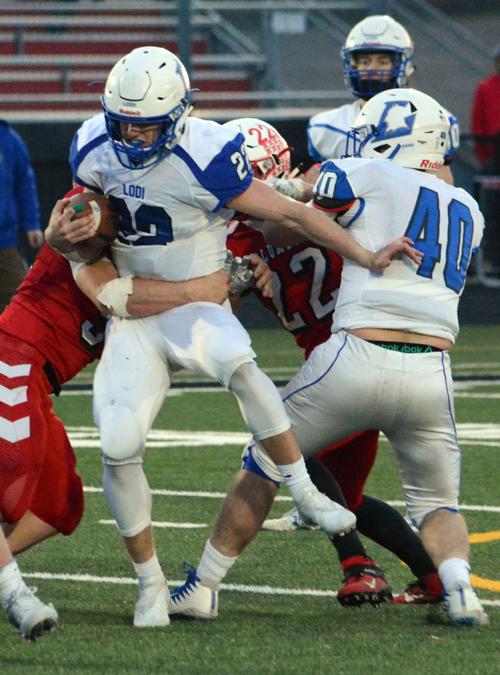 After a nailbiting win over rival Columbus last week, the Lodi football team remains unbeaten.
The Blue Devils (5-0) can cap off another perfect season on Saturday when they host Kewaunee in a non-conference tilt at Lodi High School.
The Storm (2-3) have slumped to the finish as they've lost each of their final three games following a 2-0 start. The competition hasn't been easy however, as Kewaunee's final three opponents are a combined 14-2 on the season.
Following a two-point loss to Green Bay Notre Dame on April 9, the Storm fell to Arcadia, 13-7, on April 16 before a lopsided 55-6 loss to Menasha last week. The teams traded scores to open the game before the Blue Jays blew things open, using a 27-point second quarter to seize a 48-6 halftime lead and never looked back.
Menasha picked apart the Storm's defense through the air, throwing for 235 yards and five scores. It was a rare moment of weakness for a stout Kewaunee unit that's allowed just 209.8 yards per game this spring.
Lodi will be eager to follow things up with a strong performance of its own after nipping the Cardinals last week, 17-14, thanks to Chandler Curtis' late game-winning 24-yard field goal.
The Blue Devils punished the Cardinals on the ground with 278 yards on 39 carries, including 238 yards on 24 touches by Lucas Heyroth, good for 9.9 yards per carry. The junior has a team-high 676 yards and five scores this year.
Meanwhile, senior quarterback Quinn Faust has been efficient and effective in the pocket, throwing for 701 yards and 10 TDs with just three interceptions on 53-of-86 passing (61.6 completion percentage). The Blue Devils defense has been just as lethal, giving up just 152.2 yards and 8.6 points per game.
Lodi locked down the Cardinals to the tune of 70 rushing yards, well below their season average, and the Blue Devils have forced eight turnovers. Without a game scheduled for the final week of the regular season, the Blue Devils will look to send their dozen seniors out in style against the Storm.