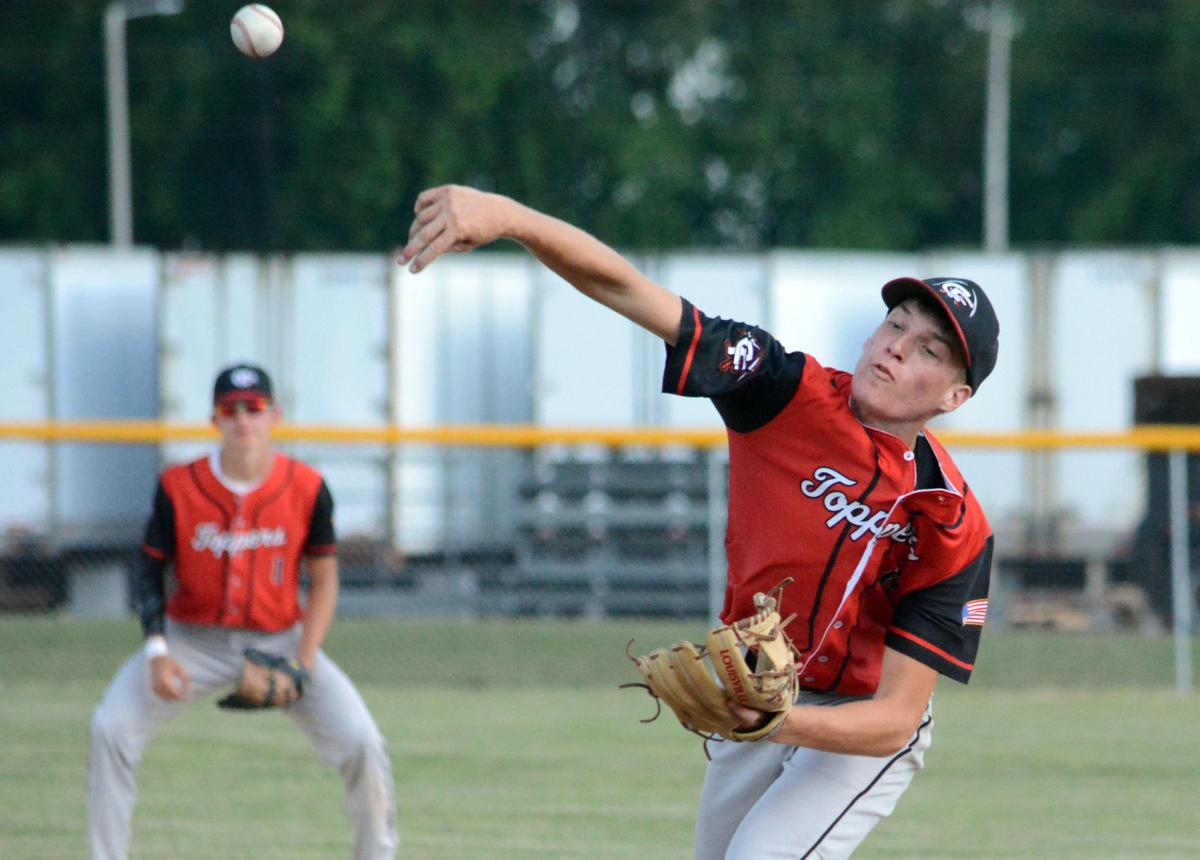 Kobe Smit did a bit of everything for the Cambria-Friesland prep baseball team this spring.
The senior was the Hilltoppers' lead pitcher, while also contributing one of Cambria-Friesland's top bats and gloves. While it didn't equate to more wins in the difficult Trailways North Conference — the Toppers finished the year 2-10 overall, including 2-7 in league play — opposing coaches noticed Smit's efforts.
He was recently rewarded accordingly, garnering second-team honors for the All-Trailways North Conference team. Smit was one of four area players selected to the all-league team, as he was joined by honorable mention selections Nate Postler of Montello, and Peter Freye and Hayden Guenther of Pardeeville.
Meanwhile, league champion Markesan dominated the all-conference listings. The Hornets tallied six first-team honors, the most among the 10-team league, headlined by Player of the Year Bryce Leedle.
The best part of Smit's game was his arm, as he pitched a team-high 26 1/3 innings according to the team's stats on WisSports.net. Smit allowed 32 earned runs on 35 hits and 25 walks while striking out a team-high 40 with an 8.51 earned run average.
He also helped lead the Toppers at the plate, notching seven hits, including a pair of triples, and knocking in one run in the nine games logged on WisSports.net. He finished the year with a second-best .350 batting average, as well as a team-high .519 on-base percentage and a .500 slugging percentage.
Defensively, Smit made 19 putouts in 22 chances while adding six assists to just two errors, good for a .926 fielding percentage.
The Hilltoppers bested both Beaver Dam Wayland (13-3) and Montello (9-5) in the regular season, while suffering a season-ending 13-0 loss to Randolph in a Div. 4 regional quarterfinal.
Similar to Smit, Postler was all over the field but Montello struggled to find success, finishing the year 1-15 overall (1-8 Trailways North). Most of Postler's damage came at the plate, as he led the Toppers' attack with 14 hits in 41 at-bats for a team-high .341 batting average.
He tallied three doubles and worked a team-high nine walks while knocking in a second-best seven runs. Postler ended the season with a .451 on-base percentage and a .866 OPS, best on the team by over three-tenths of a percentage point.
In the field, Postler recorded a team-high 54 putouts on 78 chances while adding 14 assists. He also pitched 10 2/3 innings, allowing 17 earned runs on 26 hits and 12 walks while notching 10 strikeouts. Montello topped Beaver Dam Wayland, 17-6, for its lone win of the season and closed out the year with an 11-1 loss to Wisconsin Heights in a Div. 3 regional quarterfinal.
Rounding out the area honorees were Freye and Guenther, who helped lead Pardeeville to a 4-13 record, including 3-6 in league play. The Bulldogs played well to close the year, winning three of their final five regular-season games before falling to Westfield, 10-4, in a Div. 3 regional quarterfinal.
Among its wins, Pardeeville topped Montello (4-1) and Cambria-Friesland (3-1), while rolling Rio (12-2) and demolishing Wayland, 33-1, in a season-opening victory.
Prochnow picks up Vikings' lone selection
The Rio prep baseball team had a hard time of its own this spring, winning just one game en route to finishing the year 1-20 overall, including 0-8 in Trailways South Conference play.
One bright spot for the Vikings, however, was Tyson Prochnow, as the sophomore was a force in the field and at the plate. Prochnow certainly made a statement to the rest of the conference, garnering second-team All-Trailways South honors as Rio's lone all-league pick.
Prochnow showed he'll be one of the top bats in the league for years to come, producing a team-high 30 hits in 54 at-bats during his debut varsity season. He notched 10 doubles and a triple while knocking in 11 runs as the lone Vikings player with double-digit RBIs.
Prochnow only struck out four times and finished the year with a .556 batting average to go along with a .600 OBP, .778 slugging percentage and a whopping 1.378 OPS. He was no slouch in the field either, accounting for 54 putouts in 74 total chances.
The shortstop added 16 assists and turned a double play while committing just four errors for a .946 fielding percentage. Prochnow helped lead the Vikings to a 19-9 win over Wautoma Faith Christian on May 1, while Rio's season came to a close with a 10-0 loss to Johnson Creek in a Div. 4 regional quarterfinal.
ALL-TRAILWAYS NORTH CONFERENCE</&hspag4>
Player of the Year — Bryce Leedle, P, Sr., Markesan.
Pitcher — Bryce Leedle, Sr., Markesan.
Catcher — Sage Stellmacher, Sr., Markesan.
Infielders — Gavin Gilbertson, Sr., Markesan; Chayce Osterhaus, Soph., Markesan; Jack McKellips, Sr., Oshkosh Lourdes/Valley Christian; Matt Stahman, Fr., Oakfield; Collin Schueler, Sr., Green Lake/Princeton.
Outfielders — Aiden Schmick, Jr., Markesan; Jayden Lewn, Sr., Oshkosh Lourdes/Valley Christian; Colin Kinas, Soph., Green Lake/Princeton.
Utility player — Trevor Roberts, Jr., Markesan.
Pitcher — Gavin Stelter, Jr., Oshkosh Lourdes/Valley Christian.
Catcher — Bryce Rataczak, Soph., Randolph.
Infielders — Kobe Smit, Sr., Cambria-Friesland; Derek Zamzow, Jr., Green Lake/Princeton; Hunter Sabel, Fr., Oakfield; Parker Kohn, Sr., Randolph; Kaiden McNicol, Jr., Randolph.
Outfielders — Cale Sabel, Soph., Oakfield; Mason Westra, Jr., Randolph; Riley Westra, Sr., Waupun CWC.
Utility player — Hayden Quade, Jr., Markesan.
Peter Freye, Sr., Pardeeville; Hayden Guenther, Jr., Pardeeville; Nate Postler, Sr., Montello; Nate Slagter, Sr., Oshkosh Lourdes/Valley Christian; Bailey Schepp, Fr., Oakfield; Mason Tapp, Sr., Oakfield; Caden Spors, Sr., Randolph; Jacob Guhlke, Jr., Waupun CWC.
Follow Sean Davis on Twitter @SDavis_PDR or contact him at 608-745-3512.