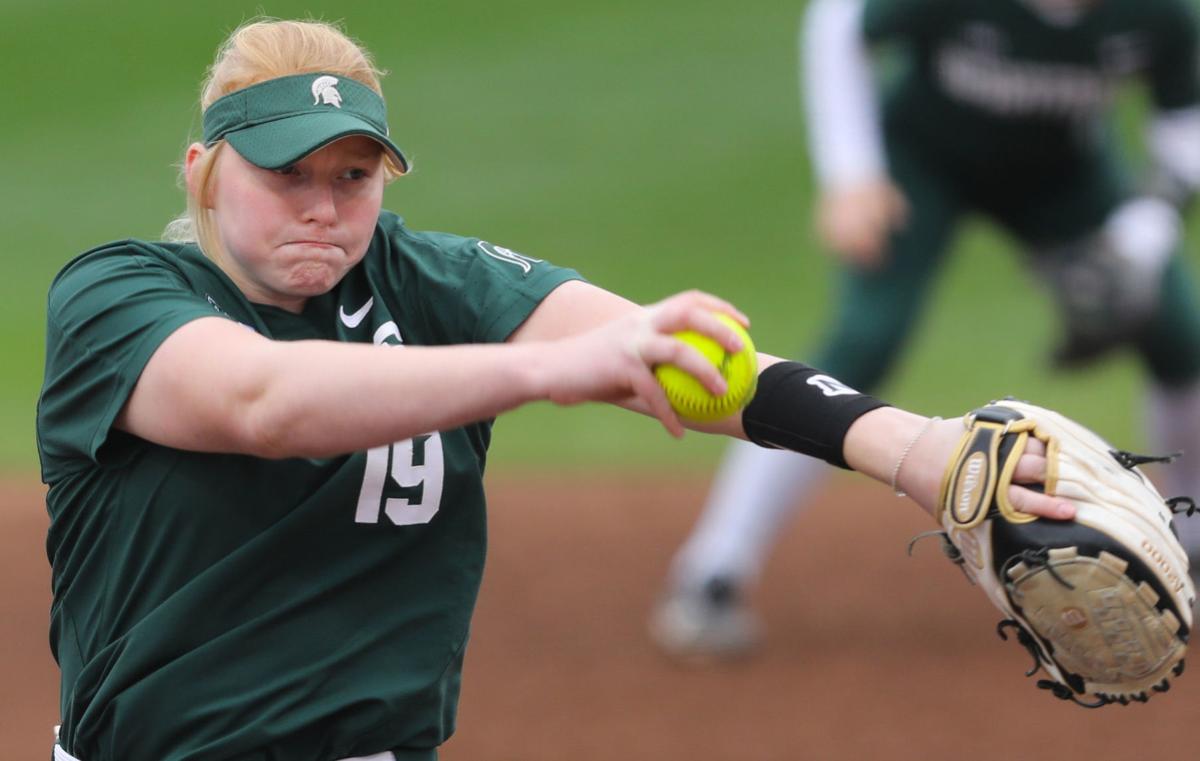 From Division I to Division III, the NCAA softball season was in full swing just two weeks ago.
A lot has changed in 14 days, as the sound of cheers bellowing from dugouts and chatter among the infield are now silent and empty after the COVID-19 pandemic brought the spring season to a screeching halt. Conferences across America canceled the remainder of their seasons after the NCAA axed its spring championships, forcing players nationwide to hang up their spikes.
Those feelings of unrest were no stranger here in Columbia County, as former Portage standouts Alli Walker, Meghan Witt and Joia Simonson, as well as Poynette's Haley Radewan, have been left in the metaphorical batter's box with the bat still in their hands.
"It's heartbreaking," said Witt, a sophomore infielder at UW-Eau Claire. "I don't really know if there's another word for it, and it's a unique situation because we're not the only team experiencing, but at the end of the day there's a bigger thing to think about than just sports."
"I get why we're doing what we did, to try and help humanity and everyone."
With that being said, it still wasn't easy for the foursome, and their teammates, to receive the news, especially with spring break trips right around the corner. The manner in which some of the teams found out didn't help cushion the blow either, according to Simonson, who went through a whirlwind at Macalester College in St. Paul.
The freshman pitcher/utility player said the Scots had planned to leave for their trip to Florida on March 13. After meeting with the coaching staff on March 12, the team got word from the administration that all trips were canceled. Despite their trip off the table and the NCAA having canceled the spring championships, the Minnesota Intercollegiate Athletic Conference was still allowing teams to play.
With that in mind, Simonson said the team and coaches fought to schedule a final game of the Scots' five seniors given the group will likely not be able to take advantage of the NCAA's eligibility relief program. Despite arranging a game, while the team was getting ready, Simonson said the players were notified that the MIAC was officially canceling the season.
"It's a lot different stepping on a field and knowing it's your final game, rather than stepping off the field and being told 'That's it, you're done,'" she said. "We all just sat in the locker room and cried, it was awful, but for sure it was nice we were all together when it happened."
A similar feeling was shared by Radewan at UW-La Crosse and Walker at Michigan State. Radewan, a junior infielder for the Eagles, said the team was initially told on March 10 they wouldn't be able to leave for Florida on March 15 as initially planned. The following day the trip was back on before the university reversed course again on March 13, and the Eagles were notified after finishing a game against St. Catherine's University (Minn.) in West St. Paul.
"It was just kind of having to take it day by day, and kind of at that point hour by hour too," she said. "But we stayed together as a team pretty well, we were trying to communicate as much as we can with each other and trying to stay so positive. I think you could tell it was starting to get pretty stressful on everyone, especially our coaches."
Walker, a junior pitcher for the Spartans, said the team was told before their practice on March 11 that the season was going to be postponed for two weeks. With the Big Ten season right around the corner, Walker said the group kept on as usual, but after redshirt senior Katelyn Hendershott hit a home run during the Spartans' scrimmage, the news came down that the season was officially canceled.
"Everybody was pretty emotional at that point, because we already played 22 games," she said. "So it wasn't like we didn't get to play, but we didn't get to play our conference games that's what we look forward to most."
Staying in shape
With all of their seasons officially over, all four girls have returned home to finish out the remainder of the semester electronically. That doesn't mean they aren't putting their gloves and bats into storage immediately.
All four girls said that they've gotten "offseason" workouts from their respective strength training coaches to do on top of just school work.
"I'm just trying to get outside as much as possible," Witt said. "It's just to try and keep some regularity to our schedule, whether it's throwing tennis ball against the garage door or taking some infield."
The group has also said they continue to stay in touch with their teammates. Witt said the Blugolds have a daily video call at 2:30 p.m. when they'd normally have practice, while Simonson and the Scots have a nightly team dinner video.
While both Walker and Radewan admitted the Spartans and Eagles haven't set anything of that sort up yet, Michigan State has 12 players that live outside of Michigan and Wisconsin, while UW-La Crosse has player from Arizona.
"We've still stayed in contact with our coach to keep her updated on if we're going home, but it happened so abruptly I'm sure she'll plan something," Walker said.
"Right now we don't have anything really set up, but we have a group chat and still talk to each other every single day. I think we're just trying to separate ourselves from the situation and focus on what we need to do to make sure we're succeeding in school," Radewan added.
Eligibility up for discussion
While they must focus on the now, all four girls must also look to the future after the NCAA approved eligibility relief in the form of an extra semester for all spring athletes. Despite the prospects of returning for an extra season, none of the girls said they plan on taking advantage of the assistance.
For Walker, due to the Spartans' extensive travel schedule, playing for a fifth season isn't feasible as she must focus on her Animal Sciences studies. Radewan and Witt are in similar situations, with the former being able to graduate this May and the latter with a timetable to graduate in 3 ½ years. Both have already prolonged their educations and have said a fifth season may not be practical.
Simonson meanwhile won't have a chance to play a fifth season at Macalester due to the MIAC's rule on disallowing athletes who have already obtained a Bachelor's degree. Despite that, she said she isn't going anywhere.
"Even with all the stuff that's happened, and there have been some really odd situations that someone shouldn't have to go through in their first year in college, there's no way I would transfer schools," she said. "Macalester is home and everyone works so hard to make it your home that I don't think there's any way I could leave."
Savoring each moment
Even through all of the rapidly evolving landscape of the coronavirus pandemic, the foursome has had a major takeaway: to never take anything for granted.
With just one season remaining for both Radewan and Walker, the duo is planning to use the little time they spent this season as motivation for next year. Despite finishing 6-16 in its abbreviated schedule, Walker made 17 appearances, including seven starts, and finished with a team-best 2.89 earned run average.
With a pair of freshmen pitchers coming in next season, Walker said the increased competition will "keep me extremely motivated to keep working hard so I can continue to get playing time." Similarly, Radewan is eager to retake the field next season after the Eagles' went 2-2 in their limited schedule.
Radewan started in three of those four games and after returning in limited fashion from a back injury last season, was disappointed to have the opportunity ripped away from her this year.
"I feel like our team is going to have a lot more passion to play because we know it's going to be our last year and we don't want to take anything for granted. Especially now that we know anything can happen, because I don't think anyone thought this was imaginable," she said.
As for Witt and Simonson, the light at the end of the tunnel isn't shining too brightly with two and three seasons still remaining for them. Witt started in all six of the Blugolds' games as they went 2-4 while Simonson went 2-2 in four starts for Macalester, helping the Scots to a 4-2 mark.
Simonson and Witt, longtime friends, actually got a chance to square off as UW-Eau Claire and Macalester met as part of a two-day tournament at the Rochester (Minn.) Dome on March 8. While the Blugolds earned a 10-4 win over the Scots, both girls had something to smile about.
Simonson struck out Witt in the top of the first inning, but Witt returned the favor by ripping a two-run double in the top of the third.
"It was a great experience to know that even though she's not behind me at first base anymore, she's still in my corner," Simonson said.
"That was an experience I will remember, probably, for the rest of my life. It's not every day you get to play our best friend and sister, frankly, on the field. You grow up playing with each other, coaching with each other and then being able to play each other in college, I think not everybody gets to do that," Witt added.
Follow Sean Davis on Twitter @SDavis_PDR or contact him at 608-745-3512.