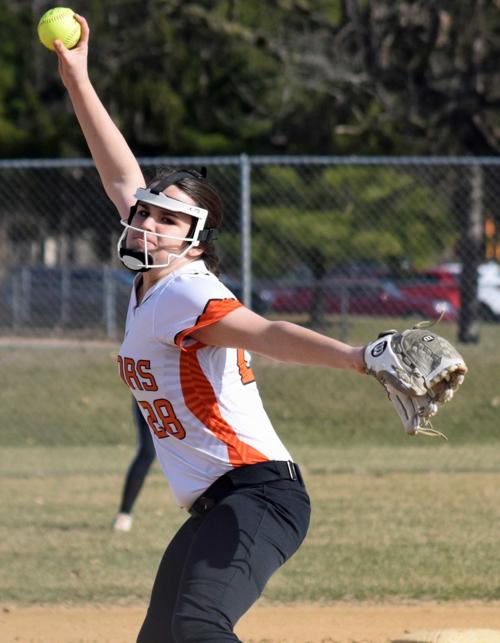 Since some early-season struggles, the Portage prep softball team has found its groove.
The Warriors extended its winning streak to seven games with two wins Saturday before dropping their family at the Woodstock (Ill.) Invite. Portage opened with a pair of wins over Durand (Ill.) and Crystal Lake (Ill.) Central, then fell to unbeaten Crystal Lake South.
"I think the girls went down there with an attitude to start strong and get a couple of wins," Portage coach Connie Wampler said.
Portage (8-3) needed little time to get cooking as it picked up a 7-4 win over Durand in its opening game. The Warriors used a three-run first inning, including an RBI single by senior Joia Simonson, to seize control and never trailed in the three-run win.
After the Bulldogs bit back and pulled within 4-2 in the bottom of the third, Portage scored a pair of runs in the top of the fourth on a two-run homer by junior Katelyn Belleau to extend its lead to 6-2. Durand didn't go away, scoring two runs in the bottom of the fifth, but the Warriors answered with a run in the seventh as Simonson scored on an error after tripling earlier in the inning.
Belleau went 2-for-4 with three RBIs, a triple and a home run, while Simonson and freshman Sydni Kratz each added a pair of hits. Pitcher Paige Edwards picked up the win as the freshman right-hander allowed just two earned runs on four hits with a walk and two strikeouts in four innings of work.
PORTAGE 7, DURAND 4
Portage 310 200 1 — 7 10 1
Pitchers (ip-h-er-bb-so) — P: Edwards (W; 4-4-2-1-2), Simonson (3-2-2-0-1). Dur: Nevdal (L; 2-4-3-2-2), Nyen (5-6-4-0-14).
Leading Hitters — P: S. Kratz 2x4, Simonson 2x4, Belleau 2x4. 3B — Simonson, Belleau. HR — Belleau. Dur: Nevdal 2x2, Stedder 2x3. 3B — Nevdal.
Portage 9, Crystal Lake Central 5
Portage got off to another strong start in its second game against Crystal Lake Central, scoring six runs in the first two innings to roll to a 9-5 win. The Warriors ground out four runs in the opening inning, including an RBI double by senior Olivia Limmex and RBI singles by Kratz, Simonson and senior Lauren Pace, to take command early.
Sophomore Payton Woodhouse added some fireworks in the second with a two-run homer before Portage notched three more runs in the sixth, including a solo shot by Simonson, to put the game out of reach. Simonson went 3-for-3 with a pair of RBIs, while Pace added a pair of hits.
Edwards again came up big in the circle, getting the complete-game win with four strikeouts and a walk.
"She just continues to get better," Wampler said. "She's starting to really become a pitcher, not just someone throwing the ball, and defensively we've made some good improvements, which helps."
PORTAGE 9, CRYSTAL LAKE CENTRAL 5
Crystal Lake Central 000 100 4 — 5 10 2
Portage 420 003 x — 9 10 1
Pitchers (ip-h-er-bb-so) — CLC: Wydra (6-10-9-4-2). P: Edwards (W; 7-10-5-1-4).
Leading Hitters — CLC: Berg 2x4. P: Simonson 3x3, Pace 2x2. 2B — Limmex. HR — Simonson, Woodhouse.
Crystal Lake South 21, Portage 0 (4)
The Warriors' day ended on a difficult note, as they were overwhelmed by Crystal Lake South, suffering a 21-0 loss in four innings. The unbeaten Gators piled up 11 runs in the opening inning and held Portage to just one hit on the day.
Kratz took the loss, striking out four while giving up 14 earned runs on 14 hits and seven walks in four innings.
Portage will look to kick-start a new winning streak Tuesday when it hosts DeForest.
CRYSTAL LAKE SOUTH 21, PORTAGE 0 (4)
Crystal Lake South (11)37 0 — 21 14 0
Pitchers (ip-h-er-bb-so) — CLS: Toniolo (W; 2-0-0-0-3), Kuffell (2-1-0-1-4). P: S. Kratz (L; 4-14-14-7-3).
Leading Hitters — CLS: Pupillo 4x4, Sulikowski 3x3, Nikitopolous 2x4. 2B — Kuffell, Pupillo, Sulikowski, Bush. HR — Sulikowski 2, Gwizdak. P: none.
Follow Sean Davis on Twitter @SDavis_PDR or contact him at 608-745-3512.
Be the first to know
Get local news delivered to your inbox!