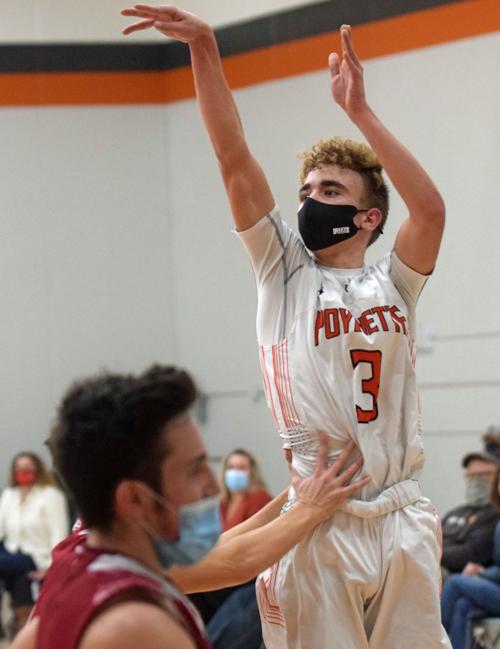 Since early on in the season, the postseason is when Poynette boys basketball coach Cody Odegaard really wanted his team to start hitting its shots.
Boy were the Pumas on the mark Saturday night. Appearing in its first regional final since 2015, second-seeded Poynette combined to drain 12 3-pointers and shot the nets out in a 62-57 win over No. 1 seed Richland Center in a WIAA Division 3 regional final.
Senor Nik Feller scored a team-high 22 points, including four of the Pumas dozen 3s, to help Poynette capture its first regional championship in six years.
"It was awesome. The past two nights have been close games, and it's always nice to get in those and pull out victories," Odegaard said of the team's 55-52 win over Viroqua in Friday's regional semifinals.
"Having the experience we have on the floor, with guys that have played varsity for three years, comes in clutch at times.
"The guys just make the right decisions down the stretch and it was nice to see the guys wanted it; they came, played hard and ended up getting a win to bring a plaque back home."
That desire showed in the second half as the Pumas (12-8) took the sting out of the Hornets. After seeing an 11-point lead late in the first half turn into a two-point cushion at halftime, Poynette started to heat up midway through the second half.
After trading punches to a 40-40 deadlock, the Pumas canned four 3-pointers in an 12-2 run to seize a 52-42 lead with 7 minutes left to play.
"Just having the confidence in the kids and them having confidence and trusting each other to knock down shots, that was kind of our game plan," Odegaard said. "We knew we would get open shots here and there, we just needed guys to knock down shots when we needed them."
Poynette went cold over the next three minutes however, but kept Richland Center (14-5) to just one point in the same span to preserve the lead and ultimately saw things out. Odegaard said the Pumas didn't rebound well in the win over the Blackhawks and he and his staff made it a major priority against the Hornets, proving that it paid off in the final tally.
Alongside Feller, senior Kelby Petersen added 13 points and senior Jaden McCormick added 11, including three 3-pointers apiece. The road doesn't get easier for the Pumas as they garnered the No. 4 seed it its upcoming sectional semifinal and will travel to top-seeded Hartland Lake Country Lutheran on Thursday.
The Lightning (22-1) won both of their regional games handily and finished the year ranked second in Div. 3 of the WisSports.net coaches poll. It still isn't deterring Odegaard and his Pumas.
"I think we have confidence. You still have to play the game no matter what, but I don't really care what seed we are or where we're playing," he said. "I believe in our guys, I believe they trust in each other and you just have to play the game. It's March Madness and anything can happen."
Pioneers can't catch Zephyrs
Westfield also made history on Saturday as it made its first regional final appearance since 2002.
The third-seeded Pioneers were unable to keep their season alive however as offensively struggles sunk Westfield against top-seeded Neenah St. Mary Catholic, 57-33, in a Div. 3 regional final.
Junior Cole Barton scored a team-high 14 points but was the lone scorer in double-figures for Westfield, which advanced to the regional finals by way of a forfeit win over Omro on Friday.
The Zephyrs (17-7) meanwhile used its depth with four scorers in double-figures. St. Mary Catholic got off to a strong start, taking a 30-18 lead into halftime and put the clamps down even more, holding Westfield (11-11) to just 15 points in the final 18 minutes.
Quincy Fields led the Zephyrs with 16 points and Cole Uhlenbrauck added a dozen, while Weston Hoffa and Lucas Thompson each chipped in five for the Pioneers.
POYNETTE 62, RICHLAND CENTER 57</&hspag4>
Richland Center 27 30 — 57
POYNETTE (fg ft-fta pts) — Heath 0 2-4 2, K. Petersen 5 0-0 13, Chadwick 1 3-6 5, McCormick 3 2-2 11, Hackbart 1 0-0 3, Keller 1 0-0 2, Feller 8 0-0 22, C. Petersen 1 3-4 6. Totals 20 10-16 62.
RICHLAND CENTER — Rizner 6 3-3 15, McDonald 1 2-2 5, Darling 0 1-4 1; Bosworth 2 0-1 5; Fogo 1 2-2 4; Keller 11 4-8 27. Totals 22 12-20 57.
3-point goals: P 12 (Feller 4, K. Petersen 3, McCormick 3, Hackbart 1, C. Petersen 1); RC 1 (McDonald 1). Total fouls: P 14; RC 14.
NEENAH ST. MARY CATHOLIC 57, WESTFIELD 33</&hspag4>
St. Mary Catholic 30 27 — 57
WESTFIELD — Thompson 5, Holly 3, Gray 2, Kangas 2, Stauffacher 2, Hoffa 5, Barton 14.
ST. MARY CATHOLIC (fg ft-fta pts) — Griffith 3 3-4 11, Ortscheid 4 2-2 11, Peters 0 1-2 1, Nackers 3 0-3 6, Uhlenbracuk 4 3-3 12, Fields 8 0-2 16. Totals 22 9-16 57.
3-point goals: W NA, SMC 4 (Griffith 2, Ortscheid 1, Uhlenbrauck 1). Total fouls: W NA, SMC 15.