BRODHEAD — Sitting on a 3-0 count with two outs in the bottom of the 11th inning, Lucy Cuff was just waiting for the right pitch to come along.
The Poynette junior got just what she was looking for as she hammered a walk-off single off the top of the center field wall, sending the top-seeded Pumas in a frenzy with a 3-2 win over Dodgeville in a WIAA Division 3 sectional final game Thursday at Brodhead High School. Junior Casey Fountain struck out 19 in the complete-game win as the defending state champion Pumas are headed back to the state tournament for the fourth time in the last five years.
"I had to make something happen," Cuff said. "It was just really surreal. I started crying right away because (Coach) Erinn was so happy."
"This is right up with the top ones. I can't rank them in order, but this was a dynamite game for fast-pitch fans to watch. It really was," Poynette coach Bob Tomlinson said. "I just can't say enough for their ball club and a couple of our girls. They're just dynamite girls."
Cuff's clutch shot came after the Pumas (28-0) gave up a 2-0 lead with a pair of runs in the top of the seventh inning. Poynette stranded six runners on base over the next four frames, including leaving the bases loaded in the bottom of the 10th before breaking through in the bottom of the 11th.
Junior Lizzie Schwenn got things started by draw a leadoff walk before junior Mollie Blochwitz dropped down a sacrifice bunt to move Schwenn to second. Junior Brianna Kowald struck out looking for the second out of the inning before the Dodgers (17-7) intentionally walked Fountain to put a pair on base.
The move ended up backfiring as Cuff made Dodgeville pay with her rocket off the top of the wall to score Schwenn from second. The walk-off hit from Cuff came after she was intentionally walked in the 10th, three innings after she struck out looking with two down and a pair on in the bottom of the seventh to force extras.
Tomlinson said he was a little disappointed in Cuff's looking strikeout as he "thought she froze up," so he opted to take a timeout prior to the left fielder's final at-bat.
"I just said 'The rest of the game is history. They have to come to you, they're not going to walk, and if you don't drive this run in, we'll play another inning and come up next inning so there's no pressure on you,'" he said. "'If you get something, we get something; otherwise we play another inning; Casey's hot.' And that was a rocket."
While Cuff came through with the decisive blow, Fountain was rock steady for the Pumas from start to finish. The hard-throwing righty retired the first 14 batters she faced, including nine by strikeout, before a two-out single by Dodgeville senior Taylor Borne broke up Fountain's no-hit bid.
Fountain continued to roll, however, stranding Borne on first before leaving a Dodgers runner on second in the top of the sixth. Eventually, the Dodgers broke through with two runs in the top of the seventh.
Trailing 2-0, Dodgeville sophomore Audrey White and junior Grace Borne led off the inning with back-to-back singles before a passed ball gave the Dodgers runners at second and third. Senior Lindsey Murphy then ripped a shot to Poynette shortstop Peyton Kingsland and the sophomore opted to try and cut down White scrambling back to third, but Poynette senior Ashley Hellenbrand couldn't handle the throw and the bases were loaded.
Taylor Borne followed the Murphy shot with one of her own to Kingsland. This time, the Pumas shortstop went home, but catcher Zoie Ramberg also couldn't haul in the throw, allowing both White and Grace Borne to score on the error, tying the game at 2.
Fountain and the Pumas defense were able to escape any more damage, retiring the next three batters in order. The Dodgers threatened again in the ninth, getting their first two runners on base, but came up empty.
"Fountain pitched out of some big, big jams and we got strikeouts when we needed them. When they're full and stuff, you have to have a strikeout pitcher and it changes everything," Tomlinson said.
You have free articles remaining.
"I just knew my team was behind me," Fountain added. "I know that even if they do hit the ball, we'll get an out or do everything we can to at least."
The Pumas pushed across a run in the the first inning. Junior Brianna Kowald opened with a bunt single and advanced to second on a sacrifice bunt by Fountain.
Cuff followed with a grounder to shortstop JoJo Heimerl and as the Dodgeville sophomore threw Cuff out at first, Kowald broke for third. Dodgeville sophomore first baseman Olivia Argall tried to cut Kowald down, but the throw was wide of White and Kowald broke home on the error.
Following three scoreless innings, the Pumas added another run when Fountain worked a bases-loaded walk. Junior Morgan Jones and Schwenn hit back-to-back one-out bloop singles before Kowald walked with two outs to load the bases. With the bases juiced, Fountain battled back from 0-2 down to earn the free pass and an RBI to make it 2-0.
Even with a two-run lead, Tomlinson admitted he wasn't confident and "against a good team, all heck can break loose, like it did."
The Pumas will face either Brussels Southern Door (21-3), Campbellsport (16-7) or Prescott (19-9) next week at the state tournament in Madison following seeding. Tomlinson knows that with plenty of state experience under their belts, the Pumas are going to keep getting better, and both Cuff and Fountain are ready.
"It's awesome. Everyone's really excited and we're ready to compete," Cuff said.
"I'm excited and I'm ready for this team to take it on," Fountain added.
POYNETTE 3, DODGEVILLE 2
Dodgeville 000 000 200 00 — 2 5 2
Poynette 100 010 000 01 — 3 7 1
Pitchers (ip-h-er-bb-so) — D: Murphy (L; 10.2-7-2-6-7). Poy: Fountain (W; 11-5-0-0-19).
Casey Fountain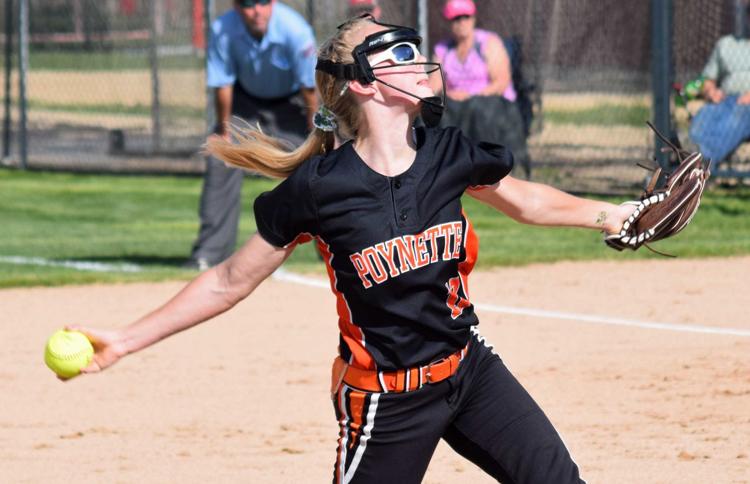 Poynette plaque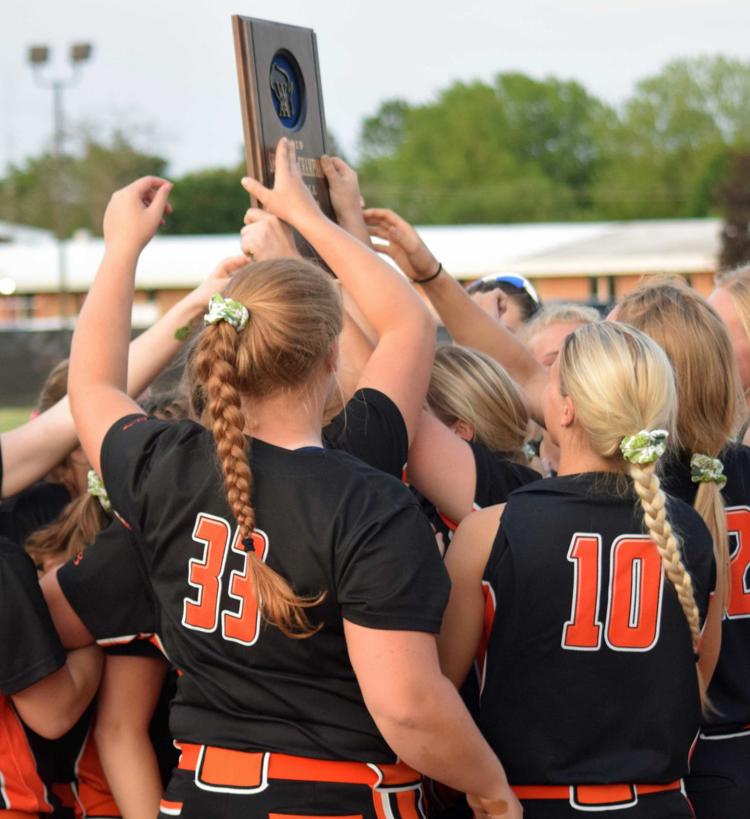 Lucy Cuff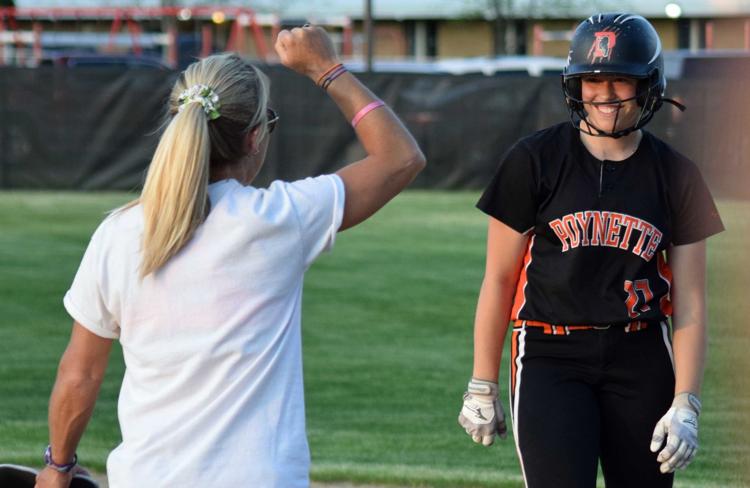 Poynette bench players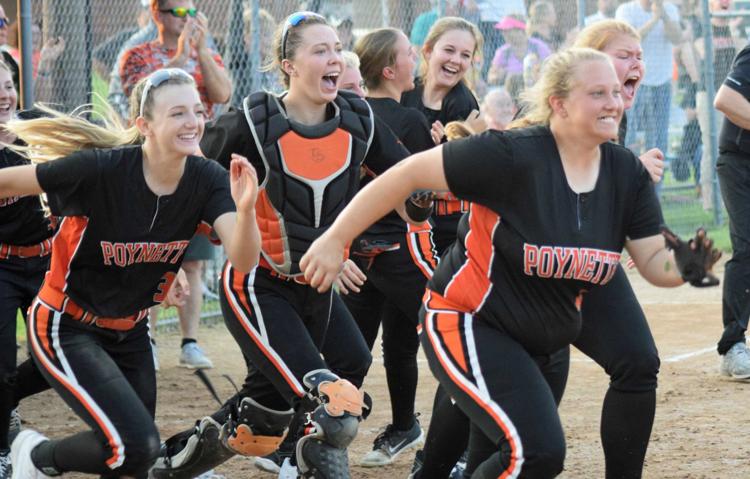 Brianna Kowald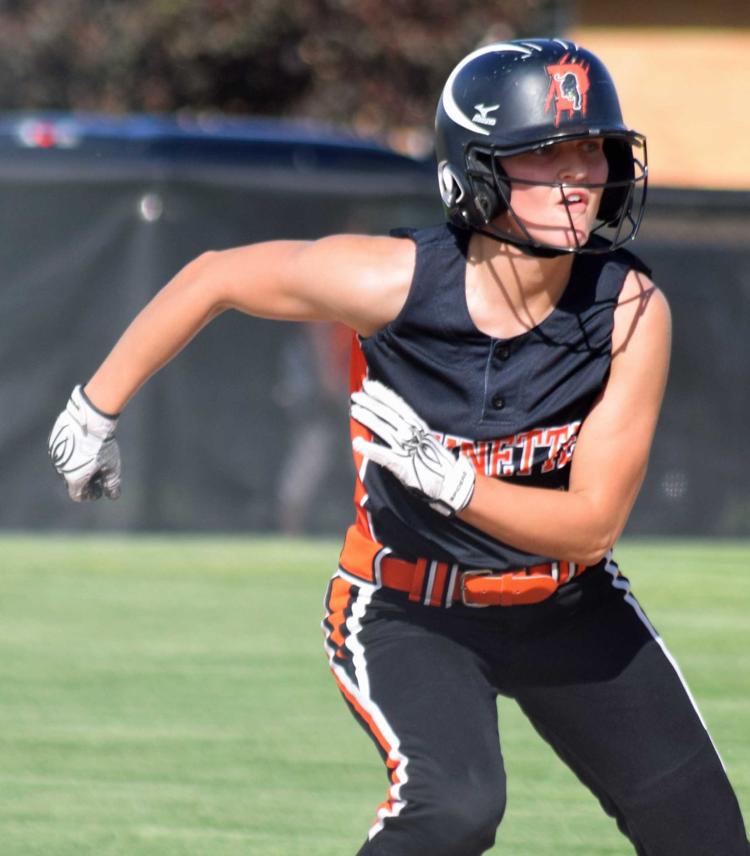 Lizzie Schwenn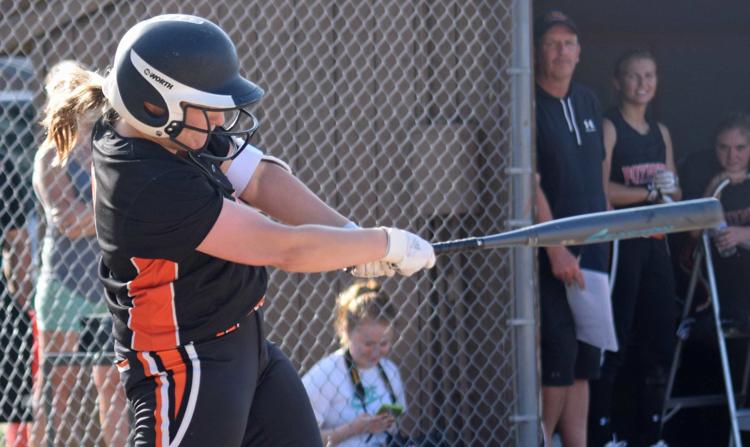 Peyton Kingsland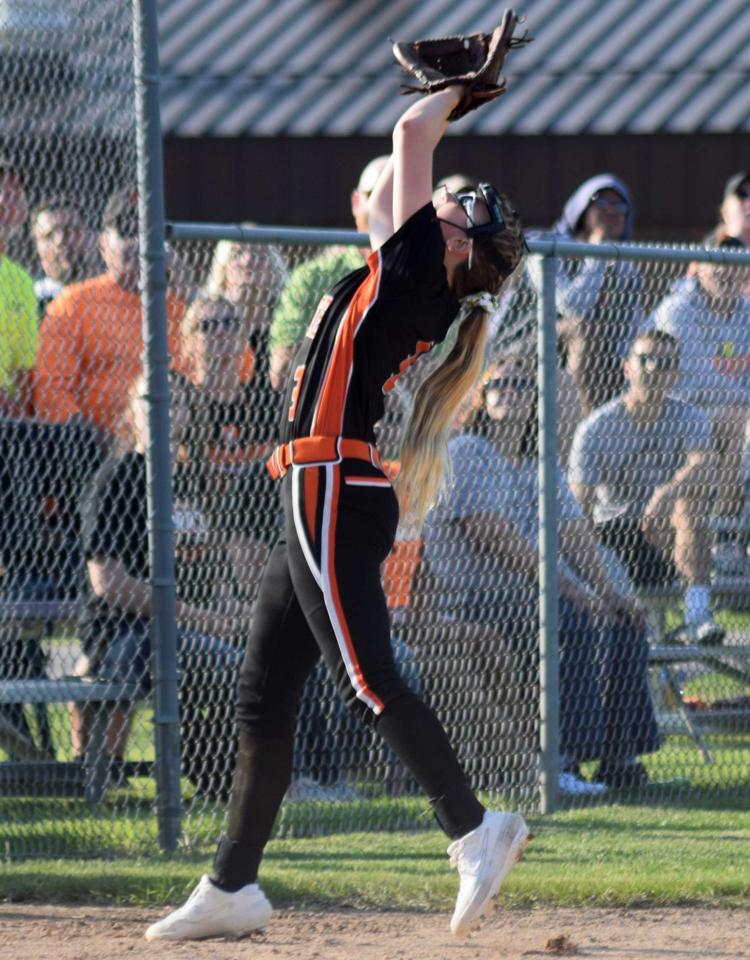 Ashley Hellenbrand
Zoie Ramberg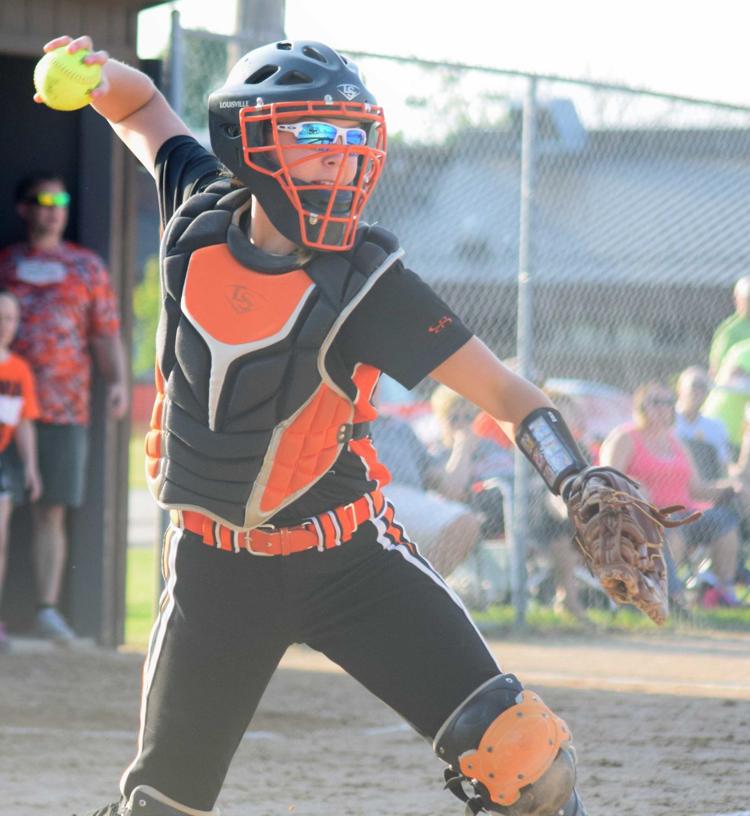 Morgan Jones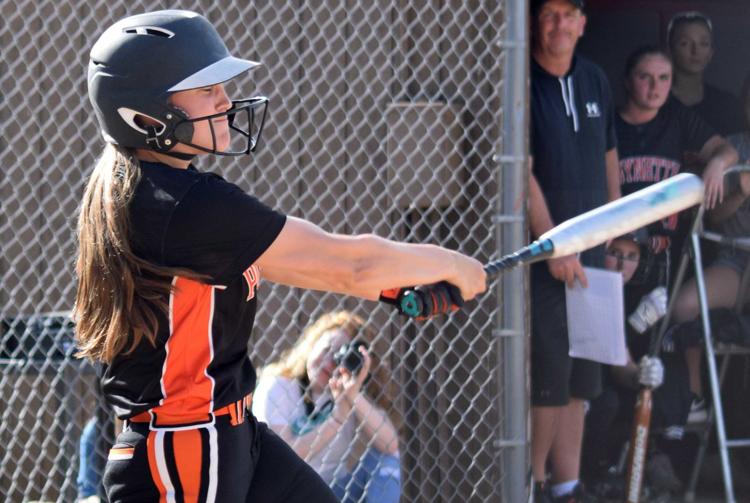 Mara Millard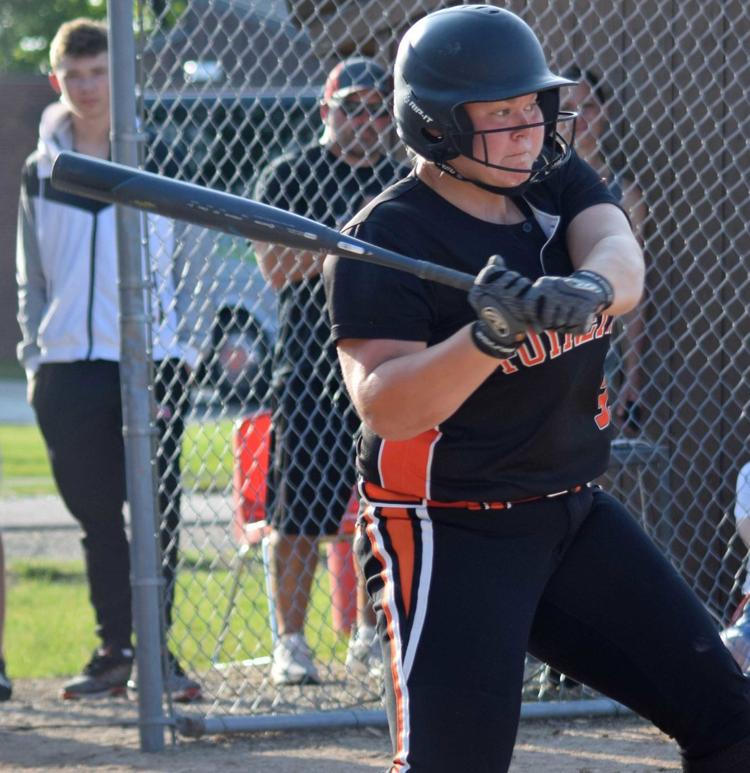 Brianna Schulz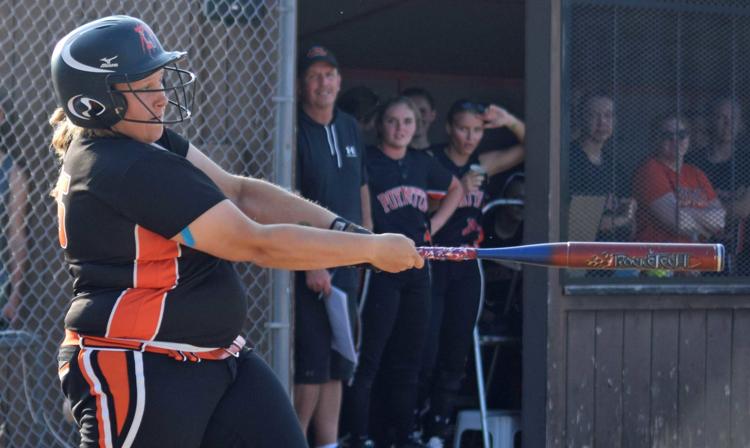 Ashia Meister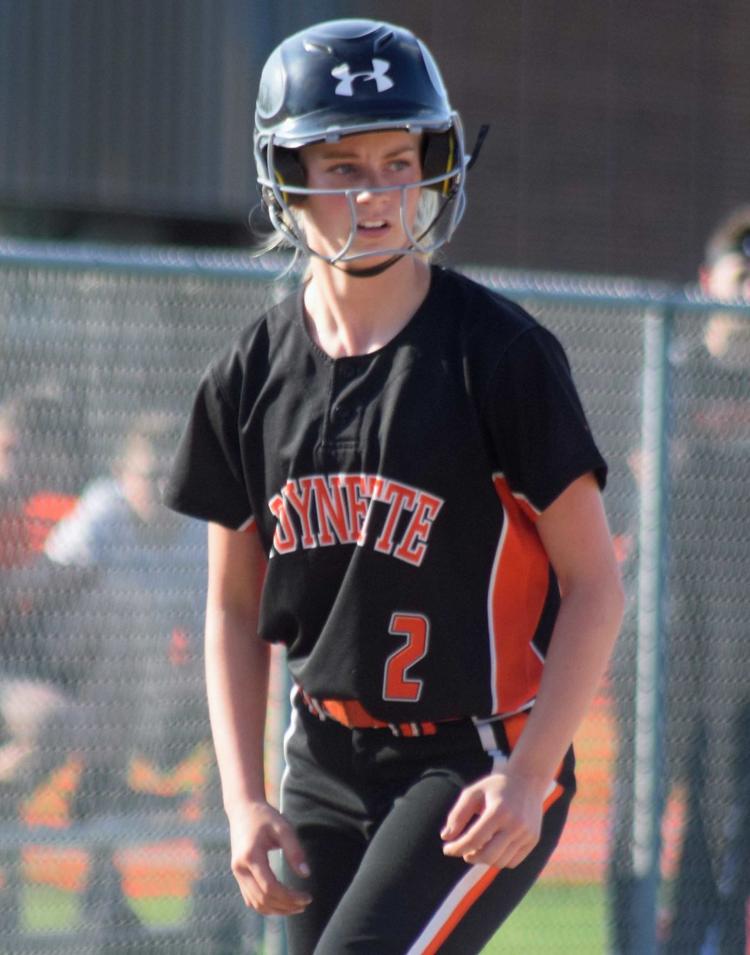 Mollie Blochwitz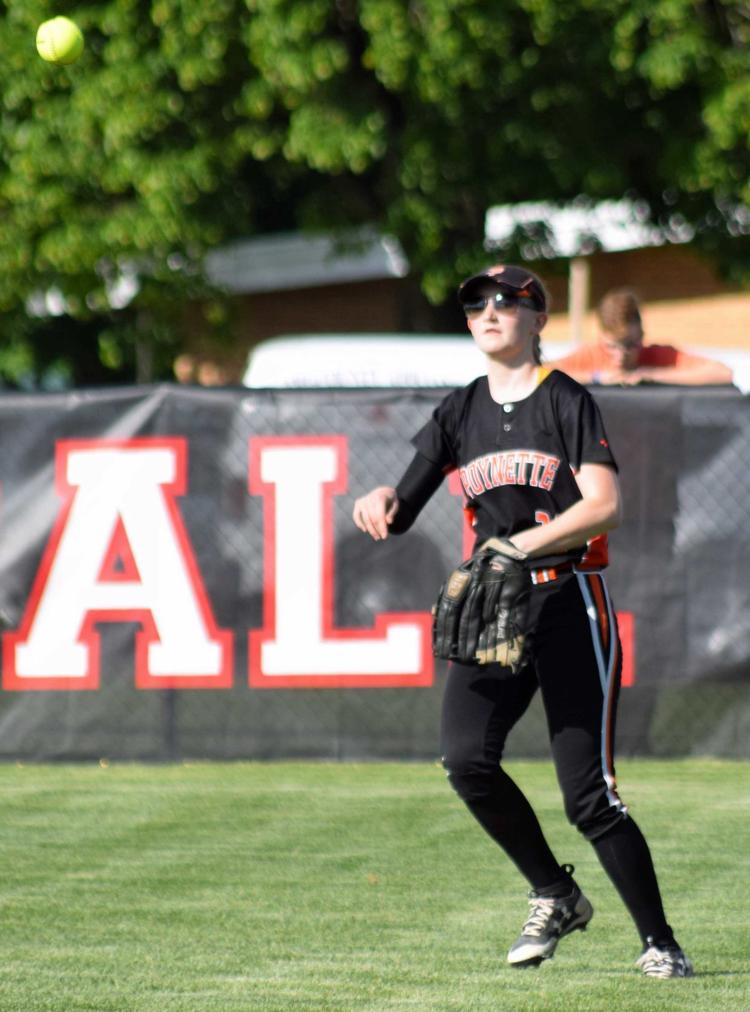 Molly Anderson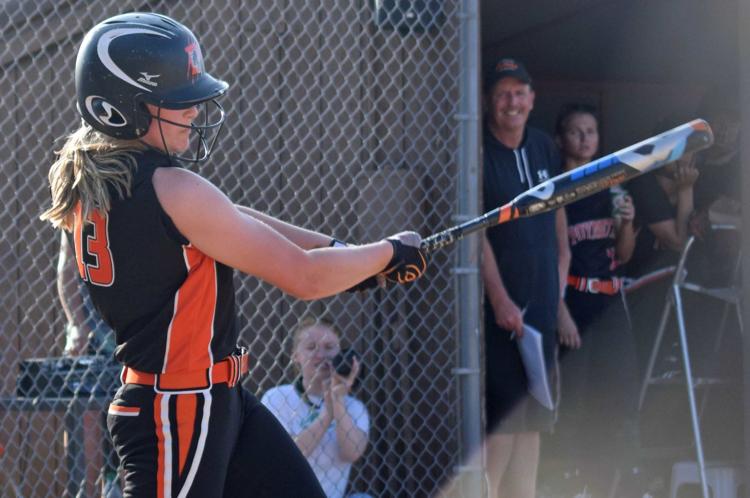 Poynette coach Bob Tomlinson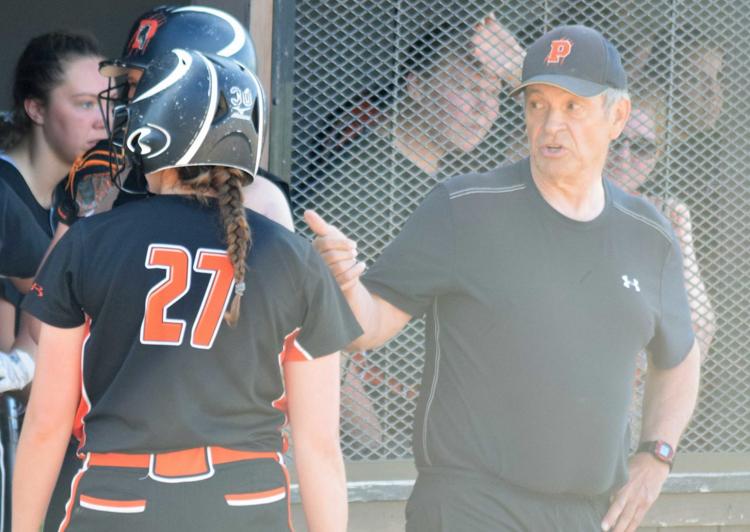 Brianna Kowald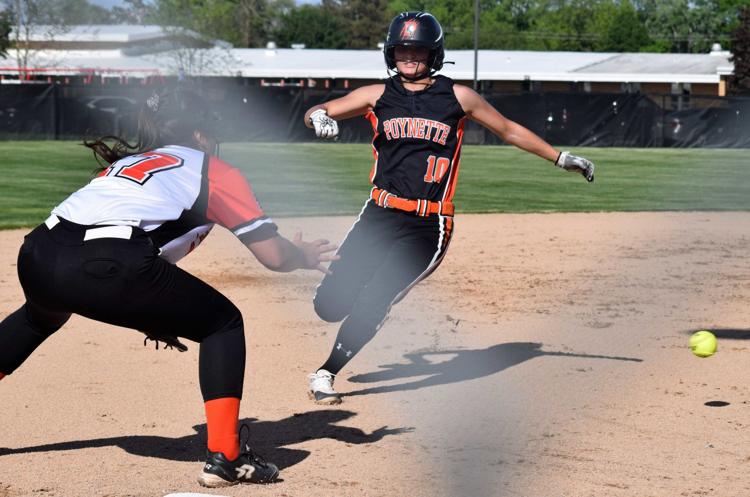 Lizzie Schwenn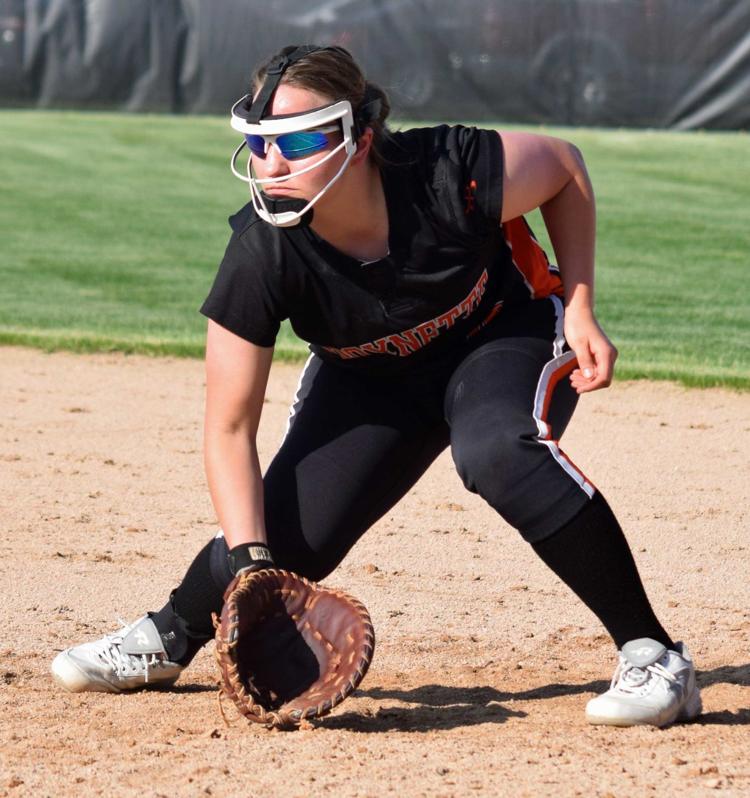 Peyton Kingsland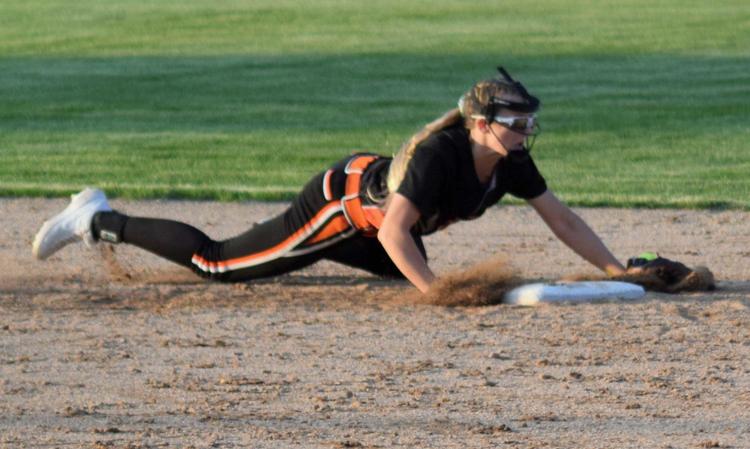 Lucy Cuff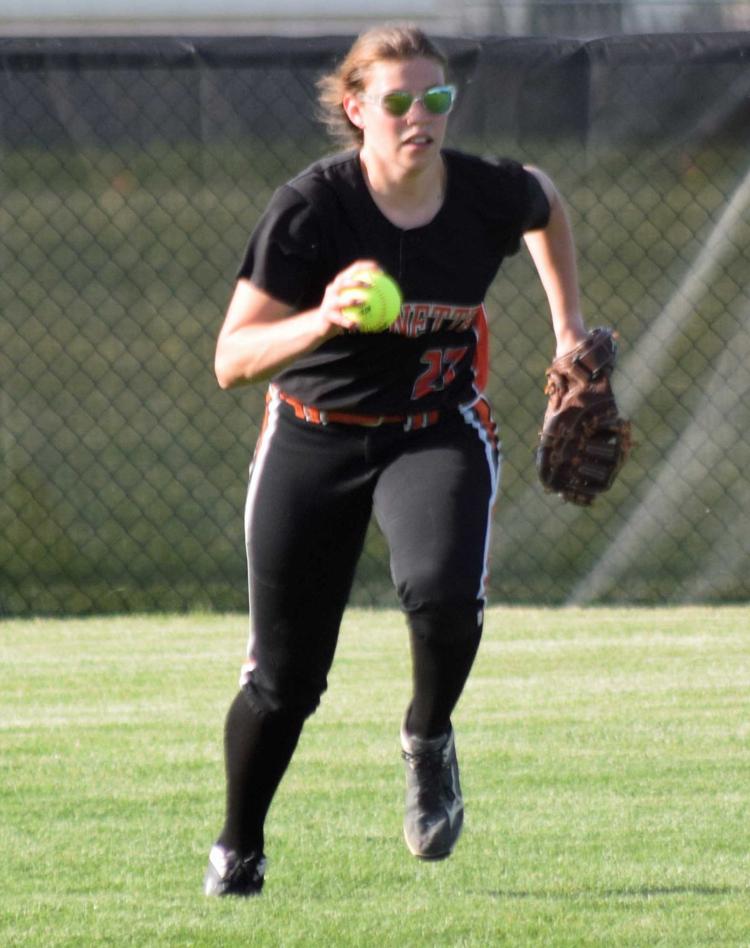 Mollie Blochwitz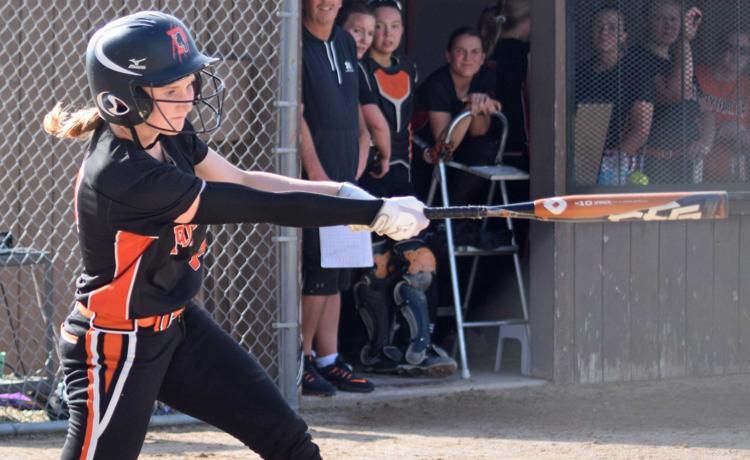 Casey Fountain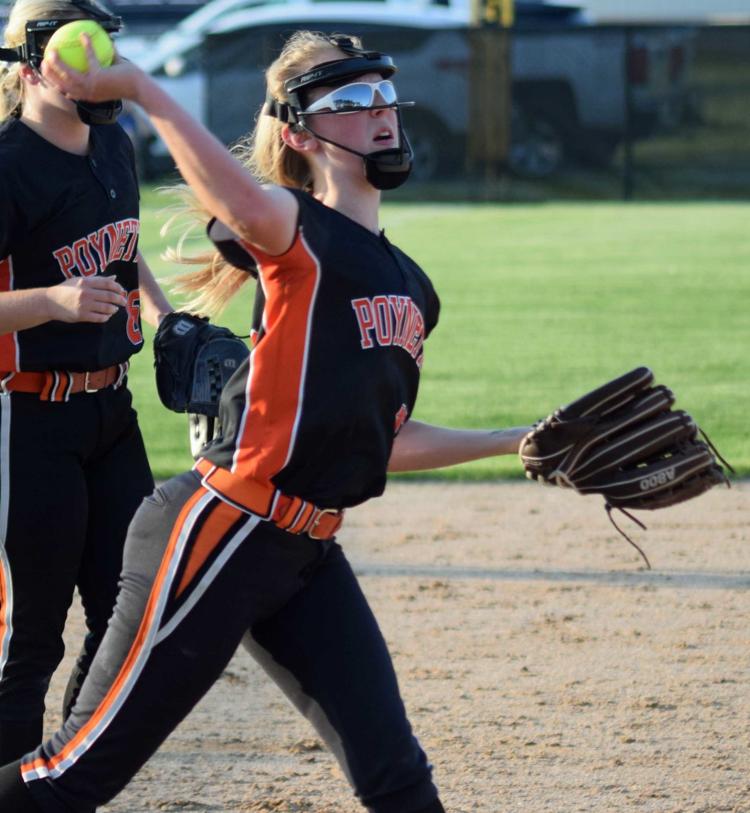 Molly Anderson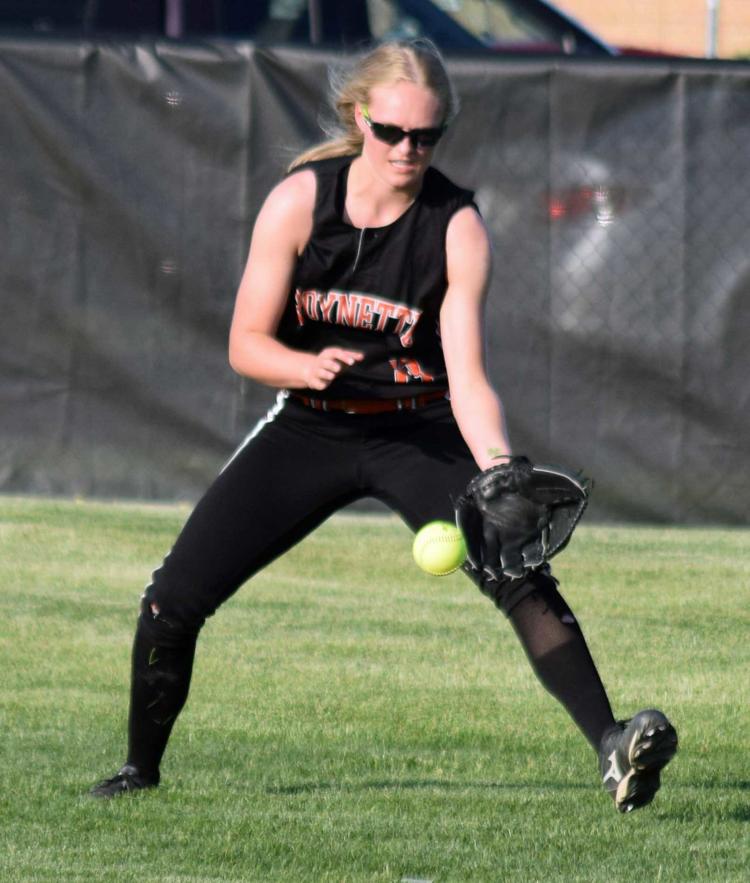 Poynette sectional champions