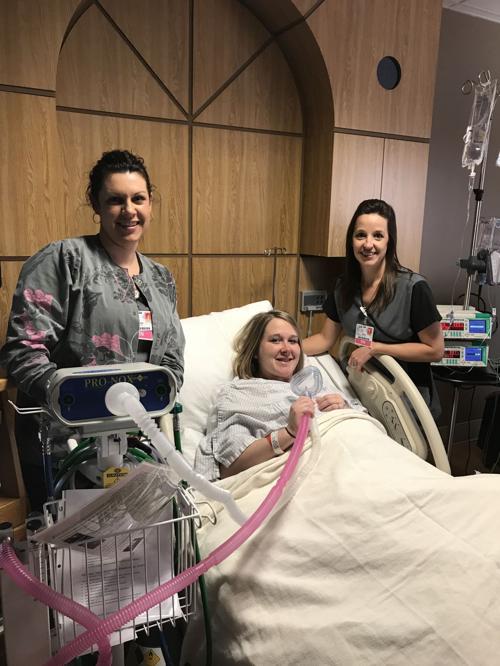 PORTAGE—Looking for a safe and effective pain relief option that you can control during childbirth? On May 1 the birthing center at Divine Savior Healthcare expanded pain relief options and offers laboring mothers the trending self-administered technique of nitrous oxide.
"We are excited to offer another way to customize the care we provide here at Divine Savior Healthcare Birthing Center," said Lindsey Brehm, director of obstetrics. "Meeting the needs of our patients is our priority and we are proud to be one of the first rural hospitals in the area to offer this service."
Nitrous oxide gives women more control during the laboring process and allows them to be a more active participant in their birthing story.
"Most importantly it's safe and effective, has no known effects on the fetus during labor or newborn after delivery. The benefits are substantial," Brehm said.
According to the American Pregnancy Association, when given in low dosages, nitrous oxide is an anxiolytic (a drug used for anxiety relief) and an analgesic (a drug used for pain relief). It is a colorless, odorless, tasteless gas, which is used to decrease pain during painful experiences. The contents are a mixture of 50 percent nitrous gas and 50 percent oxygen that is inhaled through a mask.
There are many advantages to using nitrous oxide as a pain relief option:
Women in labor may still have the awareness of labor pain, but their perception of the pain decreases, allowing laboring mothers to be more relaxed.
Being self-administered, laboring mothers can decide how much they'd like to use it and stop use if needed. Including, being able to use nitrous oxide first and then move on to a different type of pain relief option.
Nitrous oxide does not affect breastfeeding or the alertness of the infant during the mother/newborn bonding time post-delivery.
There have been no known effects on the baby by using nitrous oxide. It is the only pain relief method used for labor that is cleared from the body through the lungs, so as soon as you stop breathing the gas, the nitrous effect is gone within a breath or two.
According to the Journal of Midwifery & Women's Health, "Nitrous oxide labor analgesia is safe for the mother, fetus, and neonate and can be made safe for caregivers. It is simple to administer, does not interfere with the release and function of endogenous oxytocin, and has no adverse effects on the normal physiology and progress of labor."
The U.S. National Library of Medicine defines endogenous oxytocin as "playing an important role in a wide range of human functions including birth, milk ejection during lactation, and facilitation of social interaction."
For some women there may be a very minor side effects. Some women have reported nausea after prolonged use. There are medications to help ease the nausea if that happens. Nitrous oxide can also cause some unsteadiness when up, which is why there is always a staff person in the room when laboring mothers need to get out of the chair or bed, to provide assistance.
"At Divine Savior, we customize our care based around each individual's stage of labor and how they are experiencing it," Brehm said. "We offer many natural approaches to managing pain during labor. The addition of nitrous inhalation is yet another way we can work with mothers that want to get the most out of their experience during labor. Nitrous can be used in our Jacuzzi tubs, while on a labor birthing ball, or while walking the halls. If that is not working for our patients, we offer IV narcotics if requested and can progress to getting an epidural if needed."
It is important to note that nitrous oxide is not a new technique and has been around for many years. It was first used in labor in the 1930s and is currently widely used in Europe. When considering all things, nitrous oxide has offered a safe way to bridge the gaps in pain control by meeting patients' needs throughout all stages of labor.
"This pain control method is safe for both laboring mother and baby. It's self-administered by the mother allowing them the control to customize the use to fit their pain control needs. In addition it helps with anxiety, tension and fear related to the pain they are experiencing during labor. It can be it is effective within minutes, and leaves the body by exhalation very quickly. It can be used intermittently and in sync with each individual's contraction patterns or how they feel it works best for them," Brehm said.