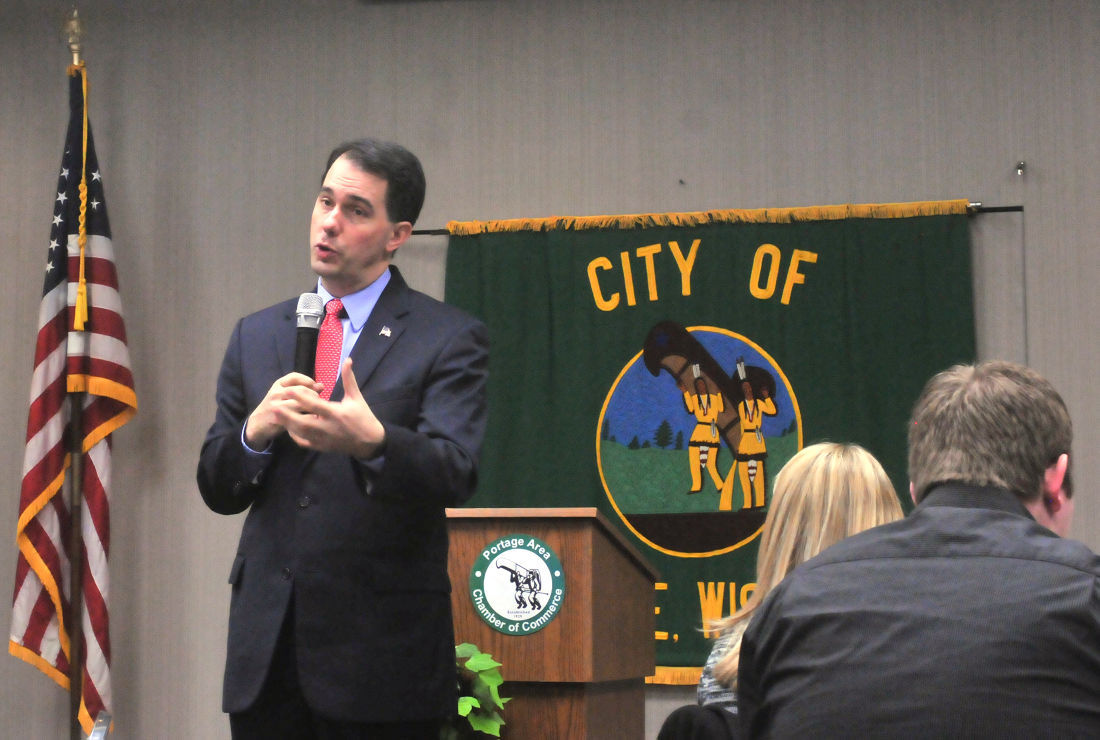 Gov. Scott Walker stopped in Portage on Thursday to talk about what he said is an improving state economy and about what he sees as a critical need to better prepare the workforce for the future.
The second-term Republican governor did not come for the food at Thursday's Portage Area Chamber of Commerce luncheon at the Best Western hotel, which attracted about 90 people, a mix of business and government leaders.
"For the past 26 years, I've eaten pretty much the same thing, two ham and cheese sandwiches in a brown bag," Walker said, explaining that he ate in the car on the way over. "Although that dessert looks pretty good," he quipped, pointing at an attendee's plate.
Walker told the gathering he had good news to share, that unemployment in Wisconsin is the lowest it has been since 2001.
According to the Bureau of Labor Statistics, Wisconsin's unemployment rate has been tracking downward through the second half of 2015, from 4.6 percent to 4.3 percent. This beats the national average that went from 5.3 percent to 5 percent over the same time. Walker said the state's fiscal situation is far healthier than that of Illinois, which is running an unemployment rate almost a full percent above the national average.
"We did all sorts of reforms over the last five or six years to help us balance the state budget — we came in with a $3.6 billion budget deficit, today I'm proud to continue every year that I've been in we finished each fiscal year with a surplus," said Walker.
"We are proud that we have a rainy day fund that is the biggest it has ever been, 165 times bigger than when I took office. Unlike our neighbors to the south, we have a pension system that is fully funded."
Walker said Thursday that innovative educational routes was one of the keys to a robust workforce, giving the example of high school students who have taken university courses starting college with a head start of a semester and a half worth of credits. He said that even students in middle school should be encouraged to pick a trajectory for their career based on where their interests and talents might be.
Two initiatives that Walker highlighted were his efforts to eliminate unemployment among veterans and a program to encourage hiring of developmentally disabled adults in high-turnover positions, the Cincinnati-based Project Search.
He segued from this to some of his initiatives to make receipt of government assistance conditional.
"There were people in the Capitol who claimed that we were taking things away or that we were making it harder to get government assistance. I said, 'No we're not, we're making it easier to get a job.'"
As important as earning a paycheck, he said is the idea of developing the self-reliance and pride that comes with work itself.
"My first job was washing dishes at a place called the Countryside Restaurant and later in high school, I worked at McDonald's flipping hamburgers," said Walker, telling the room that at the same time Speaker of the House Paul Ryan was flipping burgers in the back of a Janesville McDonald's — lacking the interpersonal skills to run the register, in the opinion of his then supervisor.
The anecdote got a good laugh from the room. Walker said he wondered while watching President Obama's State of the Union speech on television in January, with Ryan sitting prominently behind Obama, what that supervisor might have thought.
"I often say it isn't about the money — it doesn't hurt to save some money after school — but it's really about understanding a true dignity that comes with work."
Unmentioned in his luncheon remarks was the state of employment in the public sector. When asked after his speech about the state of the Department of Corrections and Columbia Correctional Institution in particular, which runs (by some estimates) a 20 percent staff deficit, Walker said that it was to be expected.
"This is an issue that predates me and predates Act 10," said Walker. "Back when I was in the Legislature, in the early 1990s, Tommy Thompson had a similar problem. It's part of the reason why for a while he looked at out-of-state contracts for holding inmates."
Following the passage of Act 10, 541 employees retired from the DOC. In 2012 resignations went up 40 percent. At CCI, staff report seeing more people leaving, some recent recruits deciding not to stay along with the exit of veteran employees.
In September, Sen. Jon Erpenbach, sent a letter to the co-chairs of the State Legislature's Joint-Audit Committee, requesting a vote on an audit of the DOC. In January, Erpenbach, with a group of representatives including Rep. Dave Considine and Sen. Jennifer Shilling offered a nine-part proposal for addressing the problems in the DOC, separately proposed for a more convenient a la carte consideration.
CCI staff have often said that when concerns about safety and security are brought up to management, the response from Warden Mike Dittman and DOC Secretary Edward Wall is "there are 1,000 people in line to take your job." In one meeting with legislators in October, Wall reportedly responded to a comment that more staff would be leaving in the next year by saying, "I don't care. Let them go."
"I would love to see the documentation. I've never heard him say that," said Walker. "I would be interested in hearing where that is documented, rather than rumors from staff out there. I've yet to hear that. If that's something you can document for us or show, that would be concerning to us, but I've never heard that from the Secretary or anyone else in the administration."