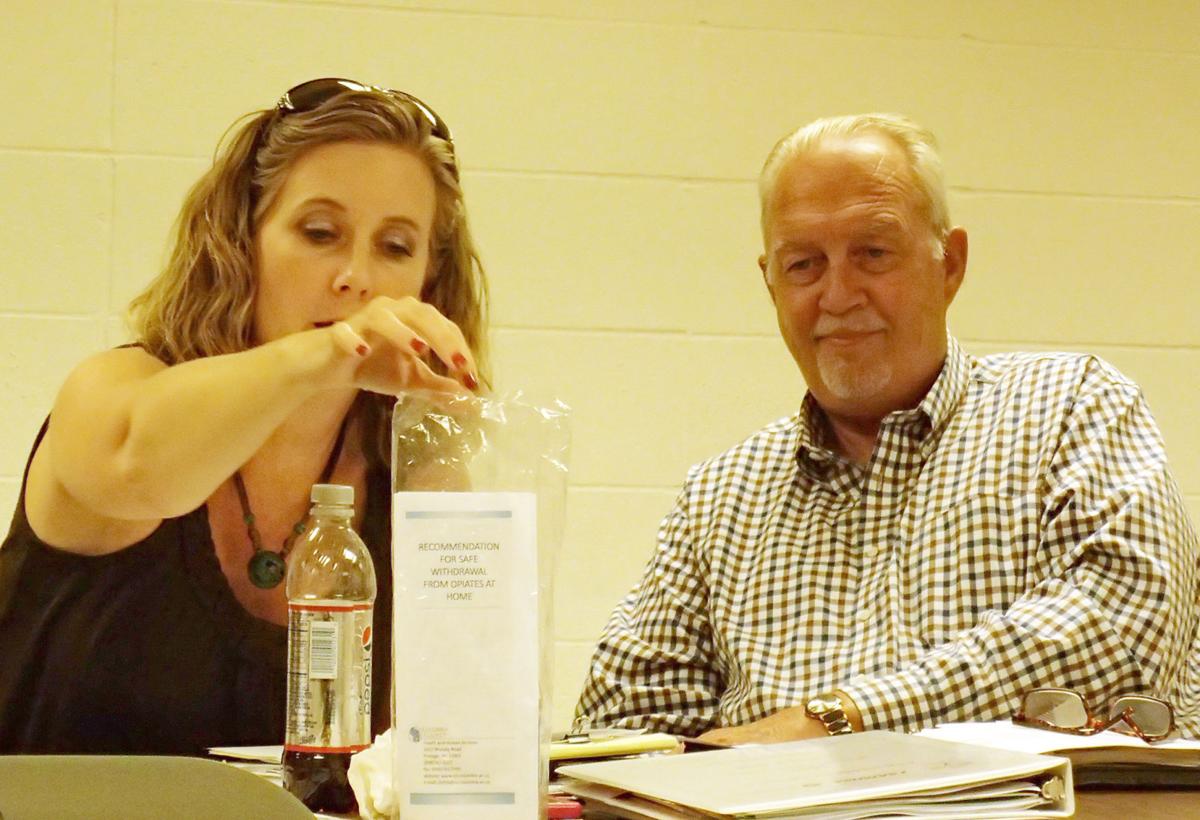 Columbia County's medication assisted drug treatment program is underway with requests coming in and boots on the ground.
"As you can see the numbers have almost doubled per month," Columbia County MAT Coordinator Stacy Davenport told the 16 participants in Prevention and Response Columbia County at the group's monthly meeting Tuesday.
Davenport's office has received 38 referrals of people seeking help with prescription opioid and heroin addiction. The referrals started in April, but as of Aug. 1, federal grant funds — $1 million annually shared between Sauk and Columbia counties — are in place and the program is in full motion.
Among her rounds talking about the program, Davenport visited with staff and residents at Columbia County Jail, leaving behind notice for those seeking treatment upon release.
"I knew the second it went up. It seemed like last week we were getting two calls a day," she said. "If an inmate expresses interest, there are deputies and jailers there that will help them fill out the basic information and get it over to me and the goal is to get in contact with them within 24 hours."
Accompanying Davenport was Tom Engels, with Madison-based Tellurian, an addiction treatment center that has been contracted by Sauk and Columbia counties as a primary treatment provider.
Tellurian will be locally based in Baraboo, though community recovery specialists, CRSs, will be dispatched in Columbia County.
"I can't stress this enough, there is really no book for us to follow, we're writing the book and we're writing the book a page at a time each day," said Engels. "Our plan is to have the CRSs home-based in Baraboo and in terms of Columbia County, Stacy and Dawn [Woodard, director of county health and human services] have identified three communities in which the CRSs will be going into those communities on a regular basis: Lodi, Portage, and Columbus."
Lodi has been hit particularly hard by opioid addiction, not lost on the program organizers or Engels, who has known from his own connection to the city, saying that a CRS has already been in the city getting an unofficial start on work there.
An example of one way the CRSs will make themselves available is by hosting open-door sessions in non-threatening venues like libraries or clinics, where people would be able to come in and find help.
Of the 38 referrals Davenport has seen, 20 are receiving CRS services, with 14 enrolled — 10 male, four female. The other six are pending intakes. Nine referrals were directed to services elsewhere, with five going to "independent" services through another provider or a different agency and six referred out of the county.
"We can refer them to points of access, but the parameters of the grant specify, for the time being, we can provide services for treatment to residents of Sauk and Columbia counties," said Engels. "In 2018, we go into Richland County, so if folks are come from Rock County or Dane County, we can refer them to other providers in the area, but we cannot provide services to them."
"What I have done, is not just say 'no, sorry,'" said Davenport, "I will go online and try to find services that support them and try to pass them off the best we can."
"One of the advantages of the grant is that we can provide immediate access to a community recovery specialist, that's why we have a 24-hour phone number. A live person will answer that number 24 hours, 365," said Engels. "The next step is to coordinate a meeting with the individual and get the proper level of care, whether it is detox, whether it is treatment, whether they are ready for a Vivitrol injection. But we're coordinating that and we're trying to eliminate that wait-list period."
With CRSs in action, Davenport explained that her role in the program is now more focused toward grant coordination and case management, though still with more demands than she can ever address.
"I have reached out to our behavioral health crisis staff and shared with them that it's just me and I can't do it," Davenport said. "And we knew that going into it. But the volume of it — there's just not enough hours in the day to return calls and they've been helping me with that."
Even with everything else in place, a persistent challenge, according to Engels, has been the first step of having a safe place for people to go. One Catch-22 has been clients needing a place to get clean, with sober living facilities open, but requiring a resident to be clean and sober upon entry.
"In most cases, the (people) we are dealing with have burned all the bridges," said Engels. "They're homeless, or they are couch surfing, or they are living with mom and dad, they have no insurance, they have no job and in many cases they have no vehicle. And they are desperate."
Be the first to know
Get local news delivered to your inbox!