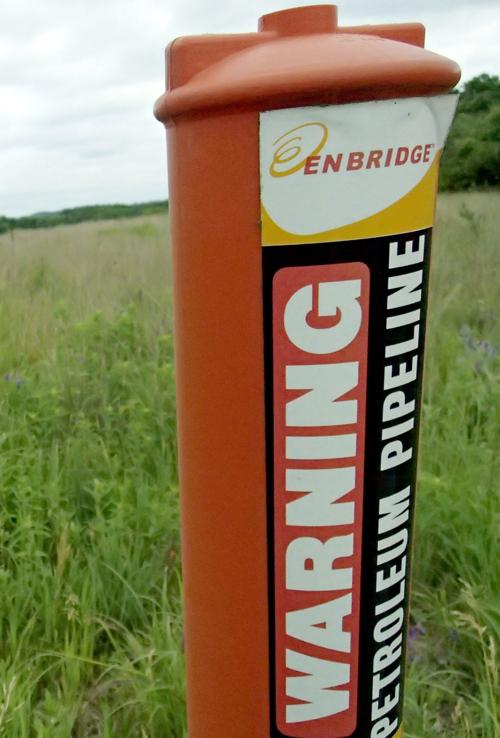 Enbridge Inc., the largest pipeline company in the world, is wrapping up a years-long upgrade to its Line 61 to pump up to 1.2 million barrels of oil per day through Columbia County.
"We're pretty well wrapped up. We've got our Waterloo station (in Dane County) that we're near completion on, and I think there is some general cleanup activities that are going on, but all that stuff is pretty well done," Trent Wetmore, Enbridge's director of Superior region operations, said in Madison on Wednesday.
On Feb. 16, the Federal Trade Commission approved the merger of the Canadian energy infrastructure company with Houston-based Spectra Energy. The proposed deal was announced on Sept. 6, followed by Enbridge share value jumping from $51.79 to $59, settling over the next few months to $56 on Tuesday.
"Any time you merge two large companies, there is so much integration that has to happen, making sure the assets line up and operationally and then resources including with personnel," said Wetmore, who oversees operations in Minnesota, Wisconsin and Michigan. "So, there have been some layoffs, but not a great amount. But that is continuing to be evaluated."
On March 22, an Enbridge spokesman confirmed to Bloomberg News that the company would be eliminating 1,000 positions, which came after an announcement of 530 cuts in October. The company employs more than 11,000 people overall.
The end of 2016 also marked the planned completion date for an upgrade of Line 61, which runs from Duluth, Minnesota, to Flannagan, Illinois. Over the course of the project, pump stations along the route, which include locations in Adams, Portage (off Dumke Road) and Waterloo, have been upgraded to increase capacity from 560,000 barrels per day to 1.2 million barrels per day.
"We're moving somewhere around 900,000 barrels a day on (Line 61)," said Wetmore. "We have the capability (of 1.2 million a day), but right now we don't have the demand. So on a few of our new stations — what we tend to do is every 40 or 50 miles there is a new pump station — just to continue to progress the flow. What we've done is idled some of the stations along the line."
Enbridge's presence has inspired protests in this part of the country from groups like the local chapter of the global climate change advocacy and action group 350 Madison and a land rights group 80 Feet Is Enough, based on opposition to expansion of Enbridge's 80-foot-wide line of land use.
The company was sued by Dane County over a requirement to purchase environmental impact insurance, which had been superseded by a state budget provision that gave an end-around for a company in that exact situation. Circuit Judge Peter Anderson ruled against Dane County reworking Enbridge's permit.
During Tuesday's meeting of the Columbia County Board of Supervisors, Drew Carlson of Springvale took advantage of the open floor to voice his concerns about Enbridge's presence in the county in terms of eminent domain practices and environmental impacts.
"I think, for the most part, that everything is wrapped up," said Wetmore. "To my knowledge, all of the land issues have been resolved."
A major point of contention has been the proposal of a "Line 66" dubbed "the Evil Twin" by environmental activists, who last summer walked the length of the pipeline. That, according to Wetmore, is a non-issue.
"We did some survey work in 2014 and early 2015, but that is just part of the overall development process that we go through as we're starting to look at it," he said. "But market conditions have changed. We've had to cancel our Sandpiper Project, which brought additional volume from North Dakota into Superior. Really with that cancellation in North Dakota due to market conditions, we've had to cancel anything that would have carried that volume."
Since the election of Donald Trump as president, some of the fastest and most sweeping moves his administration has made have been in deregulation of the energy sector. Wetmore gave a "wait and see" response on the impact that could have on Enbridge.
Wetmore emphasized that Enbridge is not a gas and oil company, but an energy company. One of the outcomes of the merger has been a portfolio balancing, he said, with assets shifting from about 75 percent invested in "liquids," as in oil and gas, to around a 50-50 mix of liquids and alternative sources of power.
"Over the past five years we've invested well over $5 billion (in renewable energy) and I think we've had some announcements recently that take that closer to the $7 billion mark," he said. "But within North America with wind projects, solar projects, a little geothermal, we're really seeing that as the wave of the future, but we're not there yet and we're not going to be there for a long time."
"To live the lives we've come to appreciate, we still rely on oil, but there has been a trend toward that renewable footprint and we recognize that and we're really shifting our identity and, I guess, the overall corporate structure to focus on the renewable side. So that is exciting for us."