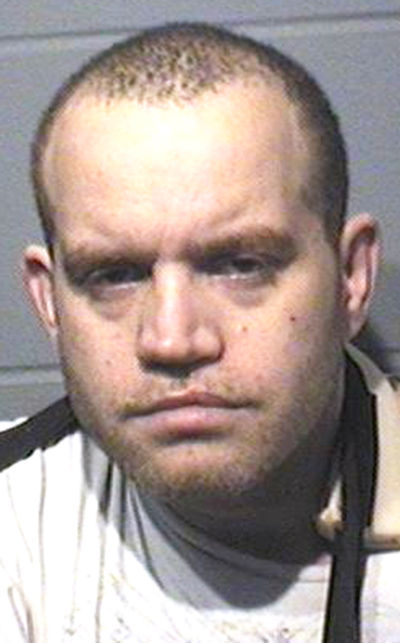 A Portage man who fell from a third-story apartment on March 25 appeared in Columbia County Circuit Court facing felony drug and misdemeanor domestic abuse charges.
Loyal Stowers, 33, appeared by video Friday from the Columbia County Jail with his right arm wrapped and stuck out to the side.
"The defendant is completely unstable and is a threat to himself and others," said Assistant District Attorney Crystal Long. "His drug addiction is out of control. He got into an argument with his wife, pushed her, cutting her above her eye, and when a neighbor arrived and pounded on the door, he jumped out a third-story window."
Police received a call about the situation on Saturday night about 11:20 p.m. At the scene officers found Stowers' wife with marijuana and a pipe, which she reportedly said she had taken out of Stowers' pockets before police arrived on the scene. In the apartment officers found drug paraphernalia, 0.4 grams of methamphetamine and notes with ingredients and instructions for making meth.
A neighbor told officers that he had heard noises in the Stowers' apartment, went and banged on the door, then as Stowers' wife opened the door, she turned around and screamed as he went out the window, then running out the apartment and to him on the ground below.
Stowers was taken that night by ambulance to UW Hospital in Madison and then transferred to the Columbia County Jail on Wednesday.
Stowers was charged with one count of possession of methamphetamine as a repeated offense, possession of meth paraphernalia as a repeat offense, three counts of felony bail jumping, one count of possession of marijuana as a repeated offense, misdemeanor battery, misdemeanor bail jumping, disorderly conduct, possession of drug paraphernalia as a repeat offense, misdemeanor criminal damage to property as pertains to a broken cell phone and criminal damage to property regarding the awning that was damaged while breaking his fall before he hit the pavement.
In addition to the charges in the current case, Long pointed out that Stowers has four other cases for which he is free on bond, three of which are felonies. He has 18 prior convictions, she said.
Defense attorney Ronald Benavides told the court that Stowers had informed him that he did not have "anything remotely approaching $10,000," and could maybe come up with $100 or $200.
"I can tell you from just talking to him for a couple of minutes that he is in pretty rough shape," said Benavides. "He advises that he has an appointment at UW Madison Hospitals in about two weeks and he has other doctors appointments here in Portage and the surrounding area. I'm not sure the jail can provide care for him. I think that is a factor you can take into account."
Judge Alan J. White, describing the events as laid out in the criminal complaint as "pretty disturbing," ordered Stowers to be held on $3,500 cash bond.
Stowers is due to appear in court next for an April 6 preliminary hearing.