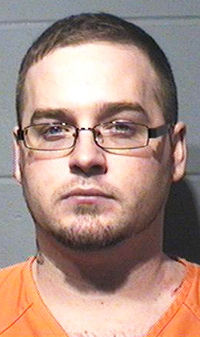 A Wisconsin Dells man was sentenced Tuesday to three years in prison after pleading no contest to charges of strangulation and suffocation, misdemeanor battery and disorderly conduct, each as domestic abuse.
On Feb. 2, Columbia County Circuit Court Judge W. Andrew Voigt ordered Justin Wagner, 28, to be held on a $10,000 cash bond, following his arrest the day before, accused of attempted first-degree intentional homicide.
Wagner was arrested at about 2:30 a.m. after Wisconsin Dells police were called to a home where a woman told them that her boyfriend had tried to kill her. According to court documents, the woman told officers that after returning to an apartment from a Lake Delton bar she and Wagner had been arguing and then Wagner grabbed her by the throat and pushed her into the bathtub, turning the faucet on over her face.
She told the officer that she remembered Wagner saying, "I will drown you. Wait until I get out of here. I will kill you." As this was happening, she said, the youngest of her four children screamed, distracting Wagner enough to allow her to get loose, and hustle the kids out of the apartment, first knocking on a neighbor's door and then running barefoot through the snow to a neighbor's house where she called the police.
During a preliminary hearing on March 26, defense attorney Brian Severson asked one of the arresting officers about the woman's testimony, suggesting that Wagner had said, "Wait until I get out of here" in the context of getting undressed and getting into the shower himself.
In a hearing on July 27, Wagner agreed to a plea agreement in which the attempted first-degree intentional homicide charge was dismissed but read into the court record. He then entered a plea of no contest to the felony charge of strangulation and suffocation, and misdemeanor counts of battery and disorderly conduct.
At the sentencing hearing Tuesday, the gravity of the situation was palpable in the near-silent courtroom, as nine people sat on the benches behind the defense table and six sat behind the prosecution, along with one of the court's victim-witness coordinators.
Voigt opened the hearing and to begin closing arguments, the victim was given an opportunity to speak. She got up from her seat with her family and sat next to District Attorney Jane Kohlwey. Reading from a prepared statement, she gave a brief, but emotional account of the night, describing it as the culmination of a relationship of control and abuse.
She began addressing Wagner directly, telling him, "Your eyes were so dead, so empty. This time was different." She described running through the snow with her children, one in a t-shirt, another wearing only a diaper, then finding a neighbor who wrapped them in blankets and helped call the police.
Kohlwey asked Voigt to order the maximum sentence for all three counts to run consecutively, totaling six years --four years in prison and two of probation.
Referring to the Department of Corrections pre-sentence investigation report, Kohlwey pointed out that Wagner "admits there was an altercation, but puts the blame on the victim."
Severson questioned the severity of the incident, telling the court that it is a matter of conflicting testimony from two people, saying that medical reports did not indicate visible bruising. According to the criminal complaint, responding officers reported seeing scratches and red marks on the woman's neck.
He also noted statements submitted in support of Wagner. One came from a landlord describing Wagner as hardworking, nice and paying his rent on time.
Severson asked the judge to impose, if any prison time at all, a maximum of 18 months to two years, followed by probation.
Given a chance to speak for himself, Wagner told the court that he had come with a lengthy written statement and that instead, he was going to speak from the heart. He said he recognized his problems: "alcohol problem, a drug problem, a degenerate gambler."
Saying that he realized he was in an unhealthy relationship, he told the court, "I'm sorry I didn't have the courage or intelligence to end it sooner."
Voigt told Wagner that he had little doubt that whatever happened on Feb. 1, there was a great risk to that woman's health and created fear for the children.
Voigt sentenced Wagner to three years in prison with three years of probation for strangulation, nine months in jail for battery and 90 days for disorderly conduct, to be served concurrently. Since his arrest, Wagner has already spent 275 days in jail.