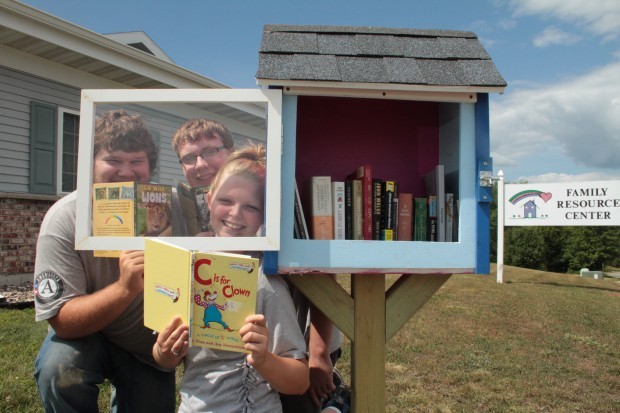 It's cozy but has little luxuries like a picture window and a new roof. It's in a great location.
"When there wasn't enough work to do on the big house, or I needed to keep them busy, I had kids work on the little house," said Jackie Weber, technical supervisor for Portage Fresh Start program.
A Little Free Library, pink with blue trim, is on the lawn at the Family Resource Center. Students in the Portage Fresh Start program built the literary hutch while constructing a people-sized home at 2416 Wild Rose Court.
The creators of the Little Library movement are Rick Brooks of Madison and Todd Bol of Hudson. Bol built the first one in 2010 in the shape of a one-room schoolhouse to honor his mother, a former teacher. People are encouraged to take a book and leave a book. They don't have to do it in that order, though. The goals of the movement are to promote literacy and a sense of community and to build more Little Free Libraries in the world.
"We have some really voracious readers here and studies have shown that when books are available kids are apt to read," said Morgan Foster, teacher at Portage Fresh Start. "Since I'm moving this was a good opportunity to donate some of my book collection."
The Renewal Unlimited Inc. Wisconsin Fresh Start program provides "at-risk" youths with education, employment skills, career direction, paid work and service experience which leads to self-sufficiency.
The program has been highly successful in Dane County for more than 30 years; Renewal Unlimited became a Wisconsin Fresh Start provider in 1999, having provided similar services since 1977, according to its website.
After about two years as a Fresh Start teacher, Foster will be an English professor at the University of Wisconsin-Oshkosh. She graduated from Portage High School in 1999 and today is her last day at Fresh Start.
"Getting us out and in the community is really something I hope my predecessor will do along with community awareness of the program," Foster said. "I'm really excited about the new position, but it's going to be hard to leave the kids and not see the end of their journey."
Cortney Warnecke, 17, has been in the program since February. The resident of Lodi said peers recommended Fresh Start.
"I went down the wrong path in life, became a teen mom and couldn't handle high school," she said. "(Foster) helped me be a more responsible self-advocate, be a better mom and guide me to resources."
Foster said she worked with about 60 students over the years; she helped four Portage students get their high school diplomas (one at PHS and three at the Portage Academy of Achievement); Foster helped 20 students get their HSED and there's four in progress.
Chris Brooks, 17, joined the program in June. The Baraboo teenager said that the traditional school setting didn't help him learn. One-to-one instruction from Foster was key to success.
"I learned that doing school work isn't really that hard. I was doing civics and history was always my toughest subject," Brooks said.
Hunter Robinson, 17, joined the program in May, but attends school at the Portage Academy.
"Without Morgan I probably wouldn't be here this fall," he said.
Foster acts as a liaison between agencies and an outreach/public relations specialist. The teacher title depends on what the program members need from day to day on an individual basis, she said.
"Anything from police warden to kind aunt, maybe a big sister to counselor," Foster said.
Weber said that Foster is "really a softie underneath" and would bend over backwards for the students.