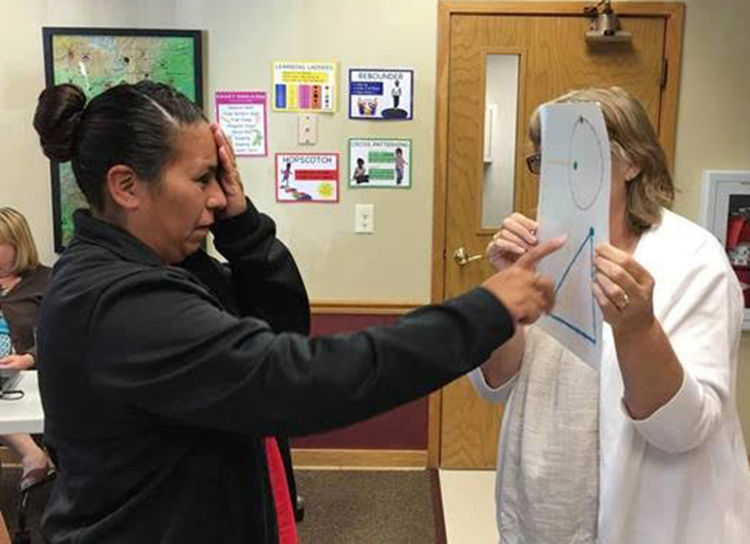 Everyone knows movement, at any age, is good.
But movement for young children, S.M.A.R.T. workshop leaders explained, is more critical than what most people would probably guess.
Leaders from Minnesota Learning Resource Center on Wednesday wrapped up three days of classes and activities based on research about early childhood brain stimulation, a three-day program hosted in Portage by Cooperative Education Service Agency 5.
"It's about activating the different hemispheres of your brain that sitting at a desk just doesn't do," said Heather Fish, director of school improvement services at CESA 5.
S.M.A.R.T. — an acronym that means Stimulating Maturity through Accelerated Readiness Training — attracted 36 educators and childcare workers from across the state who participated in activities like stacking dice with tweezers, some old-fashioned hopscotch and walking "heel to toe."
Participants included educators from nearby districts like Cambria, Rio, Montello and Reedsburg, with Reedsburg having already implemented some S.M.A.R.T. practices in its 4K classrooms.
Julie Rundhaug has worked in early childhood special education in Reedsburg for 26 years, and her participation in S.M.A.R.T. workshops in Portage was her second go-around after attending one last year in Monona. Educators in Reedsburg, for example, give about 60 kids each day 15 minutes of S.M.A.R.T. activities. They have, in their four 4K classrooms, employed an activity called "slap," where kids crawl along a shower curtain lined with informational cards they slap as they move along — an activity that helps kids "motor through crawling if they missed that in their development," Rundhaug said.
The fundamental skill of crawling is one most assume wouldn't be lacking in children's development — but it often is, S.M.A.R.T. attendees agreed.
"Sometimes we assume all kids crawl, have balance and dexterity — but some kids don't," said Fish, who first got a look at how S.M.A.R.T. activities worked last year in Reedsburg.
"I was surprised to see how some kids struggle with things we thought they knew firsthand."
"It's not a fad," Fish said of S.M.A.R.T. "They have the data and the research to know it's here to stay."
That's not to say traditional formats in education don't work or that too many are outdated, Fish added. But every child is different, and "at least S.M.A.R.T. gives you more options."
Multi-sensory approach
Jessica McFarland has spent four years as assistant director of the teacher-training institute MLRC, a program of the Minneapolis-based nonprofit, A Chance to Grow. A Chance to Grow established MLRC about 20 years ago, and S.M.A.R.T. workshops soon followed.
The 4K workshops used this week in Portage, McFarland noted, have only been going on since 2010, and today, S.M.A.R.T. activities are used in about 300 4K, kindergarten and elementary classrooms in 13 states.
"The comment we most often receive (from participants) is, 'Why didn't we learn this in college?'" McFarland said. A program with a "multi-sensory approach," she added, is simply what's proved to "work best" when it comes to early childhood development.
One common surprise among S.M.A.R.T. participants is when they learn in the workshop's educational overview of brain development that one out of four students struggle with "undiagnosed visual deficiencies," McFarland said.
Visual stimulation, Fish said, is a big part of S.M.A.R.T., offering educators activities for students so they can work on things "both close up and far away," observing how children are using their eyes.
S.M.A.R.T., in simpler terms, focuses on "skills that should have been in place" already, McFarland said. Regarding the vision study she'd cited, she said S.M.A.R.T. "recognizes the concern" and "works to build those skills."
So the big question to answer for workshop participants, McFarland said, is "What does learning really look like?"
'Start young'
Chelsie Stocker is the childcare director of the Child Enhancement Center in Cambria — a daycare housed on the elementary side of Cambria-Friesland's school building and a program that just started in September.
CECC, she said, was learning S.M.A.R.T. practices for the first time.
Stocker was among the participants who learned the "alligator crawl" — an activity for young children she explained requires, with your chest to the ground, a crawl where you move one arm and its opposite leg while not dragging your toe behind you. The alligator crawl, S.M.A.R.T. leaders said, promotes bilateral coordination and early visual and auditory efficiency.
"I learned how the brain actually works and how important it is to start young," said Stocker, whose program in less than a year has grown from 20 children to 73. Research regarding the importance of the infancy stage to learning — and CECC has children as young as 6 weeks, Stocker said — goes beyond what Stocker thought she knew.
"We want babies moving their eyes," Stocker said, noting eye movements affect learning and is a foundation built upon for reading. "Tummy time" — the time an infant spends laying on his or her tummy — is also more important than she'd thought and should be done for infants for "much more than just a few minutes" — and four to five times a day.
"The number one thing is do not keep a child too long in a car seat, a jumper, a swing — they're not getting the movement they need (in those)," Stocker said. Two hours is often "too long" for a child to be constricted — so, for sleeping, infants should instead be placed in cribs or bassinets "so they can move around."
Babies who had spent too much of their time constricted are called "container babies," Fish said, and S.M.A.R.T. aims to get those babies "the development they needed."
'This is what education should look like'
MLRC claims its data show classrooms that participate in S.M.A.R.T. have students with higher attention and participation levels — progress Rundhaug said she's seeing in Reedsburg.
Prior to S.M.A.R.T. Rundhaug noticed that "if I changed things up, they wouldn't understand" — and that many of her students "had issues with following directions." But now, with activities like "slap" and the alligator crawl, Rundhaug is seeing improvements, as such activities can "show what's missing in their development."
S.M.A.R.T., therefore, "offsets referrals" to areas like speech therapy, she said. It's been so effective, she added, that Reedsburg plans to carry over its "S.M.A.R.T. room areas" from 4K into kindergarten classrooms.
"Children need movement to learn," Rundhaug summarized.
"It's active, engaging," Fish said. "This is what education should look like."
Be the first to know
Get local news delivered to your inbox!