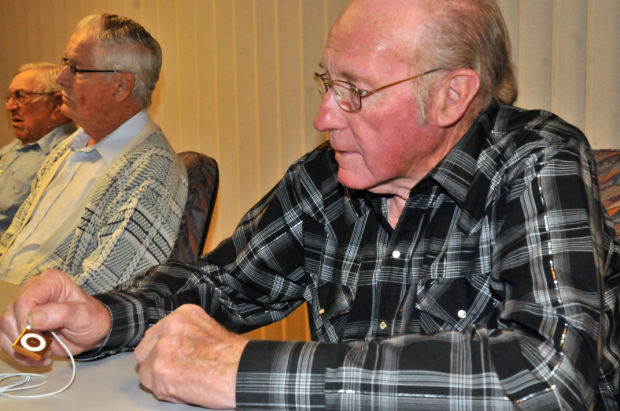 WYOCENA – "You'd better bring a box of Kleenex."
It's not every day that a Columbia County Board committee gets such a warning, but then, it's not every day that the County Board's Columbia Health Care Center committee gets to meet a man like Henry.
Henry — appearing on a 6-minute video — is a nursing home patient who spends most of his days with his head bowed and his eyes closed. When his daughter takes his hands and asks, "Who am I?", a monosyllabic grunt is about all Henry has to offer in response.
Then a nursing home attendant asks, "Do you want your music?"
With his earphones on and his iPod operating, Henry almost literally comes to life.
He lifts his head. He opens his eyes. He hums along with the song.
And, after the music is turned off, he carries on an animated conversation about his favorite musician, Cab Calloway, and even sings his favorite Cab Calloway song: "I'll be home for Christmas/You can plan on me…"
This is Music and Memory.
And it's coming to the Columbia Health Care Center.
The 117-bed nursing home in Wyocena is the only Columbia County facility that has been named a recipient of a federal grant, through the Wisconsin Department of Health Services, to study the effects of familiar music on people with dementia.
Kelly Lentz, a CHCC activity-therapy assistant, called it "a musical awakening."
Kevin Coughlin, policy initiative adviser for the DHS Division of Long Term Care, said 223 Wisconsin nursing homes applied to participate in the project, and 100 were chosen, representing a cross-section of public, private and government-operated nursing homes in all 72 Wisconsin counties, and in communities of all sizes.
CHCC Director of Nursing Janelle Zacho — the person who warned the five committee members that Henry's story likely would move them to tears — said CHCC has 53 beds, in two units, occupied by people in the early, middle or late stages of conditions, such as Alzheimer's Disease, that result in memory impairment.
Fifteen of these residents will be given iPod Shuffle digital music devices, which will be loaded with music that has special meaning to each individual resident.
The devices would likely be attached to the patients' clothing, Zacho said, but the staff would determine when the patients would use it and what music they'd hear. The iPod Shuffle allows the staff to program it so that the musical selections play randomly,
Lentz said the patient would choose which music to load onto their iPod — or if the patient has difficulty communicating, the patient's family members will choose.
"If we hear they really like country music, like Johnny Cash or Patsy Cline, we can put in the tunes they like to hear," she said.
The iPod Shuffles – plus headphones (because many older people don't feel comfortable with earbuds), iTunes cards and some auxiliary equipment — is due to arrive at CHCC next month.
That's when 15 residents will be selected to participate in the study.
Zacho said selection would be based on a number of factors, including the patient's recent history of participating in activities and whether they had a musical background — for example, as a member of a band or a choir.
Stephanie Kleist, a CHCC activity-therapy assistant who will work with Lentz in the study, said she thinks some of the best candidates are people who are often uncommunicative and disconnected due to memory loss.
One example that comes to mind, she said, is a current CHCC resident who is a big fan of Maggie Mae, a country-western artist who performs at Maggie Mae's Café in Oxford.
"He remembers when he got up and danced with her," she said.
Both Kleist and Lentz will be certified in Music and Memory — a process that includes training in identifying music that is likely to connect to the buried memories of a patient, and in pinpointing ways in which the patient's behavior, lucidity and connection to others improve as a result of the music.
Supervisor Mark Sleger, a member of the CHCC committee, observed that, for many people with memory impairment, "the old memories are stronger than the new memories."
Added Kleist, "We're not necessarily trying to get them reconnected to our world, but rather to their world."
CHCC Administrator Amy Yamriska noted, however, that iPods might, indeed, help connect residents to those of younger generations, in more ways than one.
She said CHCC will accept donations of iPods — any type — and iTune cards for any residents that might want them, whether or not they're part of the study.
Committee member Kevin Kessler asked Yamriska to report to the committee, in a few months, how the study participants are faring.