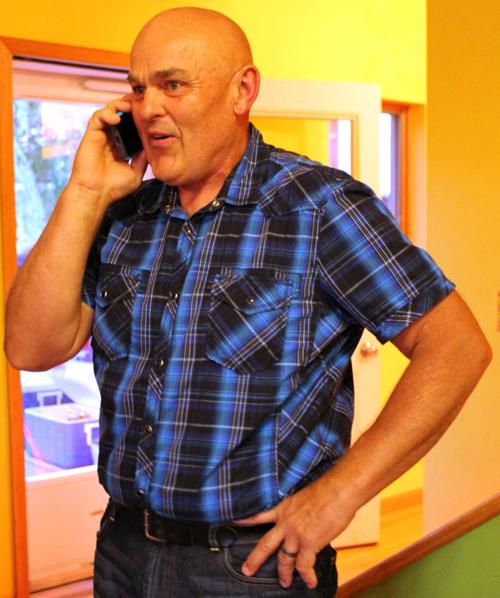 Dave Considine of Baraboo won Tuesday's Democratic primary for the state's 81st Assembly District and will face Republican Ashton Kirsch of Baraboo in the fall election to replace outgoing state Rep. Fred Clark.
Considine received 53 percent of the vote in Tuesday's election, according to the Associated Press. Fellow Democratic candidates Margo Miller, a Portage small-business owner, and Peter Vedro, a nonprofit CEO from Baraboo, received 35 percent and 12 percent, respectively. A total of 3,962 people voted in the Democratic primary.
As votes were tallied and Considine emerged as the winner, Miller issued a statement thanking her supporters and encouraging area voters to support him. Miller said she was encouraged by the conversations she had with voters throughout the district during her campaign.
"I am humbled and honored by all of your support," Miller said in her statement. "Even though we weren't successful, we built an active, progressive network of people, and talked to thousands of voters."
The district encompasses parts of Columbia, Sauk and Dane counties and a little bit of Iowa County. In Columbia County, District 81 includes the city of Portage and the towns of Caledonia, Lewiston, Newport and West Point.
The county canvass won't meet until Aug. 19 to certify the results, said Columbia County Clerk Sue Moll.
"In Columbia County we had 14 percent of eligible voters turn out for the primary. I think it's a little less than it was two years ago," she said.
Sauk County Clerk Becky DeMars' office reported 13 percent overall voter turnout in Tuesday's election, based on unofficial results. Fall primaries in August 2012 and September 2010 saw 16 and 23 percent turnout, respectively, in Sauk County.
The Associated Press reported that state election officials had predicted statewide voter turnout of about 15 percent, but preliminary vote totals suggested turnout numbers were closer to 10 percent.
The primary sets the stage for the general election in November. Voters didn't need to be registered with a particular party to vote on that party's primary ballot, but did have to vote for only one party in order for the ballot to be counted. In other words, a voter can't select a Republican in one race and a Democrat in another.
In Columbia County, 2,494 voters declared themselves Democrats and 2,027 marked their ballot Republican.
For Sauk County, 3,390 voters marked Democratic party preference and 1,886 were Republican.
In Iowa County there is no declaration of political party preference, said Deputy County Clerk Kris Spurley.
In Dane County, eligible voters are encouraged to declare a party preference, but it is not required, according to a representative of the Dane County Clerk's Office.
Capital Newspapers reporter Annie Getsinger contributed to this report.
Be the first to know
Get local news delivered to your inbox!