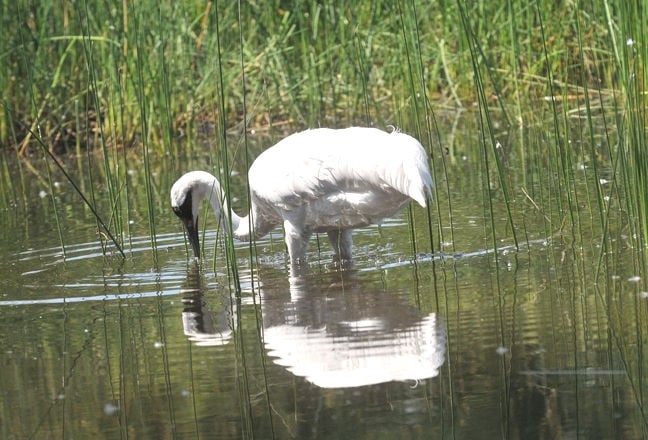 Before he could walk, George Archibald was determined to be part of the flock.
While most children sat in a circle and pretended to be ducks, hoping never to be a goose, young George had other ambitions.
His first memory involves crawling on his hands and knees following a real duck, right alongside ducklings.
His mother picked up George, stopping him from being one of the flock so quickly in life.
"I always tell my friends I imprinted on birds at a very early age and I've been following them ever since," he said, sitting on a bench in front of the International Crane Foundation near Baraboo on a sunny afternoon.
Just down the road from here, on a farm about 6 miles away, is where Archibald began his passion in life 40 years ago this summer when he co-founded the Crane Foundation with Ron Sauey who he met in college.
Since then, he has traveled the world making friends in the field — and of the feathered variety — all in an effort to save this prehistoric-looking species.
But what most people may not realize is that the work at the Crane Foundation is about much more than saving the sandhill cranes everyone sees.
They are on the cutting edge of conservation, trying to save water supplies from Texas to Africa, with the hopes that cranes will have a place to live in the century ahead.
When Archibald talks about his work here, he talks about going to China for the first time in 1979, and Russia after the fall of Communism. He talks about the successes the Foundation has had, always putting that first.
While he grew up in the eastern portion of Canada, Archibald was fascinated with Aldo Leopold since college.
This area of America, he says, is filled with people who have influenced the environment. People like John Muir, Leopold, Frank Lloyd Wright, Georgia O'Keeffe and the founder of Earth Day, Gaylord Nelson.
Archibald doesn't believe his name should be mentioned with them some day, but he hopes the work will be.
"I would hope (the Foundation) would be," he said. "The organization, and not the individual."
The crane stood in the water surrounded by tall grass as onlookers gazed at her beauty.
A Public Television cameraman was getting shots for a segment, capturing a crane in nature.
Walking through the doors of the Crane Foundation, it's hard to believe the "Waterpark Capital of the World" is only a few miles away.
Things are so peaceful here, a haven for cranes and visitors alike.
But the Foundation took a long time to get to this point.
When Archibald was growing up, he raised a lot of domestic birds. But by the time he left for college to be a doctor, he had to get rid of them.
During the time he was a pre-med student, Archibald visited Cornell and met a professor there who convinced him to give up medical school and be a graduate student at Cornell.
"I never thought you could make a living doing anything with birds," he said.
While at Cornell, Archibald said his favorite book to read was the "Sand County Almanac" by Leopold.
Before he left the university to graduate, he met a man from Wisconsin. Archibald asked Ron Sauey if he ever heard of Aldo Leopold.
"He said, 'Yes, my home is about 10 miles from his shack,'" Archibald said.
With a scheduled trip to Japan for a project with red-crowned cranes, Archibald stopped in Baraboo.
Sauey — who brought international attention to the plight of the Siberian crane — and Archibald talked about a new project.
"We decided we would try to make a crane center there," Archibald said.
On the Sauey farm in 1973 the International Crane Foundation was hatched. The first five years, everyone worked for free for the non-profit organization.
"Our first goal was to see if we could establish the very rare Asian Cranes in captivity, and I wrote all the zoos all over the world," Archibald said. "And we were very successful to get them to breed. And we soon outgrew the Sauey farm."
Working every day of the year, doing tours, raising money, caring for the birds was tough.
And by 1978, Archibald was getting burned out. This was a crisis point in which many non-profits reach. But for the Foundation, help was a phone call, or several phone calls, away.
He had called a friend who worked at the Smithsonian Institution, who said Archibald needed to get on the phone and call everyone who donated at least $5,000 toward the cause over the years.
He invited 23 of them to a meeting. Eighteen showed up, and 15 joined the new Board of Directors.
"The first thing we decided is we had to have our own property," he said, adding that raising money for leased land is difficult.
Even though the work was never-ending, Archibald never thought about stepping away.
In 1983, the 225 acre crane campus (now 240 acres) opened off Highway 12, between Baraboo and Wisconsin Dells.
When he started the crane project, Archibald realized that the species like the whooping crane were following the path of the passenger pigeon, and would be extinct some day if nothing was done.
Over the years the Foundation has bread all 15 kinds of crane species around the world at the campus.
There are many proud moments for the Foundation over the years, Archibald said. But the thing he is most happy about is helping create an organization that is working around the world with others who are helping the environment.
Every year Archibald goes to Asia and Africa to see wild cranes in a slightly-more secure place than when they started.
"That's the greatest reward," he said. "And to see young people that are so grateful and enthusiastic is rewarding, too."
When Rich Beilfuss first joined the Foundation in 1988 as a graduate student, he found himself working in Vietnam and southern Africa.
While Vietnam was still decimated by war, there was a group there working to help cranes.
"Turns out in Vietnam, the sarus crane we were working for takes your soul to heaven," he said. "There's this incredible, mythical value and people liked having them around and they were very important to them culturally."
Beilfuss has spent much of his professional career overseas, working in Africa for 15 years, and moving his family there at one point. About four years ago, he came back to the States and now is the president and CEO of the Foundation.
Recently, he said the Foundation has completed their vision planning for the next decade, which includes ramping up work on the reintroduction of the whooping crane. They are involved in helping the wild flocks from Texas to Canada.
They are also working heavily in Africa, East India and Southeast Asia where crane trade is a problem. Poachers sell them to wealthy people to decorate their estate as live birds.
"Some people don't realize how heavily we are involved in overseas work, but those programs will become more prominent in the future," he said. "Because that's where some of the most endangered cranes are."
One of the projects they are working on is the future of water systems. With more development in countries, water is becoming scarce.
"The focus of our work is to save river systems and wetlands to save cranes," Beilfuss said.
About 25,000 people visit the Crane Foundation each year. While most are familiar with the sandhill and whooping cranes, Beilfuss hopes that connection with cranes people see in their own yards can lead to a connection of helping all kinds.
Beilfuss said sandhill cranes are doing well in the United States adapting to crop lands.
The ICF is only part of a huge program, he said. Other countries are helping right alongside the Foundation.
"We have close to 1,000 people around the world now helping cranes," Archibald said.
In the summer months, Archibald can be found in his garden not far from the Foundation.
But he still spends several days a week at the campus, and countless hours working in his home office — even though he retired from being president in 2000.
But Archibald hates the word retire. "I'm doing what I love best. Why should I quit," he said.
While he spends winters overseas, he said he would like to dedicated more time to each country he finds himself in some day, and write a book about each experience.
People often ask Archibald if he pinches himself at the thought of how successful the Crane Foundation turned out. But he never expected anything less.
"I always had faith that the Crane Foundation would be wonderful beyond my wildest expectations," he said. "And it is."
Archibald considers himself a people person, but his happiest time of year is when he's with colleagues watching wild cranes.
"I feel like I'm with my old friends," he said.
What: International Crane Foundation.
Where: E11376 Shady Lane Road (near Ho-Chunk).
Cost: $9:50 for adults, $8 for seniors, $5 for youth.